Southwest salmon salad is a 21 Day Fix approved dinner that's perfect for a summer grilled meal. Fire up the coals and dress up a salmon filet with cilantro, avocado, salsa, and southwest spices. Delicious and SO easy to make!
Confession #26- I think I jinxed us last week.  At least those of us in PA.  I'm SO sorry.
Because I started the week last Monday saying how beautiful the weather was and how it was FINALLY warm enough to grill and eat outdoors.
And by Thursday, I watched snowflakes outside my classroom window, and even my snow-loving 7th graders were annoyed.
Oops.
I also planned a blog post about this delicious grilled salmon recipe that just screams summer.  That night I turned my heat back on.
I feel like this my fault.
Anyway, I still made the salmon (inside – I'm wimpy), and I'm hoping this southwest salmon salad recipe gives you a taste of the warm weather that's to come.
Fingers crossed.
Here's the 21 Day Fix Southwest Salmon Salad recipe. Enjoy!
Ingredients
6 oz wild Alaskan salmon fillets or steaks (1 per serving)
1 tsp homemade taco seasoning per piece of salmon
cilantro
lemon/lime
fresh salsa
avocado
spinach
Instructions
Squeeze fresh lemon or lime over salmon, then rub with taco seasoning. Grill until cooked through, about 4-6 minutes per 1/2 inch of thickness. It should flake when tested with a fork.
Place cooked salmon on a bed of spinach greens.
Top with fresh Salsa, sliced avocado, and cilantro - measure with your GREEN container.
Squeeze more fresh lemon and/or lime over top and enjoy!
21 Day Fix Container Count:
My plate = 1 RED 1/2 BLUE 1 GREEN
7.6.9.2
114
https://confessionsofafitfoodie.com/2015/04/21-day-fix-southwest-salmon-salad/
Confessions of a FIt Foodie
Are you doing a round of the 21 Day Fix?  Don't do it alone – let me coach you! Contact me at trueconfessionsofafitfoodie AT gmail DOT com to join my current challenge group. The group offers daily motivation, recipe ideas, and the support of over 200 women. Check out my Etsy Shop for 21 Day Fix eBooks with full grocery lists, prep tips, and easy to follow recipes!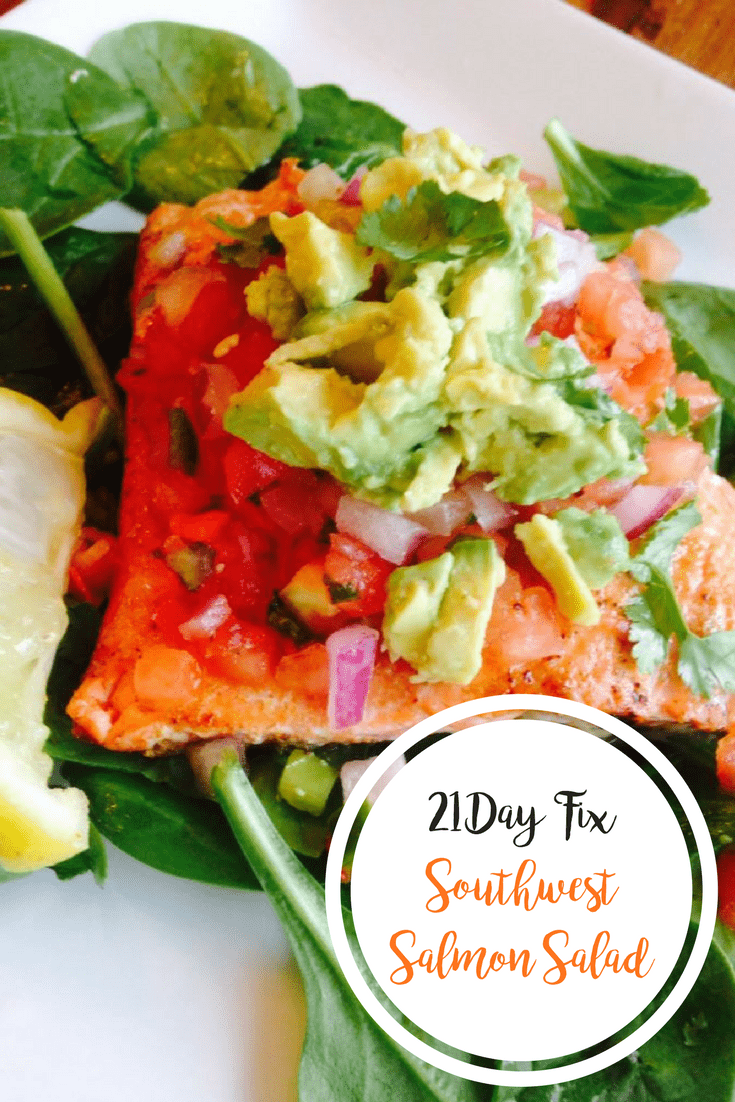 Join the newsletter
Subscribe to get our latest content by email.