Easy Caprese chicken is a flavorful and healthy 21 Day Fix approved dinner. This recipe is quick and easy to make, making it the perfect go-to weeknight meal.
Confession # 32- I received one of the nicest notes yesterday.   It was actually a comment on one of my blog posts.  From a total stranger.
I seriously can't stop smiling.
When I started this blog, I really didn't have specific expectations or goals.  I just wanted an organized place where I could post and share my recipes for my challengers and fellow Beachbody coaches.  I truly believe that healthy food can be delicious AND simple, and want to teach others that this is, in fact, attainable.
Every time someone shares one of my posts, sends me a comment, pins a recipe or makes one of my meals, I have to pinch myself. Because, in truth, this is my dream.  I want to share my love for food, cooking, and healthy eating with as many people as I can.  And when I see that happen before my eyes, there is no better feeling!
Thank you for letting me share that.
Now back to what you are here for – delicious and easy caprese chicken!

This recipe is so simple, totally fix friendly, but you can make it for your guests and they will LOVE it.
The secret?
Balsamic glaze.
Add it to grilled chicken, mozzarella, fresh basil and tomatoes and be ready to wow!

How, you ask? It is easy peasy!
I hope you enjoy this easy caprese chicken recipe.
Ingredients
2 boneless, skinless chicken breasts, pounded to uniform thickness
1/2 cup good-quality balsamic vinegar
1 cup grape or cherry tomatoes, halved
sliced fresh mozzarella, measured out in blue container
fresh basil
salt
pepper
optional - liquid stevia
Instructions
Heat balsamic vinegar in a small saucepan over medium-high heat until boiling. Reduce heat to medium-low and simmer for 10-15 minutes until reduced by half. If you want, you can add a couple drops of liquid stevia. Remove and set glaze aside.
Season both sides of the chicken with salt and pepper. Grill 3-5 minutes on the first side, depending on the thickness of the chicken.
Flip chicken and top with tomatoes and mozzarella. Grill another 3-5 minutes until chicken is fully cooked and mozzarella melts. Remove from heat.
Plate the chicken and top with basil and the balsamic glaze.
Admire your skills and take a pic! That's one fancy looking dinner!
21 Day Fix Container Count:
2 servings - My plate = 1/2 GREEN, 1/2 BLUE, 1 RED
7.6.9.2
105
https://confessionsofafitfoodie.com/2015/05/21-day-fix-easy-caprese-chicken/
Confessions of a FIt Foodie
Are you doing a round of the 21 Day Fix?  Don't do it alone – let me coach you! Contact me at trueconfessionsofafitfoodie AT gmail DOT com to join my current challenge group. The group offers daily motivation, recipe ideas, and the support of over 200 women. Check out my Etsy Shop for 21 Day Fix eBooks with full grocery lists, prep tips, and easy to follow recipes!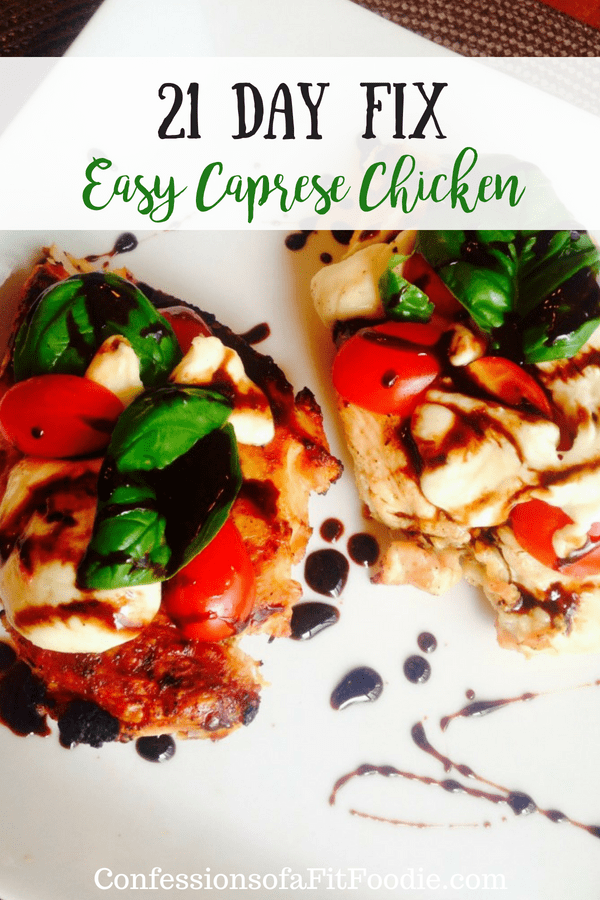 Join the newsletter
Subscribe to get our latest content by email.