Lemon grilled salmon is one of the quickest and easiest 21 Day Fix dinner recipes you can make! Just 4 ingredients and 10 minutes is all you need to cook this tasty, healthy meal.
Well, hello there!
Remember me?
Although I'm not officially finished with school, things have calmed down a little…just enough that I'm ready to write again, as I have really missed posting recipes here!
If you are reading this, thanks for not forgetting me during my little hiatus.
You rock.
So when things gets really busy, you need to have those go-to easy recipes to stop you from ordering that pizza, hitting the drive thru, or pouring cereal for dinner.
Side note- have I mentioned that I LOVE cereal for dinner?  I really do.  Autumn would NOT approve.
Anyway,  just because a meal needs to be quick, doesn't mean it has to be boring.
On one of my craziest nights last week, I was craving seafood.  Now that it's grilling season, I always buy wild Alaskan Salmon, and it is such a quick and delicious meal for a busy weeknight.  The lemon-oil marinade is incredibly simple, but provides a beautiful, bright flavor.
The lemon grilled salmon dinner is ready in 20 minutes or less, and my kitchen doesn't even get messy.
I hope you enjoy this simple, lemon grilled salmon recipe!
Ingredients
12 oz of wild Alaskan Salmon
4 tsp olive oil
fresh lemon
Himalayan salt
Instructions
Using a microplane grater, combine olive oil with zest of a lemon.
Rub lemon-oil on salmon and season with salt. Let it hang out for a few minutes.
Preheat your grill - use a medium/low heat.
Grill salmon skin side up for 4-5 minutes or until it can be flipped without sticking.
Rotate salmon and allow it to cook for another 4-5 minutes.
Remove salmon from heat and let it settle for a few minutes. It will continue to cook while you set the table and pour some drinks - awesome, right?
Squeeze some lemon over top and serve on a salad or with grilled veggies.
21 Day Fix Container Count:
Serves two- Each serving = 1 RED and 2 tsp
7.6.9.2
104
https://confessionsofafitfoodie.com/2015/06/21-day-fix-simple-grilled-salmon/
Confessions of a FIt Foodie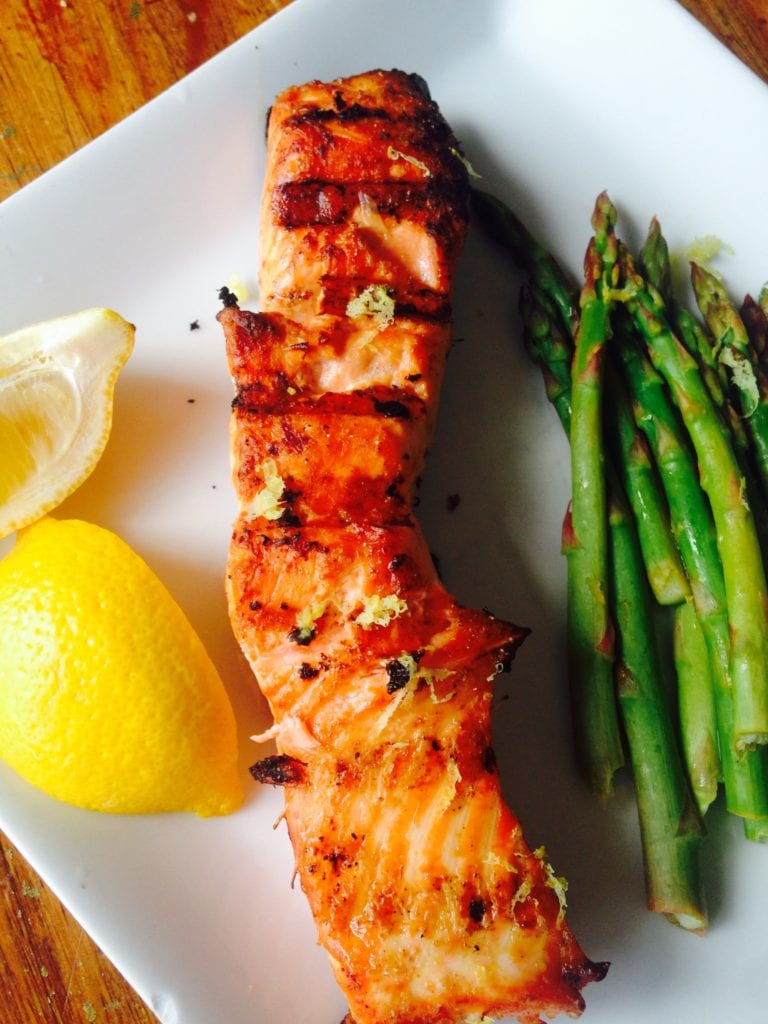 Want more grilling recipes?  Check out my eBook – Grilling on the Fix in my Etsy Shop!
Are you doing a round of the 21 Day Fix?  Don't do it alone – let me coach you! Contact me at trueconfessionsofafitfoodie AT gmail DOT com to join my current challenge group. The group offers daily motivation, recipe ideas, and the support of over 200 women. Check out my Etsy Shop for 21 Day Fix eBooks with full grocery lists, prep tips, and easy to follow recipes!
Join the newsletter
Subscribe to get our latest content by email.