This delicious 21 Day Fix Freezable Cheese Sauce is the perfect thing to keep in your freezer for when the craving for cheese strikes!  And using the silicone baby food mold, it's perfectly portioned for you already!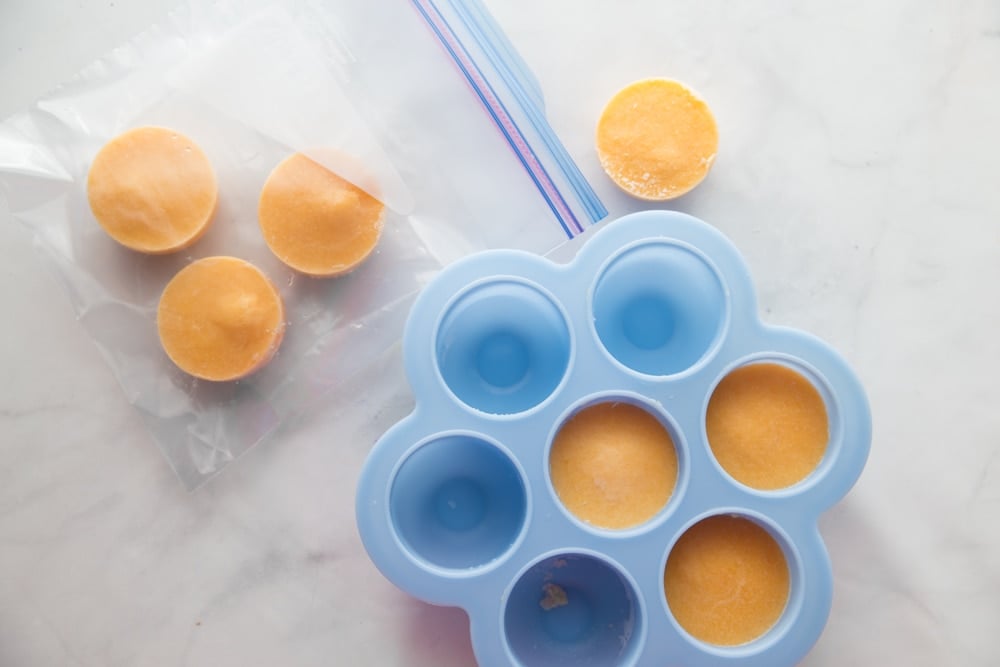 Oh haaaay. 
I'm just over here…freezing some cheese sauce. 
Because I freaking rule today. 
I know.  I feel like I should apologize for tooting my own horn, but seriously, people…I think I kind of deserve it.  Because this cheese sauce alone is amazing…and now you can make it, freeze it, and then eat it.  Whenever. You. Want.
TOOT TOOT. 
For those of you who have made my Cauliflower Cheeseburger Mac or my Low Carb Cheesy Chicken and Broccoli Casserole you know about this cheese sauce.  Oh, you know.
But what you may not have realized it that you can FREEZE it (or maybe you did realize this, but then I really need to know why you didn't tell me?).
Yes, friends.  It freezes beautifully.  I used my silicone baby food molds
 and then popped those suckers out to store in a ziplock freezer bag for anytime I get a craving for some cheesy goodness.
Which, if you know me, happens all the time.
This freezing trick is awesome for all sorts of recipes: soups, my homemade sauce, chili. And it's perfect because they are perfectly portioned for you!
The cheese sauce melts in the microwave super quick, too. I usually do ten seconds, stir, and then another ten seconds. And that's it!
Of course you could always heat on your stovetop, too. Whatever works.
So good over over potatoes or pasta…or over some veggies!
You can even make your own nacho cheese! I usually add a sprinkle of chili powder, some jalapeños and viola! Nacho dip for chips or peppers!
Check out this video to see how easy it is to make and freeze this delicious cheese sauce.
So easy, right?  And for those of you following the 2B Mindset, this works really well with low fat cheese!  Or you can use full fat and count it as an accessory.
And I made the exact recipe for my son using Diaya cheese and vegan butter for dairy free.  Melts like a dream!
If you give this a try, be sure to tag me on social to let me know!  Enjoy!
Yields: 6 servings

21 Day Fix Freezable Cheese Sauce
Ingredients
2.5 T of rice flour (or gluten free flour blend)
2.5 T vegan butter, butter, or ghee
1.5-2 cups of unsweetened original almond milk
2 cups shredded cheddar cheese
salt
Instructions
In your skillet, melt butter over medium heat. Sprinkle in the flour and whisk together.
Slowly whisk in 1.5 cups of almond milk, and continue to whisk until the mixture comes to a boil and begins to thicken. Once thickened, remove sauce from heat and stir in cheddar cheese until fully melted, adding salt to taste. If you need to thin it out, add in some additional milk in 1/4 cup increments.
Add 1/3 cup of cheese sauce to each mold, or measure 2.5 tablespoons if you want to freeze half servings. It's best to do this when hot!!
Let cool, cover and then freeze for several hours or overnight. Remove from silicone mold and store in ziplock containers for up to 3 months.
To thaw, place in refrigerator, or microwave in a microwave safe bowl for ten seconds, stir, and then heat for another ten seconds or until cheese is melted and smooth!
21 Day Fix Container Count:

1/3 cup = 1 blue 2.5 T = 1/2 blue

7.6.9.2

231

https://confessionsofafitfoodie.com/2018/05/21-day-fix-freezable-cheese-sauce/

Confessions of a FIt Foodie
Join the newsletter
Subscribe to get our latest content by email.