This Instant Pot Berry Crisp is the perfect end of summer healthy dessert. Gluten free, dairy free, and refined sugar free, you can even eat this Mixed Berry Crisp for breakfast and feel totally ok about it! Want a blueberry crisp? Just use all blueberries! No Instant Pot? This Vegan Berry Crumble can be made in the oven, too! It's super versatile and super delicious. This post contains affiliate links for products I'm obsessed with.
We are big fans of fruit crisps here, in case you didn't notice.
In fact, Berry Crisp is the FIFTH fruit crisp to appear on Confessions. And my daughter said it was her favorite of them all! Curious to try them all yourself? My ode to crisp recipes include:
Apple Crisp | Gluten-free Apple Crisp
Peach Crisp [Gluten-free | Dairy Free]
Healthy Instant Pot Strawberry Rhubarb Crisp (Stovetop Option)
Quite the delicious little list there. Now on to this Instant Pot Berry Crisp!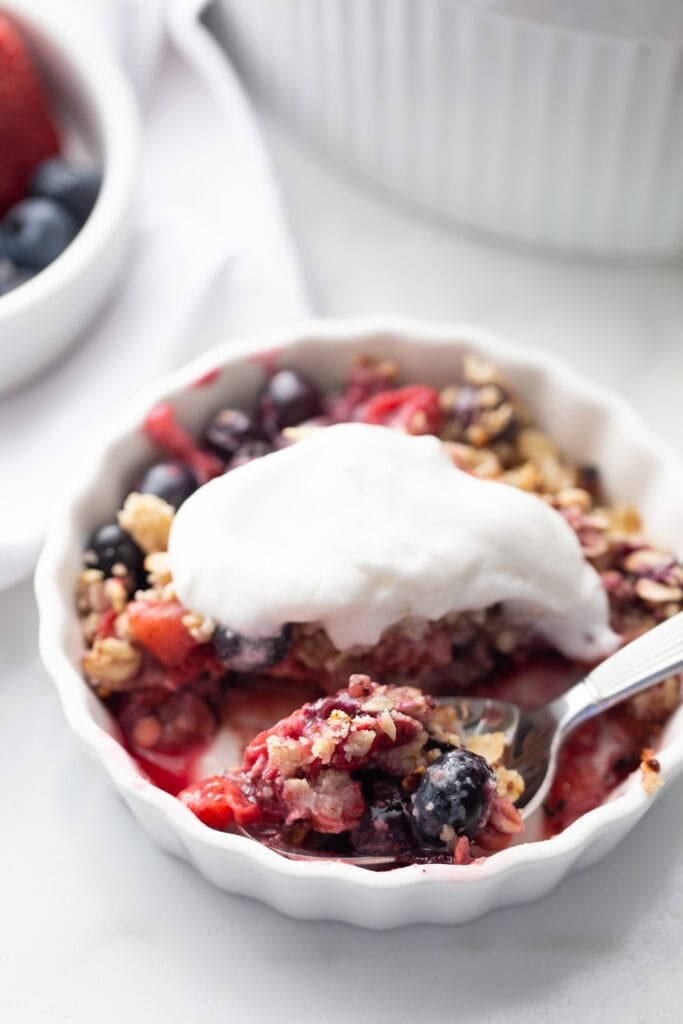 What is the difference between a Berry Crisp and a Berry Crumble?
While I was researching search terms for this post (one of the many blogger tasks I never knew I would be doing), I saw a lot of berry crisp and berry crumble recipes. And this inquiring mind needed to know – what is the actual difference here? Apparently not much, but from what I found, a crumble has more of a streusel topping that doesn't get crispy – it stays more cakey. But a crisp, hence the name, typically includes a oat topping that will crisp up during baking.
And there you have it.
Ingredients for Mixed Berry Crisp
Since we are using oats and aiming for a crispy topping, this is, indeed, a berry crisp recipe! Here are all the ingredients:
6 cups fresh berries – Any combination of blueberries, diced strawberries, and raspberries, or just one will work for this recipe.
Honey or maple syrup – You can use either one – sometimes I even use a mix of both! To keep this a vegan berry crisp, you should use maple syrup.
Arrowroot flour or cornstarch – This is optional, but it works to thicken the berry mixture. I always have arrowroot in the pantry, but cornstarch works great, too.
Coconut oil – I tested this topping with both butter and coconut oil, and I honestly love the coconut oil more. This also keeps the recipe vegan.
Gluten Free Rolled Oats – If you aren't gluten free, you can use regular oats. I am partial to Bob's Red Mill Old Fashioned Rolled Oats. Note – quick oats won't crisp as well.
Almond Flour – I love sneaking in some extra healthy fat and protein with almond flour, but you could sub this for a regular flour if there is a nut allergy.
Cinnamon – Not only does this add flavor, it makes your house smell like Christmas morning.
Salt – Bring out the natural sweetness of the berries and the topping with just a little bit of salt
I have a ton of Blueberries. Can I make this a Blueberry Crisp?
Of course! We always get huge boxes of blueberries from a NJ farm, so I'm always looking for desserts with blueberries! Blueberries work amazing in this crisp without any other berries involved! My husband actually prefers it to be a blueberry crisp, but my kiddos love to mix it up. You can also sub peaches, apples, or pears with your blueberries instead of other berries in your blueberry crisp, too!
Will my Instant Pot Berry Crisp be crispy?
If you just cook this Mixed berry Crisp in your Instant Pot, it will not have a crispy top…it will be more like a berry crumble (see above, lol). But there are two things you can do to fix this!
After cook time, you can broil your Instant Pot Berry Crisp for a few minutes right in the same dish!
If you have a Mealthy CrispLid, you can use that to crisp up your topping without turning on your oven! This is how I did it, and I can't say enough amazing things about my crisplid!
Want to learn more about the amazing Mealthy CrispLid and how it turns your pressure cooker into an Instant Pot? Check out my CrispLid review!
How to Make Coconut Cream
We often eat this crisp alone, but if you want to make it extra special, you can top with coconut cream. And it's super easy to make your own dairy-free coconut cream!
Just start with a can of coconut milk and refrigerate it overnight. Then carefully scoop out the chilled cream into large bowl. Using hand mixer or stand mixer with whisk attachment, whip cream until light and fluffy for about 5 minutes. If you want a sweeter cream, add a few drops of stevia while whipping. For a pumpkin version of this cream, see this recipe!
Or, if you are lucky enough to have this So Delicious Coco Whip at a store near you, you can totally just use this! The ingredients are SUPER clean and it's so freaking delicious (Omg, I swear no pun) and even my kids love it. It's only 30 calories for 2 whole tablespoons of cream and made with organic coconut oil.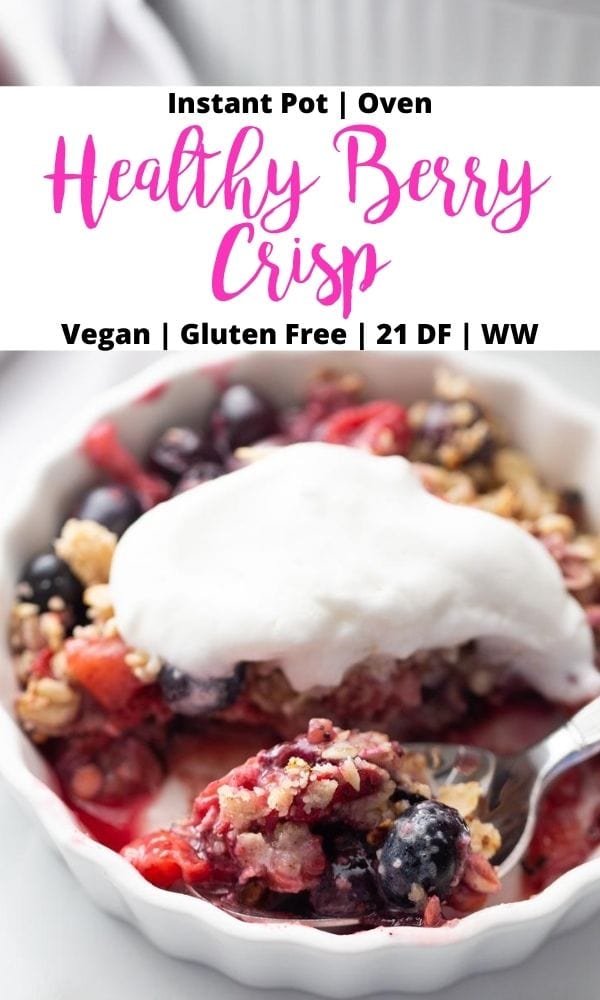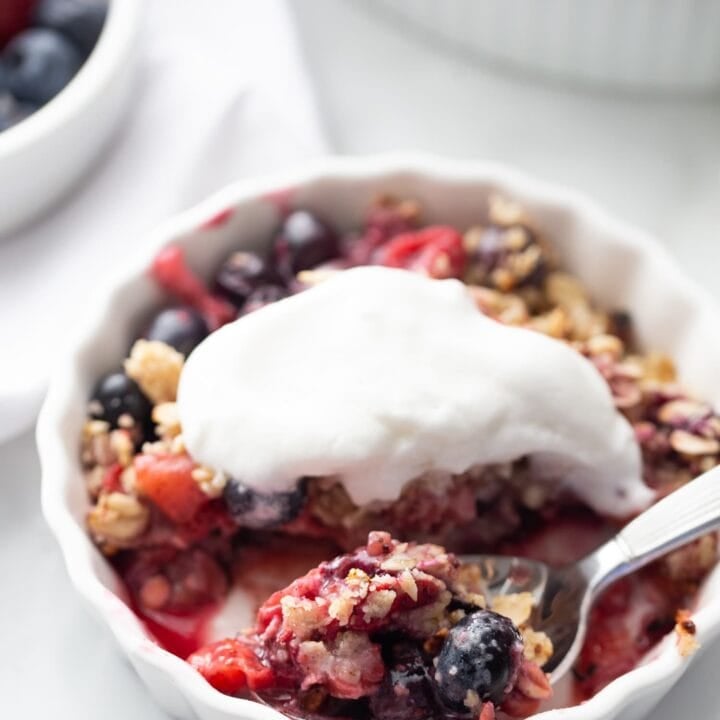 Berry Crisp [Gluten-free | Dairy Free]
This Instant Pot Berry Crisp is the perfect end of summer healthy dessert.  Gluten free, dairy free, and refined sugar free, you can even eat this Mixed Berry Crisp for breakfast and feel totally ok about it!  Want a blueberry crisp?  Just use all blueberries! No Instant Pot?  This Vegan Berry Crumble can be made in the oven, too!  It's super versatile and super delicious.
Ingredients
6

cups

fresh or frozen berries

if using strawberries, be sure to slice first

4 ½

tablespoons

honey or maple syrup

divided

1-2

tablespoons

arrowroot flour or corn starch

optional...this is to thicken the berries. I often leave this out

2

tablespoons

coconut oil

melted

1

cup

Gluten Free Rolled Oats

1/2

cup

Almond Flour

3/4

teaspoon

cinnamon

divided

1/4

teaspoon

salt
Instructions
In a medium Instant Pot safe bowl (like my fave casserole dish), combine berries with 1 1/2 tablespoons maple syrup, 1/4 tsp cinnamon, and arrowroot (if using). 

Combine honey/maple syrup with the melted coconut oil by whisking until smooth.  Tip - if your maple syrup is cold, leave it out for a bit before combining, otherwise your coconut oil will solidify.

In a medium bowl, mix oats, almond flour, cinnamon and salt together.  Then pour the maple syrup/honey/coconut oil into the oat mixture and combine. Place crisp topping over berry mixture. 

Add one cup of water to the steel insert of the

Instant Pot

, then place trivet insert (or sling) in the bottom. Cover casserole dish with foil, then lay on top of trivet. Set IP for 4 minutes on manual/pressure cook.  **If your berries are frozen, cook for 7 minutes. 

After cook time, do a quick release. 

In the meantime, preheat oven to broil or grab your CrispLid. When it's safe to remove the dish from the

Instant Pot

, place it under the broiler for a few minutes, or until the topping begins to crisp. Watch them carefully, and remove just as the crisp topping starts to brown.  I used my crisp lid on 450! Worked amazingly!

Let the Crisp sit and rest for around ten minutes before eating. Enjoy by itself or with coconut cream!
Oven:
Prepare crisp following steps 1-3 above.

Bake on 350 degrees for about 40 minutes, or until the fruit is bubbly and the topping is golden brown.
Notes
21 Day Fix: 1 PURPLE, 1/2 YELLOW, 1/3 BLUE, 1 TSP, 2 sweetener teaspoons (per serving)
WW: 8 points (per serving)
All nutrition info, 21 Day Fix and WW calculated without coconut cream topping
Nutrition
Calories:
275
kcal
Carbohydrates:
44
g
Protein:
4
g
Fat:
11
g
Saturated Fat:
4
g
Polyunsaturated Fat:
1
g
Monounsaturated Fat:
1
g
Sodium:
100
mg
Potassium:
142
mg
Fiber:
7
g
Sugar:
26
g
Vitamin A:
72
IU
Vitamin C:
4
mg
Calcium:
43
mg
Iron:
1
mg