These 21 Day Fix Baked Oatmeal Jars are pre-portioned, portable, and a perfectly easy way to prep for your week ahead!  
This post contains affiliate links for products I'm obsessed with. 
Confession #118 – I am a sucker for mini food.  And anything that gets baked into a mason jar.   I mean, food is already life, but cute food?  I don't stand a chance.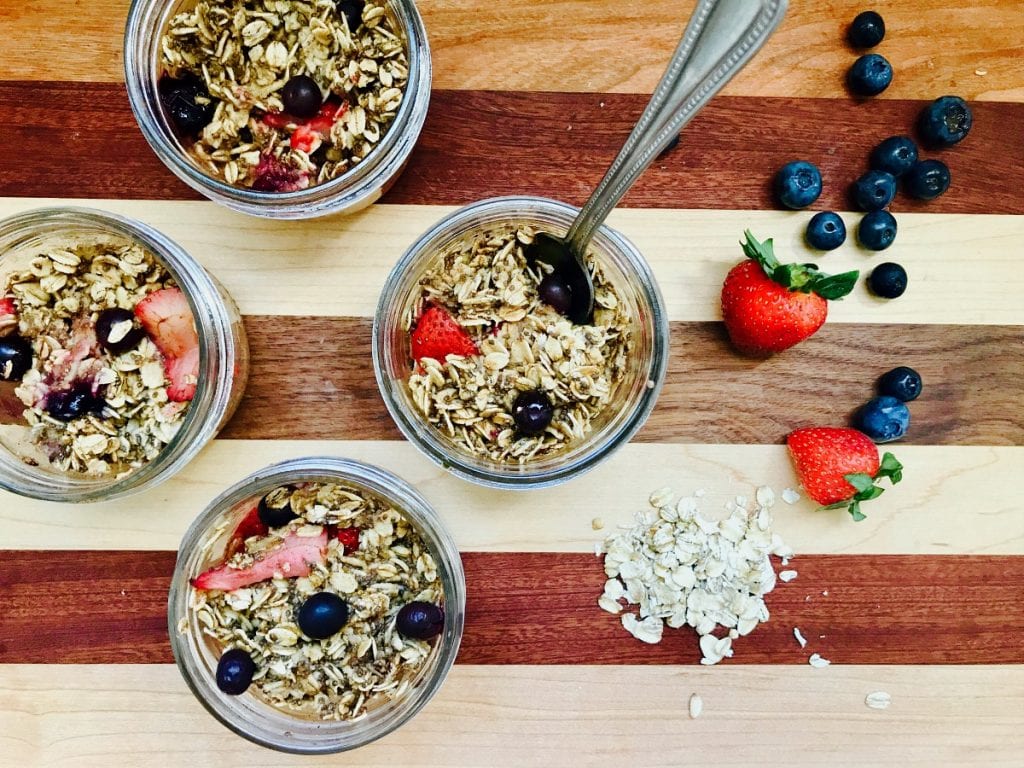 The options for using mason jars as a baking vessel are endless on Pinterest.  I'm obsessed.  And not only does it add to the cuteness factor, measuring your food in jars before baking saves a million (ok, two) steps in the food prep process.  Your meal is portable, portioned and ready to go straight from the oven!
I'm a huge fan of baked oatmeal, and I have been dreaming about trying a mason jar version.  I have been using these little mason jars
for overnight oats, but I have to say, I love the extra sweetness you get from the baked fruit in this version.  My kiddos love it, too!
And they are super easy to make.  My daughter knows the recipe by heart already and loves to help me make these on a Sunday.  We often will double to recipe because these go quick in our house.
Right now I have tons of berries from our local farms in my fridge and freezer, but you can use whatever fruit combination you love.  I have some rhubarb to use up, so I am going to do a cherry rhubarb combo this week.  This would also be delicious with summer peaches or apples and pumpkin spice this fall.  Get creative!
In the end, just scoop 1/2 cup of the oat mixture into your mason jars and bake uncovered for about 20 minutes or until the oats start to get slightly golden and the fruit is soft and bubbly.  If you don't want to use mason jars, just get some oven safe ramekins
or Pyrex bowls to make this in – anything goes!
To heat, add a splash of water or almond milk and warm in the microwave for a minute or so.  These will last 3-5 days in the fridge, so one day of prep and your cute little breakfast is ready all week!
Enjoy, friends!
Yields: 4 servings
21 Day Fix Baked Oatmeal Jars
Ingredients
1 1/3 cup old fashioned rolled oats (we use gluten free)
1 T chia seeds
1 tsp cinnamon
½ tsp baking powder
sprinkle of salt
1 cup of diced fruit (berries are a favorite)
1 cup of unsweetened vanilla almond milk
2 T maple syrup
1 tsp vanilla
Instructions
Preheat your oven to 350 degrees and spray four, 8 oz or larger mason jars with cooking oil spray.
Mix oats, chia seeds, cinnamon, baking powder, and salt in a medium sized bowl.
Add in milk, vanilla, and maple syrup. Stir and allow the milk mixture to seep into the oats.
Fold in fruit.
Using a ½ cup scoop, portion the oatmeal equally into the mason jars.
Bake uncovered on a baking sheet at 350 for 20-25 minutes or until the top of the oats get golden brown.
Cool completely, then cover jars and store in the fridge for 3-5 days. To warm, remove cover and add in a splash of water or milk and heat in the microwave for 30 seconds.
21 Day Fix Container Count:
1 YELLOW, 1/4 PURPLE, 1/8 Orange (which I don't even count!!)
7.6.9.2
169
https://confessionsofafitfoodie.com/2017/07/21-day-fix-baked-oatmeal/
Confessions of a FIt Foodie
Join the newsletter
Subscribe to get our latest content by email.