Looking to start some at home workouts? I am sharing my three favorite places to stream different workouts daily: Beachbody on Demand, Bulldog Yoga Online, and the Peloton App. This post contains affiliate links for workouts I'm obsessed with.
For the past 6 years, basically since my second child was born, any workout I have done has been at home. Because of my family's schedule – I work from home, my son receives MANY special needs services, my daughter is involved in all the activities, and my husband has a very demanding role at his job – having the ability to workout from my house at whatever time of day that I can fit it in has been life changing.
And because a lot of you have now joined me in needing to workout at home, I thought I would share my three FAVORITE places to access amazing home workouts. No gyms, no crazy equipment, just me and my phone or laptop and a few home gym staples like dumbbells, resistance bands or loops, and a yoga mat.
My Favorite At Home Workouts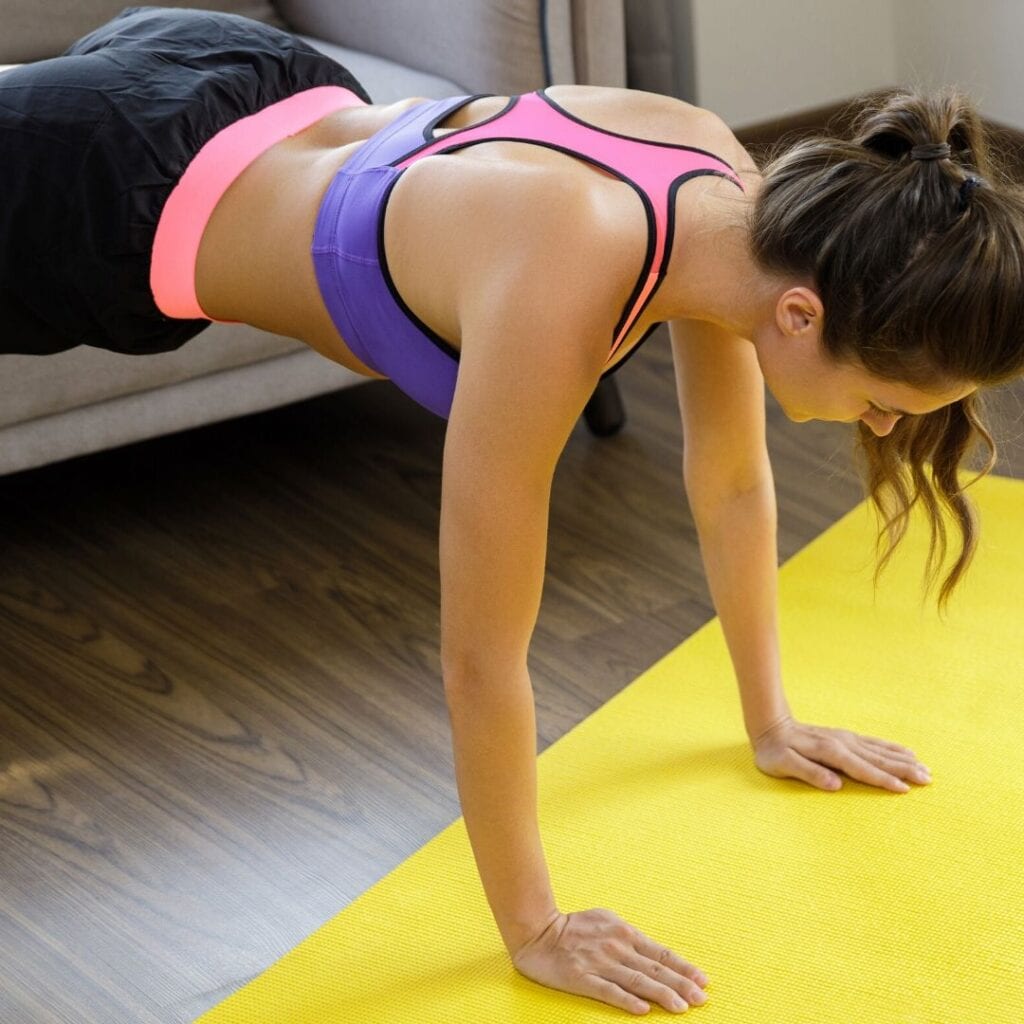 Because many of you follow the 21 Day Fix eating plan, the fact that I do daily workouts from Beachbody on Demand should come as no surprise…but for my readers who are new to Beachbody or don't follow the 21 Day Fix Meal Plan, you need to know how amazing Beachbody on Demand really is!
Beachbody on Demand is a website and an app that allows you to stream over 900 unique workouts, find meal plans and recipes, and even watch healthy cooking shows. All of Beachbody's older DVD content on there, but also everything that they release new is also added to the BOD library, so the content is always changing and there is no need to be buying new DVDs anymore. You can stream this service on any device and families can share one membership, which is awesome if your partner or kids want to workout, too.
This the best part – there are literally workouts for every ability level and every interest. There's everything from yoga, to HIIT workouts, to weight training, and even dance based workouts all to do at home. I have been using BOD for over three years now and I haven't even scratched the surface of everything it offers, which is awesome if you get bored easily like me.
My favorite Beachbody on Demand workouts
I am currently doing the Barre Blend workout (which will be released to all BOD members this week!) and I love it. My favorites are Liift4, the 21 Day Fix Real Time, the 80 Day Obsession, and Shaun Week, which is a week long program that always gets me back on track when I am feeling less motivated. I circle back through my favorites in between new programs to keep my body guessing!
How much does Beachbody on Demand cost?
You can try BOD for FREE for 14 days and if you love it, you can buy it quarterly for $39 or pay once annually for $99. You can cancel anytime before your next billing if you aren't loving it.
I've been streaming Bulldog Yoga classes for the past year and I just love them. Bulldog's PA studio isn't too far from my house, but again, with my schedule, I love having the flexibility to do yoga whenever it fits into my day.
What is Bulldog Yoga Online?
Tired of boring yoga? You need to try Bulldog! Bulldog Yoga Online is both a website and an app with power yoga based classes unlike any other I have ever done. Besides being an amazing full body workout, Bulldog Yoga classes are fun and set to amazing music…everything from rock to hip hop to country to pop and honestly, it's addicting! I'm obsessed and love getting my daily Bulldog fix.
What kind of Workouts does Bulldog Yoga Online have?
Bulldog Yoga Online has a wide variety of classes that range from beginner to advanced. There are options for slower flow classes, as well as classes that move at a faster pace. There are also Bulldog Bites that are around 20 minutes or less, and there are also longer classes that are closer to an hour. Most of the workouts are full body workouts, but some target specific areas (gimme all the booty classes). They even added meditation which has been huge for me lately.
It's really hard to pick because I am constantly getting new favorites, but I tend to look for the Hips and Hammies classes, the Warrior Workout, and the Invigorate classes, and the Bulldog Bites. They are always adding new favorites and even do a Thursday night live class. Sometimes I just pick a class because of the playlist because did I mention the music is amazing?
How much does Bulldog Yoga online cost?
Right now, you can join for 30 days for FREE! If you love it, it's $12.99 a month. You can cancel anytime, of course.
I have a very old spin bike in my basement from, you know, 20 years ago when my mom used to teach spin classes. So when a friend of mine mentioned that she downloaded the Peloton App and used her old spin bike for workouts, I decided to try it out. I fell in love – and now I use the Peloton App for so much more than just spinning.
You have probably heard of Peloton bikes and treadmills, but the Peloton App is available on Apple and Android to anyone and you don't need any special equipment to use it. There are thousands of on demand and live classes that you can access from home anytime of day.
What kind of Workouts does the Peloton App have?
In addition to spin workouts and treadmill based workouts, the Peloton app has yoga, weight training, cardio, and outdoor running and walking. There is meditation, bootcamp and even programs that you can follow over the course of several weeks. All the classes are set to awesome playlists and I am guilty of choosing classes based on the music. Whatever works, right?
I love the spin classes, obviously, but I also really love the outdoor running classes whenever I get in the mood for a run. Because I am not someone who runs regularly, I love having someone guide me and push me as I go. And not only do I have favorite classes, I have favorite instructors which I think is pretty common for Peloton users. Ally Love is my favorite instructor for spin classes and Robin (NYC) Arzon is my favorite instructor for outdoor running, but there are honestly too many good ones to name!
How much does the Peloton App cost?
Right now, Peloton is has a 90 day free membership for all new members who join by April 30th. Typically it costs $12.99 per month and you can cancel anytime.
So there you go! Three amazing At Home Workouts you can try for free and see what clicks!!
If you're new to working out or have a pre-existing condition, it's always best to check with your doctor before starting a new workout or nutrition program.