This 80 Day Obsession Sheet Pan Breakfast is an easy and delicious pre or post workout meal with roasted Brussel Sprouts, Sweet Potatoes, and Bacon made all on the same pan!  Perfect with a fried egg on top and also great for anyone following the 21 Day Fix, too!  
I'm so obsessed with this breakfast, I actually couldn't wait to wake up and eat it again this morning.
Yup.  No case of the Mondays here…not when there is so much bacon-y deliciousness happening.
And one day I will even learn how to photograph a runny egg, but for right now you will just need to trust me that this here breakfast combo is everything. Especially if you are following Beachbody's Newest Program – The 80 Day Obsession.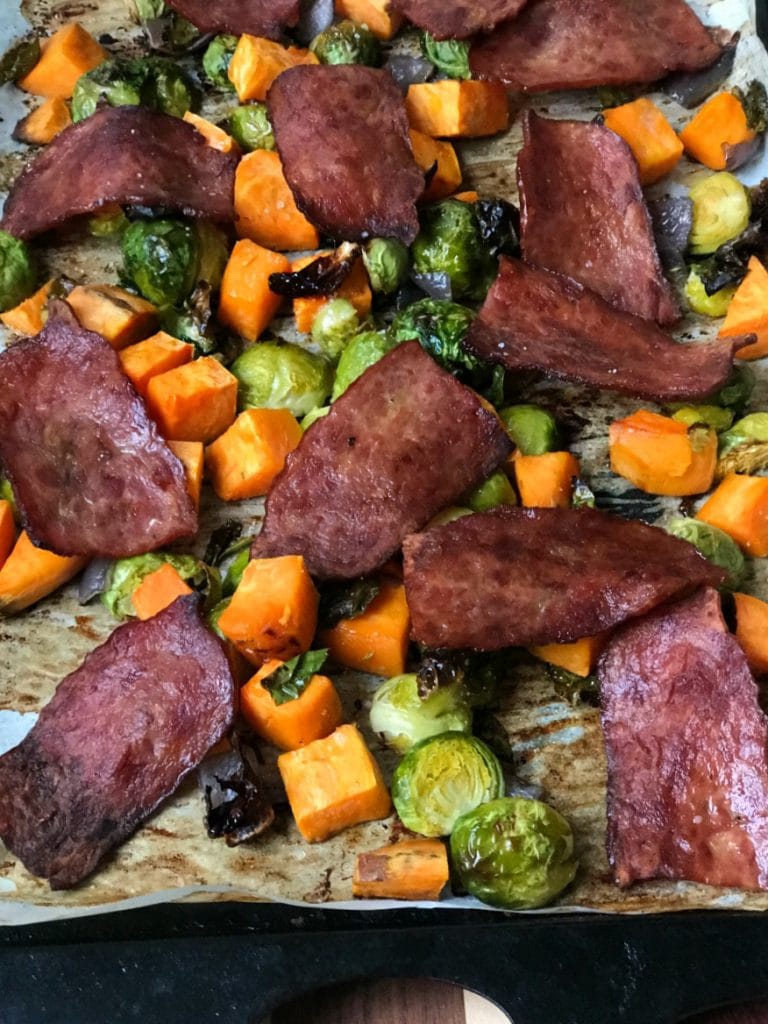 Just add an egg and this breakfast makes the perfect pre or post workout meal. And the coolest part?  All these delicious veggies and potatoes are cooking on the same pan as the bacon…at the same time.
Yup.  So easy.
First I lined a baking tray with parchment paper, then placed my turkey bacon halves down in a single layer.  I used turkey bacon with no nitrates or preservatives, like this one. If you have a smaller baking tray, you might need to use two trays or make this in batches.
Next I added my chopped Brussels sprouts, red onions, and diced sweet potatoes on top.  I drizzled some extra virgin olive oil over top and sprinkled with some Himalayan salt.
And this gorgeous tray went into the oven at 400 degrees.
About halfway into cooking, when the bacon edges started to crisp up, I removed my tray and stirred everything around, placing the bacon on top of the veggies…otherwise I think they would have just steamed and this girl likes her bacon crispy.
I raised the temperature to 425 and placed the tray back in the oven.
Fifteen minutes later and breakfast was ready.
This would be awesome to feed a crowd for brunch, but I actually love it best for food prep!  Just divide your veggies and bacon into 4 perfect servings and you are ready to go for the week!  I purposely made this 1/2 red so you could eat it with an egg over easy, a poached egg, or even a hard boiled egg.  Don't like eggs?  No biggie!  Make it with some extra bacon or even add in some breakfast sausage for variety.  YUM!
Yields: 4 servings
80 Day Obsession Sheet Pan Breakfast with Sweet Potato, Brussels Sprouts, and Bacon (21 Day Fix)
Ingredients
8 slices of all natural turkey bacon without nitrates or preservatives (I love Applegate)
1/4 of a red onion, roughly chopped
2 large sweet potatoes, peeled (optional) and diced
4 cups of Brussels sprouts, chopped or quartered if large
4 tsp olive oil
Himalayan or sea salt
Instructions
Preheat oven to 400 degrees.
Line a large sheet pan with parchment paper and slice bacon pieces in half and arrange on sheet in a single layer.
Top bacon with onion, sweet potatoes, and Brussels sprouts. Drizzle with olive oil and sprinkle with salt.
Bake for 15 minutes or until bacon begins to brown on the edges. Then remove pan from the oven, stir everything up and lay the bacon on top of the veggies for the second half of cooking. Increase temperature to 425 degrees and bake for an additional 15 minutes or until the bacon is crispy and potatoes are tender.
Serve with eggs or eat by itself!
21 Day Fix Container Count:
Divide pan into 4 servings - each is 1/2 RED, 1 GREEN, 1 YELLOW, and 1 tsp
7.6.9.2
195
https://confessionsofafitfoodie.com/2018/01/80-day-obsession-sheet-pan-breakfast/
Confessions of a FIt Foodie
If you are looking for more make ahead breakfasts, check out these posts!
Join the newsletter
Subscribe to get our latest content by email.