Italian pork chops are a go-to 21 Day Fix approved dinner recipe that's easy to make, and so delicious!
I take requests. For recipes, that is.
Want a dinner idea? Need your favorite meal "fixed?"
I'm your girl.
I've been doing this anyway for years…it's SO awesome to share my love (ok, obsession) with all of you now. And those of you who have been asking, my blog and Pinterest page should be ready very soon!
I'm so excited.
Anyway, this 21 Day Fix Italian Pork Chops dinner is a request from a reader who has boneless pork chops, looking for ideas of how to use them.
I love honey on pork, but I've used it in several recipes this week. So I wanted to try something different. And also use what I had on hand.
I'm so glad I did. This was delicious and super easy. I LOVE one pan meals – and boneless pork cooks quickly. This looks way more involved than it really is, I promise.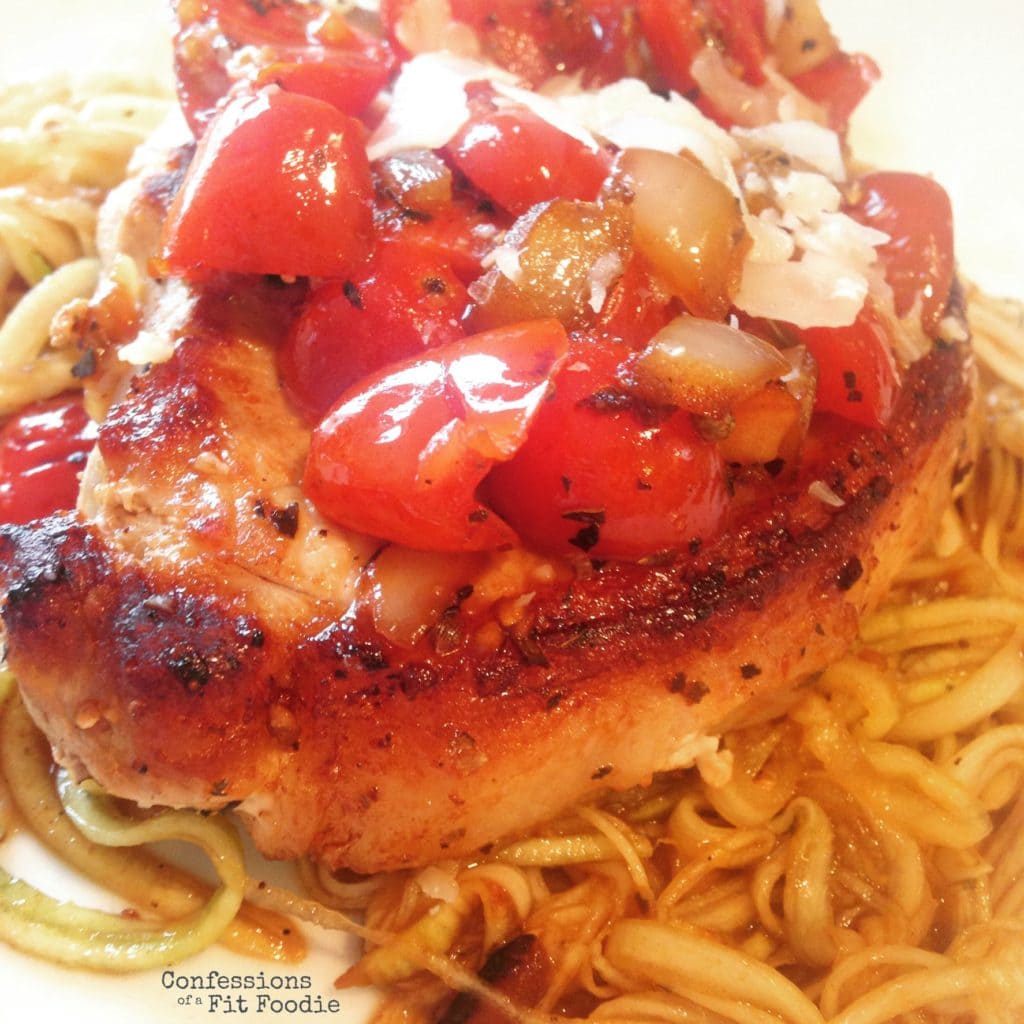 These 21 Day Fix Italian Pork Chops go great with zoodles, noodles, rice or even just a side salad.  I was actually shocked that my husband, who normally HATES tomatoes, ate these right up.  And to deepen the flavor, you can drizzle on some balsamic vinegar for the last minute of cook time.  So, so good!
This was one of my first recipes for the blog and it's still a favorite of ours – hope you enjoy!
Here's the 21 Day Fix Italian pork chops recipe:
Ingredients
4 Boneless Pork Chops
1tbsp of olive oil
1/2 pint of cherry or grape tomatoes, quartered
1/2 diced onion
2 cloves of chopped garlic
1 tsp of basil
2 tsp of oregano
sea salt
sprinkle of Parmesan cheese
Instructions
Heat oil in pan for a minute on high.
Add pork chops and sear on both sides - around a minute. Remove pork from pan.
Lower heat to medium and add onions; cook until translucent and caramelized.
Add garlic, tomatoes and spices and cook for 2 mins.
Return pork to pan and cook for 2 minutes on one side. Flip. Spoon tomato mixture over each piece of pork and cook another 2 minutes on the other side.
Top with a small sprinkle of Parmesan cheese and serve with pasta or, my fav, zucchini noodles!
21 Day Fix Container Count:
Serves 4; 1 pork chop = 1 RED 1/2 GREEN trace of BLUE and a tsp
7.6.9.2
120
https://confessionsofafitfoodie.com/2015/04/21-day-fix-italian-pork-chops/
Confessions of a FIt Foodie
Are you doing a round of the 21 Day Fix?  Don't do it alone – let me coach you! Contact me at trueconfessionsofafitfoodie AT gmail DOT com to join my current challenge group. The group offers daily motivation, recipe ideas, and the support of over 200 women. Check out my Etsy Shop for 21 Day Fix eBooks with full grocery lists, prep tips, and easy to follow recipes!
Join the newsletter
Subscribe to get our latest content by email.