This post contains affiliate links for products I am obsessed with. 
Crock Pot chicken tortilla soup is loaded with flavor! It's the perfect 21 Day Fix dinner to come home to because it cooks itself and your house will smell amazing! Place the ingredients into the Crock and let the magic happen.
Confession #55- Like a lot of you, we are trying to get used our new Back to School routine.
It's totally kicking my butt.
To say we have a lot going on is an understatement, and my kitchen MVP right now is definitely my programmable Crock Pot
…second only to my wine bottle opener.
The best Crock Pot
recipes are the ones where you dump everything in, go about doing 8 million other things, and then you eat sometime later.  Done, end of story.
And this Crock Pot
chicken tortilla soup is the perfect example of just that.  No need to use precooked chicken or saute any veggies.  There isn't even much to chop.
I do like to make homemade baked tortilla strips to serve this with, but in a pinch, some organic Tostitos would do just fine.   It's chilly here in PA today…the perfect weather for some homemade soup!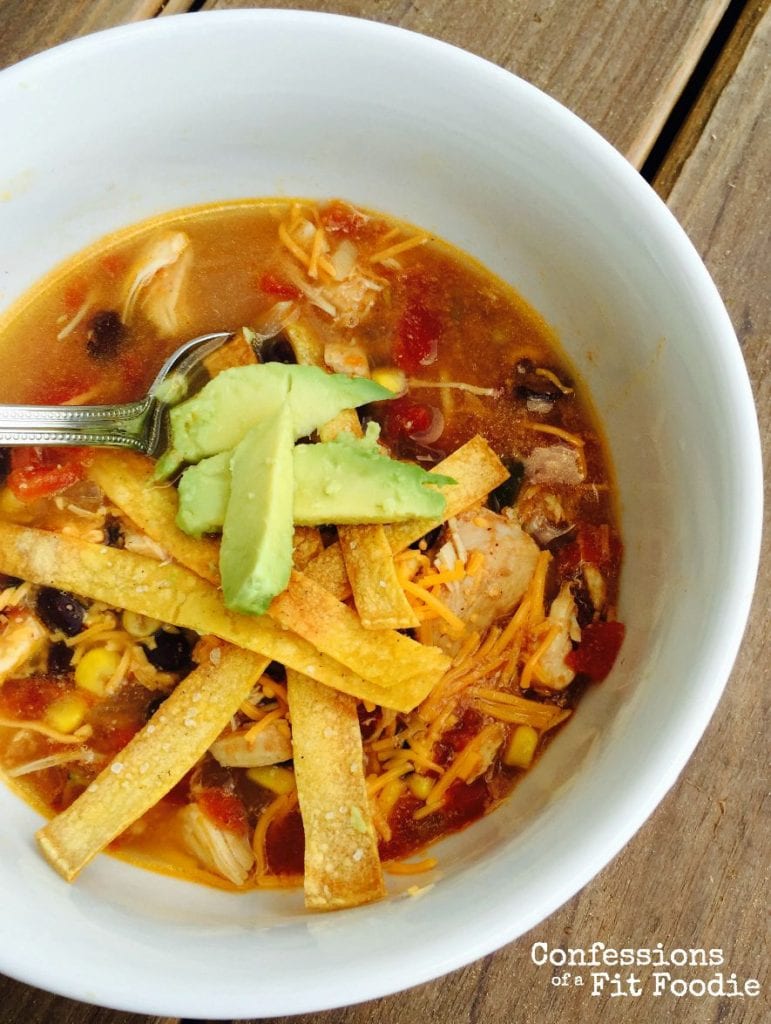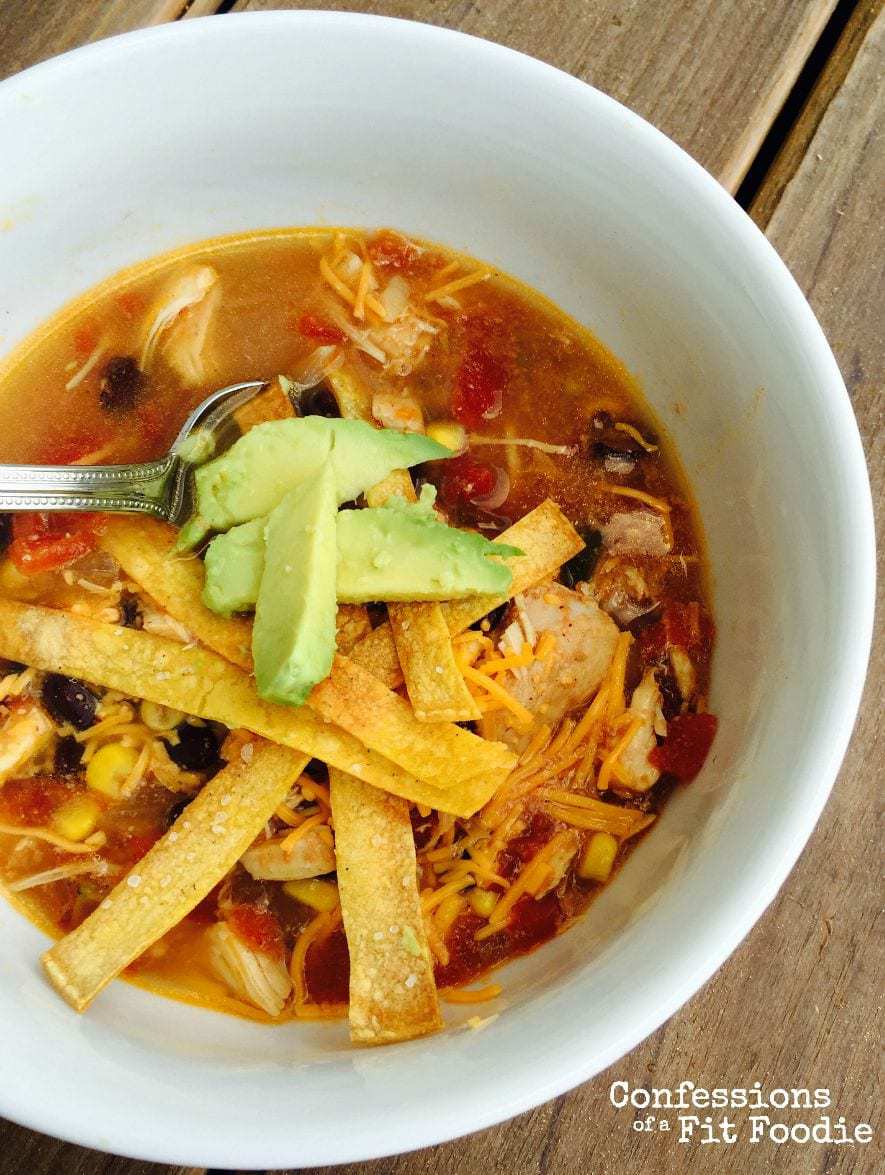 Here's the Slow Cooker chicken tortilla soup recipe. Enjoy!
Ingredients
1 1/4 lb raw boneless skinless chicken breasts (about 3-4 Breasts)
10 oz. diced tomatoes with green chilies
14.5 oz. diced tomatoes (no salt added)
1 cup frozen corn thawed
1 cup black beans (no salt added), drained & rinsed
1 medium onion, diced
1 jalapeno, diced
2 cloves garlic, minced
4 cups of organic, low sodium chicken broth or stock
1 tsp. ground cumin
1 tsp. chili powder
1 tsp. Himalayan salt
1/4 tsp. black pepper

Tortilla Strips:

organic corn tortillas
olive oil cooking spray
Himalayan salt

Optional toppings - avocado, cheese, lime, Greek yogurt, cilantro
Instructions
Toss all the ingredients for the soup into your crock pot. Stir, turn on low, and go about your day. Check back in 6-8 hours.
Before serving, shred the chicken.

To make homemade tortilla strips:

Preheat your oven to 350 and cut the corn tortillas into strips. Spray with olive oil spray and sprinkle with Himalayan salt. Bake for about 10-15 minutes.
Enjoy with toppings!
21 Day Fix Container Count:
Serves 6 Serving Size (1.5 cups) = 1/2 RED 1/2 GREEN 1/2 YELLOW Don't forget to count the toppings!
7.6.9.2
73
https://confessionsofafitfoodie.com/2015/09/21-day-fix-crock-pot-tortilla-soup/
Confessions of a FIt Foodie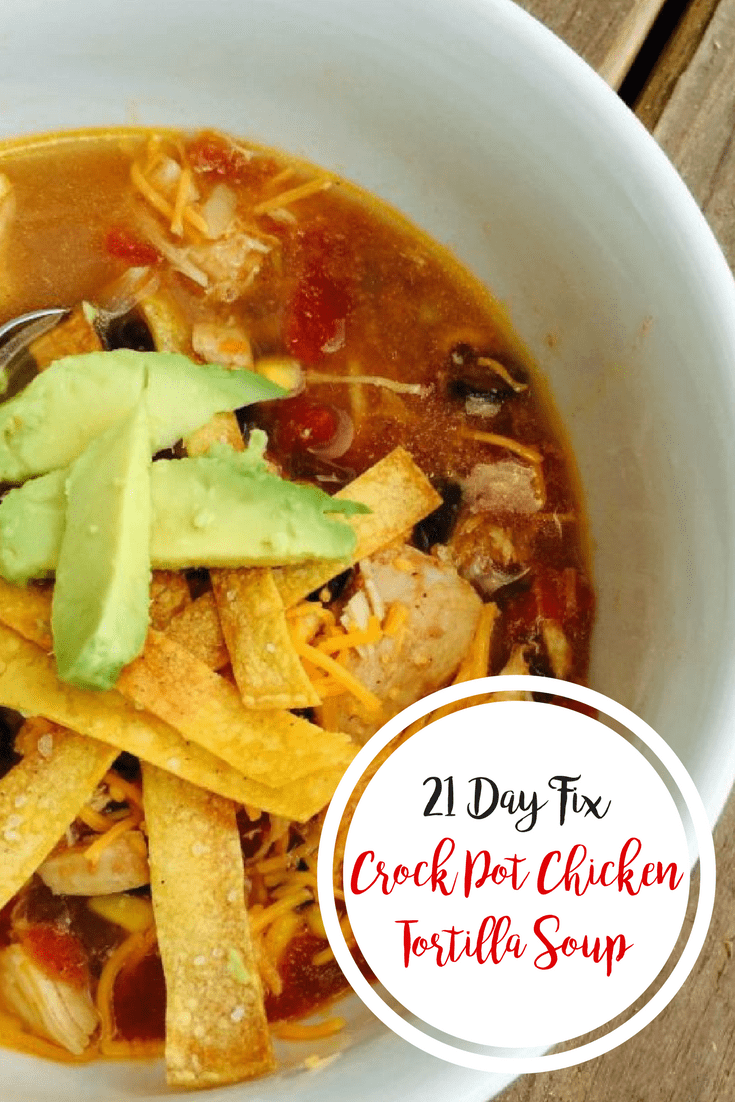 Want to make dinner planning a breeze?  Check out my eBooks on Etsy with delicious and easy FIX approved recipes, full grocery lists, and prep tips to keep your time in the kitchen to a minimum! 
Are you doing a round of the 21 Day Fix?  Don't do it alone – let me coach you!  Contact me at trueconfessionsofafitfoodie@gmail.com to join my current challenge group for daily motivation, recipe ideas, and the support of over 200 women.
Join the newsletter
Subscribe to get our latest content by email.