The perfect low carb appetizer for the big game, these 21 Day Fix Mini Philly Cheesesteak Stuffed Pepper Nachos have all the flavors of our favorite sandwich without all the extra calories!  We love these so much, we even make them for dinner!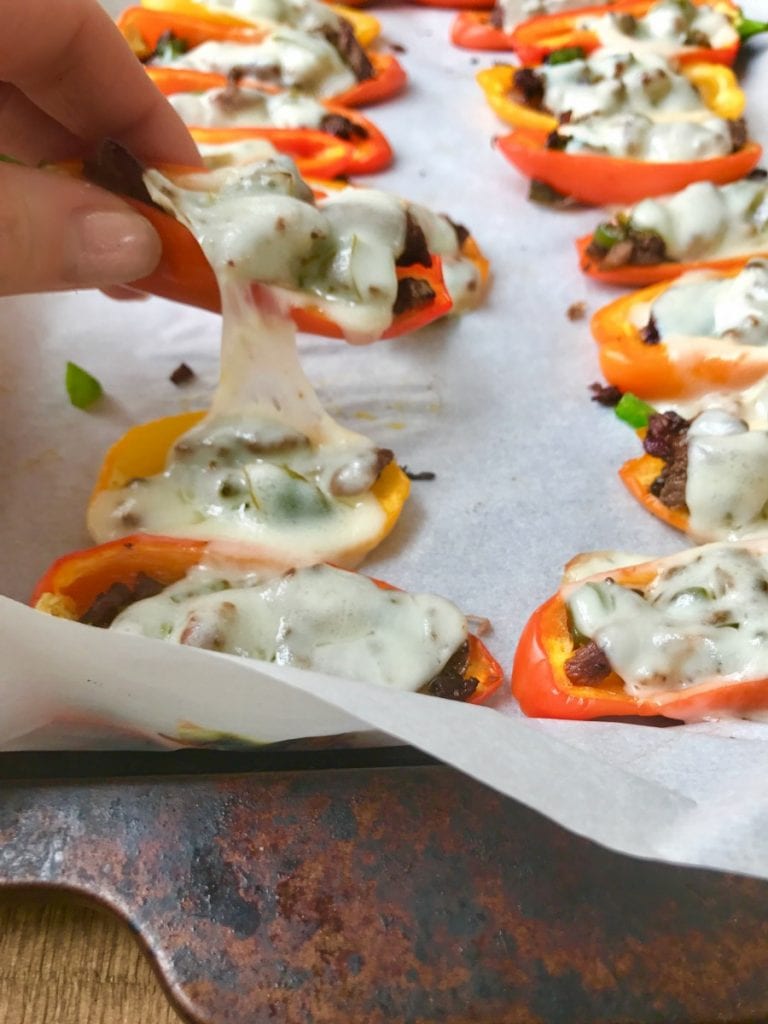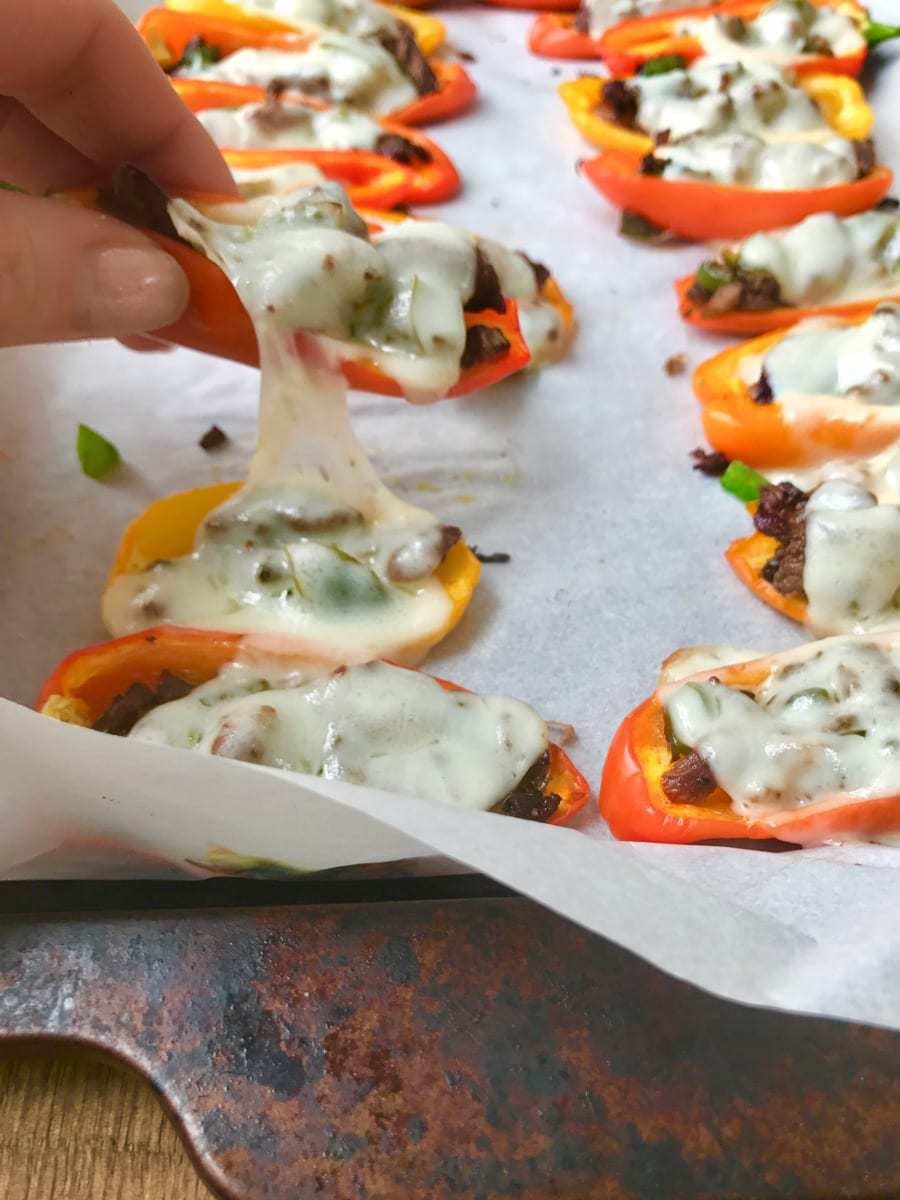 Confession #138 – I had SO many new Super Bowl themed recipe ideas for the blog this year and guess how many I have gotten out to you?
Yup.  None.
Well one, if you count this one.  And you should definitely count this one because these Mini Philly Cheesesteak Stuffed Pepper Nachos are freaking delicious.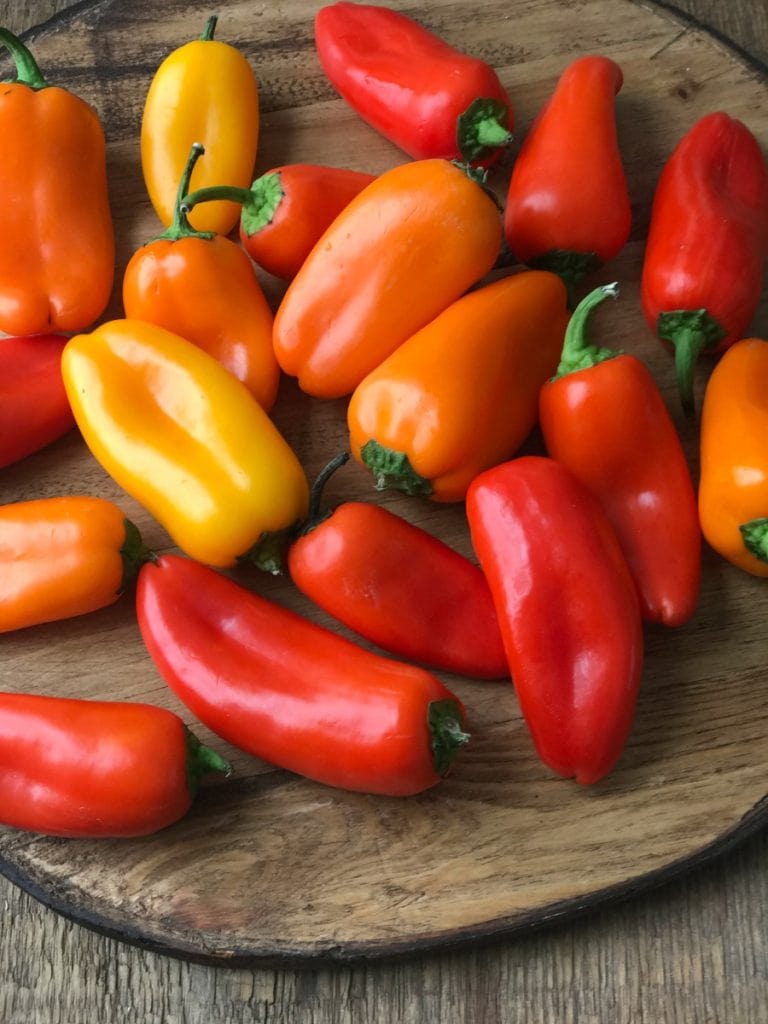 As for all the other recipes?  Well…who needs a football game to make a tasty snack, right?  I'll get to them at some point…when the 4 year old dictator who lives with me says I can.  <3
But these nachos…I will admit, because we are die hard Eagles fans, I really, really wanted to get a Cheesesteak style appetizer out before Sunday as, I don't know, a tribute I guess?  I mean, it really has been an incredible season and I feel a little like we are dreaming here…so I may have been partial to this recipe out of the bunch I've been planning.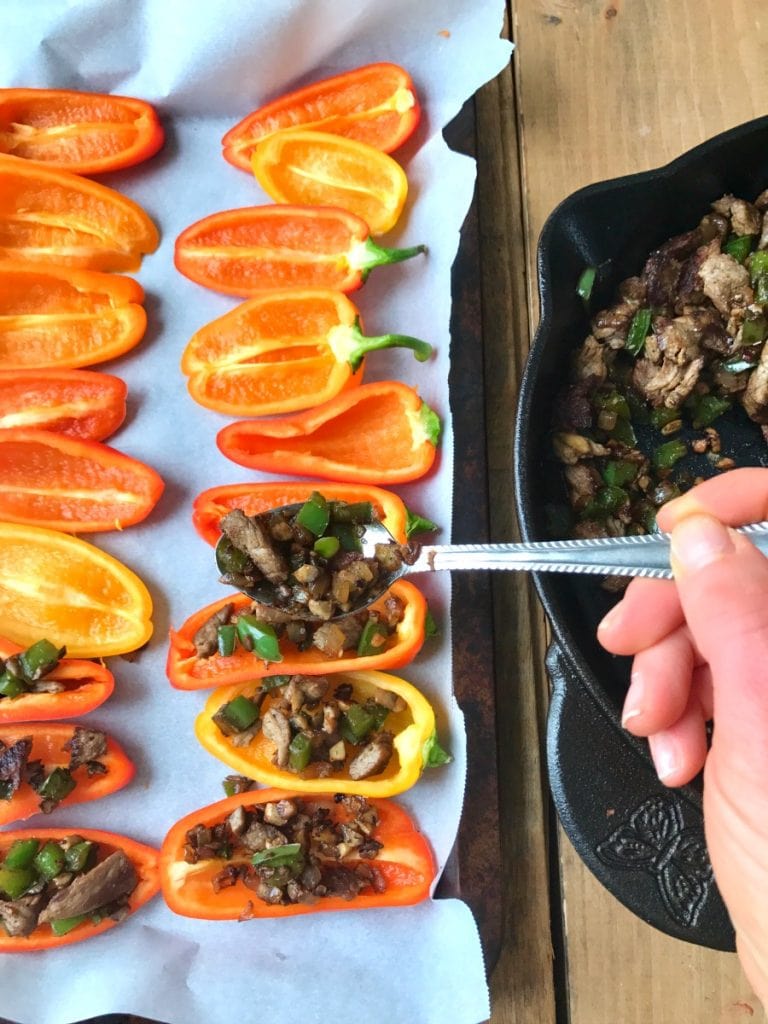 Tribute or not, it was the right move because both my husband and I are in love.  I actually have a Cheesesteak Stuffed Pepper recipe on the blog from forever ago – it was one of my first recipes and because I was a super clueless new blogger, my pictures from that one seem to have disappeared!  Poof!  It's been on my (ever growing) list to update that post forever.  #someday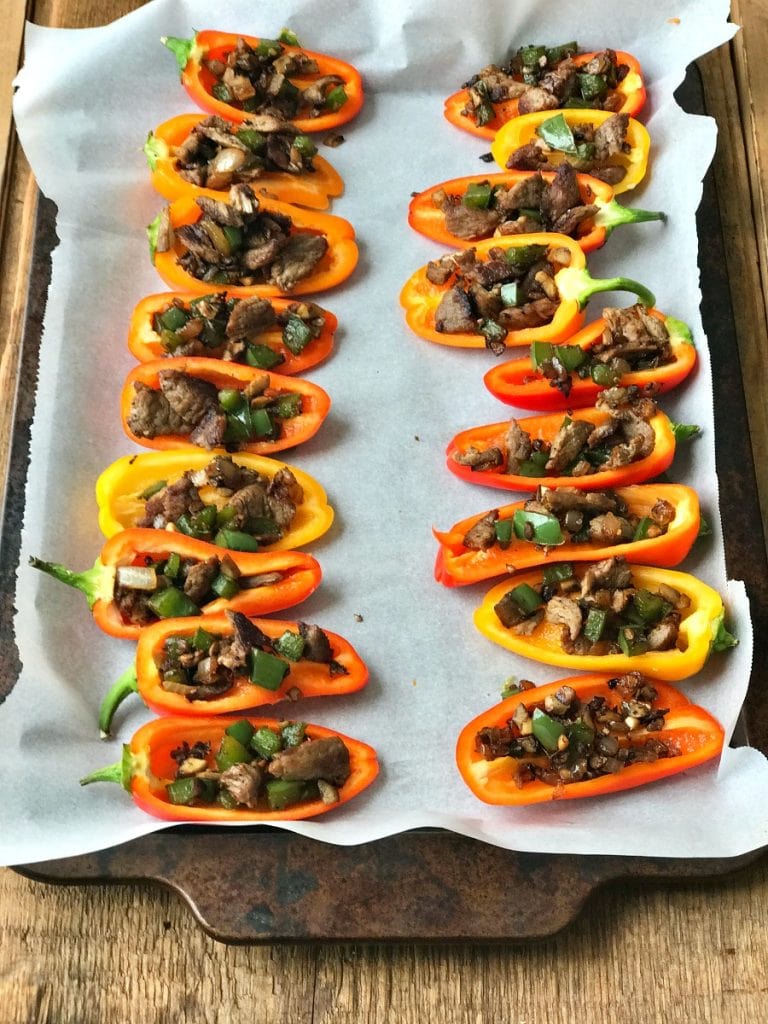 And my taco style Mini Bell Pepper Nachos are such a popular game day post, I really thought you guys would dig these, whether you are rooting for the Eagles or not.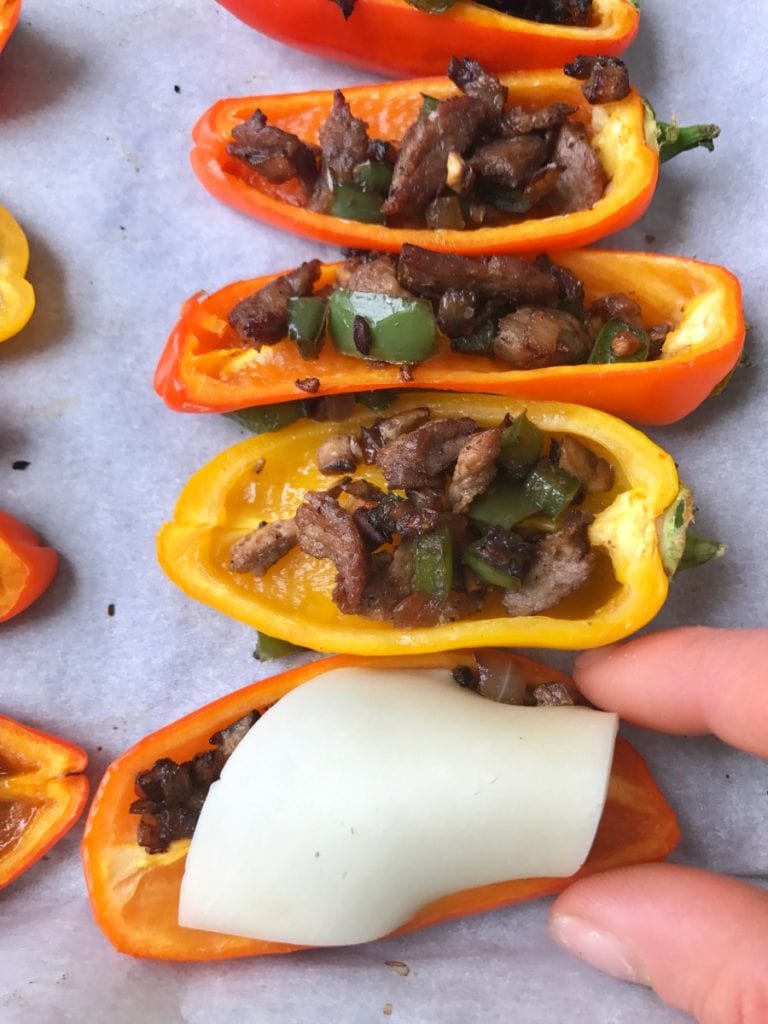 I used thinly sliced ribeye for this, but I would also recommend sliced sirloin, flank, or even deli roast beef for the steak and I added diced mushrooms, onions, and bell peppers to the meat mixture.  They are chopped so small that my hubby didn't realize how many veggies I had in there (especially the mushrooms-no clue!).  And I topped them with a quarter of a slice of provolone.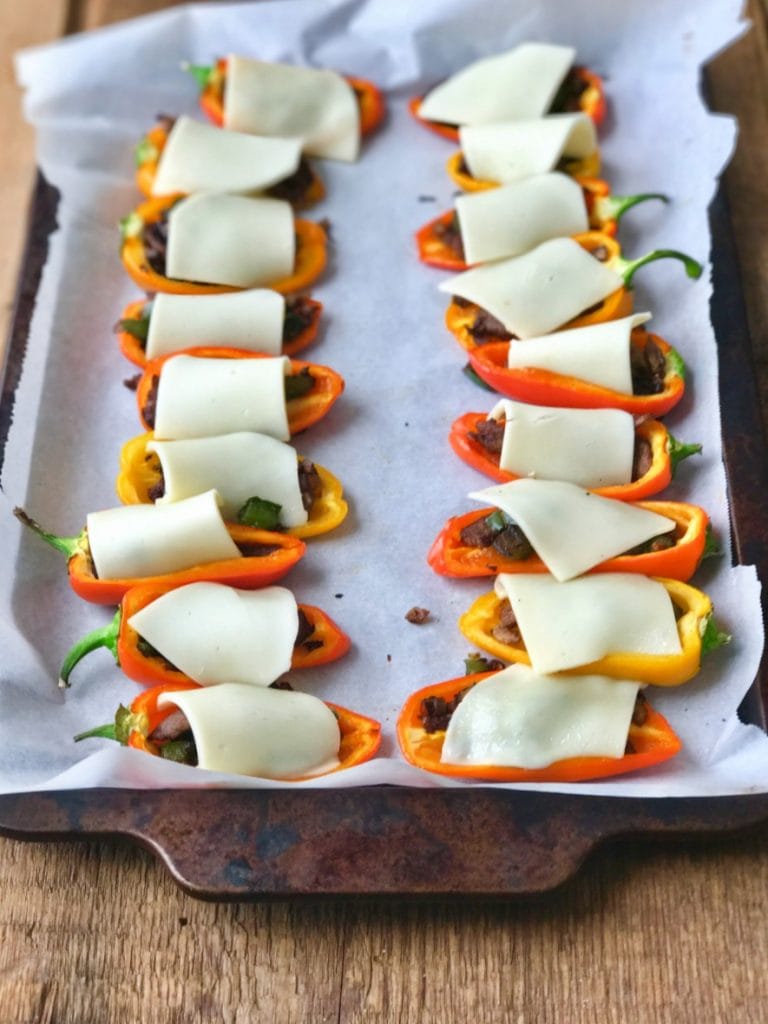 You could use shredded, but these mini slices melt beautifully and I love that I can control the amount of cheese so I can eat more of these and not uses as much blue.  You get me, right?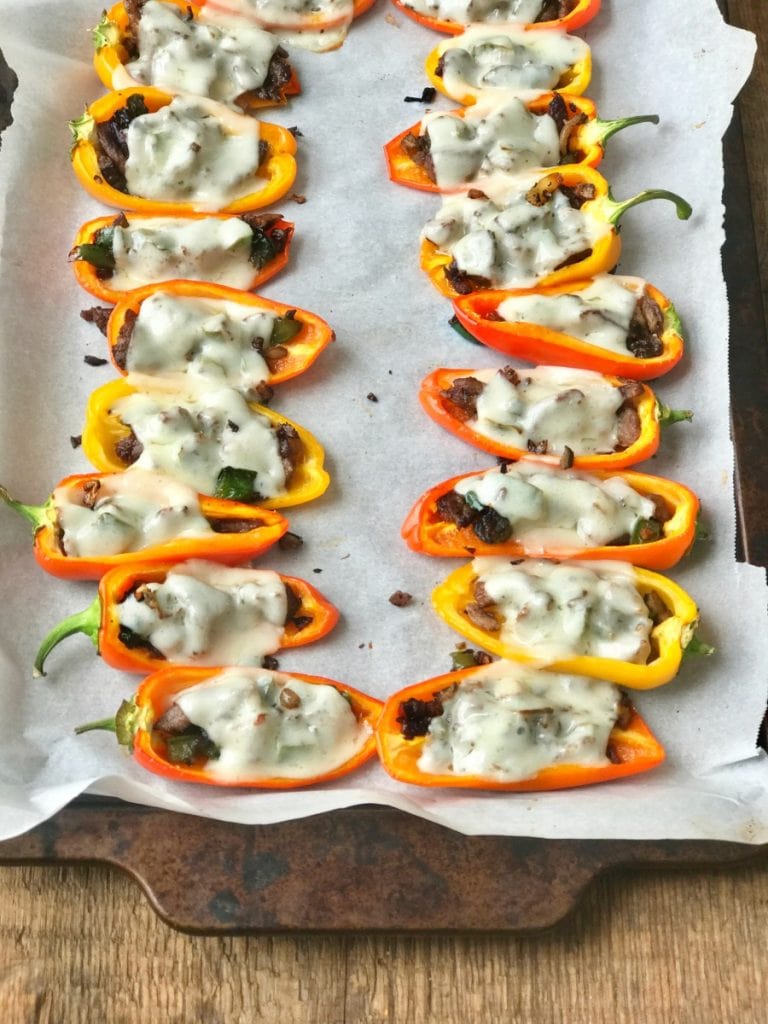 These are winners you guys…like my Eagles.  I hope you try them and love them this Super Bowl Sunday!
If you are looking for more game day recipes, check out this post!  
Yields: about 32 nachos (4-8 servings)
Serving Size: 4 peppers for an appetizer; 8 for a dinner
21 Day Fix Mini Philly Cheesesteak Stuffed Pepper Nachos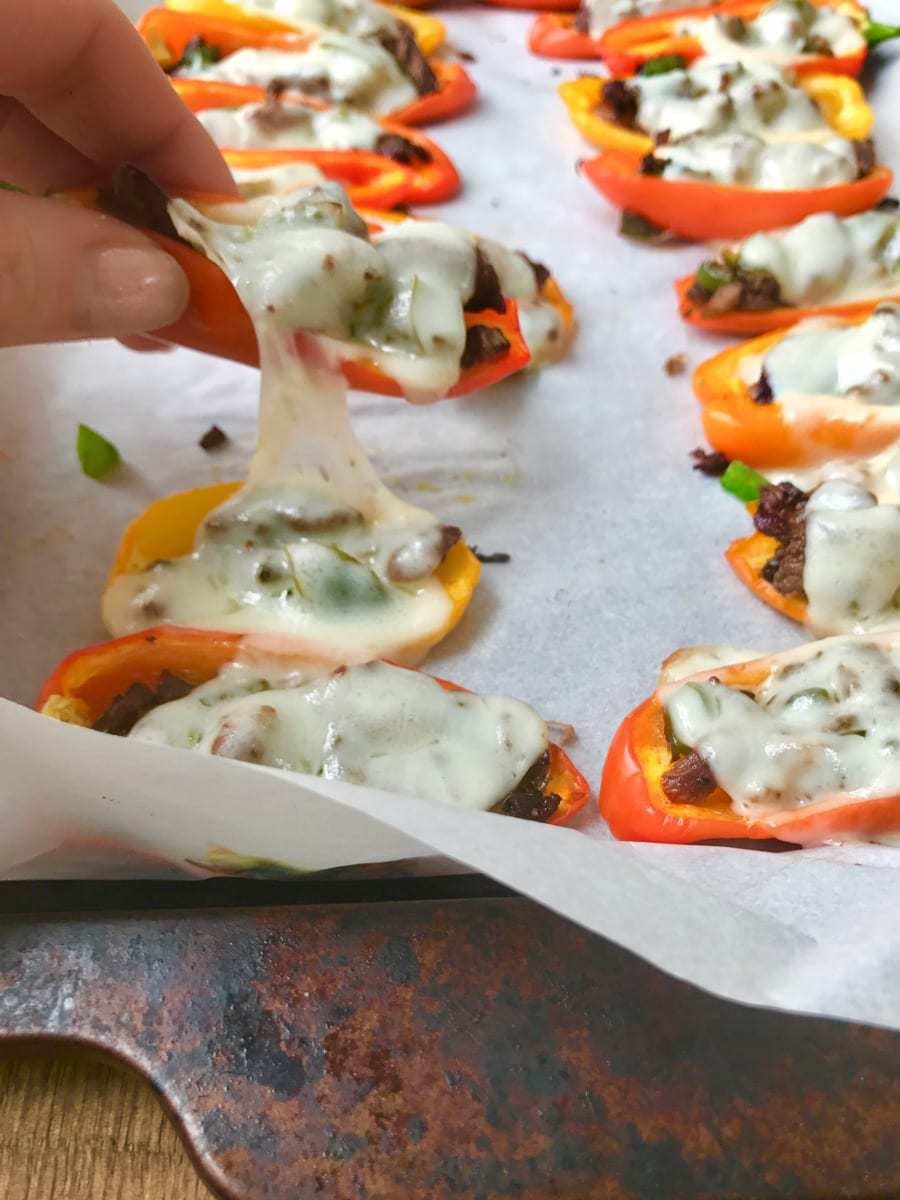 Ingredients
1 lb mini bell peppers, sliced in half long ways and seeded
1 1/2lbs of thinly sliced and chopped sirloin, ribeye, flank, or roast beef
2 tsp olive oil
1 1/2 cups of finely diced mushrooms
1 large green pepper, diced
1/2 white or yellow onion, diced
8 slices of provolone cheese (or cheese of your choice)
garlic powder
sea or Himalayan salt
Instructions
Preheat oven to 375
Place pepper halves on a baking sheet (I lined mine with parchment for less mess).
In a cast iron or non stick pan, sauté beef on medium high heat until cooked through and crispy. Sprinkle with salt and garlic powder. Remove meat from pan and set aside.
Add 2 tsp olive oil to pan along with your veggies. Saute together over medium heat until veggies are tender and onions are transparent. Add meat mixture back in and let the flavors meld together for a few minutes over low heat. Remove pan from stove. Taste filling and just seasoning as necessary.
Fill pepper halves with meat and veggie mixture. Place in oven for 10-12 minutes or until peppers begin to soften slightly. **If you are making these ahead of time, stop here and place in the fridge until you are ready to serve.
Remove pan from the oven and top each pepper half with 1/4 slice of provolone. I kind of tucked the ends into the pepper halves. Place back in the oven for 5 minutes or until cheese melts.
Enjoy while warm!
21 Day Fix Container Count:
4 pepper halves for an appetizer: 3/4 red, 1/2 blue, 1 green 8 pepper halves for a dinner: 1 1/2 red, 1 blue, 2 green, 1/2 tsp
7.6.9.2
197
https://confessionsofafitfoodie.com/2018/01/21-day-fix-philly-cheesesteak-stuffed-pepper-nachos/
Confessions of a FIt Foodie
Join the newsletter
Subscribe to get our latest content by email.