These adorable and easy Easy Chocolate Macaroons are such a favorite in our house, and yet they are gluten-free, dairy-free, grain-free, egg-free, refined sugar free, and nut free! A safe and delicious recipe for all! This post contains affiliate links to products I'm obsessed with.
This is a sponsored post on behalf of Bob's Red Mill. As always, all opinions are 100% mine. Thank you for supporting the brands that help make Confessions of a Fit Foodie possible.
Confession #134 – I can't take credit for this tweak on my Coconut Macaroon recipe…well, I can take some credit, but most of this genius cookie hack came from my cousins, Tracey and Mike, and we should all be VERY thankful that they are such smarties!
The dough in the recipe is the same as the original, so I grabbed a bag of my favorite Bob's Red Mills Organic Coconut Flour and a bag of their Unsweetened Shredded Coconut. Bob has been my go-to guy for gluten-free baking these past two years, and I love that his shredded coconut is just what it says it is – pure coconut with no yucky additives.
If you made the original recipe – which the same cousins brought into my life a couple of years ago – you know the rolling process could be a little tricky due to the egg-less dough. I have technique down, thanks to Tracey and Mike, but it still took longer than I wanted to make multiple batches for holidays.
And then Mike had the idea to make the macaroons in silicone molds. Ummm…Mike, you are my favorite.
You just mix the simple list of ingredients in your food processor until the dough forms, and then press it into your silicone molds…and BOOM. Cookies are ready for the oven! I found this adorable snowflake mold
on Amazon, which only has 11 holes but is otherwise perfect, although you could use any simple shape you want…or even lined cupcake tins! I would steer away from stars and anything that has too pointy of an edge, but otherwise have fun customizing these however you want.
And now about the chocolate! I've been known to mix chocolate chips into my macaroons, but since we were using silicone molds, I had the idea to add a fudgey chocolate layer to the bottom…because, well, why not? I whipped up some homemade chocolate using pantry items and spooned it over the cookies after the bake time was up. Then the cookies went into the freezer for cooling.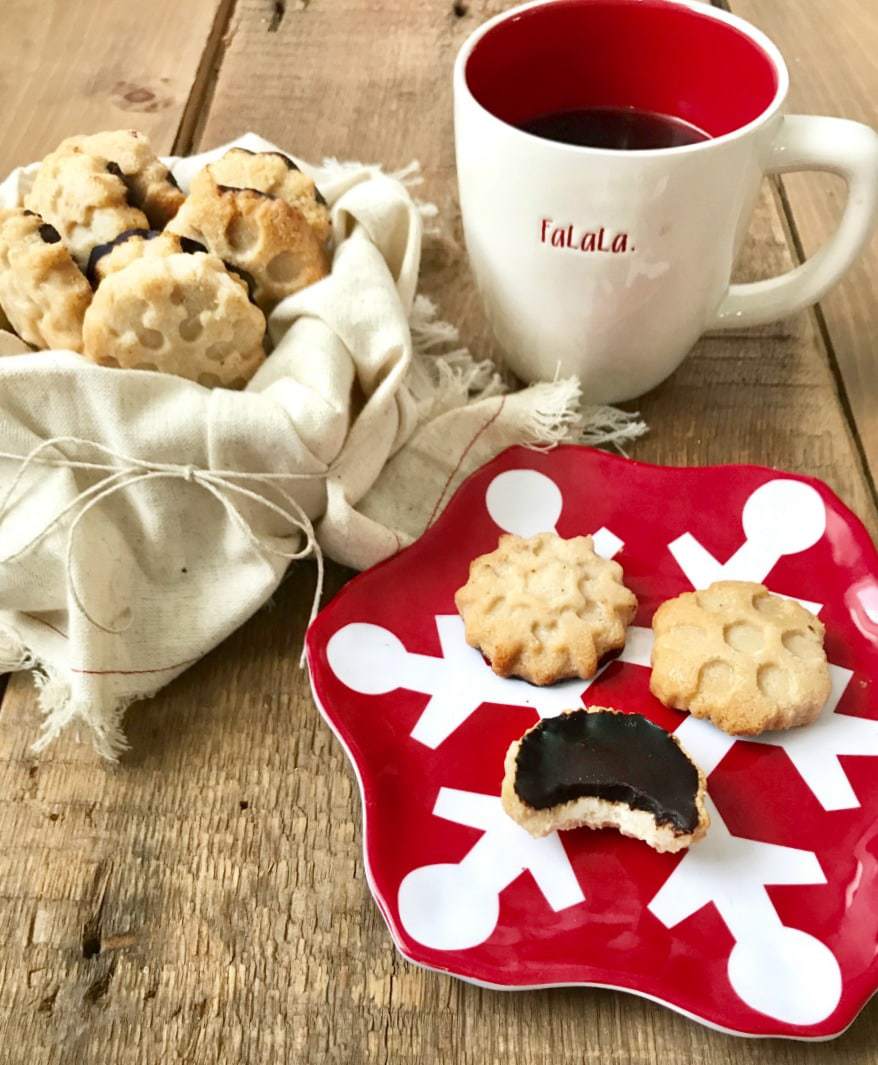 Umm…not to brag, but this was a pretty freaking awesome idea. The texture is almost like a chocolate dipped shortbread, with the perfect a hint of coconut flavor.
And while these cookies taste completely decadent, they are actually super healthy…and even if you FIXers don't want to use a treat swap (I feel you, people, I DO), you could eat one of these and count it as an orange and a teaspoon. Yes..you heard me. An orange. You know – the often forgotten container used mostly for salad dressings? And I hardly EVER say this in my life, but one really can be enough of these. But if you can't help yourself and need a couple more (again…I truly get you), call it a day and count it as a treat swap!
I'll be making more of these for Christmas because one dozen doesn't last very long in my house! If you end up giving them a try, please let me know what you think! I always love hearing from you. <3
Happy Holidays, everyone!
Thank you Bob's Red Mill for sponsoring this post. It means so much to me to work with brands that I love and use in my kitchen daily!

21 Day Fix Easy Chocolate Macaroons (Allergy Friendly)
These adorable and easy 21 Day Fix Easy Chocolate Macaroons are such a favorite in our house, and yet they are gluten-free, dairy-free, grain-free, egg-free, refined sugar free, and nut free!  A safe and delicious recipe for all! 
Ingredients
1 1/2

cups

Bob's Red Mills Unsweetened Shredded Coconut

1

tablespoon

Bob's Red Mills Organic Coconut Flour

1/8

teaspoon

sea salt

2

tablespoons

coconut oil

melted

2

tablespoons

honey

1

teaspoon

vanilla extract
For the chocolate layer
3

tablespoons

maple syrup

you can sub honey, but I definitely prefer the syrup

3

tablespoons

coconut oil

2 1/4

tablespoons

cacao or cocoa powder
Instructions
Preheat oven to 350 degrees.

In a food processor, combine shredded coconut and coconut flour.

Pulse in salt, coconut oil, honey, and vanilla until a dough forms.

Grab a silicon mold and portion about 1 1/2 tablespoons of dough into each opening. Press down with your fingers or a small spoon to smooth out cookies.**If you don't have silicone mold, you could always use lined muffin tins.

Bake for 7 minutes.

While cookies are baking, melt coconut oil over low heat. Remove from heat and whisk in maple syrup, then slowly whisk in the cacao powder until smooth. Taste and adjust for sweetness or a deeper chocolate flavor. Chocolate shouldn't be too runny - if necessary, add a little more cacao powder to thicken it up.

When cookies are done, use a teaspoon to drizzle on the chocolate layer. Place cookie tray in the freezer for 30 minutes to chill.

Once cookies are set, carefully remove them from the silicone mold and enjoy!

Store in the refrigerator.
Notes
1 cookie = 1 orange and 1 tsp
3 cookies = 1 treat swap
Nutrition
Calories:
155
kcal
Carbohydrates:
10
g
Protein:
1
g
Fat:
13
g
Saturated Fat:
12
g
Polyunsaturated Fat:
0.2
g
Monounsaturated Fat:
1
g
Sodium:
31
mg
Potassium:
91
mg
Fiber:
2
g
Sugar:
7
g
Vitamin C:
0.2
mg
Calcium:
10
mg
Iron:
1
mg