Confession #93 – I had a piece of this 21 Day Fix Ice Cream Pie for breakfast yesterday.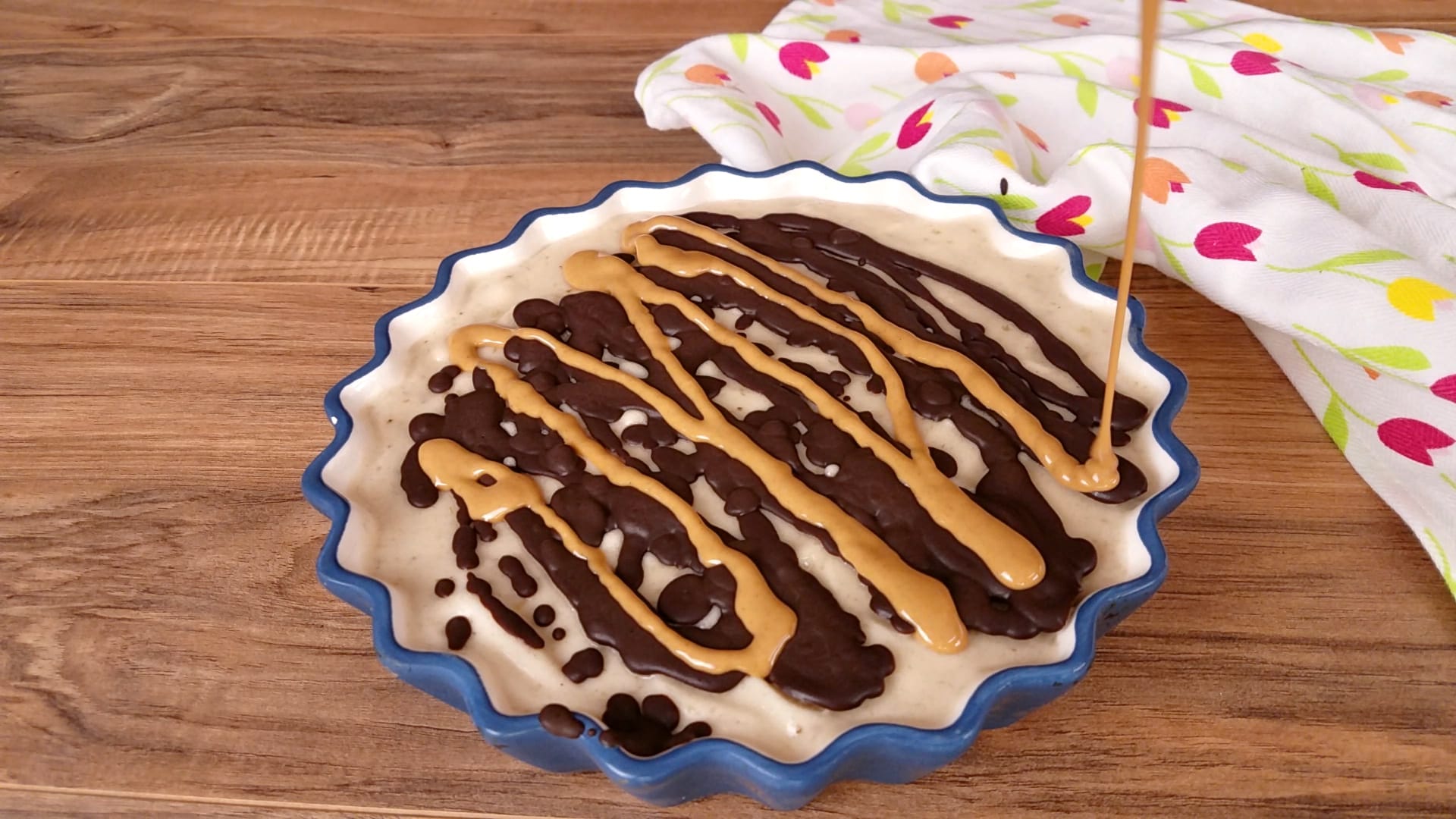 Oh…and it may have been the piece I hid away in the freezer…after I told my family it was all gone.
Whew.  Thank you for letting me get that off my chest…
You get it, though, right?  I mean, not only did I spend the time making this little piece of heaven,  I also spent weeks dreaming about it…and how I could make it without sacrificing a yellow or a blue container…(that's normal, right?).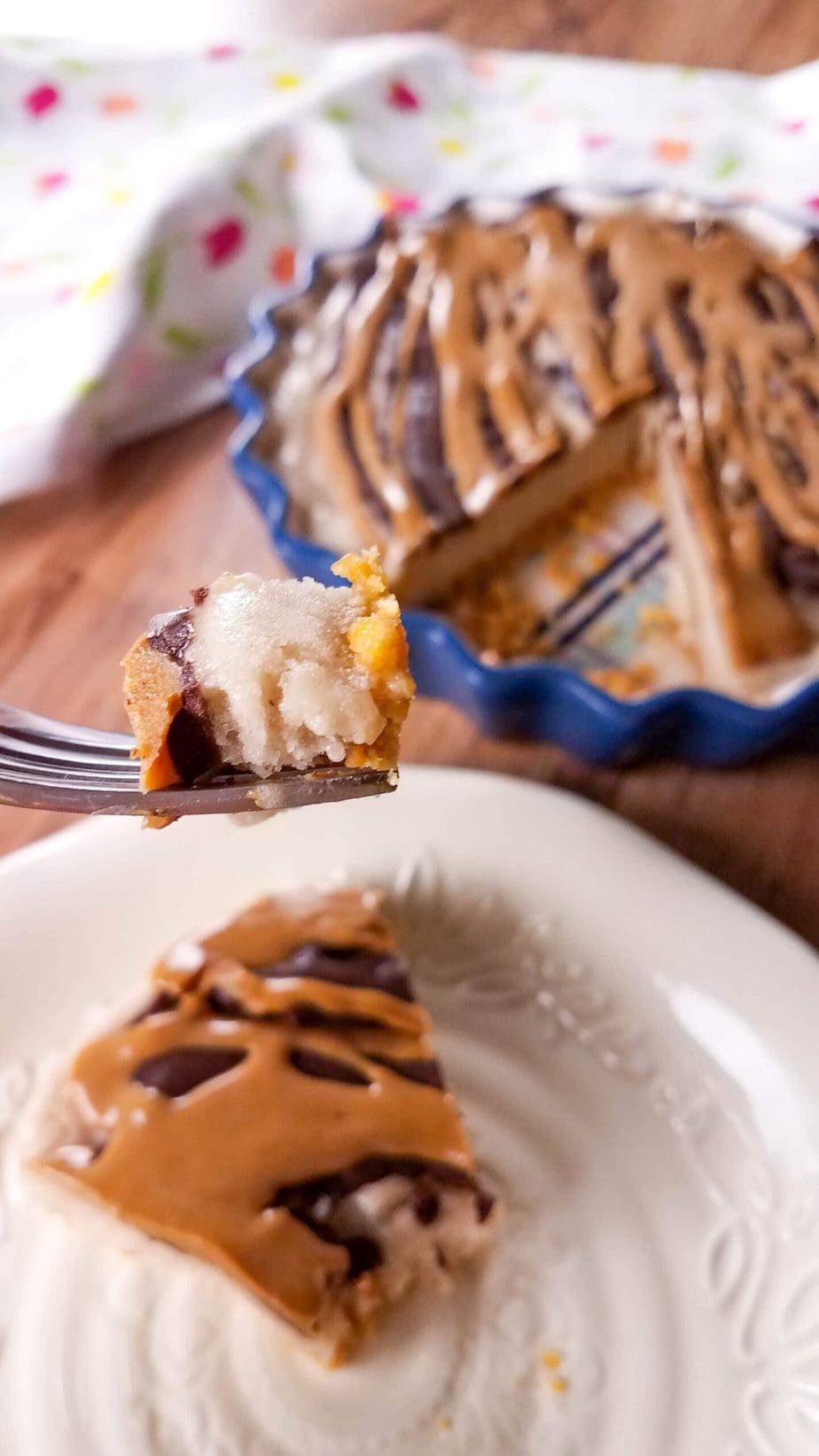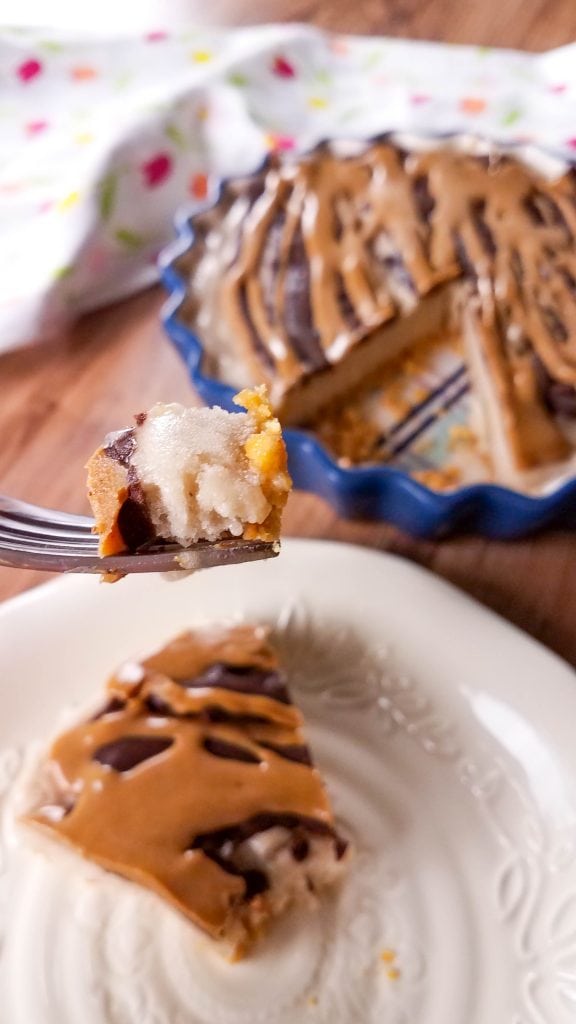 And so I think I deserved that last secret piece.
Anyway, this all came about because we make the One Ingredient Banana Ice Cream almost every night in my house.  You have tried it, right?  Because it's amazing.  No – it's magical.  Whoever discovered that little banana slices could transform into ice cream should be celebrated.  Revered.  Because this has been life changing in my house.
My son can't have dairy, so ice cream season (which is pretty much every month except maybe Dec and Jan around here) is tough.  But thanks to some bananas and a food processor, we can all have a healthy, tasty, and dairy free treat any time we want!
And now, with this pie, we have a fancy and delicious Ice Cream dessert that we can bring to parties or make for our own BBQs!  It's seriously SO good…and with the peanut "crust" and homemade magic shell topping, it tastes like my favorite summer treat – the Nutty Buddy cone.  No – it tastes like the TOP of a Nutty Buddy cone, which is clearly the best part.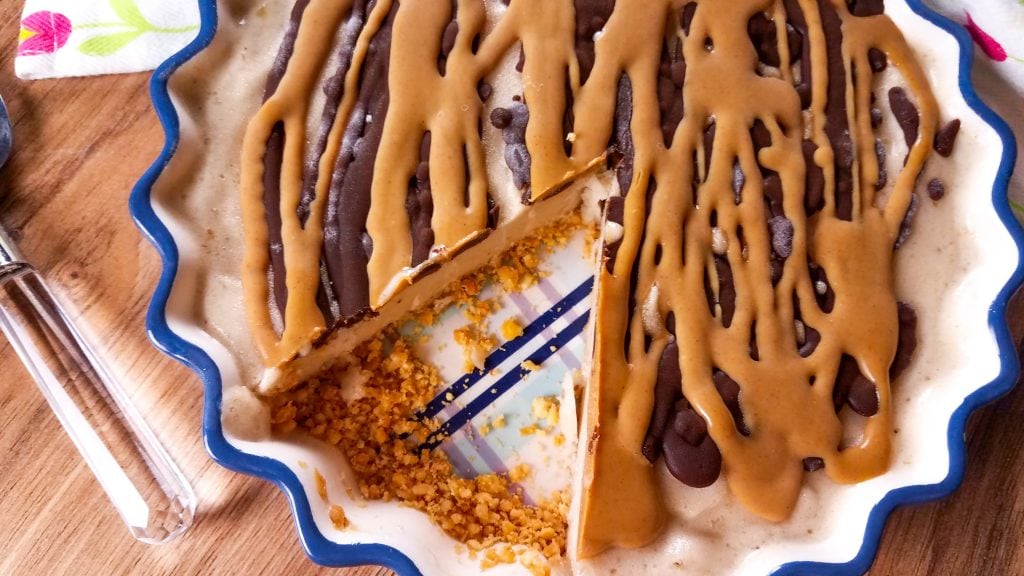 For this FIX approved treat, I just chopped up some peanuts in my food processor and laid them at the bottom of my pie plate.  Then I added the banana ice cream.  I went with straight up banana with some vanilla almond milk, but you could flavor it with extracts, cocoa powder, pb2 powder, or even some fruit!   Get creative!
Then I drizzled on some melted chocolate and peanut butter because, well, why wouldn't I?
The resulting pie was so wonderfully tasty that my daughter actually chose it over the ice cream man this weekend.  And for all you fixers, this is one purple, one orange, and 2 teaspoons per serving because it's essentially just bananas, peanuts, cocoa powder, coconut oil, and peanut butter.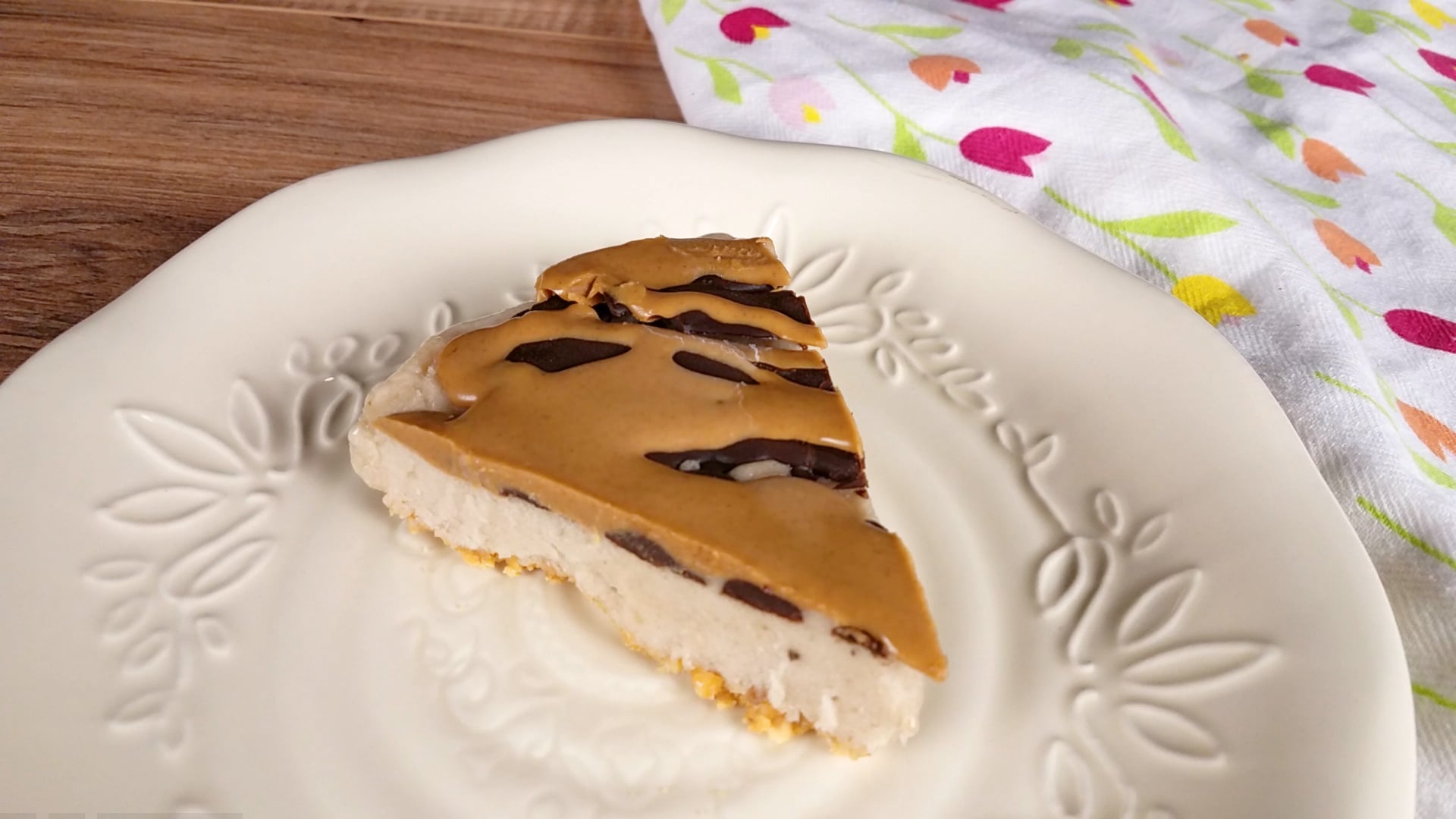 Pure magic.
If you try this, please let me know or #confessionsofafitfoodie!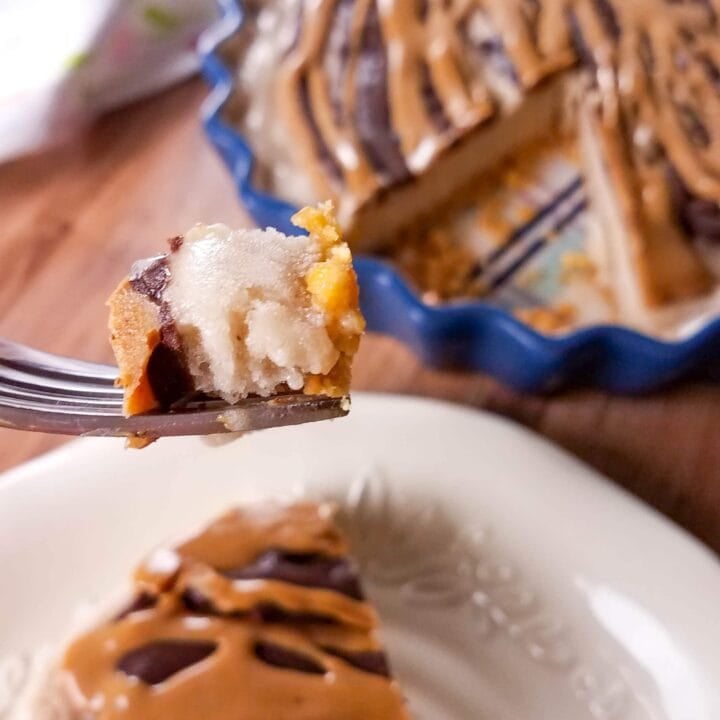 21 Day Fix Ice Cream Pie
My family loves banana "ice cream" and naturally it made sense to dress it up into an ice cream pie!
Ingredients
3

bananas

sliced and frozen

3/4

cup

peanuts

2 1/2

tablespoons

coconut oil

2

tablespoons

unsweetened cocoa or cacao powder

2

tablespoons

pure maple syrup

4

teaspoons

peanut butter

Splash

vanilla almond milk

Optional mix-ins for banana ice cream- PB2 powder, chocolate chips or cacao nibs, vanilla extract...get creative
Instructions
Pulse peanuts in food processor until they are chopped, but before they become peanut butter. Place chopped peanuts on the bottom of a pie plate.

Remove bananas from freezer and place in food processor. Blend until smooth, adding in a splash of almond milk if necessary. You may need to stop and scrape the sides occasionally. This process usually takes me 3-5 minutes.

Once your bananas are the right texture, spread them over the peanut layer of your pie plate. Place pie in freezer.

Melt coconut oil in the microwave or over low heat. Remove from heat and whisk in cocoa powder and maple syrup until smooth. If you see lumps, keep whisking or heat slightly.

Remove pie from freezer and, using a fork, drizzle chocolate over pie in alternating directions.

Melt peanut butter in the microwave for about a minute or until thin. Again, drizzle over pie.

Place pie back in the freezer for at least an hour. You want it to be very firm when cutting it.
Notes
Serves 6 - each 1/6 serving is one Orange, one PURPLE, and 2 tsp
Nutrition
Serving:
1
slice
Calories:
260
kcal
Carbohydrates:
23
g
Protein:
7
g
Fat:
18
g
Saturated Fat:
7
g
Polyunsaturated Fat:
4
g
Monounsaturated Fat:
6
g
Sodium:
103
mg
Potassium:
423
mg
Fiber:
4
g
Sugar:
12
g
Vitamin A:
38
IU
Vitamin C:
5
mg
Calcium:
33
mg
Iron:
1
mg