These 21 Day Fix Mason Jar Egg Casseroles are a perfectly portioned and portable make ahead breakfast for the 21 Day Fix! This post contains affiliate links for products I'm obsessed with. 
Confession #119 – I was recently featured on a local news segment and was nervous as hell about doing live TV.
I didn't even tell anyone it was happening until right before.
But it actually went really well.  I always say I'm most comfortable in the kitchen…and apparently a studio kitchen on TV is no different.
And if I can be totally honest, it fulfilled a crazy old dream of this girl's…dating back to watching Julia Child with my grandmother in the 80s.
I always wanted to have my own cooking show.
My grandma used to give me a pot, some uncooked spaghetti and a wooden spoons and I used to not only pretend to cook, I would narrate what I was doing to an imaginary audience.
This was pre-food network, people.  
Anyway, I never actually thought this dream would happen or even tried to pursue it…so it was more of a daydream than anything. And while doing a quick cooking demo on the local news might be as close as I come to a real cooking show, I'm still counting it as dream fulfilled!  When it's your dream, you can do that, right?
Anyway, if you didn't see it live, I demonstrated two make ahead breakfast ideas – my 21 Day Fix Baked Oatmeal Jars and these adorable and delicious egg casseroles.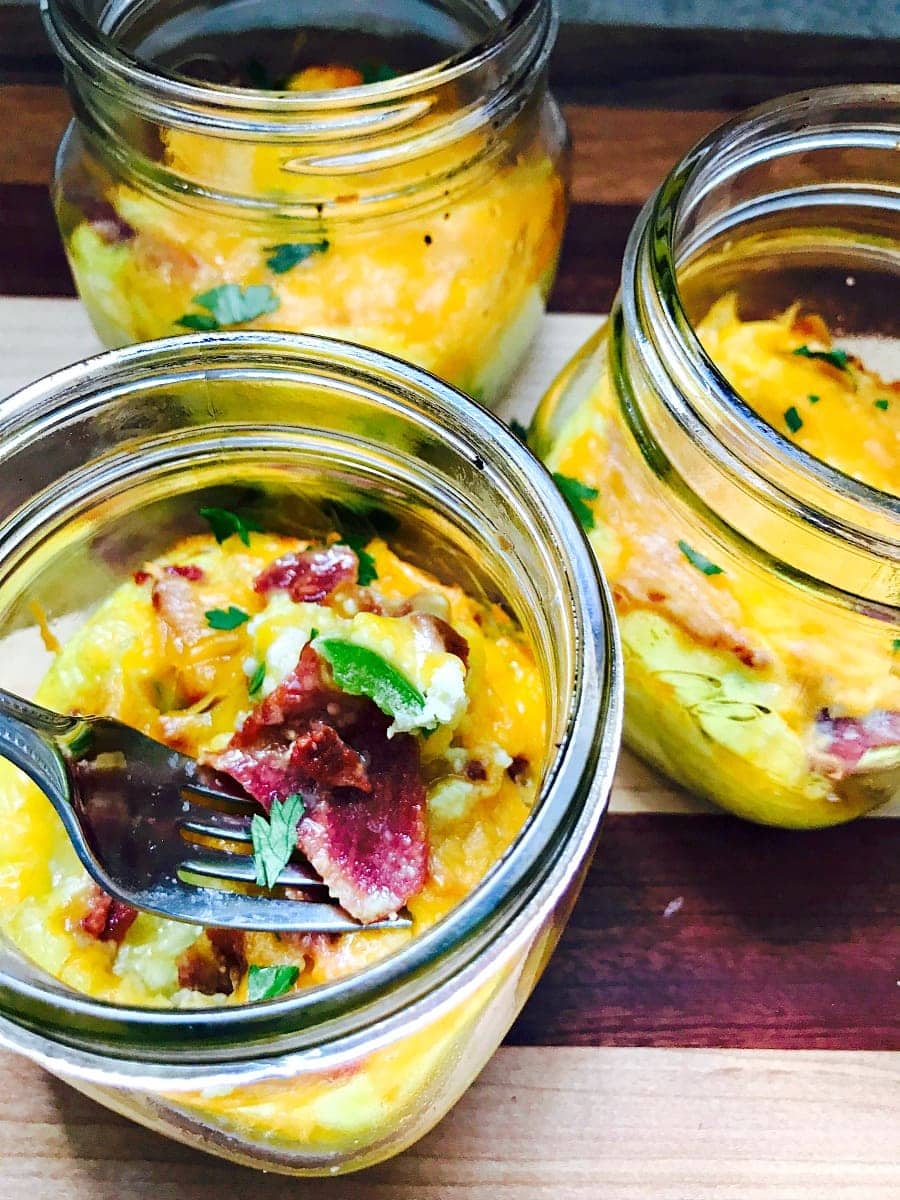 I love a good breakfast casserole, but always have trouble sticking to just one piece.  I mean…bacon, egg and cheese anything is just so freaking good.
That's why portioning these out into cute little mason jars BEFORE cooking helps you stay on track, plus they are perfectly portable without dirtying a single additional plate or container.
I used cauliflower rice as the base of my casserole, and followed a similar layering technique as I did in my 21 Day Fix Crock Pot Breakfast Casserole, but I only did one layer of all the ingredients.  If you still aren't sure about cauliflower rice, you could easily add roasted potatoes or sweet potatoes to the bottom of your jar. Still on plan!  But I'm always looking for ways to save yellows and add in more veggies.
And I used turkey bacon, but these would be really yummy with breakfast sausage if that's your thing!  One thing I will caution – the egg mixture tends to stick to the mason jars, so you really need to spray them well before filling.  Otherwise, this is such an easy breakfast to prep ahead and even have your kids help you make before a busy week!
You can use any size mason jar for this, but I love these 16 oz wide mouth jars the best!
I can't wait to make more Mason Jar breakfasts and share them with you all!
21 Day Fix Mason Jars Egg Casserole
These 21 Day Fix Mason Jar Egg Casseroles are a perfectly portioned and portable make ahead breakfast for the 21 Day Fix!
Ingredients
6

extra large

eggs

1/3

cup

unsweetened original almond milk or milk of your choice

2

cups

cauliflower rice

1

cup

diced bell peppers or veggies of your choice

6

slices

turkey bacon

crumbled, or 6 links of diced poultry breakfast sausage

2/3

cups

shredded cheddar cheese or cheese of your choice

you can double this amount and just count it as a full blue

Salt
Instructions
Preheat oven to 375 degrees and spray four, 12 oz or larger mason jars liberally with cooking oil spray.

Add ½ cup of cauliflower rice to each jar and sprinkle with salt. Next, add in veggies and breakfast meat.

Scramble eggs and whisk in milk. Divide egg mixture evenly among the 4 jars. Again, sprinkle with a little salt.

Top evenly with shredded cheese and bake on a baking sheet uncovered for 25-30 minutes or until egg is set and the cheese begins to brown.

Cool completely, then cover and store in the fridge for 3-4 days. To warm, remove cover and heat in the microwave for 1 minute.
Notes
21 Day Fix: 1 RED, 3/4 GREEN, 1/2 BLUE per jar WW Freestyle: 2 points per jar (using low fat cheese and turkey bacon)
Nutrition
Serving:
1
jar
Calories:
310
kcal
Carbohydrates:
8
g
Protein:
23
g
Fat:
21
g
Saturated Fat:
8
g
Polyunsaturated Fat:
3
g
Monounsaturated Fat:
7
g
Trans Fat:
0.03
g
Cholesterol:
352
mg
Sodium:
775
mg
Potassium:
531
mg
Fiber:
2
g
Sugar:
3
g
Vitamin A:
1809
IU
Vitamin C:
86
mg
Calcium:
227
mg
Iron:
2
mg