This 21 Day Fix Instant Pot Meatloaf and Mashed Potatoes dinner is truly a one pot miracle thanks to the Instant Pot! Cook your meat, veggies, and mashed potatoes all together in the same pot in under a half-hour of cook time! This post contains affiliate links for products I'm obsessed with.
Confession #127 – Despite me always telling people not to worry about the Instant Pot
blowing up, tonight – for a hot minute – I worried just a little.
I mean, I had that sucker packed right up the max line.
But, as usual, my Instant Pot
didn't let me down. And thank goodness…because the thought of cleaning meatloaf, carrots, and mashed potatoes off of my ceiling for the next ten years just isn't appealing.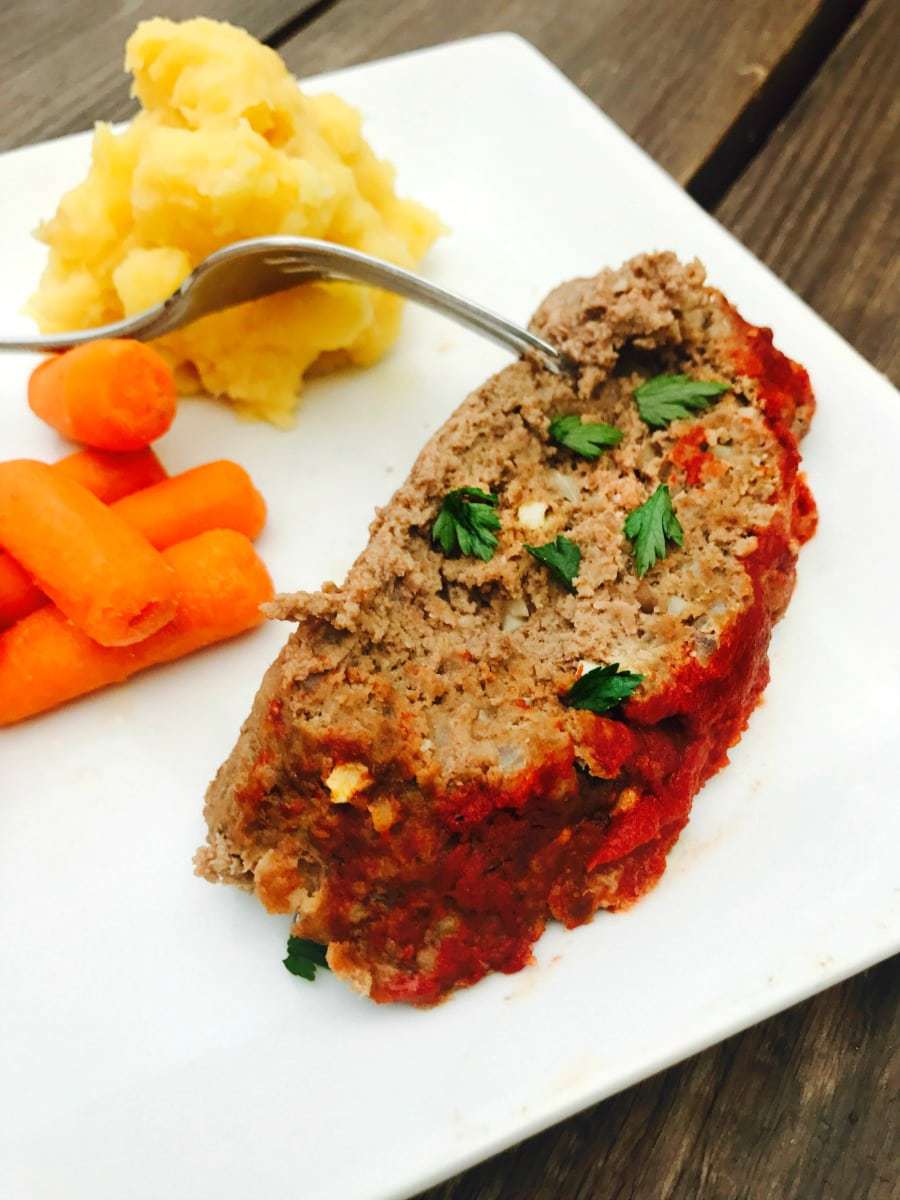 Seriously, though, this dinner is just another reason to love the Instant Pot
…the fact that you can cook mashed potatoes and carrots along with a meatloaf in one pot in just over 30 minutes is pretty darn amazing.
It's all about the layering process. First, I started with quartered potatoes seasoned with salt and a few cloves of garlic. Instead of using water, I added 1 cup of broth to give a little more flavor.
Next, I placed the trivet on top of the potatoes and layered it with some foil, making a nice comfy home for the carrots to cook in.
I added a couple of pats of vegan butter, covered them with foil and then I prepared my meatloaf.

I used my Momma's recipe for this again – it's just so delicious and easy…and it's what we all expect when we say we are having meatloaf. I mixed our usual blend of breadcrumb, Locatelli cheese, garlic, onion and seasonings into the meat and then I shaped it into a round loaf so it would fit nicely on top of everything else in the pot.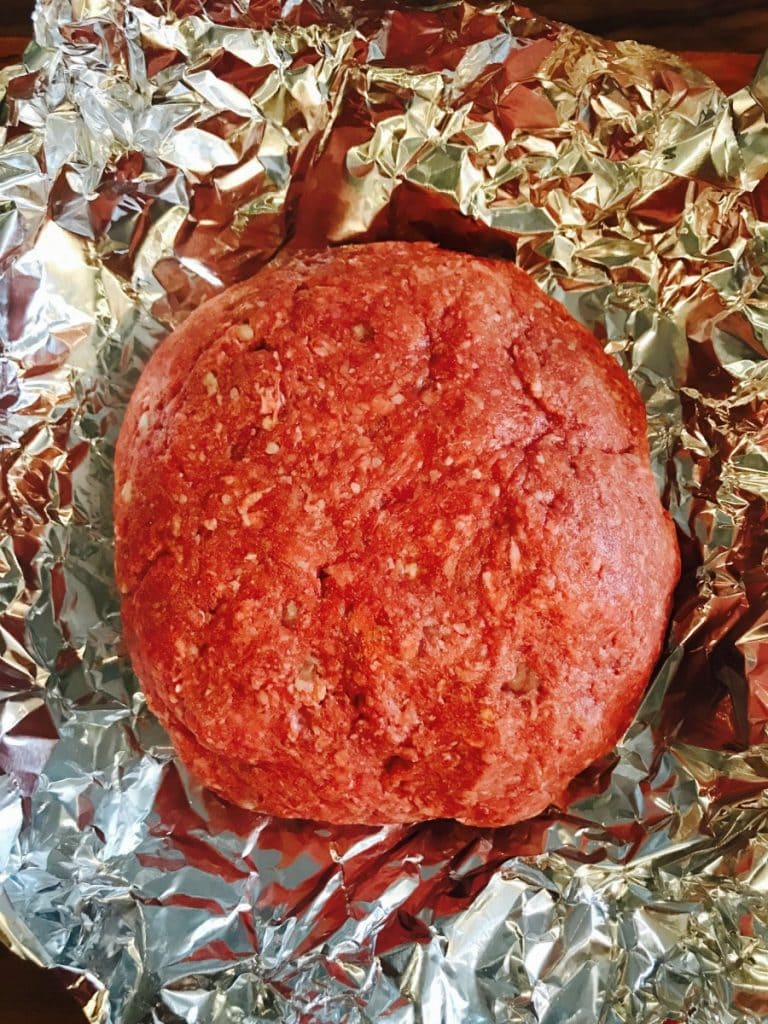 Perfection!
After topping the loaf with sauce, I closed and locked the lid, set the Instant Pot for 25** minutes, and said a little prayer to my grandma to look out for our dinner.
Before I knew it, 25** minutes was up and I really and truly had a Sunday meal ready for the family. Another Instant Pot miracle!
Because I love the way the sauce bakes on top of our traditional recipe, I carefully removed the meatloaf and put it under the broiler for a few minutes. This is totally optional, but yummy.
The carrots were cooked perfectly, so no need to do anything there.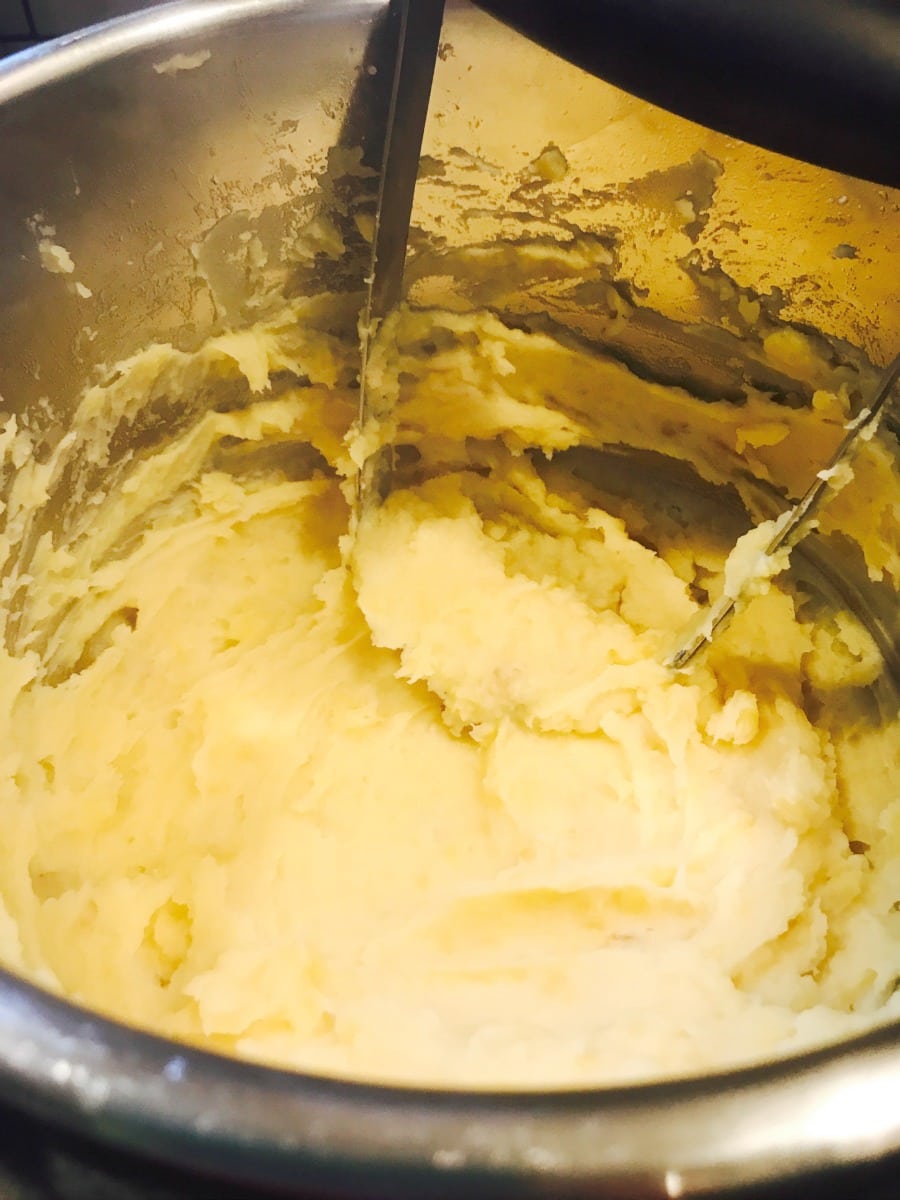 And – oh – the potatoes. Can I just say, the Instant Pot makes the most amazing mashed potatoes. Like legitimate awesomeness. The pot is at the perfect temperature, so all you need is to drain them a bit (reserve the liquid for mashing) and use your handy potato masher
to make the most incredibly smooth and creamy mashed potatoes. I added a little vegan butter and the broth from cooking into mine, and I didn't miss the dairy at all. But feel free to add some milk or Greek yogurt for extra creaminess.
That's all you've gotta do! One pot to clean and one freaking fabulous and healthy meal! Way to go, my friend!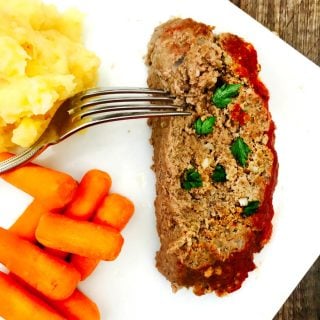 Instant Pot Meatloaf and Mashed Potatoes
This 21 Day Fix Instant Pot Meatloaf and Mashed Potatoes dinner is truly a one pot miracle thanks to the Instant Pot!  Cook your meat, veggies, and mashed potatoes all together in the same pot in under a half-hour of cook time!
Ingredients
1 1/2

lbs

lean grass fed ground beef

1/4

cup

seasoned breadcrumbs

we use gluten free

1/4

onion

diced

4

cloves

garlic

minced

3

cloves

garlic

whole

1

egg

1/2

cup

shredded pecorino romano

plus more for topping (Locatelli brand is the best)

1

teaspoon

dry parsley or 1 T freshly chopped parsley

8

oz

tomato sauce

3

cups

quartered and peeled golden potatoes

3

cups

baby carrots

3

tablespoons

butter, vegan butter, or ghee

1

cup

chicken broth or stock

to taste

Salt and pepper
Instructions
Place quartered potatoes, 3 cloves of garlic, and 1 tsp salt on the bottom of the Instant Pot. Pour in 1 cup of broth and then place trivet on top of potatoes.

Lay a piece of foil down on trivet and place carrots in one flat layer on top of foil. Add 1 T of butter and cover with another piece of foil.

Mix meat with breadcrumbs, onion, minced garlic, 2 T sauce, 1 egg, cheese and parsley. Shape into a circular loaf. Place loaf on top of carrot layer. Pour remaining sauce on top of meatloaf and place lid on IP. Lock and turn to manual, high pressure for 30** minutes.

After cook time is through, quick release and open the pot once the IP releases all steam and unlocks. Carefully remove meatloaf from the top layer of foil and broil for 3-5 minutes, if desired.

Remove carrots from pot. Then carefully drain potatoes, reserving broth.

Using potato masher, mash potatoes, adding in broth and remaining 2 T butter in slowly. For extra creaminess, add in a splash of milk or Greek yogurt. Season to taste with salt and pepper.
Notes
21 Day Fix: 1 RED, 1 YELLOW, 1 GREEN, 1/4 BLUE, 1.5 TSP (per serving)
WW: 10 points (per serving) [Calculated using 95% lean ground beef, gluten free breadcrumbs, and butter]
**Note - this recipe used to be for 25 minutes...due to a few people saying their meatloaf wasn't finished, I increased the time.  If 25 minutes always worked for you, please keep your time the same!
Nutrition
Calories:
403
kcal
Carbohydrates:
34
g
Protein:
33
g
Fat:
15
g
Saturated Fat:
5
g
Polyunsaturated Fat:
2
g
Monounsaturated Fat:
6
g
Trans Fat:
1
g
Cholesterol:
106
mg
Sodium:
547
mg
Potassium:
1239
mg
Fiber:
5
g
Sugar:
6
g
Vitamin A:
9077
IU
Vitamin C:
29
mg
Calcium:
161
mg
Iron:
5
mg