Looking for a 21 Day Fix Lasagna? This lazy, one skillet zucchini lasagna is easy, amazingly delicious, low carb, and 21 day fix approved!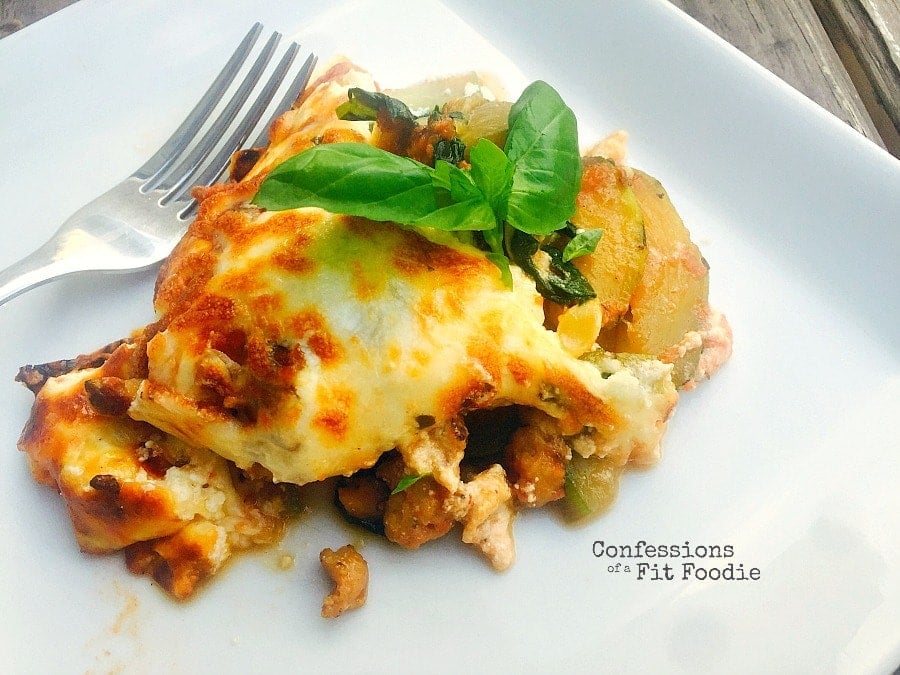 Confession #97 – I've been sucked into the idea of zucchini lasagna and, even worse, zucchini lasagna roll ups, several times, thanks to Pinterest. Don't get me wrong – all the recipes I have tried have been amazing – but holy time consuming. Even the recipes that call for thin slices of zucchini all layered in a pan. I mean, I have a three year old.
I knew there had to be a better way.

Well, hello there.
This beauty is my answer. Meet my lazy, one-skillet, 21 Day Fix approved Zucchini Lasagna.
This dish skips the salting, rolling, pre-grilling, and the need for a fancy veggie cutter to make thinly sliced zucchini…all of the laborious stuff. And yet, it's insanely delicious. As in, my husband declared it to be in the top five dinners of all time. Say what??
Oh – and it's super quick. Like weeknight fast. It can be made in one skillet, as long as your pan is oven safe; if not, you'll dirty two dishes and use a baking pan. No biggie.
If you need a pan, I love using cast iron for dishes like this. Mine is part of the Pioneer Woman set, but this one gets awesome reviews on Amazon. It's a great, inexpensive addition to your cooking arsenal. Plus they look so pretty and can go from oven to table when you need them to!
With all the garden fresh zucchini around, now is the best time to give this a try! And, if you do, let me know what you think!
One Skillet Lazy Zucchini Lasagna
This lazy, one skillet zucchini lasagna is easy, amazingly delicious, low carb, and 21 day fix approved! 
Ingredients
Olive oil cooking spray

I used my EVO

1

lb

lean organic Italian poultry sausage

removed from casing

3

cloves

garlic

minced

4

cups

zucchini (about 2 zucchini)

sliced into thin half moons

2

cups

spinach

chopped

1

cup

homemade tomato sauce

or no sugar added jar sauce

1 1/4

cup

ricotta cheese

1

egg

1

tablespoon

Parmesan cheese

plus more for topping

1

cup

shredded mozzarella cheese

Fresh ground pepper

1

tablespoon

fresh basil
Instructions
Spray an oven safe pan with olive oil spray and cook turkey sausage through.

Add garlic to pan and saute for a minute, then add a zucchini and spinach. Spray with additional olive oil spray and cook until zucchini is crisp tender. Add in basil and stir. Remove from heat.

Flatten veggies and meat down a bit with your spatula, and then cover mixture with tomato sauce.

Mix one egg, and T of Parmesan cheese into ricotta and sprinkle with fresh ground pepper. Layer ricotta mixture on top sauce.

Finally, top with mozzarella cheese.

Place in your broiler on low for 5-10 minutes or until cheese gets nice and toasty brown. Keep an eye on it, as it happens fast!

Remove from oven and let sit for a few minutes. Just before serving, make a small cut into the lasagna and very carefully drain out the excess water from the pan. While this step is optional, because zucchini releases so much water, I think it's worth it! Just use those oven mitts and be careful!!

Top with extra Parmesan cheese and sauce, if desired.
Notes
Makes 4 servings; divide pan into 4 equal servings
21 Day Fix: 2 GREEN, 1 1/2 RED, 3/4 BLUE (1 BLUE if you top with extra Parmesan) per serving
WW: 10 points (per serving) [Calculated using Italian turkey sausage, low fat ricotta cheese, and low fat mozzarella cheese] Note: you can reduce to 5 points per serving by using 99% ground turkey and keeping all other ingredients the same.
Nutrition
Calories:
447
kcal
Carbohydrates:
17
g
Protein:
37
g
Fat:
26
g
Saturated Fat:
14
g
Polyunsaturated Fat:
3
g
Monounsaturated Fat:
7
g
Trans Fat:
0.01
g
Cholesterol:
159
mg
Sodium:
1638
mg
Potassium:
944
mg
Fiber:
4
g
Sugar:
10
g
Vitamin A:
2656
IU
Vitamin C:
66
mg
Calcium:
471
mg
Iron:
13
mg
For more Zucchini recipes, check out this awesome list of over 30 delicious recipes!