A perfectly portioned fall meal! This 21 Day Fix Stuffed Acorn Squash with Sausage, Spinach, and Feta is as delicious as it is beautiful. And it's also versatile, so sub your favorite protein, veggies and cheese for variety!
Confession #129 – I am totally kicking myself for not trying acorn squash until now.
I don't even have a real reason. I mean, I guess I was never sure how to prepare it, but that hasn't stopped me from trying things before. I think I just felt very fulfilled in the area of squash…I had no idea how much I was missing out on!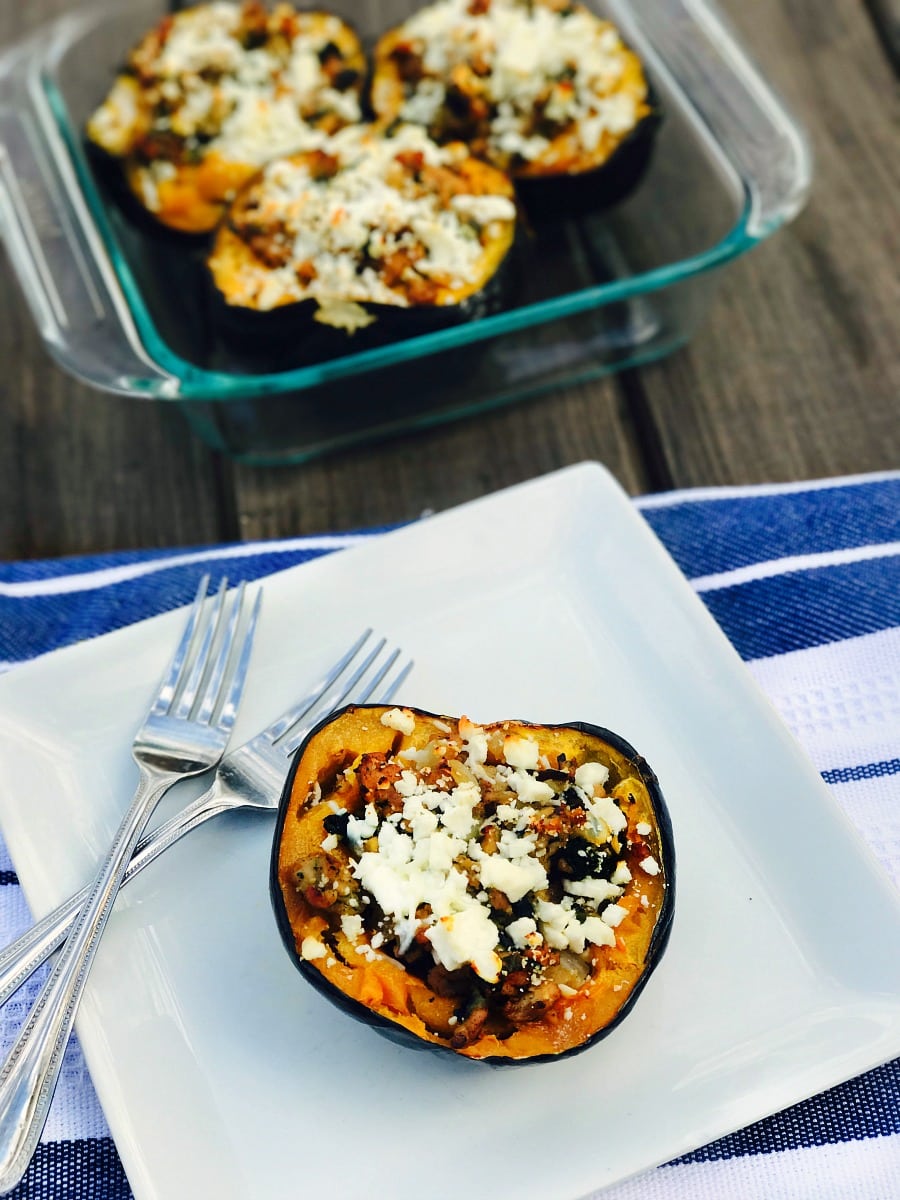 How to Cut Acorn Squash
So unlike Spaghetti Squash and Butternut Squash, where I fear losing a finger every time I attempt to cut them raw, acorn squash is super easy to cut before cooking. For recipes like this 21 Day Fix Stuffed Acorn Squash, I like to cut mine top to bottom, because it's a little flatter that way and the squash rests easily on my cutting board and plus it makes an adorable heart shape. But you can also cut it in half across the middle and the halves look like a flower! Either way, it's pretty easy and pretty darn cute.
What does Acorn Squash Taste Like?
The flavor of acorn squash is slightly sweeter, and even maybe more mild, which gives it amazing versatility as a meal, a side dish, or even a sweet treat. I am totally in love, in case you haven't noticed.
Here's a video of me gushing over acorn squash on my Facebook Page.
What can I stuff Acorn Squash with?
For this particular recipe, I was inspired to make my acorn squash into a savory dinner because while at the farm market where I finally took the leap and put some in my cart, they had this yummy chicken sausage with spinach and feta. Like I said before, there are SO many options for making stuffed acorn squash, but I decided to put all this deliciousness together and we loved the results! For a sweeter Stuffed Acorn Squash recipe, check out this Roasted Acorn Squash with Sweet Whipped Ricotta recipe.
How do I make Stuffed Acorn Squash?
You start by roasting the squash with some salt and olive oil. I cook mine cut side up because I love how the squash caramelizes during the roasting process, but I know other people like to steam it face down.
While that's roasting, I made this quick and yummy stuffing mix with my sausage, some garlic and onion, and chopped spinach. Can't find Turkey or Chicken Sausage at your grocery store? Make your own using this How to Make Homemade Italian Sausage with Ground Chicken or Turkey recipe!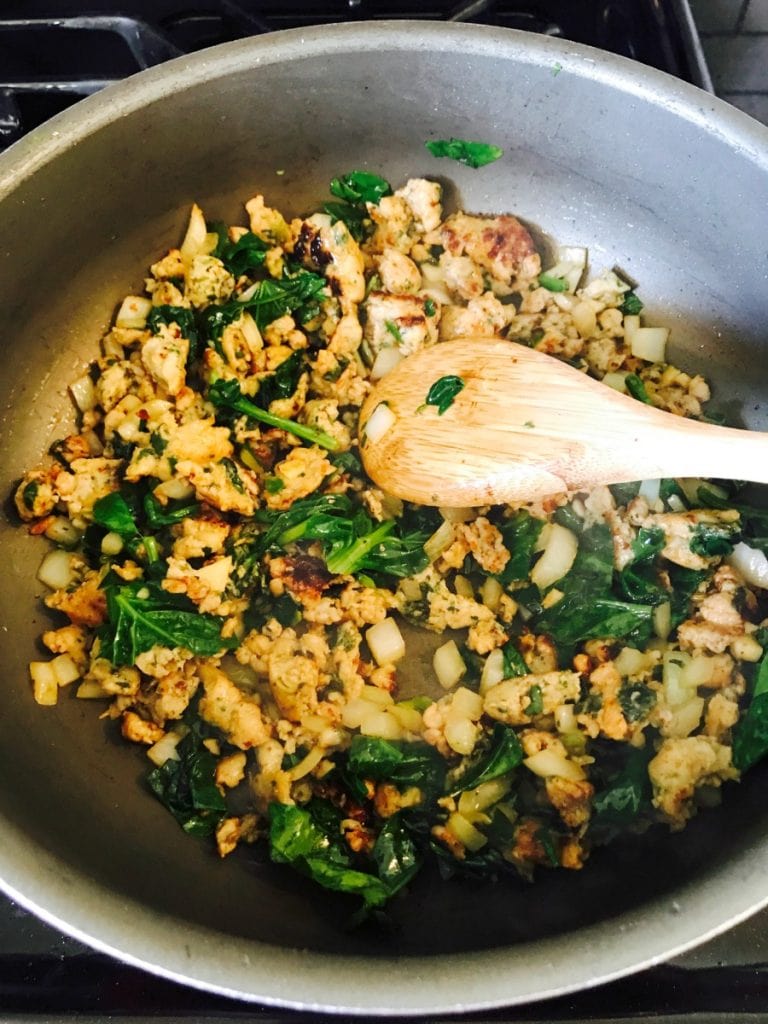 After about 40 minutes, the squash should be ready. You want it to be easy to mash, but it should still retain it's shape so you can use the squash half as a bowl! Yipppeeeee!
Now go ahead and stuff that squash. And you could eat them as is, especially if you need a dairy-free option, but because my sausage had some feta in it, I decided to top mine with some extra feta cheese and a tiny sprinkle of pecorino romano. You could go all romano or even parmesean or goat. Basically, cheese it up with your favorite because you can't go wrong.
A couple more minutes back in the oven and to melt the cheese and you are ready to dig in! And leftovers, if you are lucky to have them, are awesome for packed lunches! I even ate mine without heating it because I was totally starving and kinda lazy. Still freaking good!
What are you waiting for? Get thee to the store, buy some acorn squash and get stuffing!!
Stuffed Acorn Squash with Sausage, Spinach, and Feta
A perfectly portioned fall meal!  This 21 Day Fix Stuffed Acorn Squash with Sausage, Spinach, and Feta is as delicious as it is beautiful.  And it's also versatile, so sub your favorite protein, veggies and cheese for variety!
Ingredients
2

acorn squash

1

lb

sweet or spicy poultry sausage

mine was chicken with feta and spinach

4

teaspoons

olive oil

divided

Olive oil spray

1/2

onion

diced (i used sweet yellow, but I bet red would be yummy, too)

3

cloves

garlic

minced

2

cups

spinach

chopped into bite sized pieces

1/2

cup

feta cheese

or sub your favorite cheese

2

tablespoons

pecorino romano

Sea or Himalayan salt
Instructions
Preheat oven to 400 degrees and line a baking sheet with parchment paper (optional, but keeps the mess away).

Cut each acorn squash in half, top to bottom OR across the middle, and remove the seeds.  Use the first 2 teaspoons of olive oil to brush each squash, then sprinkle with salt. Place squash halves in oven for 40 minutes, or until fork tender, but still retaining their shape.

While the squash is roasting, brown sausage in a skillet until cooked through. Next, add in remaining olive oil, onion and garlic to the pan and cook until veggies are soft. Mix in spinach and sprinkle mixture with a little salt. Cook until spinach wilts.

Once squash is finished cooking, use a fork to gently mash the inside. Then divide sausage and veggie mixture evenly among the squash halves. Top each with 2 T of feta cheese and a 1/2 T of pecorino romano. Place squash back in the oven for a few minutes to melt and brown the cheese.
Nutrition
Serving:
1
squash half
Calories:
363
kcal
Carbohydrates:
32
g
Protein:
24
g
Fat:
17
g
Saturated Fat:
6
g
Polyunsaturated Fat:
2
g
Monounsaturated Fat:
6
g
Cholesterol:
73
mg
Sodium:
1269
mg
Potassium:
1086
mg
Fiber:
5
g
Sugar:
5
g
Vitamin A:
2372
IU
Vitamin C:
64
mg
Calcium:
144
mg
Iron:
13
mg