Confession #114 – This is a very different kind of post for me. But it's something that's been on my mind to do for a while.
I want to talk about Autism.
Because in addition to my food, I share a lot of my life through this blog.
And it's World Autism Awareness Day.
You see, Autism is a big party of my world.
My life.
My heart.
This is my son Max.
Max has Autism.
He's also sweet, funny, and has a smile that I just die over.
But Autism is there, too.
And it's hard.
We've had quite the journey to get to this point. For Max's entire first year, he hit all of his milestones. And early. Did I ever tell you about the beach vacation we took when Max was five months old? The one where he was crawling in the sand when we totally thought he would be sitting still under an umbrella on our beach blanket? Yeah…we had no trouble with smiles, sitting, walking…and there was even a good amount of babbling there.
But then there just wasn't.
It happened slowly over time…and I wish every day that I could go back and witness it again…because I should have seen it sooner than I did.
The signs were all there.
Loss of words.
Obsessive behaviors.
Tantrums.
Max seemed angry all the time. My sweet happy boy would now cry when I came home from work. No more hugs at the door.
But there were other things going on in our lives during those months. Max was constantly sick, so much so we pulled him from daycare and hired a nanny after he was hospitalized for a severe infection. My husband and I took so many days off that year, we both feared losing our jobs.
I guess we thought everything was happening due to the illnesses.
There was so much more going on…and hindsight will always haunt me.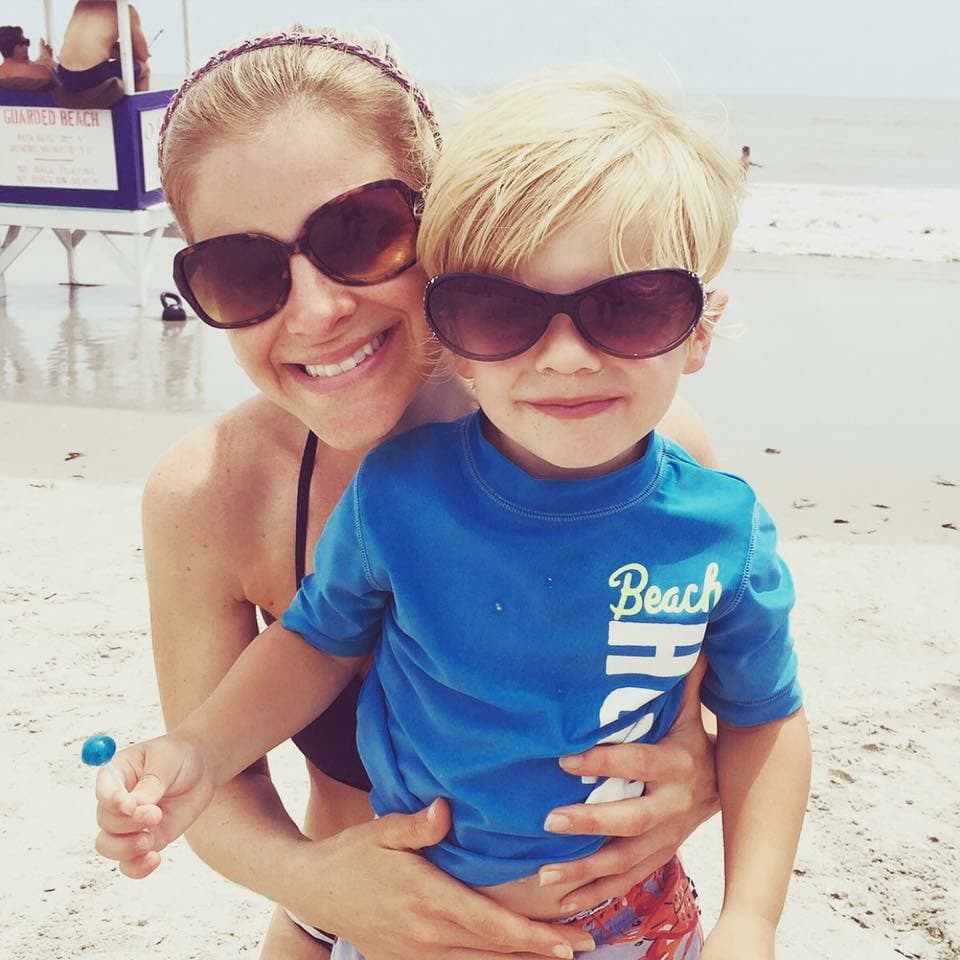 But nobody else seemed concerned. Friends. Grandparents. His nanny. His pediatrician. Even when I filled out the M-CHAT, a standard Autism screening tool for toddlers, and a few of the questions came up as possible red flags, I was reassured that everything was fine. I was given a number for early intervention only because I pressed for it.
I wish I would have called that day.
Instead, I waited. I doubted myself. Questioned whether there was something wrong with me.
Max was 20 months old before I had early intervention come out for an evaluation.
Things were so bad by then, I was counting hours until the EI team arrived. This was my second child, and yet I had no idea how to parent him.
I knew when they loaded him up with services….and by the information they handed me that day…that we were headed for a diagnosis.
I knew.
Although the diagnosis came over a year later, that day, the day those women came to my house, was probably the hardest day of my life. I was paralyzed with fear…and the tears wouldn't stop. But it was also a pivotal moment in our journey…and I know now that those women saved us.
By the time his developmental pediatrician said the words, Max has Autism, I had already been through many stages of grief, and was well on my way to acceptance. And Max was thriving.
We already had a year of therapy underway…with the most amazing team of therapists. I quit my job to focus on Max's treatment. We went gluten and dairy free. A fog lifted. Max found his words again…and built quite the vocabulary.
He started looking at us again.
He was happier.
We started to learn how to help him.
We still have challenges…lots of them. And life is difficult. But writing this post, I am reminded of just how far we have come.
I have only scratched the surface of everything I want to say.
My head is full of things I want to share.
So much so, I might need to start a second blog.
But for now, I am so thankful you let me get all of this out of my heart.
I want you readers to know...this blog has saved me in so many ways.
As I said before, I quit my job. My day is consumed with therapies, anxiety, aggression, doctors appointments, sensory disregulation, phone calls, research, tantrums, redirecting…and my nights are, well, usually awake in my son's room because we still haven't figured out how to sleep.
It's been hard not to let Autism take over my world.
This blog, and all of you, came into my life at the perfect time.
And so I thank you.
You will never know how much you all mean to me.
As I said, I could go on and on, but I am going to end here…with this…just in case that second blog never happens.
For anyone out there who is questioning whether your child needs help…take action now. You are strong and you can do this. Bypass your pediatrician if you have to. Get an evaluation and go from there…as early intervention is so critical. Nothing bad can come out of information, I promise.
For anyone out there who is caring for a child with special needs….I see you. Now go find your tribe. Join a support group…even online if you have to, as I know it's hard to get out. A few months ago, I met the most wonderful Autism moms…literally by accident…and it changed my life. Never underestimate the power of a support system. And take care of yourself.
For anyone who knows someone with a child who has special needs, especially those who are newly diagnosed…I know it can be hard to know what to say. Keep it simple. Say, I'm here for you. But mean it. Send a text. Check in. Drop off a cup of coffee. Make them a meal. It will go a long way, I promise.
And for all the sweet kiddos, like Max, who are working hard, day in and day out…you are the real heroes. Keep being amazing and show the world all you can do.
Much love, my friends.
xo
photo credits to the incredibly talented Kristen Burrell Photography
More updates on our story-
Our Autism Story – 2018 Update
Our Autism Story – 2019 Update