Sloppy Joes stuffed sweet potatoes are a 21 Day Fix that the whole family will love to eat.
Confession #29 – I think I'm pretty cool when I get my meatatarian husband to declare zucchini pizzas as his favorite food and cauliflower casserole as damn delicious.
So I may have gotten a little cocky thinking I could get him to LOVE sweet potatoes through this yummy dish.

Don't get me wrong – he loved the Sloppy Joes part of this.  But, sadly, it didn't make him love sweet potatoes any more than he did before.
Which is not at all.
I've decided there must be something wrong with him then.  I mean, he's pretty perfect in a lot of other ways, but everyone has a few faults.
Anyway, if you love sweet potatoes like I do, make this.  ASAP.  It's soooooo delicious and super filling. It definitely felt like a cheat to me even though it's incredibly healthy.
And for the haters, this could work just as well over a regular potato.  #yum
Here's the sloppy joes stuffed sweet potatoes recipe. Enjoy!
Ingredients
2 baked sweet potatoes
1 lb lean ground turkey or beef
1/4 onion, chopped
1 green pepper, chopped
1 clove of minced garlic
1/2 tsp chili powder
1/2 tbs cumin
1 tbs honey (or slightly more to taste)
1 14 oz can of diced tomatoes
1 6 oz can of tomato paste
Instructions
Spray pan with cooking spray and sauté the onions and peppers until tender.  Add garlic and sauté for an additional minute.
Add meat to the same skillet and cook through.
Next, add spices, honey, tomatoes, and paste to the pan.
Simmer all together on low for 10-15 minutes.
Cut sweet potato in half and mash each side a bit to form bowls.  Divide sloppy joe mixture over each half.
Top with cheese if you have leftover  BLUE in your day, or eat it plain.  Yummy either way!
21 Day Fix Container Count:
1 YELLOW, 1 GREEN, 1 RED, (optional blue!)
7.6.9.2
108
https://confessionsofafitfoodie.com/2015/05/21-day-fix-stuffed-sloppy-joe-sweet-potatoes/
Confessions of a FIt Foodie
Are you doing a round of the 21 Day Fix?  Don't do it alone – let me coach you! Contact me at trueconfessionsofafitfoodie AT gmail DOT com to join my current challenge group. The group offers daily motivation, recipe ideas, and the support of over 200 women. Check out my Etsy Shop for 21 Day Fix eBooks with full grocery lists, prep tips, and easy to follow recipes!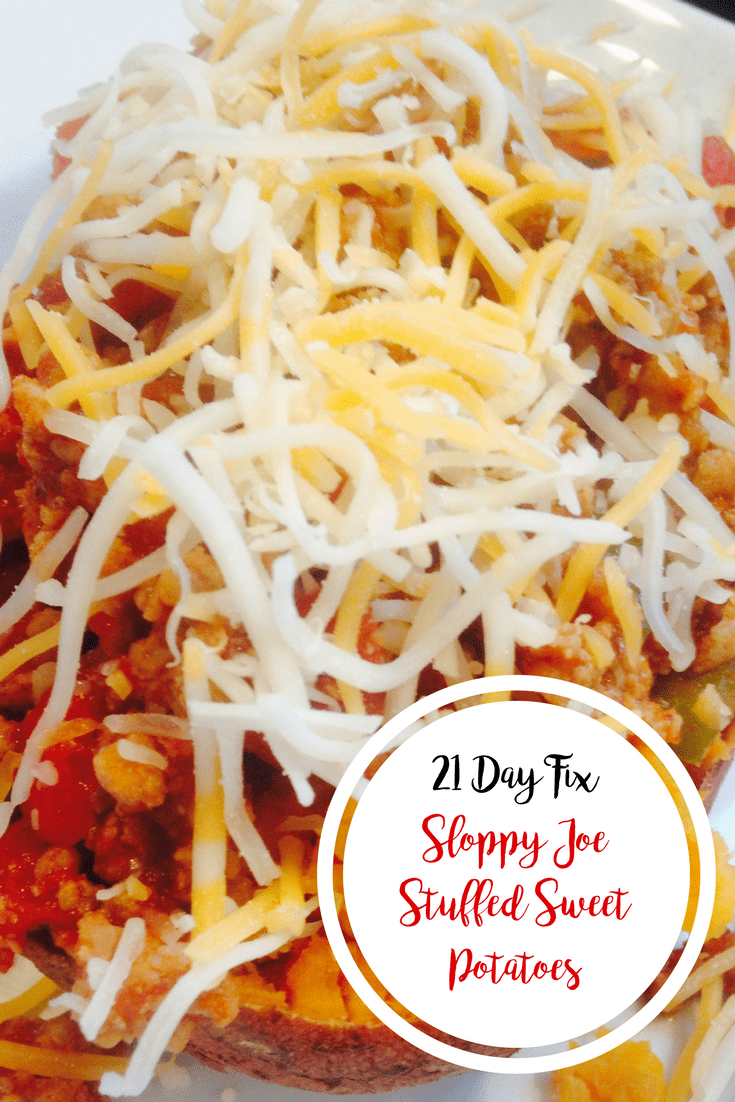 Join the newsletter
Subscribe to get our latest content by email.