There are so many Skinny Superbowl recipes on Pinterest right now…I need several hundred extra hours in a day to try them all! Oh…and several hundred blue and yellow containers, of course.
I am especially interested in trying some of these lighter spinach dip recipes.  I have a huge weakness for the stuff and have seen several made with Greek yogurt and cottage cheese!  Amazing.
For today, I am going to be sharing this idea I had for a pizza.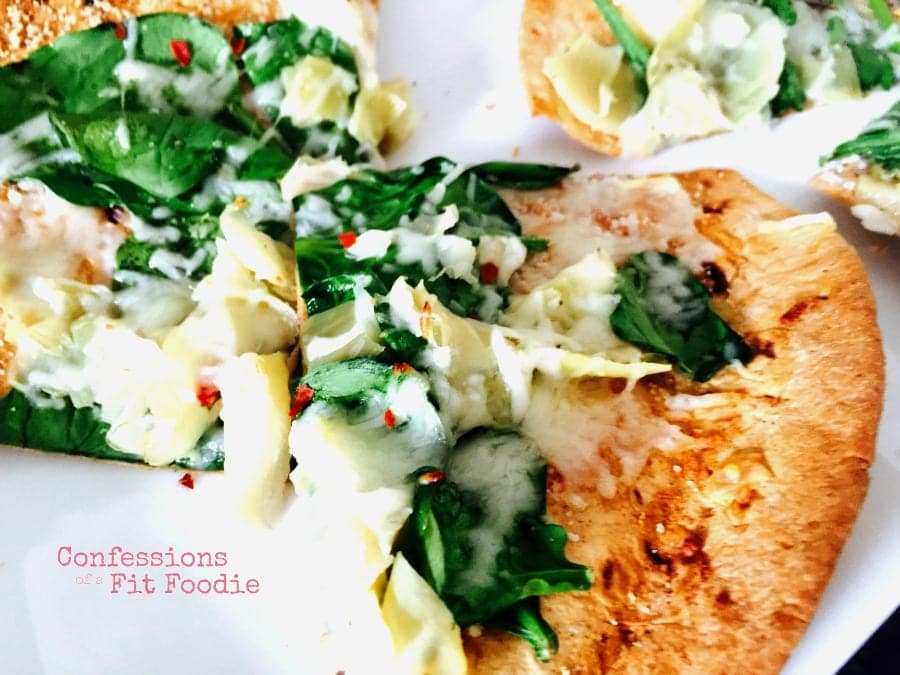 Since I sometimes can't stop myself from overeating appetizers,  I was thinking of how I could make a perfectly portioned spinach and artichoke dip and not get off plan.  I love seeing those mini dip cups for parties, but who has time for that? Plus I could see myself swiping several and still eating more than my share.
Anyway, it finally hit me.  I need to put the flavors on a pizza.
Right?
Deliciously portion controlled and perfect for lunch, dinner, or a Flatbread style appetizer!
If you give it a try, let me know what you think!
Yields: 1 serving
21 Day Fix Spinach and Artichoke Pizza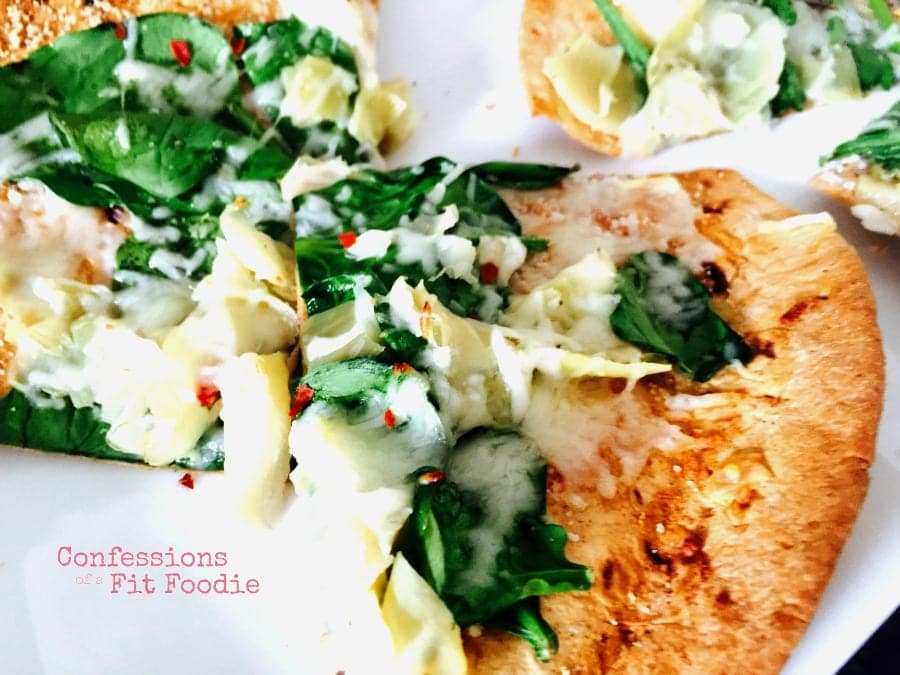 Ingredients
Ingredients:
olive oil spray
1 tsp olive oil
2 cloves roasted garlic, finely chopped
1/3 cup of mozzarella cheese and grated Parmesan, mixed
1/4 cup of fresh spinach
1/4 cup of diced artichoke hearts, drained and quartered
2 T ricotta cheese
1 Flatout or similar wrap
sprinkle of red pepper (if desired)
Instructions
Preheat oven to 375
Mix garlic and olive oil together and let sit for a few minutes
Spray olive oil on Flatout and cook for a few minutes until wrap begins to crisp
Spread ricotta cheese on top of flat out, followed by garlic and oil mixture.
Top with spinach and artichoke hearts
Top with shredded mozzarella and parmesan.
Cook pizza for 6-8 minutes until cheese is bubbly. Sprinkle on some crushed red pepper (or not!).
Enjoy!
21 Day Fix Container Count:
Serves 1 - For my 21 Day Fixers, the container count is 1 YELLOW, 1 BLUE, ½ GREEN, 1 tsp, and a tiny bit of RED (2 T to be exact)
7.6.9.2
145
https://confessionsofafitfoodie.com/2016/02/21-day-fix-spinach-and-artichoke-pizza/
Confessions of a FIt Foodie
Join the newsletter
Subscribe to get our latest content by email.