Confession #98 – I recently spent four glorious days in Portland, Maine…basically eating and drinking my way through the city.  We were guests at our friends' wedding…fellow foodies…and they showered us with delicious meals day after day.  I think I consumed my body weight in lobster dinners, naturally, but the other MVP of the weekend was the perfectly in season Maine blueberries.
I couldn't get enough.   Blueberry cheesecake.  Blueberry crumble.  Blueberry beer.  Oh – and the very delicious Blueberry Mojito the bride and groom served at the wedding.
I ended up coming coming home with a several pounds of Maine blueberries and tried very hard not to eat them all on the drive home. Instead I spent the time daydreaming about more delicious blueberry treats.  First on the list?  These beauties.
These muffins were a recipe I found on the site, Ambitious Kitchen, and I fell in love at first bite.  I made a few minor changes to the recipe, but otherwise followed her directions word for word and they came out amazing.  Isn't it wonderful when a recipe really delivers?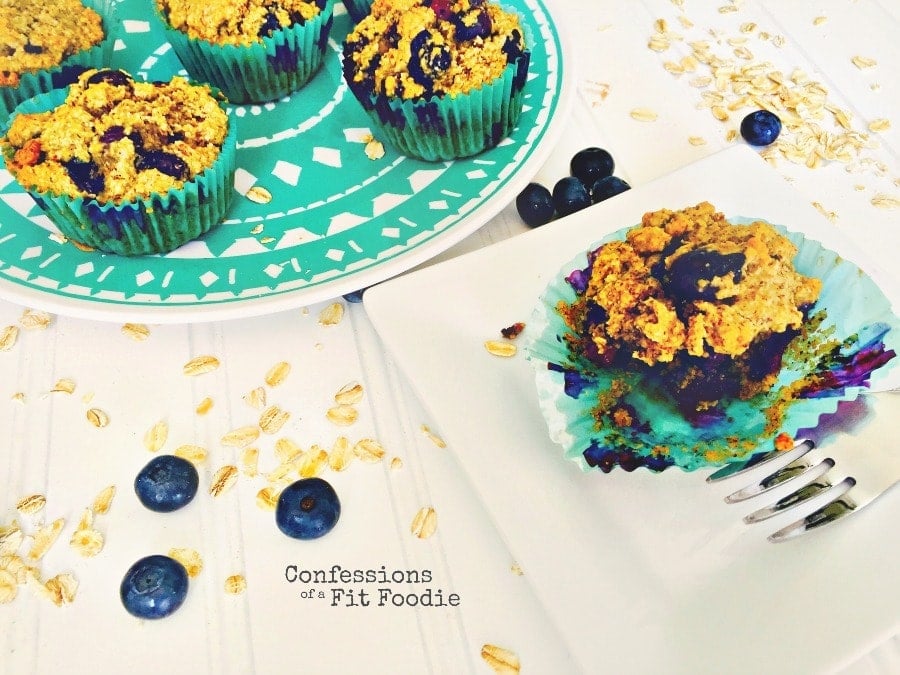 And not only are they delicious, they are super healthy, too.  Packed with almond flour, as well as oat flour, they are a perfect make ahead breakfast for back to school!   My kids devoured them – even my picky one!
Ingredients
1 cup + 2 tablespoons oat flour
1 cup packed almond meal (I love Trader Joe's!)
1/4 teaspoon salt
3/4 teaspoon baking soda
1 egg, slightly beaten
1/3 cup pure maple syrup
1 teaspoon vanilla extract
1/2 cup unsweetened almond milk (or milk of your choice)
1 tablespoon coconut oil (melted)
1 teaspoon apple cider vinegar (or fresh lemon juice)
1 cup fresh or frozen blueberries
Instructions
Preheat oven to 350 degrees F. Line 9 muffin cups with liners and spray the inside of the liners with nonstick cooking spray (this is important so that they do not stick!).
In a large bowl, whisk together oat flour, almond meal, salt and baking soda.
In a separate large bowl, mix together egg, maple syrup, vanilla, almond milk, coconut oil, and apple cider vinegar until smooth and well combined. Add dry ingredients to wet ingredients and stir until just combined.
Gently fold blueberries into muffin batter, then divide evenly into prepared muffin tins.
Bake for 20-15 minutes or until a toothpick inserted come out clean. Transfer pan to a wire rack to cool for 10 minutes then remove muffins from pan and place on wire rack to cool completely.
21 Day Fix Container Count:
1 muffin is 1/2 yellow and 1/3 blue (so have two!). I personally don't count the purple as it's only 1/9 of a a cup!
7.6.9.2
83
https://confessionsofafitfoodie.com/2016/08/21-day-fix-blueberry-muffins-gluten-free-dairy-free/
Confessions of a FIt Foodie
Join the newsletter
Subscribe to get our latest content by email.