This 21 Day Fix Roasted Maple Acorn Squash dessert is healthy enough for breakfast or lunch, packing veggie AND protein power!   No yellow treat swap needed. 
So apparently I may have inspired a few of you to make some Acorn squash this week…which is so freaking awesome!  Look at us – trying out new veggies like responsible adults and all.  We deserve a treat for making such a good choice, don't you agree?
Now it's usually that kind of thinking that gets me into trouble.  But not today.
You guys…I have a dessert to share with you that is super filing, super healthy, and super delicious.
You just take our new BFF, the acorn squash, and roast it…but with some sweet flavoring this time.  I used coconut oil, cinnamon, and a tiny drizle of maple syrup.  And then magic happens.  This uber nutritious veggie becomes a dessert…and it makes me wonder why more veggies don't have this power.  Like kale.  Hmm…chocolate covered kale chips, perhaps?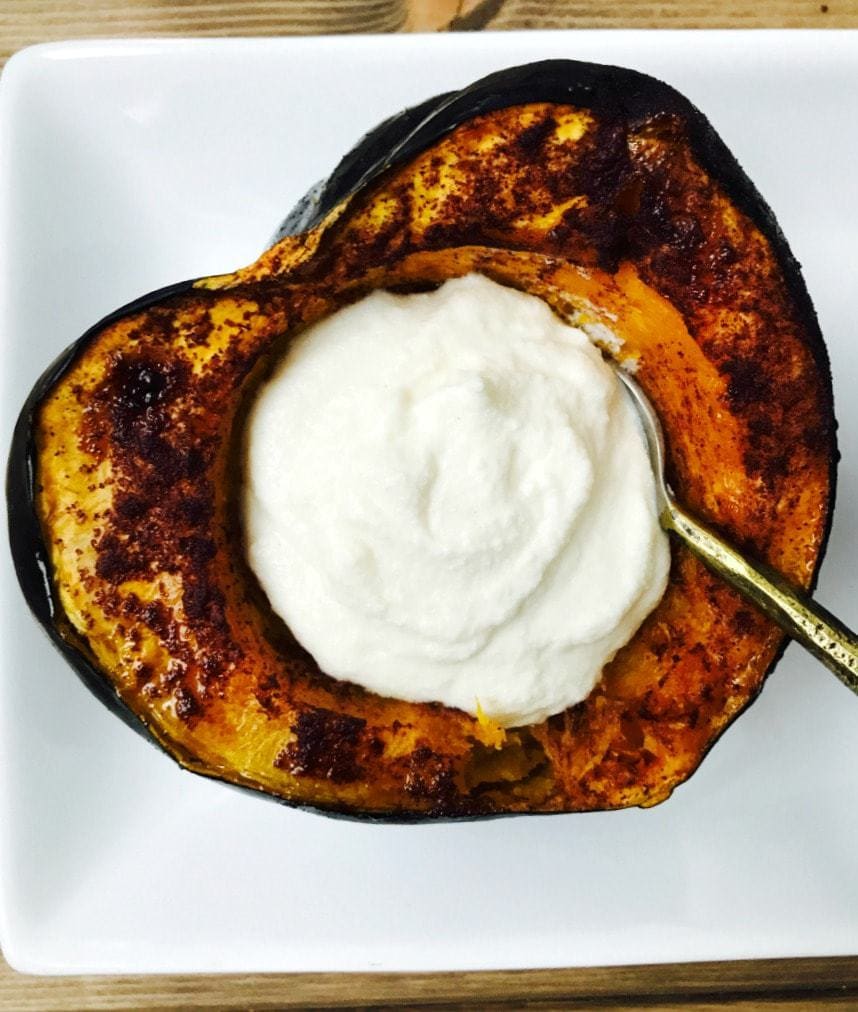 Anyway, I am getting off topic.  Back to this squash.  You could easily eat the squash alone, but the bowl was calling me to fill it with something equally as delicious.  And as much as I wanted to try some dairy free ice cream, I kept it healthy and went to my old standby whipped ricotta and the rest is history.
For those of you who haven't tried whipped ricotta in dessert yet, you must.  Even if you don't feel like whipping it…just mix in some vanilla extract, stevia (or honey/maple syrup) and a small splash of almond milk and stir until fluffy.  It's amazing how the texture changes and it becomes so light and creamy.
And I don't need to remind my hard core FIXers that it counts as a RED container, do I?  No yellow treat swap for you!
If you are dairy free like my little guy, I made his with coconut yogurt!  YUM!
Yields: 2 servings
Serving Size: 1 squash half
21 Day Fix Roasted Maple Acorn Squash with Sweet Whipped Ricotta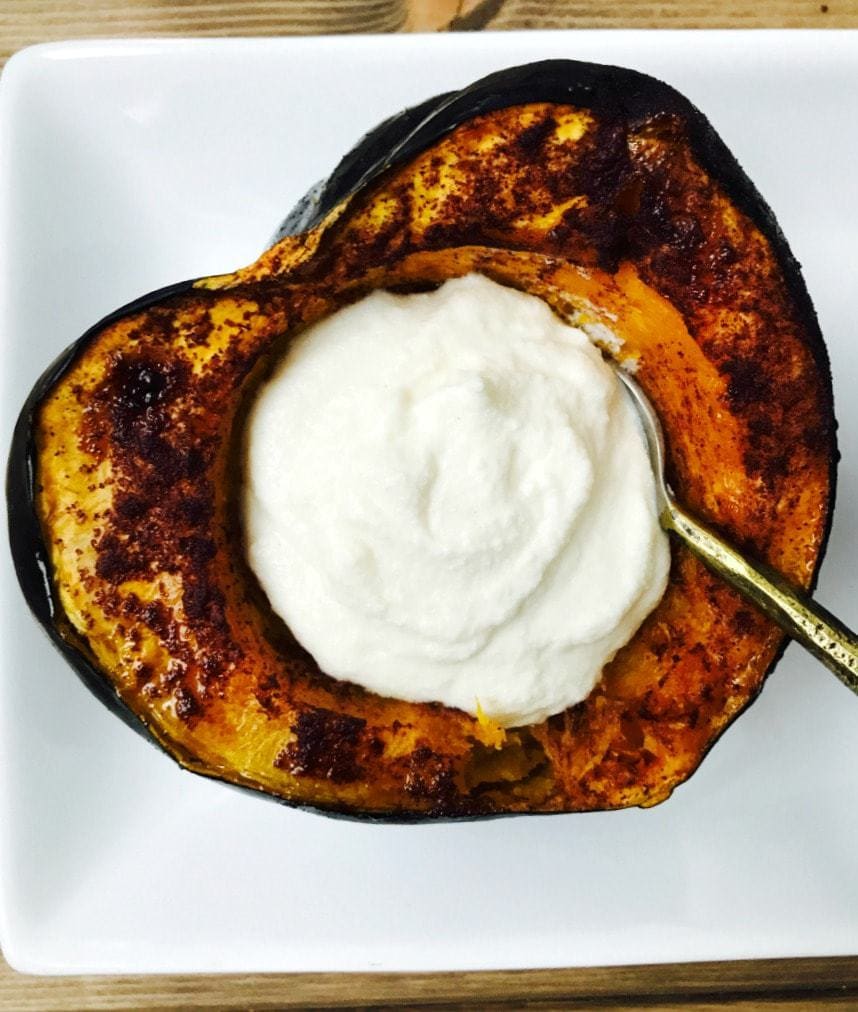 Ingredients
1 Acorn Squash
2/3 cup of part skim ricotta (sub coconut yogurt for dairy free)
2 tsp coconut oil, melted
cinnamon
sea salt
2 tsp pure maple syrup (can sub honey)
1/2 tsp vanilla extract
liquid stevia
2-3 tsp of vanilla or regular almond milk (or milk of choice)
Instructions
Preheat oven to 400. Cut acorn squash in half and remove seeds.
Brush oil on squash halves, then sprinkle with a little cinnamon. Drizzle each half with the maple syrup. Finish with a sprinkle of sea salt.
Roast squash for 40 minutes or until tender.
While squash is cooking, mix or whip ricotta with vanilla, almond milk, and a few drops of liquid stevia until ricotta becomes fluffy, adding more milk if necessary. Adjust sweetness level by adding more stevia, if necessary. Place ricotta mixture in the refrigerator.
When squash is finished roasting, let it cool down for a few minutes. Then top each half with half of the ricotta mixture. Enjoy or chill for later (or tomorrow for breakfast).
21 Day Fix Container Count:
Each squash half is 1 GREEN, 1/2 RED, 1 tsp
7.6.9.2
183
https://confessionsofafitfoodie.com/2017/11/21-day-fix-roasted-maple-acorn-squash-sweet-whipped-ricotta/
Confessions of a FIt Foodie
And if you like the looks of this dessert (and the container counts), check out these other protein packed desserts!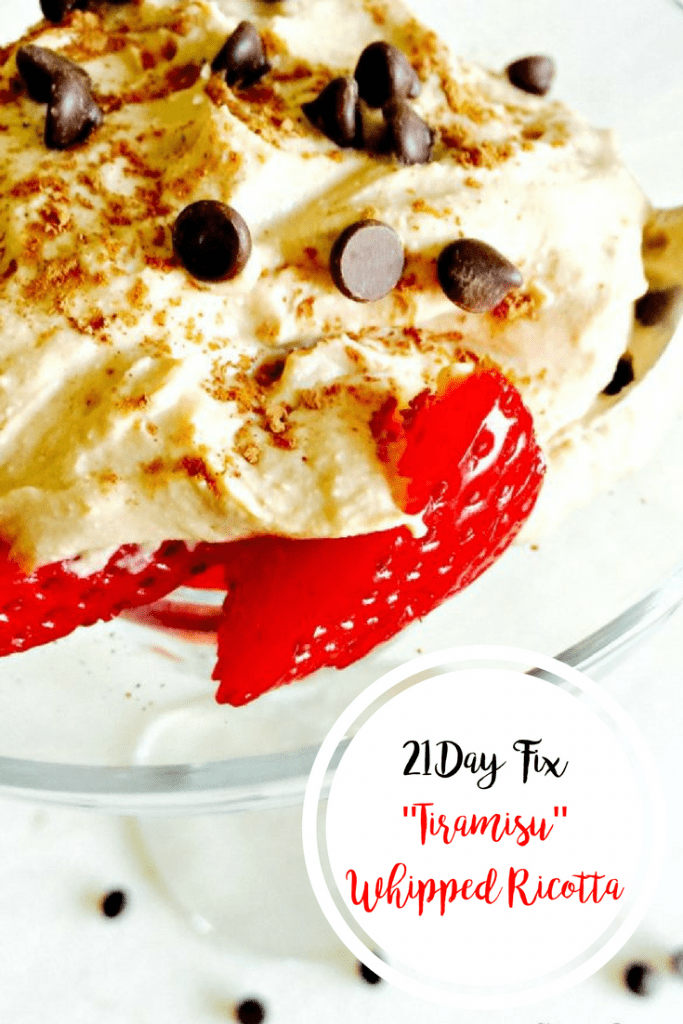 Join the newsletter
Subscribe to get our latest content by email.