These Fall Harvest Mason Jar Salads are a deliciously perfect make-ahead lunch to keep you full and on track all season long! This post contains affiliate links for products I'm obsessed with.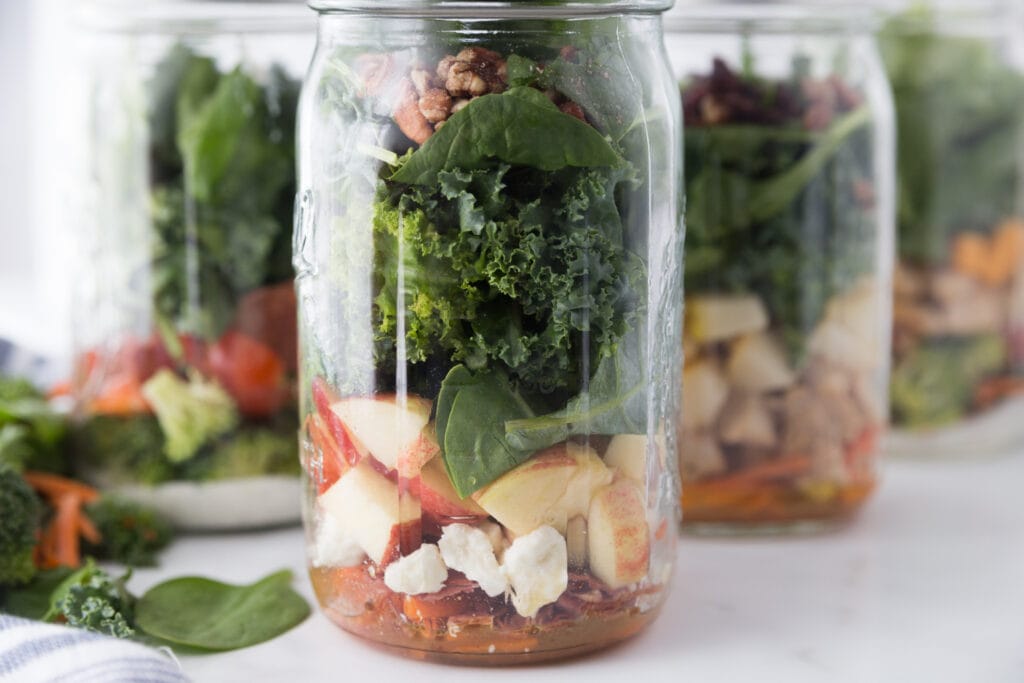 Confession #126 – I used to feel like there wasn't enough time for everything I needed to do.
These days? There isn't enough time for the things I want to do.
Most of those things revolve around this blog…there is just so much I want to share. So many meals I want to make. And eat. Do you know how wonderful it is to love your job so much, that you wake up in the middle of the night with new ideas and can't wait until your next free minute to literally get cooking?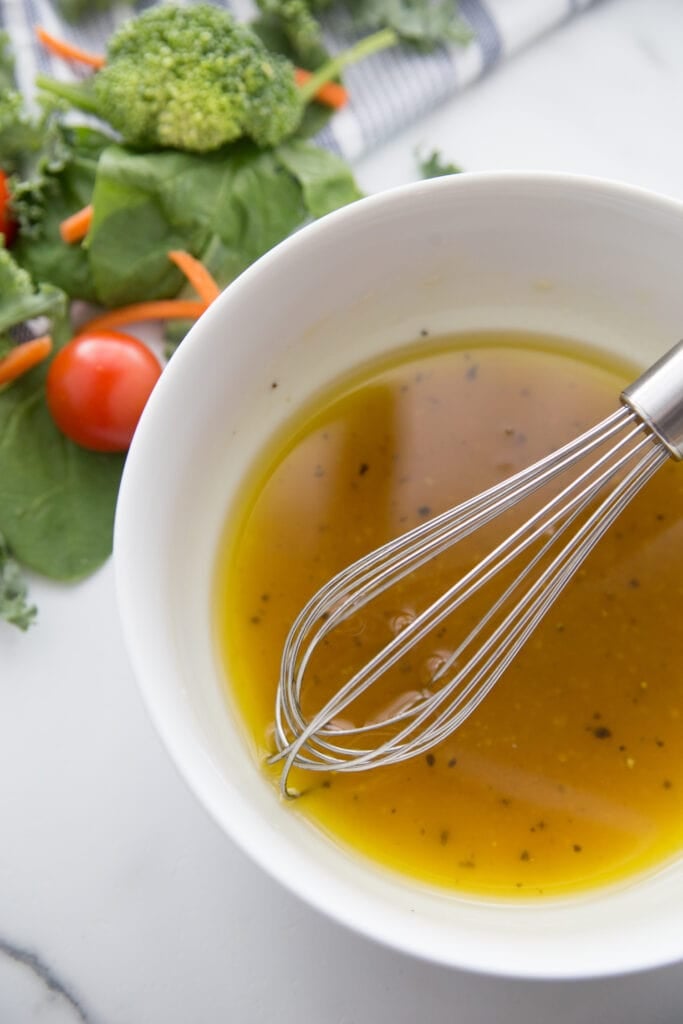 I hope so. Because it's truly the best.
I started making these Fall Harvest Mason Jar Salads a year ago. Yup. One year almost exactly. And it took me that long to get them on the blog.
Most of you come to my blog for dinners…and that's awesome because it's my favorite, too. But I listen to you and lunch is an issue. And you are not alone – if I don't have lunch prepped, I end up heading straight for my kids' snacks (veggie straws, I'm looking at you).
So I am interrupting my dinner posts with a delicious and easy to prep lunch idea that's perfect for this time of year with fresh Fall fruit and leafy greens…oh – and with a Maple Syrup and Apple Cider Vinegar dressing that is totally worth the wait.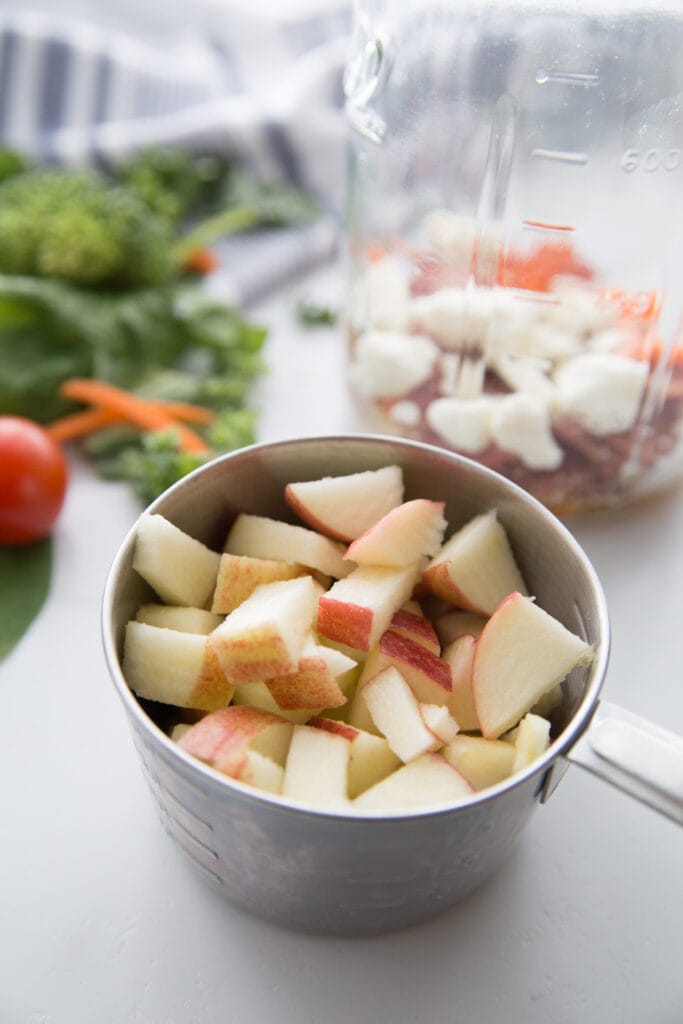 I know Mason Jar salads were a big on Pinterest forever ago, but I kinda doubted them for awhile, honestly. I am not a picky eater at all, but I definitely can have texture issues, especially with leftover food. But, amazingly, these salads lasted perfectly in the fridge for days!
For you Mason Jar newbies, here are some tips for making your salads:
First, prep all your proteins and veggies to keep yourself organized
Use a tasty homemade dressing or a clean store bought dressing to keep your grab and go lunch as healthy as possible
Be sure to follow the order below for how to build your mason jar salad
Pack a plate or bowl and a fork if you are eating on the go…or just enjoy your salad straight out of the mason jar!
Look for a larger, wide mouth 24 oz Mason Jar for your salads. I grabbed mine at Walmart, but you can get them on amazon through this link!
I make lots of different salads and portable meals in jars now, so I plan to share one a month with you guys…but this one is perfect for Fall. With crisp apples and fresh pears, and if you are brave enough, chopped kale, and pecans they taste like a restaurant worthy Harvest Salad. Now I tend to hoard my blues, so I didn't put cheese in mine, even though for a while there I doubted whether I would ever like a salad without cheese. I have to say, these babies opened my mind. I didn't even miss it!
If you want cheese, though, I love these with some feta. I will leave that to you to decide!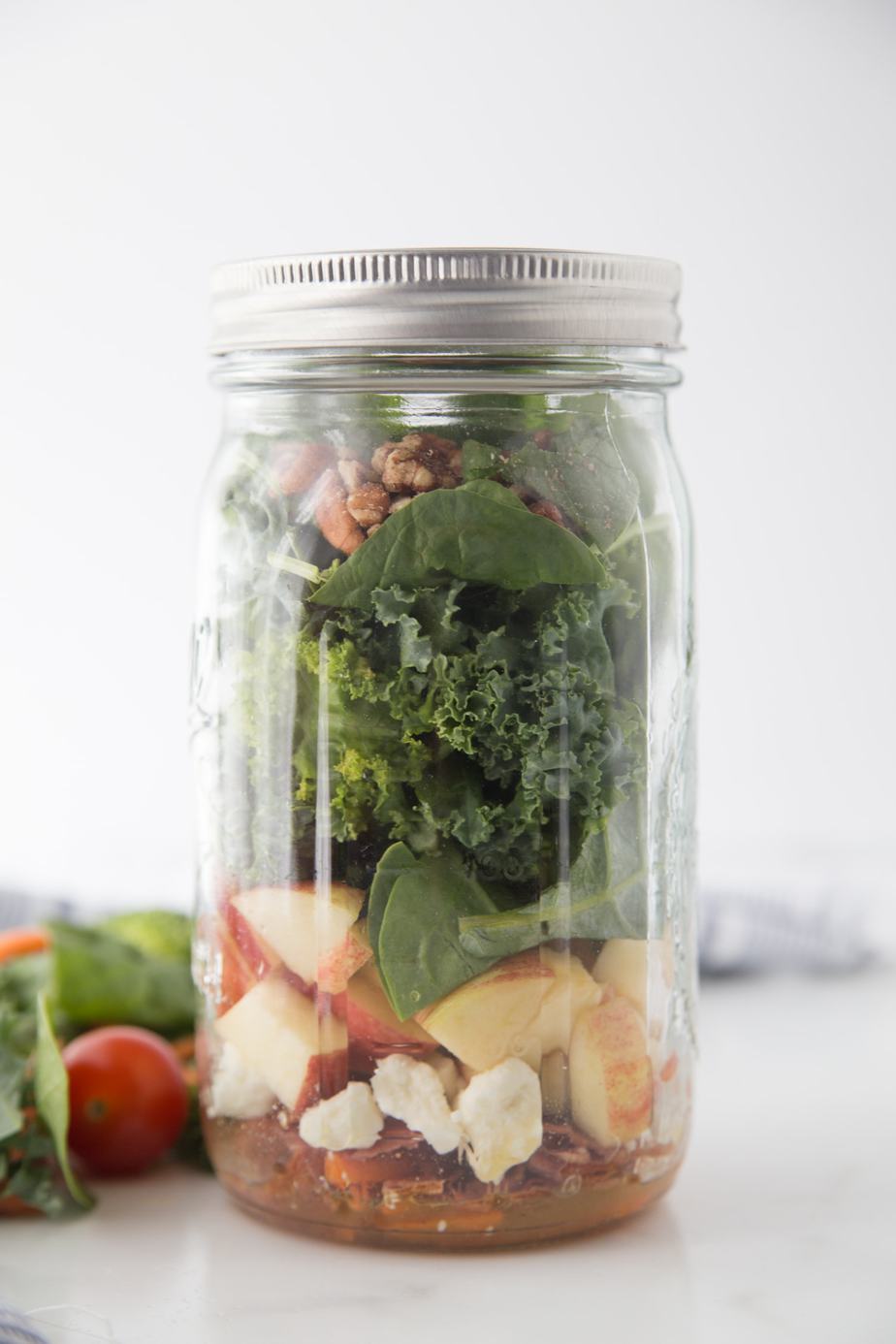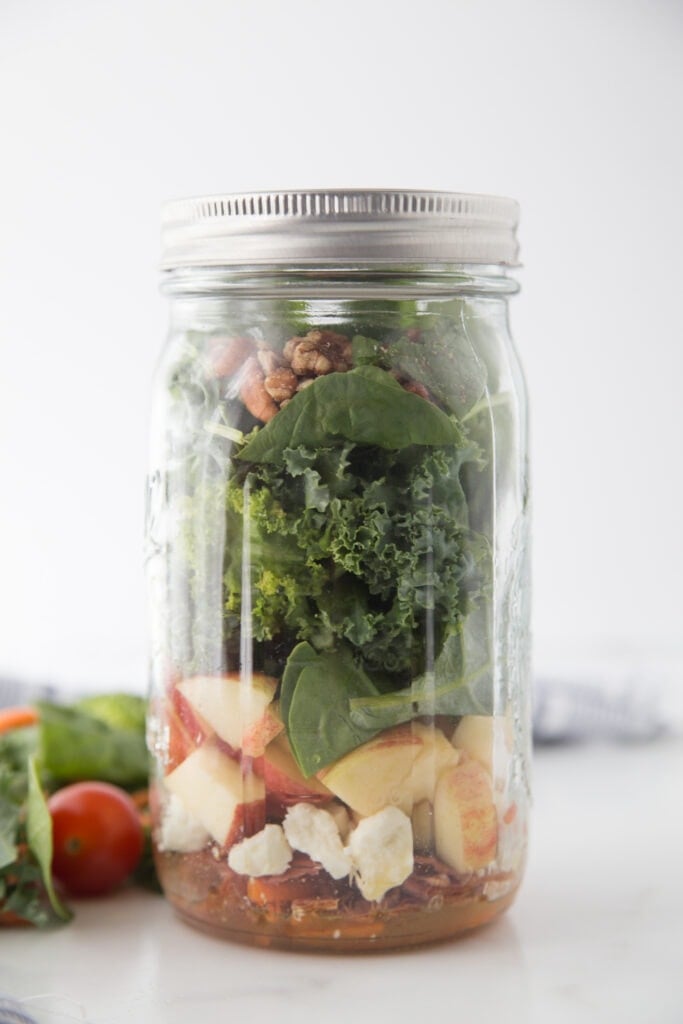 Because I know myself and I get bored eating the same food all week long, I made two different salads with similar ingredients. One with apple and bacon, one with pear and chicken. If boredom isn't a problem for you, you could even throw everything together and make an apple, pear, chicken and bacon salad. Holy yum!
And if you are wimpy about kale, you can totally use spinach. I get it. The key is to chop your kale really small. But if you aren't there yet, it's all good.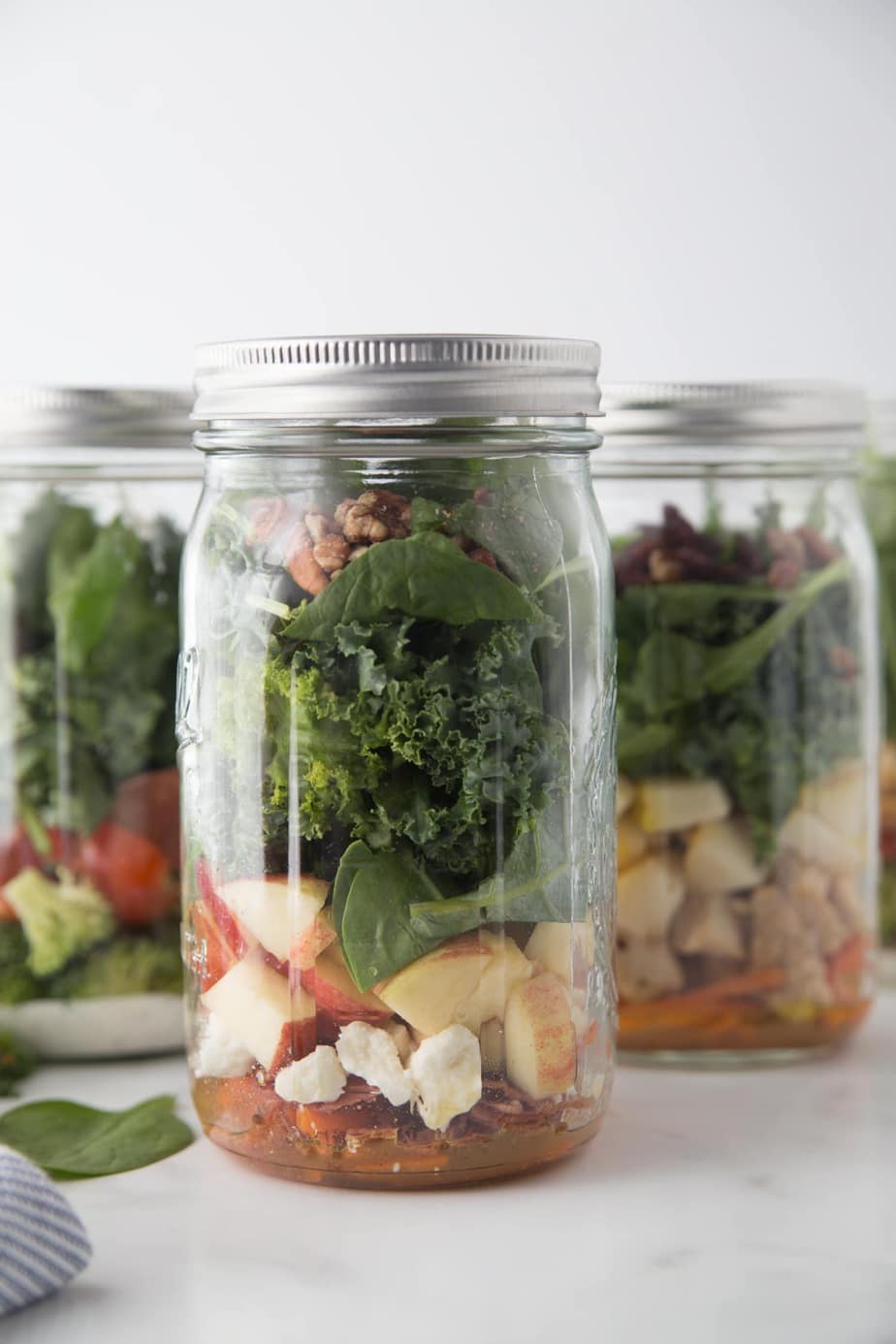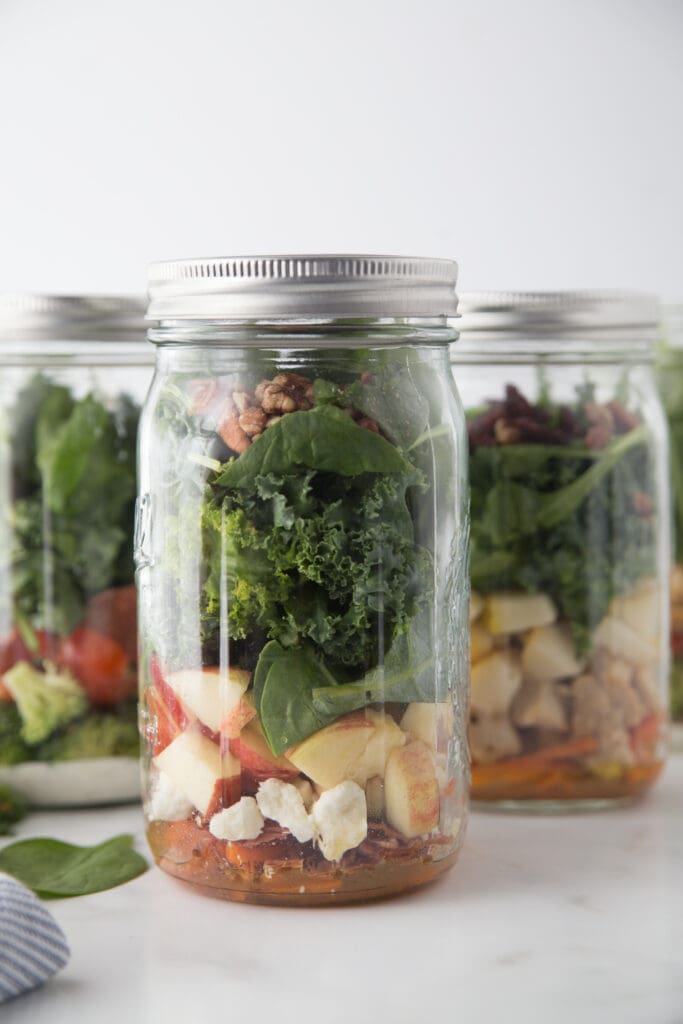 Do Mason Jar Salads get soggy?
Nope! Well, as long as you follow the graphic above and stack your salads according to that guide, you will be fine!
Do the apples get brown?
For me, they do not, but a little browning doesn't bother me. However, whenever I need to make sure my apples stay perfect after cutting, I follow this tutorial for how to keep apples from turning brown. This is foolproof for snacks and any time you need to cut apples for meal prep or parties.
How long do Mason Jar Salads last?
These will typically last for 4-5 days in the refrigerator as long as they are properly sealed, so I like to make 4 at a time to have for lunches throughout the week!
How do you serve Mason Jar Salads?
I like to shake the salads up and then dump them into a big bowl if I am home or have one with me. But I've also just eaten them right out of the mason jar and that works great, too!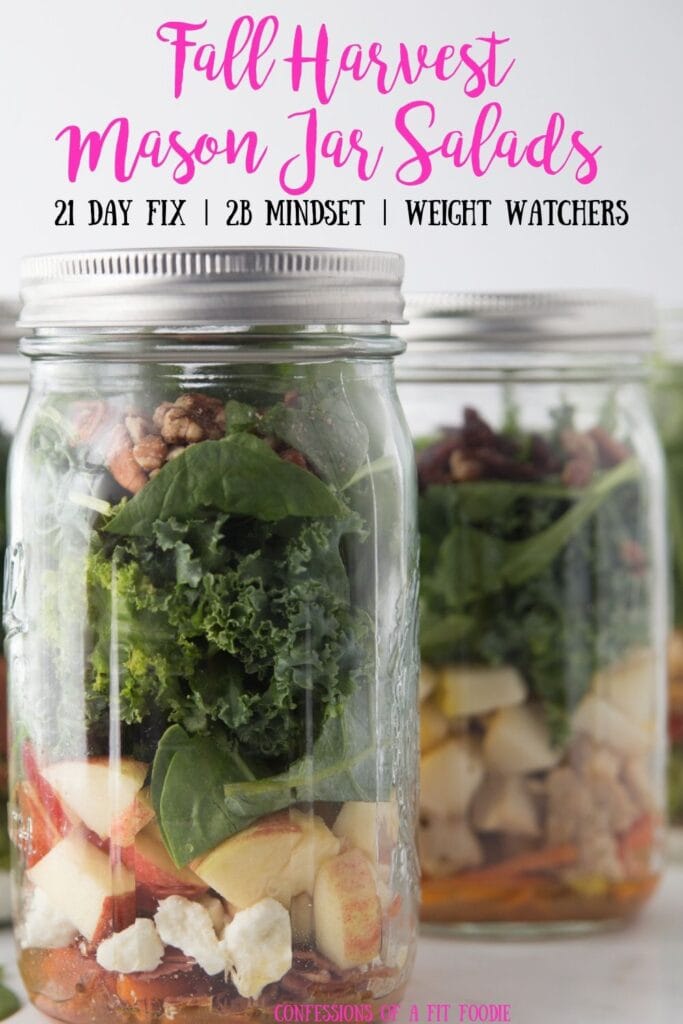 What other Mason Jar recipes do you have on the blog?
As featured in the video, I have these amazing Mason Jar Salad Recipes with Homemade Ranch.
Also, if you LOVE the idea of portable, portion controlled, grab and go Mason Jar meals, you've gotta check out these posts:
Fall Harvest Mason Jar Salads with Maple Cider Vinaigrette
These Fall Harvest Mason Jar Salads are a deliciously perfect make-ahead lunch to keep you full and on track all season long!
Ingredients
1

lb

chicken breasts

cooked through and diced

8

slices

turkey bacon

cooked and crumbled

2

apples

chopped

2

pears

chopped

1

head

kale or spinach

or a mix of both

1 1/3

cup

Matchstick carrots

1/2

cup

Pecans

chopped

1/2

cup

feta cheese

optional
For the dressing
4

tablespoons

extra virgin olive oil

2 1/2

tablespoons

maple syrup

2 1/2

tablespoons

apple cider vinegar

1

teaspoon

Dijon mustard

Sprinkle

salt and pepper
Instructions
Mix together ingredients for the dressing. And divide equally into 4 large mason jars.

If using kale, chop into tiny bite sized pieces.

In the two Apple Bacon Salad jars, layer the remaining ingredients in the following order after dressing: 1/3 cup matchstick carrots, 4 slices of chopped turkey bacon, 1 cup of chopped apple, 1 2/3 cups of greens, and 2 Tbsp pecans (plus optional 2 Tbsp of feta cheese)

In the two Chicken Pear Salad jars, layer the remaining ingredients in the following order: 1/3 cup matchstick carrots, 3/4 cup diced chicken, 1 sliced or chopped pear, 1 2/3 cups of greens, and 2 Tbsp pecans (plus optional 2 Tbsp of feta cheese)

Store jars in the fridge for 4-5 days. Remove from fridge and keep out for a few minutes before eating, then shake up the jar to distribute the dressing! Enjoy!
Notes
Makes 4 salads; 2 apple bacon and 2 chicken pear
21 Day Fix: 2 GREEN, 1 ORANGE, 1/2 BLUE (1 BLUE if using optional feta), 1 PURPLE, 1 RED (per salad)
WW: Maple Cider Vinaigrette - 7 points (per serving); Apple Bacon Salad - 7 points (per salad); Chicken Pear Salad - 3 points (per salad) [Salads calculated without optional feta cheese] 
Note for WW: The dressing is TOTALLY delicious and worth giving a shot, but if you aren't willing to sacrifice the points, check out this resource from Pointed Kitchen for low point salad dressings!
Nutrition
Serving:
1
Mason Jar Salad
Calories:
667
kcal
Carbohydrates:
43
g
Protein:
47
g
Fat:
36
g
Saturated Fat:
6
g
Polyunsaturated Fat:
7
g
Monounsaturated Fat:
20
g
Cholesterol:
124
mg
Sodium:
788
mg
Potassium:
939
mg
Fiber:
9
g
Sugar:
28
g
Vitamin A:
10478
IU
Vitamin C:
41
mg
Calcium:
154
mg
Iron:
3
mg