One of my favorite ways to enjoy cauliflower, this Cauliflower Au Gratin recipe is the ultimate low carb, comfort food side dish…you won't even miss the potatoes! Perfect for the 21 Day Fix, 2B Mindset, and WW. Also easily Keto friendly! This post contains affiliate links for products I'm obsessed with.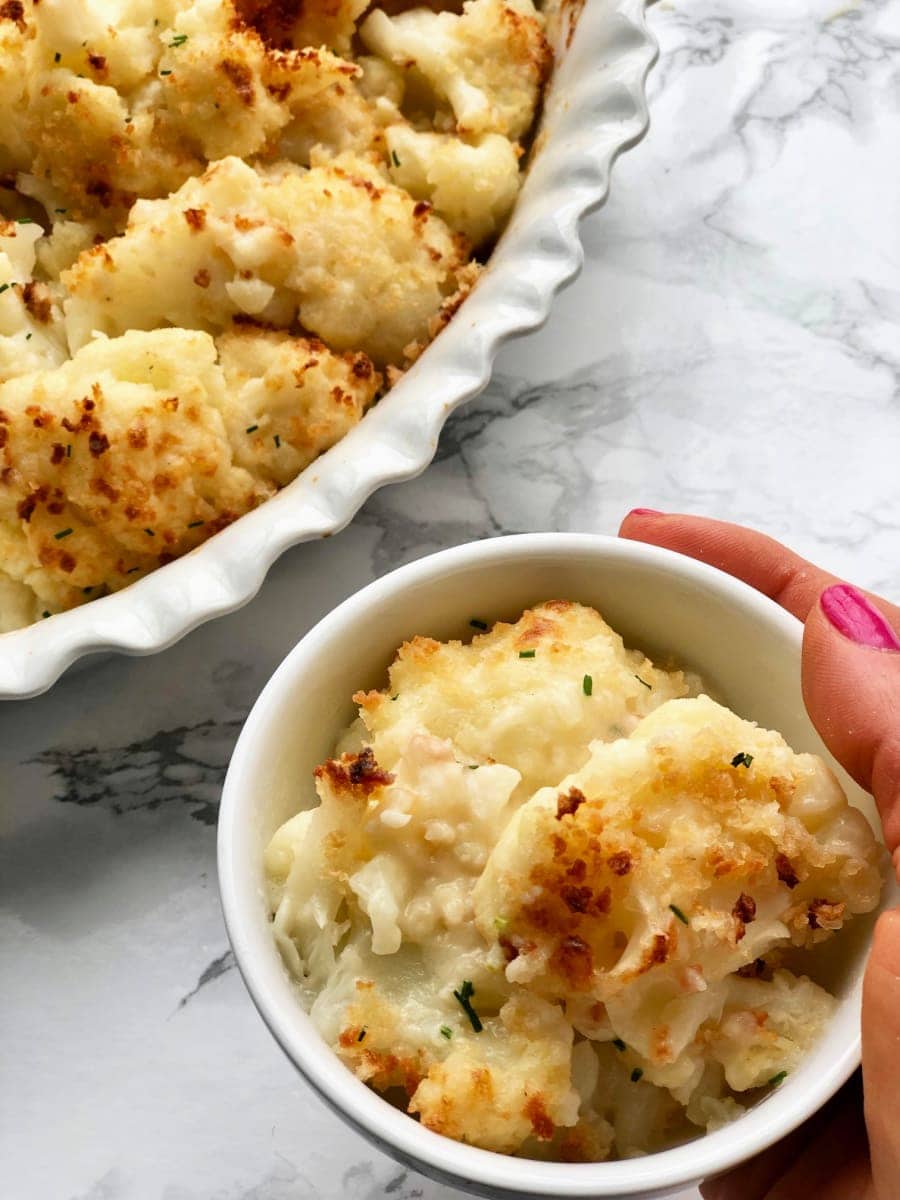 Guys…I meant to get this post out like two months ago.
In my defense, we had a bit of a stomach bug situation here for the last couple of week.
And before that…we had a cheese issue.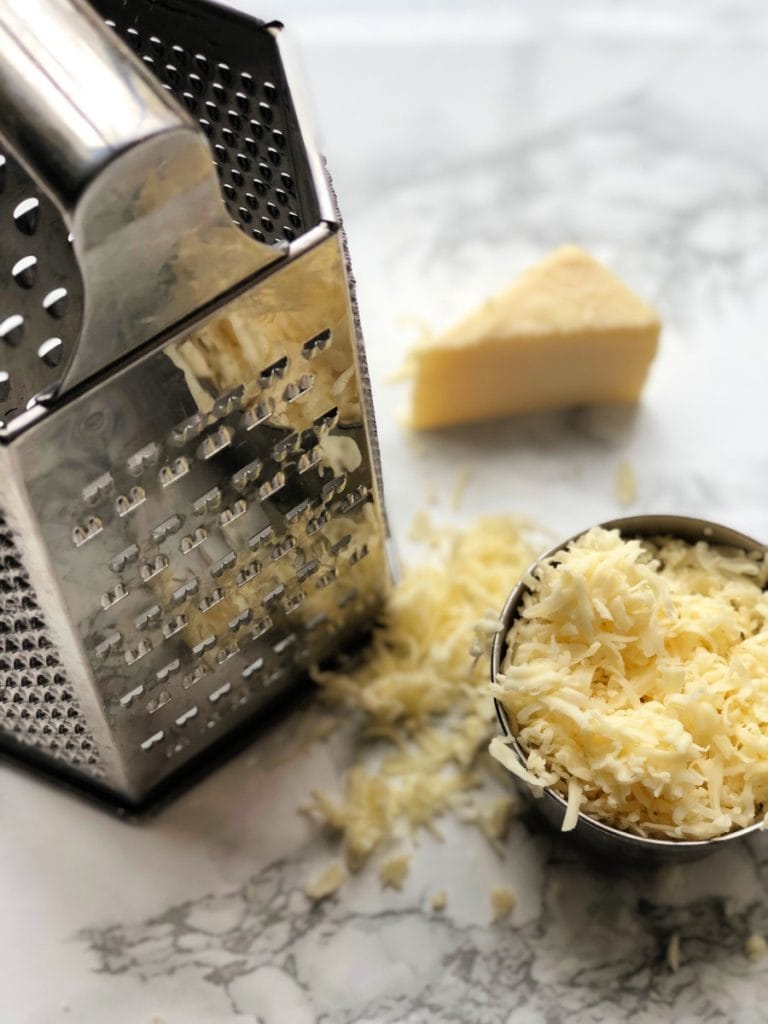 The cheese issue is as follows…I would buy the ingredients needed for this recipe, cheese included, and then I would eat said cheese before I got the chance to make this dish to photograph.
Whyischeesesoamazing??????
Anyway, I am bringing you this Cauliflower Au Gratin recipe just in time for your Easter holiday. But really, you don't need a holiday to make this. It's my new fav side dish and I plan to make it all the time now!
How to Make Cauliflower Au Gratin
First, I used my Instant Pot
and fav steam basket to steam the cauliflower just enough to soften it a bit. You can do this on the stovetop, too!
Then I made a very simple cheese sauce. You can play around with the flavors here, but I love a very sharp cheddar with a bit of Pecorino Romano. You can also add some fresh garlic this if you want! Ooh – or leeks! Yum!
And then just throw that cheese sauce over your cauliflower, making sure to coat all those veggies in this delicious goodness.
I top mine with some extra Pecorino Romano and some gluten-free panko breadcrumbs before baking, but if you are following a Keto diet, don't add the breadcrumbs. You can top with crushed pork rinds or another keto friendly topping, but honestly, it will be delish without!
Isn't she beautiful?
Can I prep this Cauliflower Au Gratin in advance?
Yes! I love this one for meal prep! I simply soften the cauliflower and prepare the cheese sauce. Then I place both in a baking dish, cover, and keep in the refrigerator until it's time to bake (up to 3 days).
Can I freeze this Cauliflower Au Gratin?
You can, but it would best be frozen before baking or partially baked. It may also result in a more watery texture.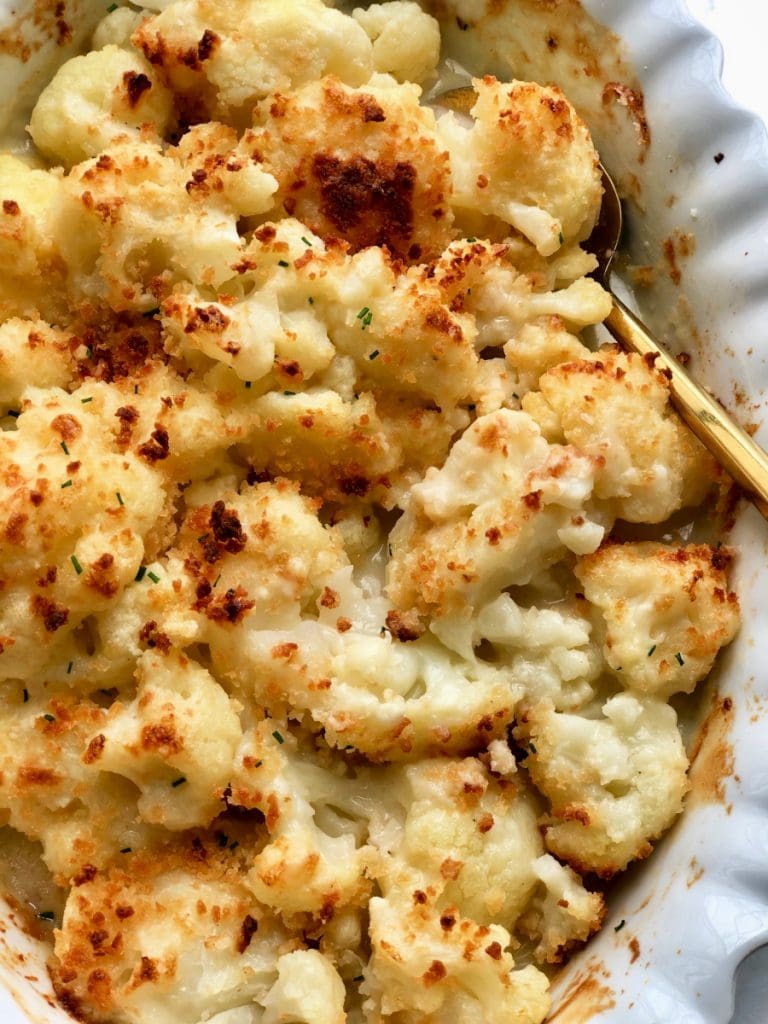 Is this Cauliflower Gratin Low Carb?
It's lower carb for sure, and with some simple changes, it can even be considered keto! First, use almond flour for the cheese sauce roux. Then, be sure to eliminate or replace the gluten-free panko and you are all set!
What are the Portion Fix containers for this Cauliflower Au Gratin?
If you divide this dish into 4 servings (this will result in a LARGE portion), this will count as 1 green, 1 blue, and 1 tsp.
If you divide this dish into 8 servings, which is perfect if you are having a big meal like a holiday dinner, this will count as 1/2 green, 1/2 blue, and 1/2 tsp.
There isn't enough yellow in the breadcrumbs or flour to count, so I don't. But if you wanna, it would be 1/8 yellow or 1/16 depending on 4 or 8 servings.
See, told ya it wasn't worth it!
What are the Weight Watchers Freestyle Points for this Cauliflower Au Gratin?
If you are following Weight Watchers, you should use reduced fat cheddar to keep the points down. I calculated this with 50% less fat cheese which still tastes amazing.
If you divide this recipe into 4 servings, it is 5 FS points.
If you divide this recipe into 8 servings, it is 2 FS points.
More Amazing Healthy Cauliflower Side Dishes:
21 Day Fix Kung Pao Cauliflower
Baked Buffalo Cauliflower or Air Fryer Buffalo Cauliflower
Garlic Cilantro Cauliflower Rice
Cauliflower Au Gratin [21 Day Fix | Keto Friendly | Gluten Free | WW ]
One of my favorite ways to enjoy Cauliflower, this Cauliflower Au Gratin recipe is the ultimate low carb, comfort food side dish...you won't even miss the potatoes!
Ingredients
1

small to medium head of cauliflower

about 4 cups

4

teaspoons

gluten free flour or whole wheat flour

or sub almond flour for keto

4

teaspoons

vegan butter

butter, or ghee

1

cup

unsweetened original almond milk

1 1/4

cups

shredded extra sharp cheddar cheese

use Daiya for dairy free!

2

tablespoons

Pecorino Romano Cheese

1/4

teaspoon

garlic powder

optional, leave out or sub with 2 cloves of fresh garlic

1/4

teaspoon

Himalayan salt

3

tablespoons

gluten free panko
Instructions
Instant Pot
Place head of cauliflower on trivet and add in one cup of water to the IP. Set to steam for ZERO minutes. Quick release after pot comes to pressure and carefully remove cauliflower. Cut into florets.

Follow the stovetop directions 2-4
Stove Top | Oven 
In a large dutch oven or sauce pan, boil 4-5 cups of water.  Cut cauliflower into florets and steam for about 6-8 minutes, or until tender on the outside but still crisp in the middle.

Preheat oven to 375.  In a large skillet, melt butter over medium heat. Sprinkle in the flour and stir.  Slowly whisk in the almond milk, and continue to whisk until the mixture comes to a boil and begins to thicken. Once thickened, remove sauce from heat and stir in cheddar cheese until fully melted, adding garlic powder and salt.  Taste and adjust seasoning if desired.

Place cauliflower florets in a baking dish and pour cheese sauce over florets, making sure to coat them all with cheese.  Sprinkle Pecorino Romano on top, as well as the panko bread crumbs.

 Bake for 20-25 minutes or until cheese is bubbly and the cauliflower begins to brown.  Optional (but recommended) broil cauliflower for a few minutes on high to crisp it up even further.
Notes
You can divide this dish into 4 servings (this will result in a LARGE portion) or 8 servings (perfect if you are having a big meal like a holiday dinner)
21 Day Fix: 4 servings - 1 GREEN, 1 BLUE, 1 TSP (per serving); 8 servings - 1/2 GREEN, 1/2 BLUE, and 1/2 TSP (per serving)
WW link for personal points: 
Cauliflower Au Gratin
Nutrition
Calories:
274
kcal
Carbohydrates:
16
g
Protein:
13
g
Fat:
19
g
Saturated Fat:
8
g
Polyunsaturated Fat:
2
g
Monounsaturated Fat:
5
g
Trans Fat:
1
g
Cholesterol:
40
mg
Sodium:
593
mg
Potassium:
462
mg
Fiber:
4
g
Sugar:
3
g
Vitamin A:
364
IU
Vitamin C:
69
mg
Calcium:
385
mg
Iron:
1
mg