My favorite Fall 21 Day Fix dinner gets an Instant Pot Makeover! This Instant Pot Shepherd's Pie is a healthy version of the comfort food classic! It's also dairy and gluten free, as well as Paleo and Whole 30 friendly. This post contains affiliate links for products I'm obsessed with.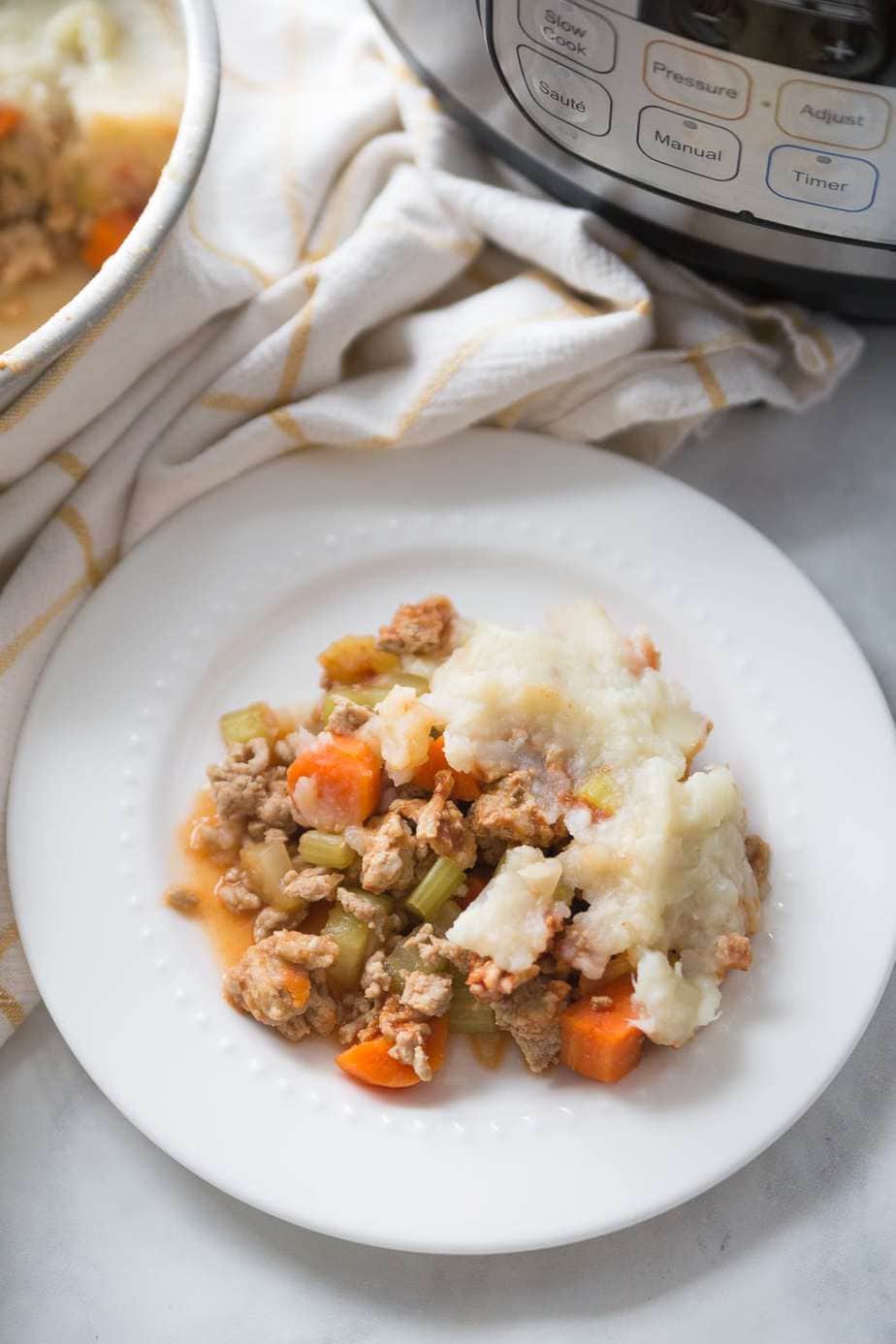 One of my readers recently suggested that I separate my Instant Pot posts out from the traditional recipe in order to make following on mobile easier.
You guys have the best ideas.
It might take me a few to get everything posted the way I want to, but with the temperatures finally getting cooler, I wanted to share this updated Instant Pot
version of my favorite fall comfort food – Shepherd's Pie.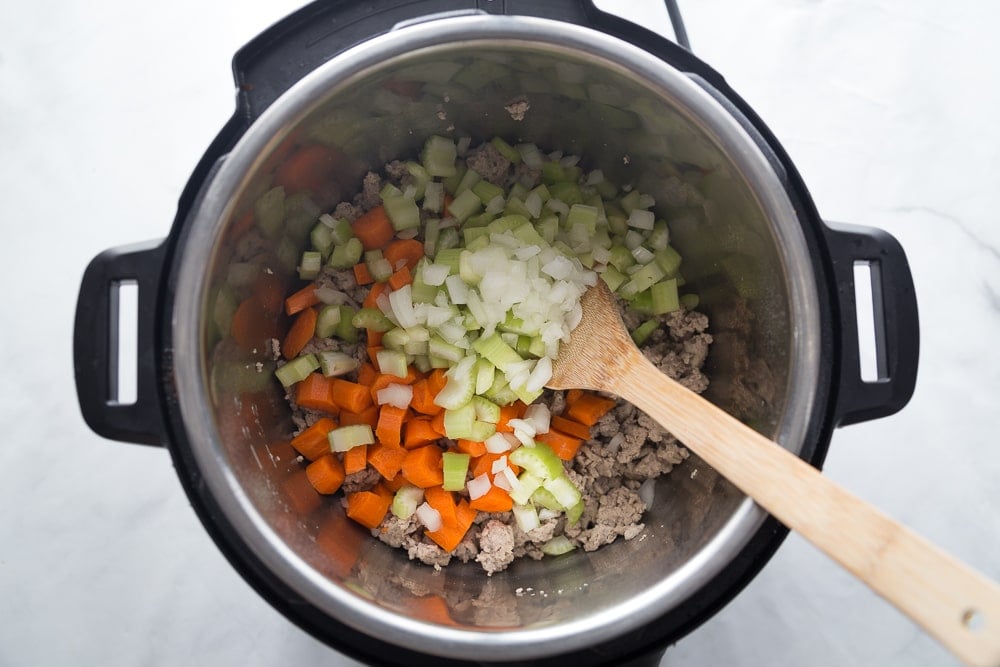 This recipe is so near and dear to my heart. That probably sounds so lame, but it's true. I remember the first time I made it and how proud I was of the cauliflower mashed potato topping…and how my husband said it tasted like Thanksgiving.
It's not the quickest dinner in the world to make, but the Instant Pot
definitely cuts down on the prep time. And aren't we all looking to save a little time these days?
You will need a pan for the pot in pot method of cooking for this recipe. Before buying something, check your cabinets to see what you have! Any pan that works in the oven will work in the Instant Pot, too.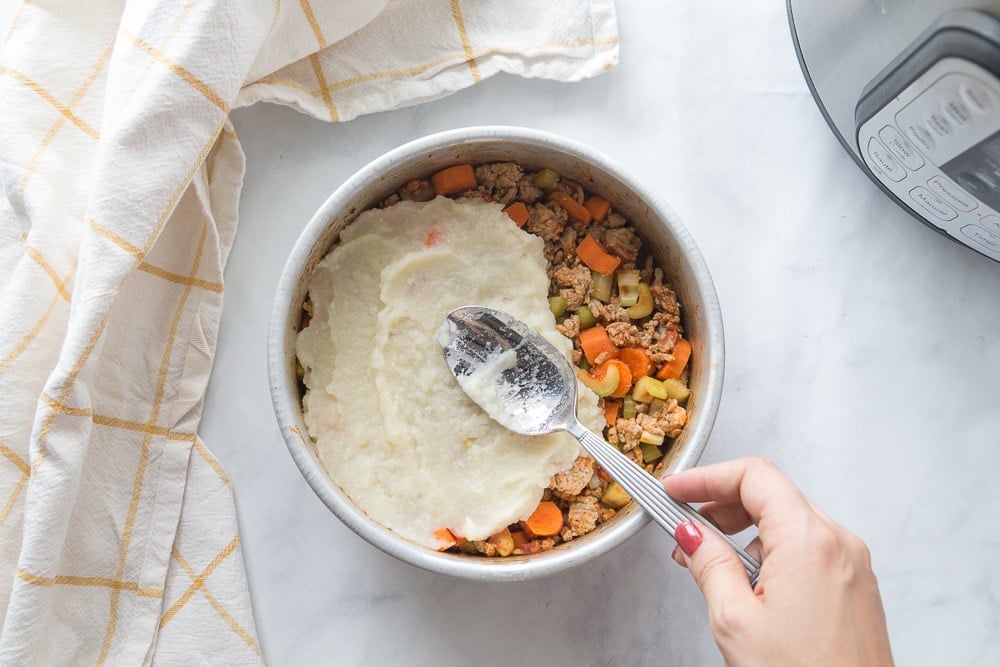 If you don't have something that fits, you might want to invest in an aluminum cake dish
, a springform pan
, or a porcelain casserole dish
…my favorite being the latter. I love a dish that looks great going from the oven to the table.
You also might want to get a silicone sling
to make your life easier. Honestly, I have had an Instant Pot for almost two years now and I just got one, but honestly, I'm not sure why I waited so long! It's a million times easier and quicker to use than my homemade foil slings.
How Healthy is Shepherd's Pie?
Traditional Shepherd's Pie is very high in calories and in carbs, but this 21 Day Fix Shepherd's Pie is extremely healthy! I used ground turkey, tons of veggies, and a mix of cauliflower and potatoes for the topping for a healthy twist on this comfort food favorite.
Can I use this Instant Pot Shepherd's Pie recipe for the 21 Day Fix and/or the 2B Mindset? What about the 80 Day Obsession?
This Healthy Shepherd's Pie recipe is perfect for the 21 Day Fix and the containers are already calculated for you! As far as the 2B Mindset, this recipe makes a perfect lunch. If you would like to eat it for dinner, replace the potatoes with more cauliflower and you will be all set! As far as the 80 Day Obsession, this is the perfect "stoplight" meal for timed nutrition because is a red, yellow, and green, plus teaspoon!
Can you freeze Shepherd's Pie and reheat it? Can you make Shepherd's Pie in advance?
Yes and yes! I would prep the Shepherd's Pie using your Instant Pot, but skip the last direction of placing it in the oven. Freeze in an airtight container for up to three months! Then, to reheat, thaw in your refrigerator and bake on 350 until warmed!
In fact – I used it in my Crock Pot Freezer Bootcamp!
How do you make Shepherd's Pie in the Instant Pot?
Check out this video to see how easy it really is!
How many Weight Watchers Points is this Shepherd's Pie?
Check out the link below to find your personal points!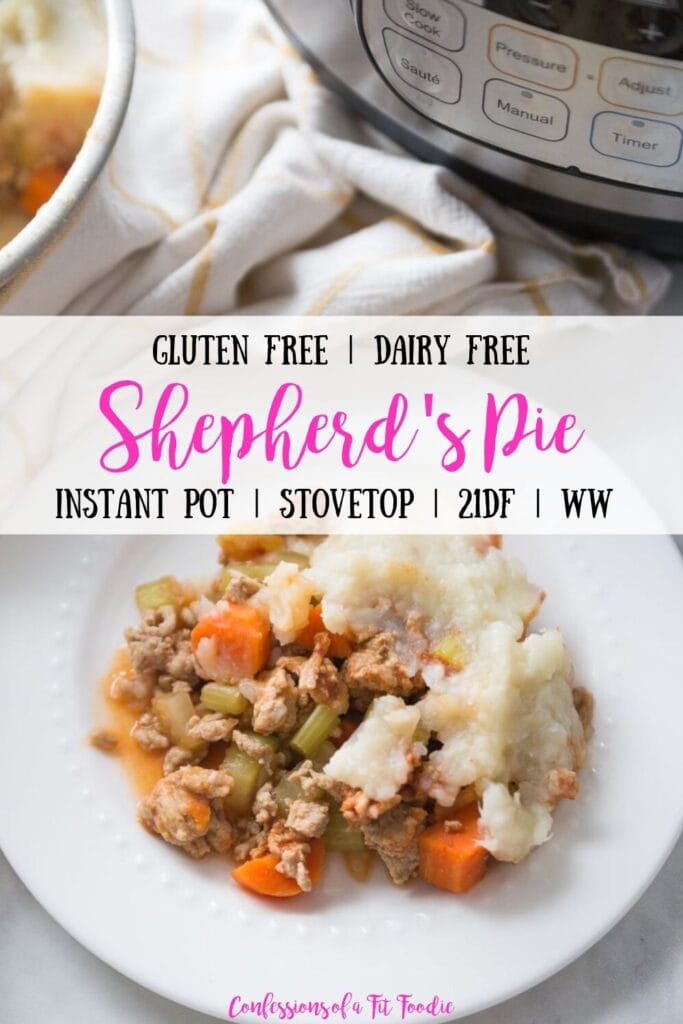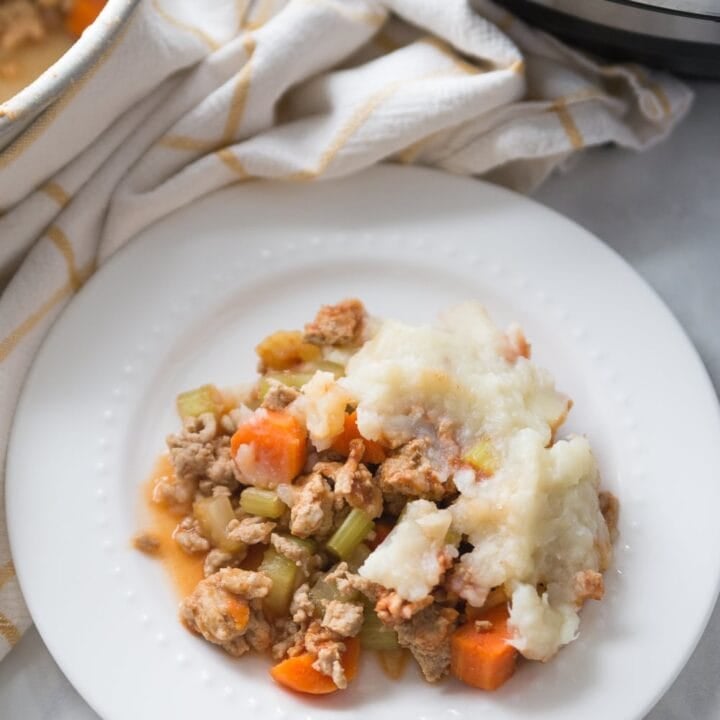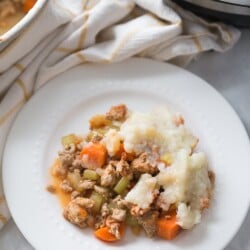 Healthy Instant Pot Shepherd's Pie
My favorite Fall 21 Day Fix dinner gets an Instant Pot Makeover!  This Instant Pot Shepherd's Pie is a healthy version of the comfort food classic!  It's also dairy and gluten free!
Ingredients
Olive oil

avocado oil, or coconut oil cooking spray

1

cup

diced carrots

1

cup

diced celery

1/2

onion

chopped

1 1/3

cup

reduced sodium chicken broth

divided use

1

teaspoon

Himalayan salt

3

tablespoons

tomato paste

1

lb

organic lean ground turkey

2

cups

chopped cauliflower

2

cups

red potatoes

peeled and chopped

2

tablespoons

butter

vegan butter, olive oil, or ghee
Instructions
Set Instant Pot to saute and spray well with cooking spray. Add in ground turkey and brown until cooked through. Add in veggies and mix together well, cooking an additional two minutes.

Remove meat and veggies from Instant Pot and transfer to a heat safe dish that fits into your IP. Stir in 1/3 cup of broth, tomato paste, and sprinkle with 1/2 tsp of salt. Cover with foil.

Add cauliflower, potatoes, and 1 cup of broth to the bottom of your Instant Pot. Place trivet on top of potato and cauliflower mixture and place the dish with the turkey on top of the trivet. Cover and lock Instant Pot.

Cook for 7 minutes on manual/pressure cook. Quick release and carefully remove the pot using the handles of the trivet (or silicone sling).

Drain the potato mixture, reserving the cooking broth. Mash right in the Instant Pot, or transfer to a Food Processor to blend. Add in 1/2 tsp of salt and 2 T of olive oil, ghee or vegan butter and mix. If necessary, add in a tablespoon or two of cooking broth.

Top turkey mixture with potatoes and broil for a few minutes to brown the top, if desired. **If your dish isn't broil safe, bake at 350 instead.
Notes
21 Day Fix: 1 YELLOW, 1 GREEN, 1 RED, 1 1/2 TSP (per serving)
WW link for personal points: 
Shepherd's Pie
Nutrition
Calories:
324
kcal
Carbohydrates:
32
g
Protein:
32
g
Fat:
9
g
Saturated Fat:
4
g
Polyunsaturated Fat:
1
g
Monounsaturated Fat:
2
g
Trans Fat:
0.3
g
Cholesterol:
77
mg
Sodium:
896
mg
Potassium:
1338
mg
Fiber:
6
g
Sugar:
11
g
Vitamin A:
25064
IU
Vitamin C:
50
mg
Calcium:
86
mg
Iron:
2
mg