Are you looking for Healthy Pantry Staples and Shelf Stable Fruits, Veggies, and Protein to stock up on? Check out the list below for ideas and a 1 page printable PDF!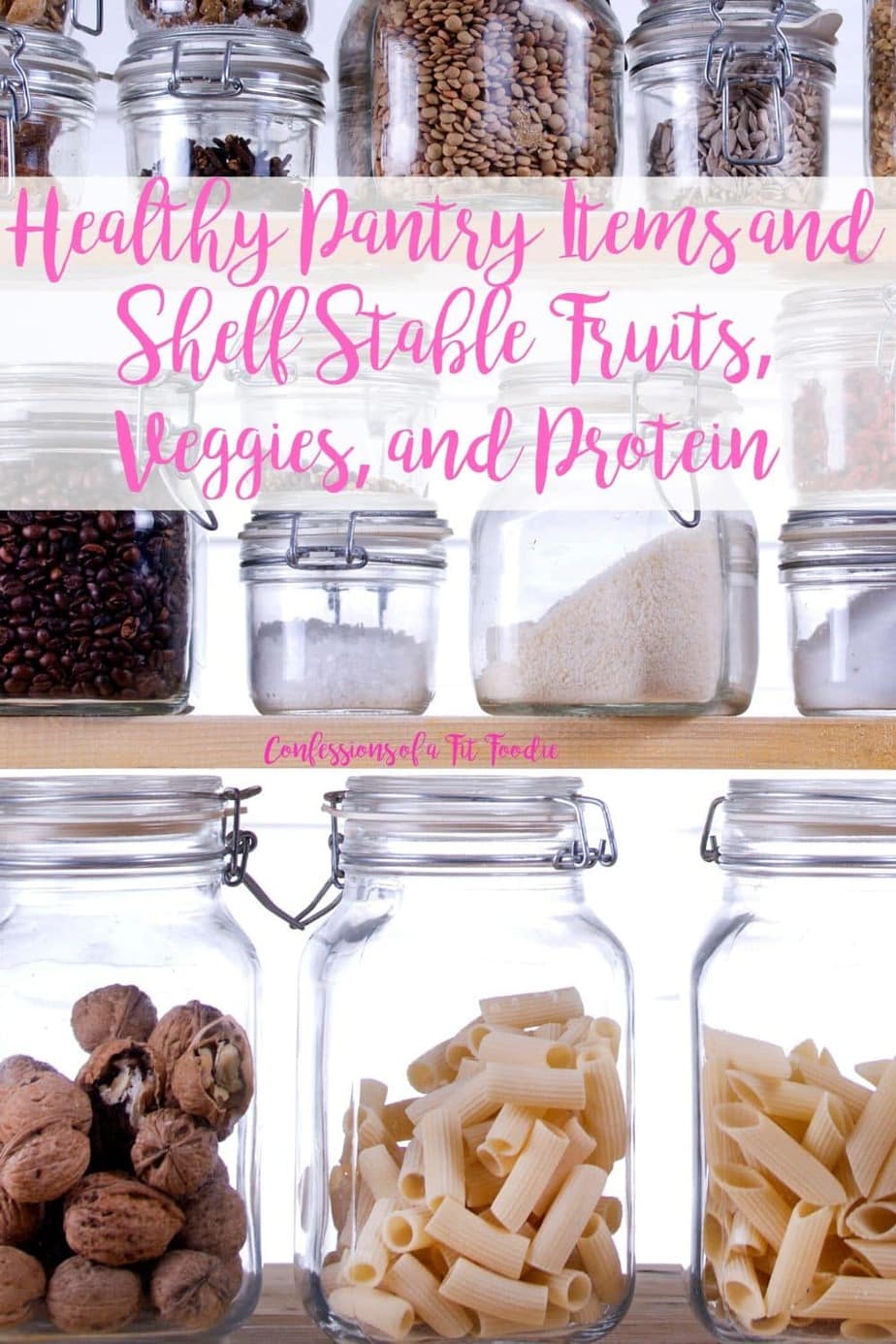 With the uncertainty that comes with this current situation, I have had a lot of requests for a list of what pantry staples to buy, stocking your freezer, and how to maintain healthy eating without frequent trips to the grocery store. So I am putting together some resources for you – and the first of them is this list of grocery items that will ensure you have well rounded, healthy meals while this ordeal plays out.
What is a Pantry Recipe?
So this definitely depends, but for me, I think of pantry items as items that can be used for many different recipes, can be kept for an extended amount of time at room temp, and also frozen food or food that can be frozen. There are also some fresh fruits and veggies that last a long time and don't require refrigeration, so I have also included recipes that utilize these recipes!
After checking your Pantry inventory, you can check out this list of Healthy Pantry Staples Recipes to make good use of what you have on hand!
**Want a Printable PDF of this list? Check out the link at the bottom of this post!**
Healthy Pantry Items and Shelf Stable Fruits, Veggies, and Protein
Pantry Staples:
Coffee / Tea
Oils – avocado, olive, and coconut
Vinegar – apple cider and balsamic are my go-tos
Mustards
Tomato Paste
Dried Spices – garlic powder, oregano, basil, chili powder or even get some spice blends
Maple Syrup / Honey
Coconut Milk
Coconut Aminos or Low Sodium Soy Sauce
Nut Butters (Peanut, almond, cashew, etc.)
Broth
Oats
Brown rice
Quinoa
Whole grain or GF Pasta
Chia seeds
Other Seeds and nuts (we love pumpkin seeds and almonds)
Dried Beans – lentils, chickpeas
Whole grain or gluten-free cereal
Whole grain or gluten-free bread to freeze
Whole grain or gluten-free crackers
Tortillas – corn and/or flour
Cocoa Powder
Shelf stable non-dairy milk
Flour – gluten free, almond, and coconut
Fresh Veggies with longer shelf life:
Spaghetti squash
Butternut squash
Onions
Garlic
Potatoes | Sweet Potatoes
Cabbage
Kale
Turnips
Carrots
Celery
Ginger root (to freeze)
Bell pepper (to slice and freeze)
Apples
Bananas (to slice and freeze)
Grapefruit
Canned/Jarred:
Canned veggies – green beans, beets, and corn are our favorites
Canned Beans – we love black beans and chickpeas
Diced tomatoes and Rotel
Tomato puree and crushed tomato for making sauce
Jarred tomato sauce
Salsa and salsa verde
Jarred artichokes
Roasted peppers

Canned fruit- we like pineapple and Mandarin oranges

Canned salmon, chicken, and tuna
Frozen:
Spinach, broccoli, green beans , corn
Cauliflower Rice
Butternut Squash
Frozen fruit – we love tropical mixes and frozen berries
Edamame

Frozen fish/seafood- salmon, white fish and shrimp are our favorites
Proteins:
Lean cuts of meat – chicken, beef, pork for your freezer
Whole chicken for your freezer (great for making stock)
Eggs
Canned salmon, chicken, and tuna
Protein bars
Protein powder
**Hard, especially aged cheeses, while not exactly a protein, can provide protein and can last for months!
If you want a printable version of this list click here: – CoaFF Pantry List – PDF format