This dreamy 21 Day Fix Mediterranean Salad with Tzatziki Dressing has so many of my favorite things…no wonder it's my new favorite salad!
Confession #83 – Even though this salad is insanely delicious, it's the dressing that I dream about.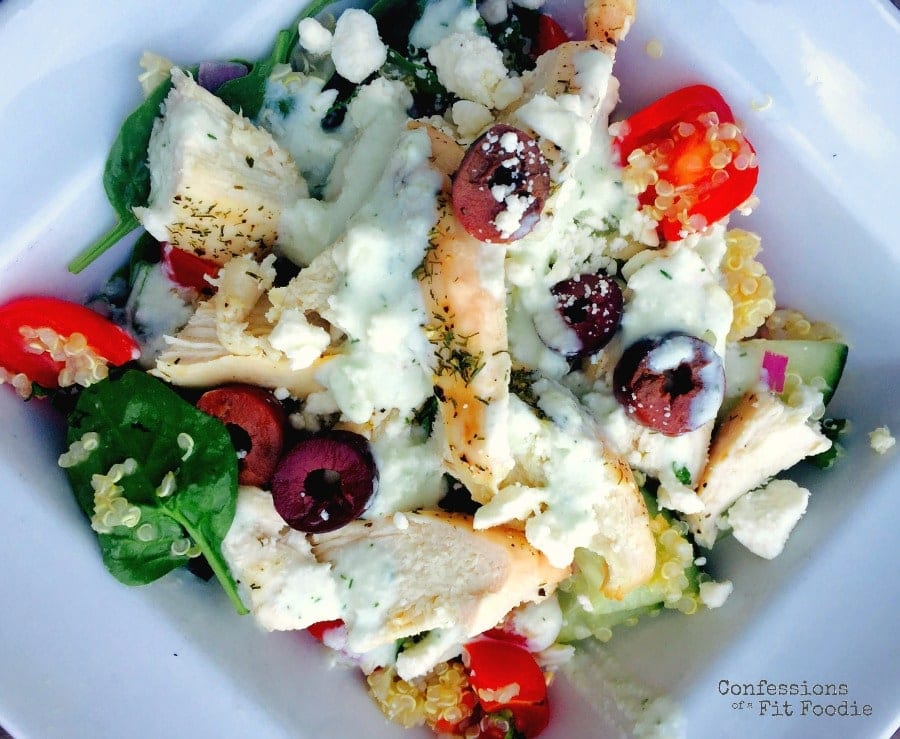 I could eat it all day.  By itself.  With a spoon, maybe…or I might just drink it right from the blender.
I'm not above that at all.  And I'm okay admitting it.
What's even better?  It's basically just plain Greek yogurt cucumber, fresh dill and lemon, so there are far worse things I could be drinking.  Am I right?
I wasn't sure how the flavors of the dressing would be with the salad, which is essentially a take on tabouli,  but they go together perfectly and I was instantly transported to my favorite Mediterranean restaurant from our old neighborhood in Philly.
This salad is reason #953 to prep grilled chicken and quinoa for use throughout the week.   By doing so, you can get dinner on the table in minutes without turning on your stove, oven, or grill.   Just some chopping and blending and you are good to go.
For all of you who would rather assemble your meals instead of cook them, this one is for you!
Yields: 4 servings
Serving Size: 1/4 of salad
21 Day Fix Mediterranean Salad with Tzatziki Dressing
Ingredients
For the Salad

1 cup of quinoa, cooked
2 cups of spinach
1 cup of cherry tomatoes, chopped
1 cup of diced cucumber
2 T diced red onion (or more to taste)
1 lb diced grilled chicken (I seasoned mine with dried dill, lemon, salt and pepper)
2/3 cup feta cheese
diced kalamata olives (10 per serving)
chopped fresh mint

For the dressing

1 cup plain Greek yogurt
1/2 cucumber, seeded, finely grated and drained
2 cloves garlic, finely minced
1 teaspoon lemon zest plus 1 tablespoon fresh lemon juice
1 tablespoons chopped fresh dill
Himalyan salt and freshly cracked black pepper
Instructions
Toss together ingredients for salad and divide among 4 plates.
In food processor or blender, pulse ingredients for the salad dressing. You could also mix by hand for a thicker consistency.
Top salad with dressing and enjoy!
21 Day Fix Container Count:
1 RED, 1 GREEN, 1/2 BLUE, 1/2 YELLOW, 1 ORANGE
7.6.9.2
36
https://confessionsofafitfoodie.com/2016/05/21-day-fix-mediterranean-salad-with-tzatziki-dressing/
Confessions of a FIt Foodie

Join the newsletter
Subscribe to get our latest content by email.