This post contains affiliate links for products I am obsessed with.  Thank you for your support!
My favorite crock pot recipe gets an Instant Pot make-over!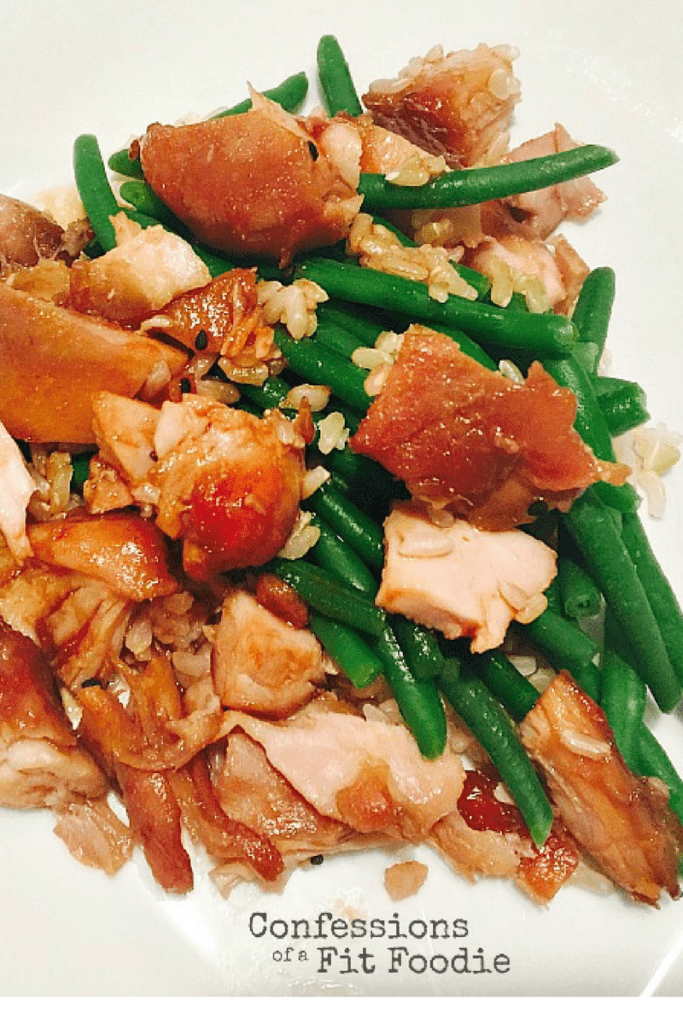 A few lovely ladies in my challenge group actually tried this one before I did and gave it rave reviews!  I actually changed my meal plan to try it asap…and they were right!  It was amazing.
There's something about the Instant Pot that makes even the tastiest dishes even tastier.
Have you tried yours yet?
If you didn't scoop one up, it's on sale this week on Amazon…perfect use of those gift cards from Santa.
I kept this recipe pretty much the same at the original, but used my favorite Saute function at the end to thicken the sauce.  And because we were in a hurry, I added a couple of teaspoons of rice flour and whisked it up a bit.
SOOOO delish over rice and green beans.  Oh – or cauliflower rice if you need some extra veggies in your day.
And my favorite part?
This tastes even BETTER the next day.
Well, if you are lucky enough to have leftovers, that is!
Serving Size: 2/3 cup of chicken
21 Day Fix Instant Pot Asian Chicken
Ingredients
1-2 lbs of chicken thighs (1lb for 4 servings)
1/4 cup of honey
1/3 cup of coconut aminos
1 T tomato paste
2 tsp coconut oil
1/2 tsp sea salt
a dash of crushed red pepper
2 tsp rice flour (optional)
Instructions
Place chicken in the Instant Pot.
In a small bowl, mix the rest of the ingredients together, except flour.
Pour over honey mixture over chicken and place the top on the pressure cooker. **If you are using an 8 quart pot, add 2/3 cup of water.
Turn to high pressure and set for 15 minutes. It should take about 15 minutes to come to pressure.
After the timer is up, switch to quick release.
To thicken sauce, remove chicken and set to saute. Whisk in two teaspoons of flour, if desired, and cook for a few minutes, stirring frequently. Then add chicken back in and keep warm until you are ready to eat.
Serve chicken and sauce over rice or quinoa and your choice of veggie.
21 Day Fix Container Count:
1 RED, 1 tsp (this is just the chicken, not the sides)
7.6.7
147
https://confessionsofafitfoodie.com/2017/01/21-day-fix-instant-pot-asian-chicken-thighs/
Confessions of a FIt Foodie
Want to make dinner planning a breeze?  Check out my eBooks on Etsy with delicious and easy FIX approved recipes, full grocery lists, and prep tips to keep your time in the kitchen to a minimum! 
Are you doing a round of the 21 Day Fix?  Don't do it alone – let me coach you!  Contact me at trueconfessionsofafitfoodie@gmail.com to join my current challenge group for daily motivation, recipe ideas, and the support of over 200 women.
Join the newsletter
Subscribe to get our latest content by email.