These 21 Day Fix Banana Ice Cream Bon Bons are a healthy indulgence that your whole family will love all summer long! And the best part? No treat swap necessary! This post contains affiliate links for products I'm obsessed with.
Omg, you guys…after the longest winter ever, it's finally warming up here. And quick. Yesterday I was sitting under a blanket in my winter coat while my youngest ran around the backyard, and today I am breaking out the flip flops because we seem to have skipped spring and sailed right into summer.
Totally not complaining, but I might need to book a pedi and grab some sunless tanner stat!
Anyway, it's the perfect time for me to share this delicious treat with you! I'm super excited because I made this recipe a bunch last summer, but never got around to posting it…story of my life these days! But these Banana Ice Cream Bon Bons are worth the wait, friends!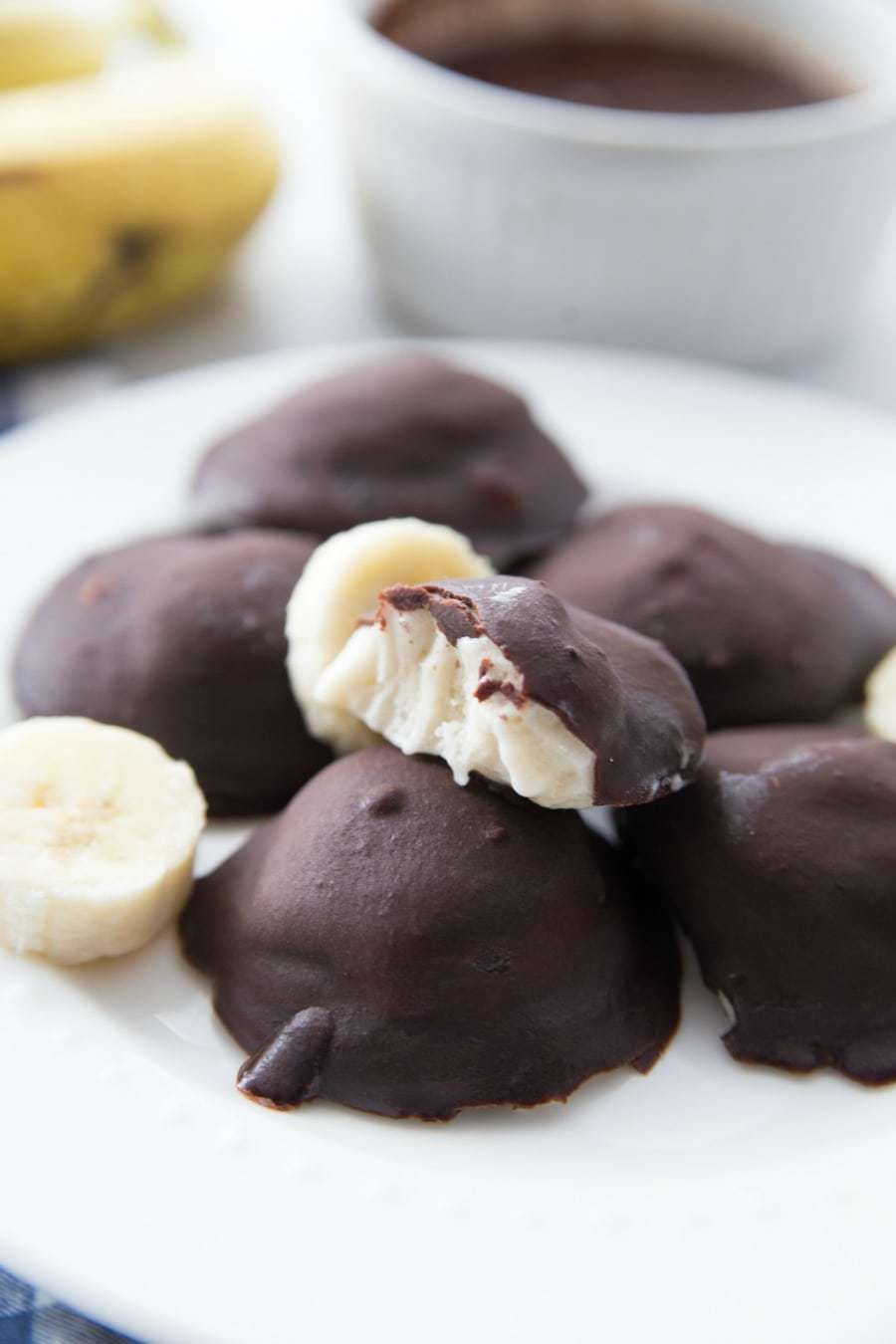 Who remembers the Ice Cream Bon Bons treats from the 80s (aka who is as old as me)? What ever happened to those? I feel like they just disappeared, which makes no sense. Why would something so amazing just disappear?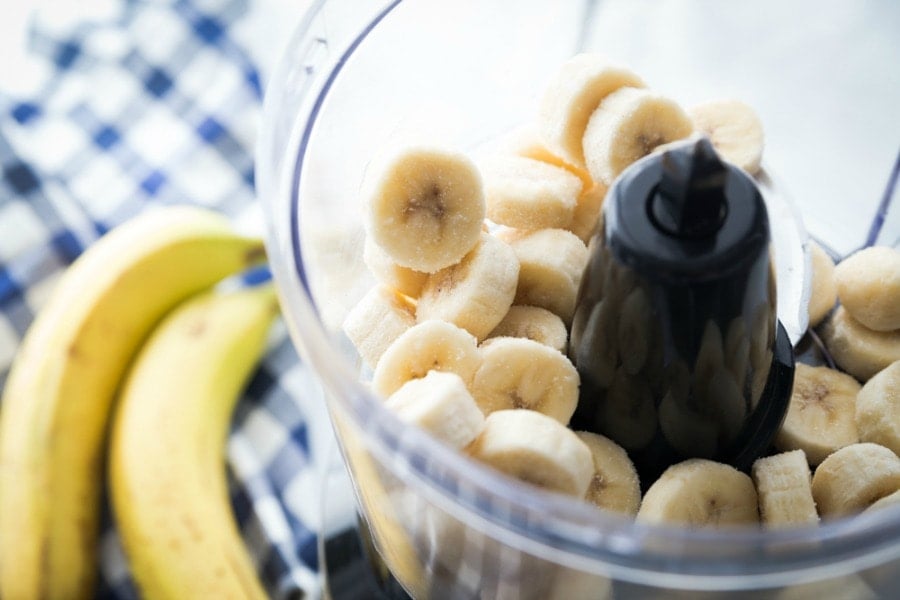 How am I supposed to sit around all day eating Bon Bons if they don't make them anymore?
See, people…my recipes are born out of necessity!
Like my 21 Day Fix Ice Cream Pie, this creamy dreamy ice cream treat is made from the magic that is banana ice cream. If you haven't tried this miracle dessert, you must immediately start slicing and freezing bananas! I almost always have a stash ready for me…and my daughter loves to help me make fun flavors like chocolate peanut butter banana and Mint Chip.
How To Make Banana Ice Cream
It's so easy to make banana ice cream!
You don't need a fancy ice cream maker
either (although I totally want one), you just need a good food processor. I've had this one
from Cuisinart since my wedding and it hasn't let me down even after all these years.
Step one: Slice and Freeze your Bananas in gallon size ziplock bags
Step two: Blend your bananas in your food processor and voila – ice cream!
And what could be better than ice cream made from fruit than ice cream made from fruit covered in a homemade magic shell?
Am I blowing your mind yet?
Check out this video to see the magic for yourself!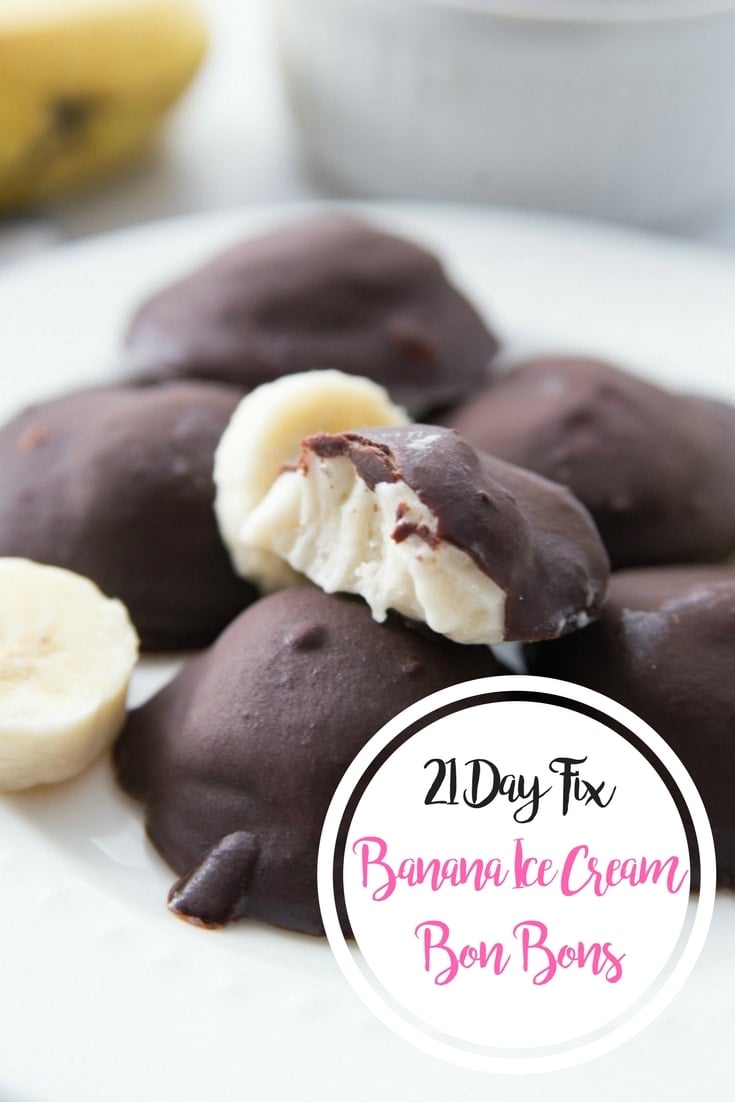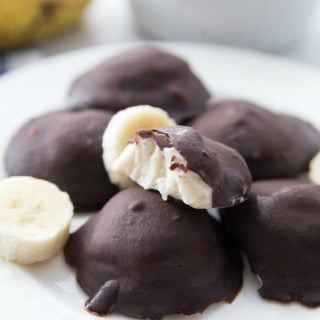 21 Day Fix Banana Ice Cream Bon Bons
These 21 Day Fix Banana Ice Cream Bon Bons are a healthy indulgence that your whole family will love all summer long!  And the best part?  No treat swap necessary!
Ingredients
Banana Ice Cream:
4

ripe bananas

Splash

vanilla almond milk

as needed
Homemade Magic Shell
1/2

cup

pure cocoa powder

1/2

cup

coconut oil

1/3

cup

honey

1/2

teaspoon

vanilla extract

Pinch

of salt
Instructions
Slice bananas and freeze flat into ziplock bags.

Once bananas are frozen solid, remove from freezer and place in food processor. Blend until smooth, adding in a splash of almond milk if necessary. You may need to stop and scrape the sides occasionally. This process usually takes 3-5 minutes.

Line a baking sheet with parchment paper. Once ice cream has formed, use a melon baller or tablespoon to scoop out bonbons, freezing ice cream mixture for a few minutes to solidify, if necessary. This should make 24 bon bons. Alternatively, you could use mini silicon molds.

Freeze bonbons while you make the homemade magic shell.

To make the magic shell, heat coconut oil over medium low heat. Whisk in cocoa powder, honey, salt, and vanilla extract. Remove from heat and continue to whisk until smooth.

Remove bonbons from freezer and dip into magic shell or spoon chocolate onto each bonbon. The chocolate mixture will freeze on contact, but you can place finished bonbons in the freezer before serving.
Notes
1 bonbon = 1/3 purple, 1 tsp, 1.5 sweetener tsp...2 bonbons = 2/3 purple, 1 tsp, 3 sweetener tsp...3 bonbons = 1 purple, 1 yellow treat swap
Nutrition
Serving:
1
bon bon
Calories:
61
kcal
Carbohydrates:
6
g
Protein:
1
g
Fat:
5
g
Saturated Fat:
4
g
Polyunsaturated Fat:
0.1
g
Monounsaturated Fat:
0.4
g
Sodium:
1
mg
Potassium:
103
mg
Fiber:
1
g
Sugar:
3
g
Vitamin A:
14
IU
Vitamin C:
2
mg
Calcium:
3
mg
Iron:
0.3
mg