This 21 Day Fix Secret Ingredient Queso Dip with Homemade Chips is a healthy version of one of my favorites! This post contains affiliate links for products I'm obsessed with.
Confession #110  – I could eat my weight in queso dip.
In fact, I may already have.
I went to grad school in a teeny, tiny town in upstate New York…so tiny that I drove into Canada to go shopping and get my hair cut. There just wasn't much in the way of anything, but, interestingly, there was this amazing Mexican Restaurant.  Like totally, legitimately yummy and  while I only lived there for a year, I still dream about their margaritas and their unbelievably delicious queso.
You know it had to be good if it outshined their very delicious guacamole.

When I decided to make my own, 21 Day Fix approved queso, I knew I wouldn't be the same without the fake Velveeta cheese, but I was actually quite surprised at how much I LOVED this dip.
The real test was going to be my husband.  Because I used a whole bunch of cauliflower puree to make this dip…and I was convinced he would be able to tell.  Not that he is against cauliflower – he loves my Sausage and Cauliflower Casserole  and my Cauliflower Cheeseburger Mac, but cauliflower in a cheese dip seemed a little risky.
You guys, he loved it.
Not only did we eat some with our homemade chips, but we used it as a topping for our Pork Carnitas that night, too.
Total success.
And did I mention it was incredibly easy, too?  And if you want more, you can DOUBLE your serving size…it's only 1/2 Blue for each 1/4 cup.
I did prefer it hot, so I would even suggest serving it in a crock pot or some other heated bowl if you are going to put it out for a party.  And if you have some extra blue to spare, you could top it with more cheese and throw it under the broiler for a few minutes to brown.
As always, if you give this one a try, let me know what you think!  I love hearing from you!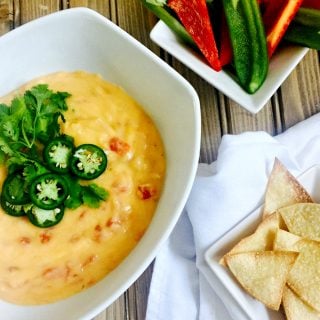 21 Day Fix Secret Ingredient Queso Dip and Homemade Chips
This 21 Day Fix Secret Ingredient Queso Dip with Homemade Chips is a healthy version of one of my favorites!
Ingredients
4

cups

cauliflower florets

1/2

cup

broth or milk of your choice

2

cloves

garlic

minced

2

teaspoon

butter or olive oil

1 1/3

cups

freshly shredded sharp cheddar or cheddar jack cheese

1

can

diced tomatoes with green chilies

drained - mild, medium, or hot depending on your taste

1/2

teaspoon

salt

Chili powder

optional

Cumin

optional
Homemade chips
Corn tortillas

Olive Oil Cooking Spray

Salt
Instructions
Place cauliflower florets in a large microwave-safe bowl with enough water to just cover the bottom of the bowl. Cover bowl loosely with waxed paper or a paper towel and steam cauliflower in microwave on high until tender, 4 to 5 minutes; drain.

Using a food processor, blend cauliflower with broth or milk to make a puree. Set aside.

Heat a skillet over medium-low heat. Melt butter and saute garlic 1-2 minutes or until fragrant. Add cauliflower puree to skillet and heat until warm, then stir in cheese until melted. Next add in drained tomatoes and salt. Cook on low ten minutes or until the flavors blend. Sprinkle in some chili pepper and cumin if desired, adjusting to taste.

Garnish with cilantro or jalapeno if you are feeling it!

For the chips - cut Corn tortillas into 6 pieces and lay them on a baking sheet lined with parchment paper. Spray with olive oil spray and cook for 8-10 minutes at 350. Chips will crisp up as they cool.
Notes
1 YELLOW, 1/2 BLUE, 1/2 GREEN per serving
**If you want more dip, you can double for 1 BLUE and 1 GREEN!
1 serving is 1/4 cup dip with 12 chips.
Nutrition
Calories:
109
kcal
Carbohydrates:
5
g
Protein:
6
g
Fat:
8
g
Saturated Fat:
4
g
Polyunsaturated Fat:
0.3
g
Monounsaturated Fat:
2
g
Trans Fat:
0.04
g
Cholesterol:
22
mg
Sodium:
297
mg
Potassium:
264
mg
Fiber:
2
g
Sugar:
2
g
Vitamin A:
280
IU
Vitamin C:
29
mg
Calcium:
162
mg
Iron:
1
mg