The BEST Healthy Carrot Cake Muffins made with your favorite mix-ins, and topped with a dreamy delicious, lightened up "Cream Cheese" frosting. If you are a carrot cake fan, you will LOVE these muffins!
Guys. I'm having a bit of a love affair with these Carrot Cake Muffins.
I mean, I always thought Chocolate Cake was my favorite, but Carrot Cake is coming in HOT…and after testing these Carrot Cake Muffins for the better part of the last month, I'm still craving them.
And don't let the semantics sway you from making these for your Easter dessert, birthday, or random Tuesday that you are craving Carrot Cake, because I could just as easily call these Carrot Cake Cupcakes or even bake these muffins into a cake and it would totally be fitting. So what I am saying is, call them what you want and make them ASAP. You won't regret it!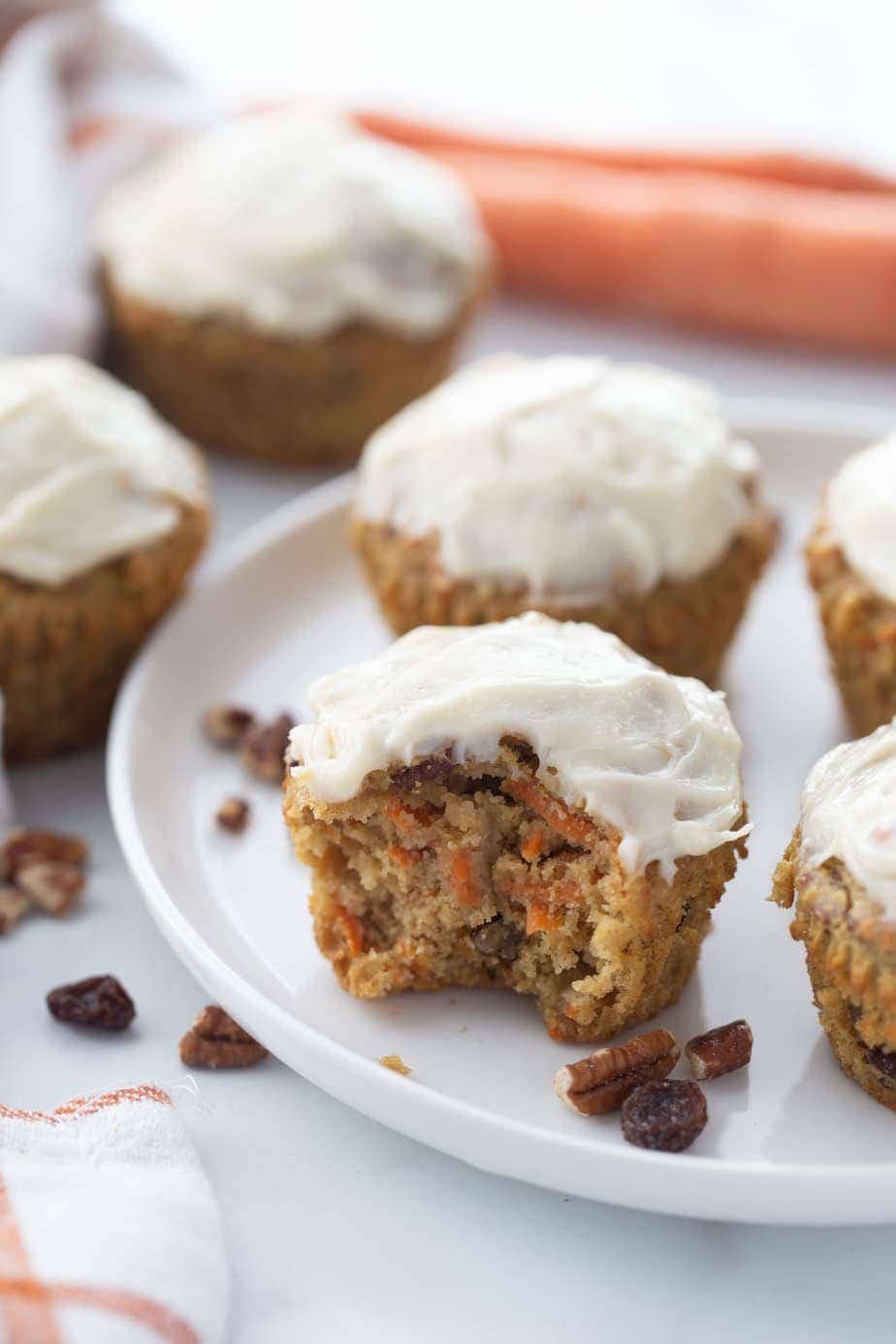 Healthy Carrot Cake Muffin Ingredients + Subs
These Carrot Cake Muffins are inspired by one of my favorite Carrot Cake recipes that is made from Almond Flour, but since I love the texture and flavor of combining almond flour with oat flour like in my Gluten Free Blueberry Muffins, I decided to go that route. And it was a damn good decision.
Here's everything you need to make these yummy muffins!
oat flour – It's so easy to make your own Oat Flour just from regular rolled oats! Just add your oats to a food processor or high speed blender and blend until the oats become a fine flour.
almond flour – I recommend using a fine blanched almond flour. Make sure you pack the almond flour like you would with brown sugar!
salt and spices- just a pinch of salt to bring out the natural sweetness of the cake and my favorite carrot cake spices cinnamon, nutmeg, and ginger. Feel free to adjust these to fit your taste.
baking soda – I use baking soda, not powder for this. Tip: be sure your box isn't old, as your baked goods won't come out as good if it's been sitting around for awhile!
eggs at room temperature – if you are in a hurry, place your eggs in a bowl of warm water for a few minutes to take the chill out
pure maple syrup – you could also swap in honey if you would like, but I LOVE the flavor that maple syrup brings to this and the extra moisture it gives to the muffins
pure vanilla extract – just an essential
unsweetened almond milk – you could also swap in any plant based milk or dairy milk that you have on hand
coconut or avocado oil (melted if using coconut) – both of these oils work great
apple cider vinegar (or fresh lemon juice) – this will help activate the baking soda but remove any baking soda taste from the muffins. You won't taste it at all.
carrots – freshly peeled and grated carrots (I used my food processor) – not baby carrots – will give you the perfect sweetness want to see. If you have picky family members, you can use a box grater for smaller carrot pieces, but the food processor is so fast and easy, it's my favorite way to grate them!
Healthy Carrot Cake Mix-ins
I asked in my Ask the Fit Foodie Group about Carrot Cake Mix ins, and wow…you guys really have some strong opinions on what gets stirred into your carrot cake besides, well, the carrots! So you can pick and choose what you want to add or don't add anything at all. Do you!
chopped nuts – I love using walnuts or pecans in these
raisins – I love the extra sweetness that raisins provide
pineapple – this is a super controversial one…but some people love to add pineapple to their carrot cake. I actually prefer them without, but if this is your thing, go for it!! You can add 1/3 cup of crushed pineapple that has been drained really well.
Flour substitutes
These muffins are super yummy with the mix of oat flour and almond flour, so I highly recommend following the recipe as-is. But if you are in a pinch, or have an almond allergy, you can try them with all oat flour. (Remember the food processor trick from above!) Also – if you aren't gluten free, and want to try a version made with whole wheat flour, my friend Stephanie has a yummy Carrot cake recipe, too!
Lightened Up Cream Cheese Frosting
The most intimidating part of making a Healthy Carrot Cake for the blog was deciding how to make a Cream Cheese Frosting when cream cheese isn't on the list for the 21 Day Fix. I know Autumn uses it in some of her recipes on Fixate, but she is Autumn and can do what she wants. And I'm just Nancylynn trying to make sense of it all. Anywho…
You could use a lighter cream cheese for this frosting if you wanted to, but I do feel like I struck gold with my recent discovery of Laughing Cow Cheese. Guys…these little cheese wedges are so light and creamy, you can have three for a half of a blue on the FIX. And when you add some sweetener to them, like I did for this frosting recipe, it totally tastes like traditional Cream Cheese Frosting.
Have extra cheese? Try this Mini Cheesecake Recipe!
Is Powdered Sugar Approved for the Fix?
Unlike the gray area that is Cream Cheese, powdered sugar is totally a go for the Fix because the list only says sugar. It doesn't specify what kind of sugar. Plus Powdered Sugar is just basically sugar with cornstarch or arrowroot. You can even make your own powdered sugar at home! If I am buying it at the store, I look for an organic Powdered Sugar, but any will do for this recipe.
It's so freaking good, you guys. And I have big plans for using this Laughing Cow Combo in the future, too!
I don't like frosting. Can I make these Carrot Cake Muffins without it?
Yes, totally! That is one of the best things about these little delights! They work with frosting, without frosting, as a breakfast, as a snack, as a dessert. I may have also eaten them for lunch one of my many testing days 😂. That's normal, right?
How to store these muffins
For best results, I store these in the fridge for up to five days.
Can I freeze these Carrot Cake Muffins?
Yes! I made five different batches during testing, so I did end up freezing some and they work amazing! Just store them in a freezer bag or Stasher bag and grab them out to thaw when the craving strikes!
Are these muffins gluten free?
Yes! And dairy free, too. The frosting is also gluten free, but it does contain dairy. If you are looking for a dairy free sub for the frosting, you could try dairy free cream cheese! Once of my readers did this with great results!
All of that being said, these carrot cake muffins delicious whether you eat gluten or not and they are packed with extra protein and fiber from the oat and almond flour.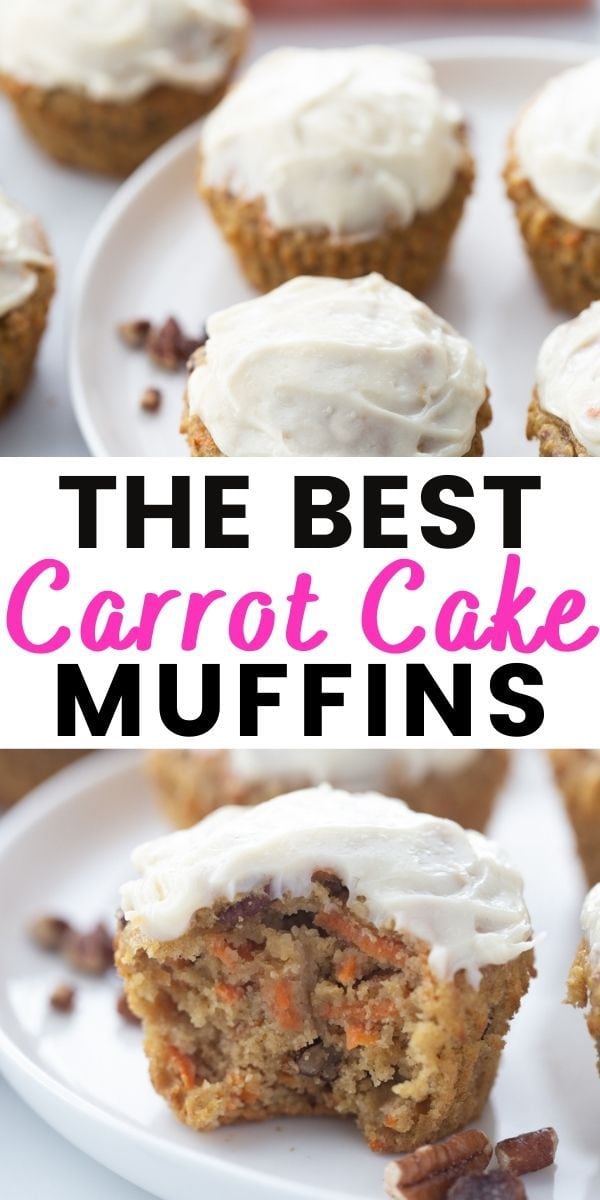 Looking for more delicious gluten free muffin and cake recipes? Check these out-
Gluten Free Chocolate Chip Zucchini Muffins
Healthy Banana Oatmeal Blender Muffins
Gluten Free Chocolate Cake with Peanut Butter Frosting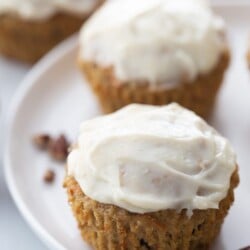 Healthy Carrot Cake Muffins
The BEST Healthy Carrot Cake Muffins made from a mixture of almond and oat flour!  Topped with a lightened up "Cream Cheese" frosting and made with your favorite mix-ins. If you are a carrot cake fan, you will LOVE these muffins!
Ingredients
Muffins: 
1

cup

+ 2 tablespoons oat flour

don't have oat flour? Make your own by grinding oats in your food processor or blender!

1

cup

packed almond flour

1/4

teaspoon

salt

1

teaspoon

ground cinnamon

1/4

teaspoon

ground nutmeg

1/4

teaspoon

ground ginger

optional

1

teaspoon

baking soda

2

eggs

at room temperature

1/2

cup

pure maple syrup

1

teaspoon

vanilla extract

1/2

cup

unsweetened almond milk

or milk of your choice

2

tablespoon

coconut or avocado oil

melted if using coconut

1

teaspoon

apple cider vinegar

or fresh lemon juice
Mix ins: 
1 ¼- 1½

cups

grated carrots

I used my food processor but you can grate them for smaller pieces

¼

cup

chopped nuts

walnuts or pecans are great

½

cup

raisins

1/3

cup

crushed pineapple very well drained

optional
Frosting: 
6

wedges

Laughing Cow Creamy Light Cheese

sub Dairy Free Cream Cheese if dairy free

½

teaspoon

vanilla extract

5-6

tablespoons

Organic Powdered Sugar
Instructions
Preheat an oven to 350 degrees and line a cupcake tin with parchment liners.

Mix oat flour, almond flour, salt, spices, and baking soda in a medium sized bowl.  

In a separate small bowl, beat eggs, then whisk in maple syrup vanilla, almond milk, oil and apple cider vinegar. 

Mix wet ingredients into the dry ingredients and mix just until combined – overmixing will affect the texture! 

Fold in your mix-ins of choice.  

Using a cookie scoop or ¼ measuring cup, scoop the batter evenly into 12 muffin tins.  

Bake for 16-20 minutes or until a toothpick comes out clean and the muffins are set.  **If you use the pineapple, this may take a little longer. 

While the muffins are baking,  combine laughing cow cheese, vanilla, and powdered sugar.  Whip the frosting lightly with a hand mixer or in a stand mixer.  You could also just use a whisk if you don't have anything else. Allow frosting to  chill in the fridge.

After muffins are done baking, allow them to cool completely before frosting or enjoying. This is especially important if you use the pineapple!

Frost each cupcake with ~2 tsp of the frosting and enjoy!  These are also delicious without the frosting if you want a less sweet muffin.
Notes
21 Day Fix: 1/2 YELLOW, 1/2 BLUE (it's slight over this if you do nuts + frosting, but not enough to count), 1/2 TSP, 1/3 PURPLE SWAP (raisins), 2 sweetener tsp (3-3.5 if you do frosting) per muffin
WW link for personal points: Carrot Cake Muffins [calculated with only carrots as a mix in + topped with frosting]
Note: Nutrition facts below include muffins with carrot mix in ONLY.  If adding nuts, raisins, or pineapple, please calculate those amounts separately.
Nutrition
Calories:
172
kcal
Carbohydrates:
20
g
Protein:
5
g
Fat:
9
g
Saturated Fat:
3
g
Polyunsaturated Fat:
1
g
Monounsaturated Fat:
1
g
Trans Fat:
0.003
g
Cholesterol:
27
mg
Sodium:
183
mg
Potassium:
156
mg
Fiber:
2
g
Sugar:
10
g
Vitamin A:
4050
IU
Vitamin C:
1
mg
Calcium:
66
mg
Iron:
1
mg