Looking for a 21 Day Fix Updated Food List to print and hang on the fridge or have handy access to the list all on one sheet? This is perfect to have a copy on the go, or to keep in your meal planner! This post contains affiliate links for products I'm obsessed with.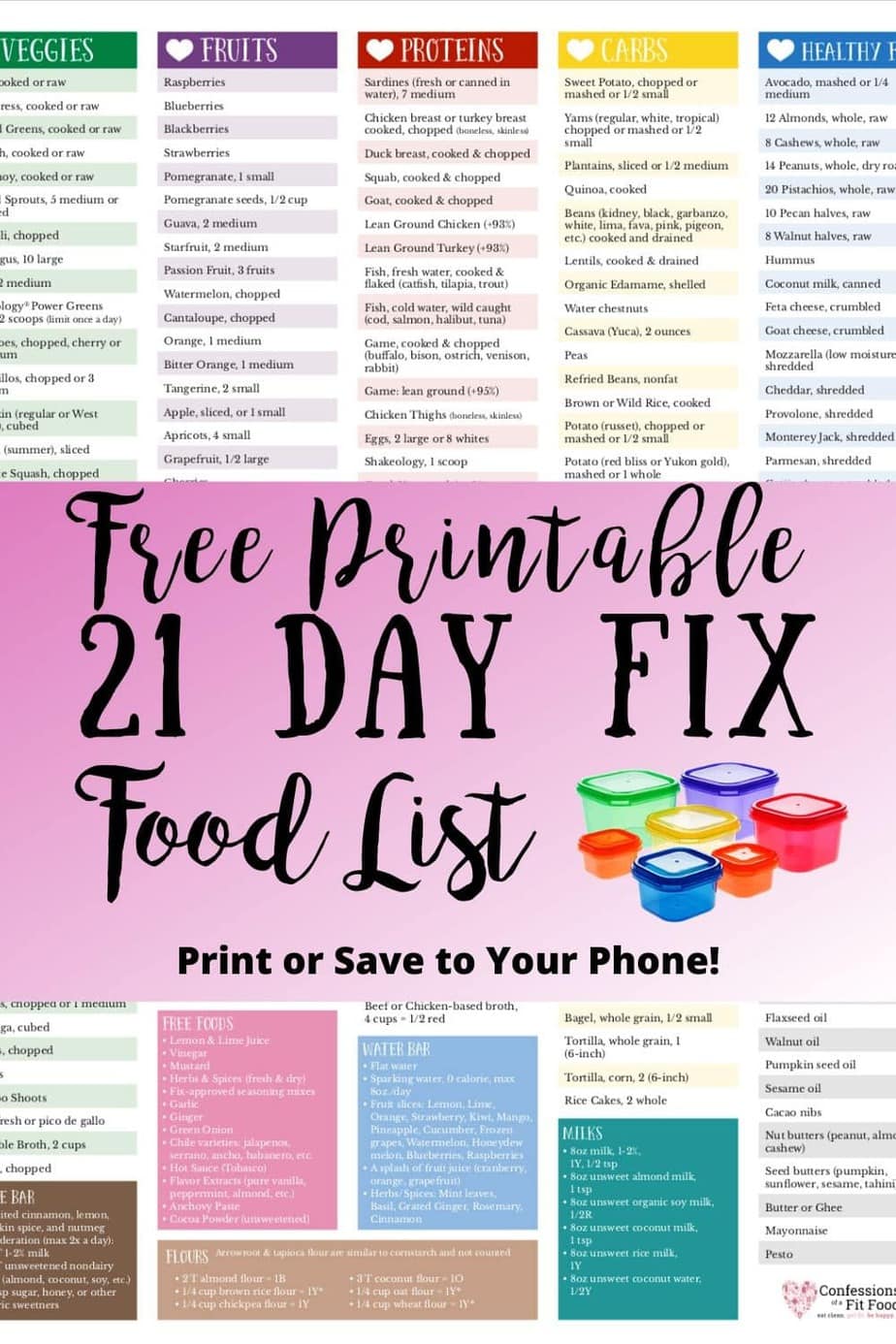 Since I completed my first round of the 21 Day Fix in 2014 (Yes! It's been that long!) Beachbody has updated the 21 Day Fix Food list several times. While it's still not a comprehensive list of every approved fruit and veggie option out there, the list is much longer and includes many more updates that were included in the new Ultimate Portion Fix release in 2019.
Why did I create this Food List?
When I am developing a recipe at home, I often use my official Ultimate Portion Fix Book to make sure I am only using approved items. But because my book isn't always within my reach, I created a Printable Updated 21 Day Fix Food List. It is perfect for you to print, or save as a screenshot on your phone! I actually do both so I am never without my list- I always find I need to consult my list while I am out, usually at the grocery store!
Pro Tip: Print this 21 Day Fix List of Food in color and then put it in a plastic sheet protector on the fridge or near wherever you meal plan!
What is included on the 21 Day Fix Updated Food List?
Included in the ONE page, color coded food list is:
Veggies (GREEN)
Fruits (PURPLE)
Proteins (RED)
Carbs (YELLOW)
Healthy Fats (BLUE)
Seeds and Dressings (ORANGE)
TEASPOONS
Coffee Bar
Water Bar
Free Foods
FIX Approved Milks
FIX Approved Flours
I am always looking for ways to keep my sanity while following the 21 Day Fix, so I'm happy to share this valuable resource with you. As always, if there is something else you think would be helpful to your journey, let me know. I am always looking to create resources to help this amazing Fit Foodie Community! Check out my current resources below.
Looking for 21 Day Fix Recipes?
Check out The Ultimate Portion Fix Recipe Guide | 31 Days of Ultimate Portion Fix Recipes
Looking for 21 Day Fix Meal Plans?
Check out The BEST 21 Day Fix Meal Plans for tons of ready to go meal plans with printable grocery lists! Including FULL meal plans!
More 21 Day Fix Resources:
21 Day Fix Meal Plan Spreadsheet [Self-Calculating!]
How to Calculate Container Counts for the 21 Day Fix
The Ultimate 21 Day Fix Container Guide | The Foodie and The Fix
Container Filling Hacks and Tricks | Grandnanny's House
3 Day Quick Fix Guide [Free Printables + Grocery List]
21 Day Fix Snack Ideas | Sorey Fitness