This 21 Day Fix Meal Plan Spreadsheet is my secret to creating Fix approved meal plans for all brackets! The spreadsheet will total up your daily containers for you so you can see how many you have left and it will also keep you from going over. It's a game changer!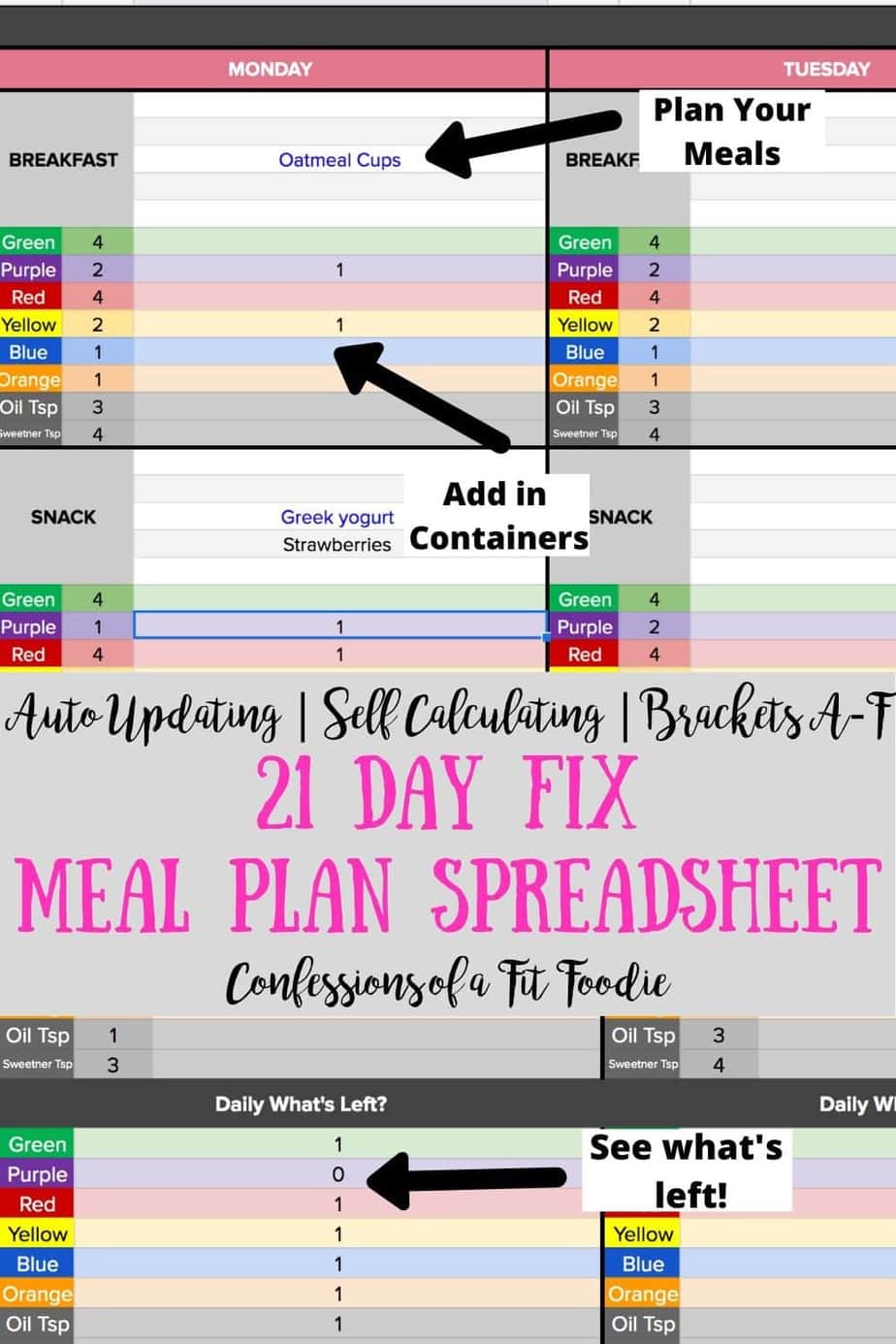 Guys! I am so excited to finally share this spreadsheet with you!
A little background…back in the very early stages of the blog, I used to do custom meal planning for people following the 21 Day Fix. I always had a knack for figuring out a way to make ingredients work together for a variety of FIX recipes and I loved helping people in this manner. I had recently left my job to become my son's advocate and this was a helpful little side job.
The hardest part was keeping track of the container calculations…and I had to work during my son's nap times and I wasn't sure if I would be able to continue creating plans for people and do all the things. Well then my friend Corinne changed my life! She created a spreadsheet that would calculate the 21 Day Fix Containers for me as I planned.
Guys.
This was everything back in 2015.
Anyway, I have been using this exact same meal plan to plan yummy 21 Day Fix recipes for myself and for all of you since! The blog is too busy to do custom meal plans anymore, but this is exactly what I use to make my FULL 21 Day Fix Meal Plans. And now you can use them to plan all your favorite 21 Day Fix Meals!
21 Day Fix Meal Plan Spreadsheet [Self-Calculating!]
Tip: This works best on a computer or tablet…it is not recommended for your phone!
Step one: Confessions of a Fit Foodie -Self Calculating 21 Day Fix Spreadsheet Just simply click this google doc link and it will prompt you to Make a copy. You can then rename it as you please!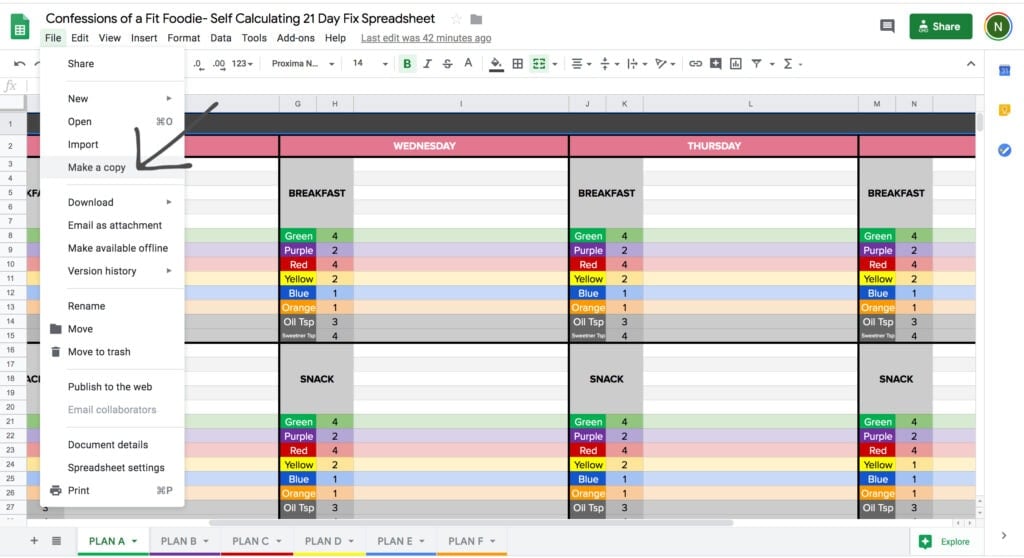 Step two: Select your bracket by clicking the labeled sheet at the bottom – All brackets A-F are here!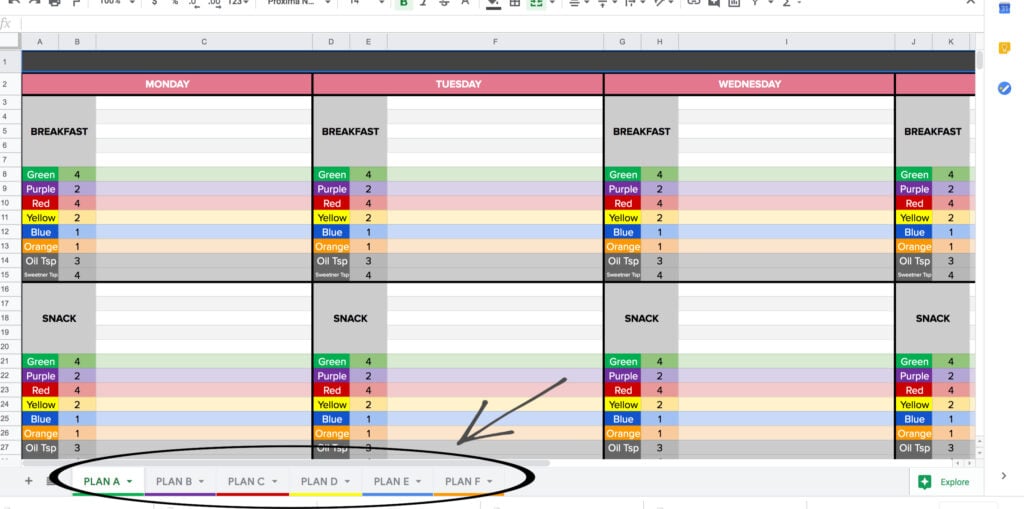 Step three: Add in your food and container counts – this spreadsheet will calculate your daily containers for you! Hint – you can do decimals for containers that aren't a full count…like .5 if something is a half of a red.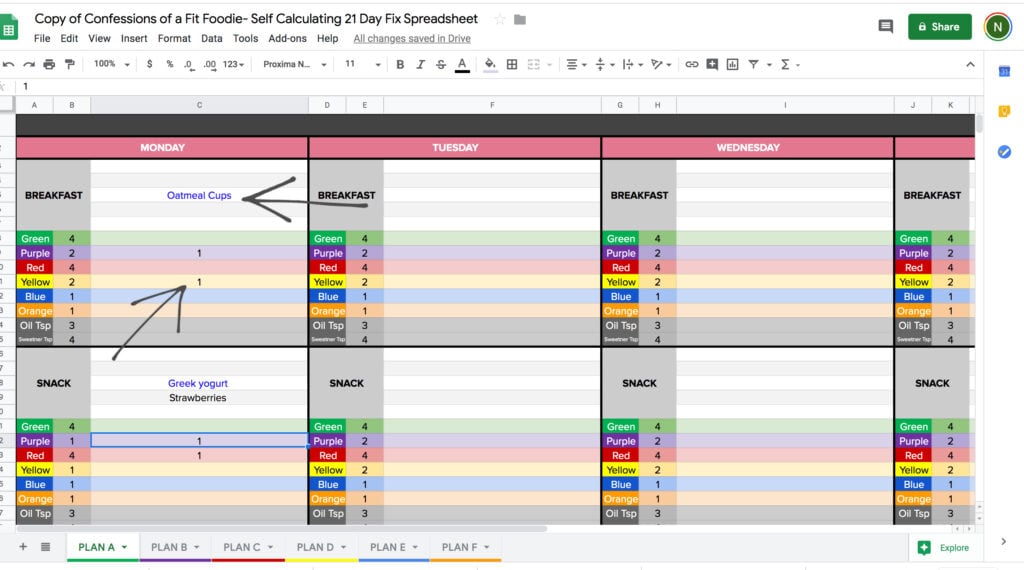 Step four: Check the daily total at the bottom to see what containers you still need to hit. You want all zeros (except the sweetener tsp count doesn't have to be!)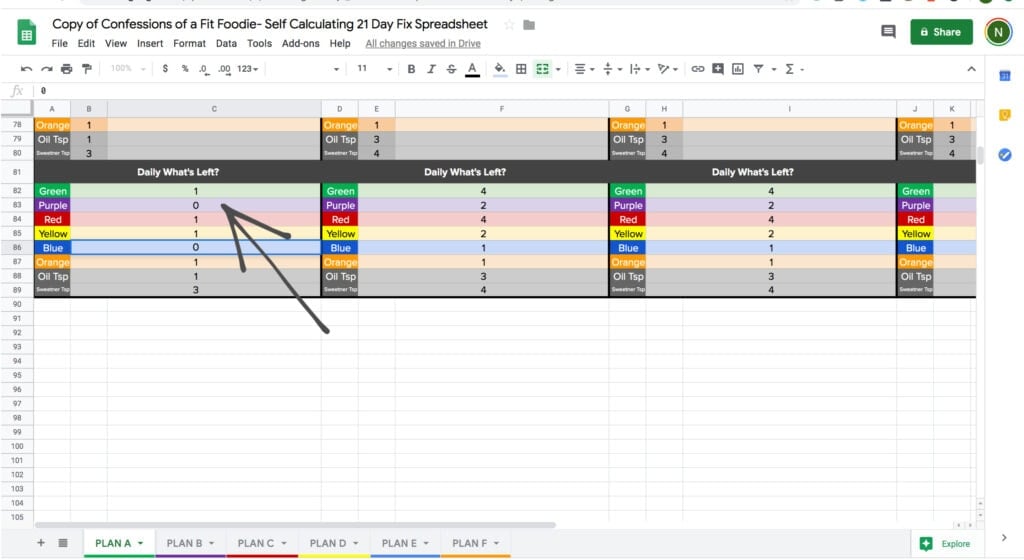 Step five: You can even hyperlink recipes if they are from a blog or somewhere on the internet. This makes it super easy to reference the recipe later!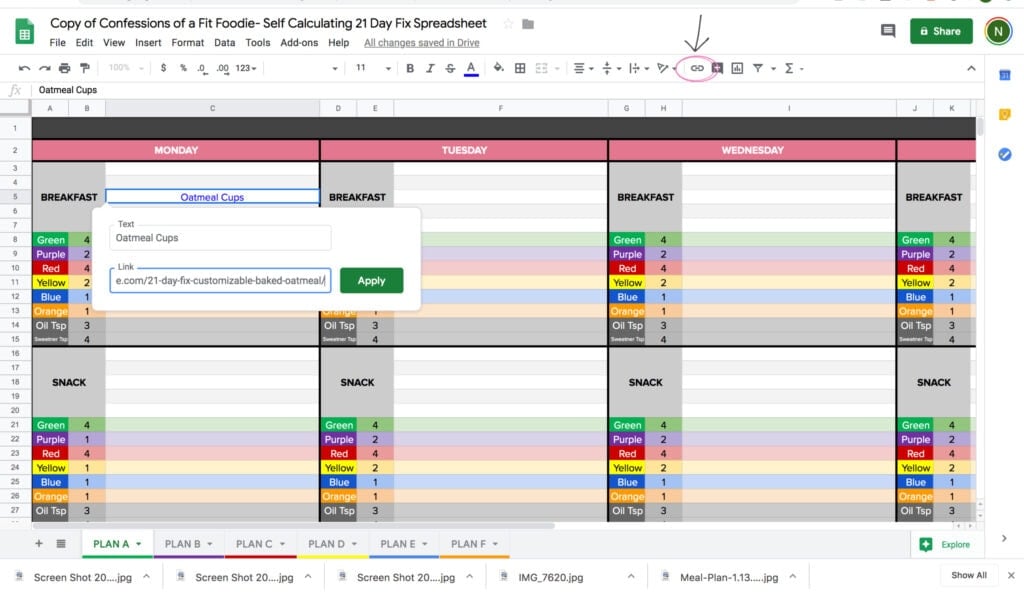 This 21 Day Fix Meal Planning Spreadsheet can be downloaded and/or printed to keep you on track all week long!
Need ideas for your 21 Day Fix Meal Plan?
Check out The Ultimate Portion Fix Recipe Guide | 31 Days of Ultimate Portion Fix Recipes
Not yet ready to Meal Plan on your own?
Check out The BEST 21 Day Fix Meal Plans for tons of ready to go meal plans with printable grocery lists!
More 21 Day Fix Resources:
How to Calculate Container Counts for the 21 Day Fix
The Ultimate 21 Day Fix Container Guide | The Foodie and The Fix
3 Day Quick Fix Guide [Free Printables + Grocery List]