Want to learn how to calculate containers for the 21 Day Fix for your favorite recipes? Follow these easy steps and I'll show you how easy it really is!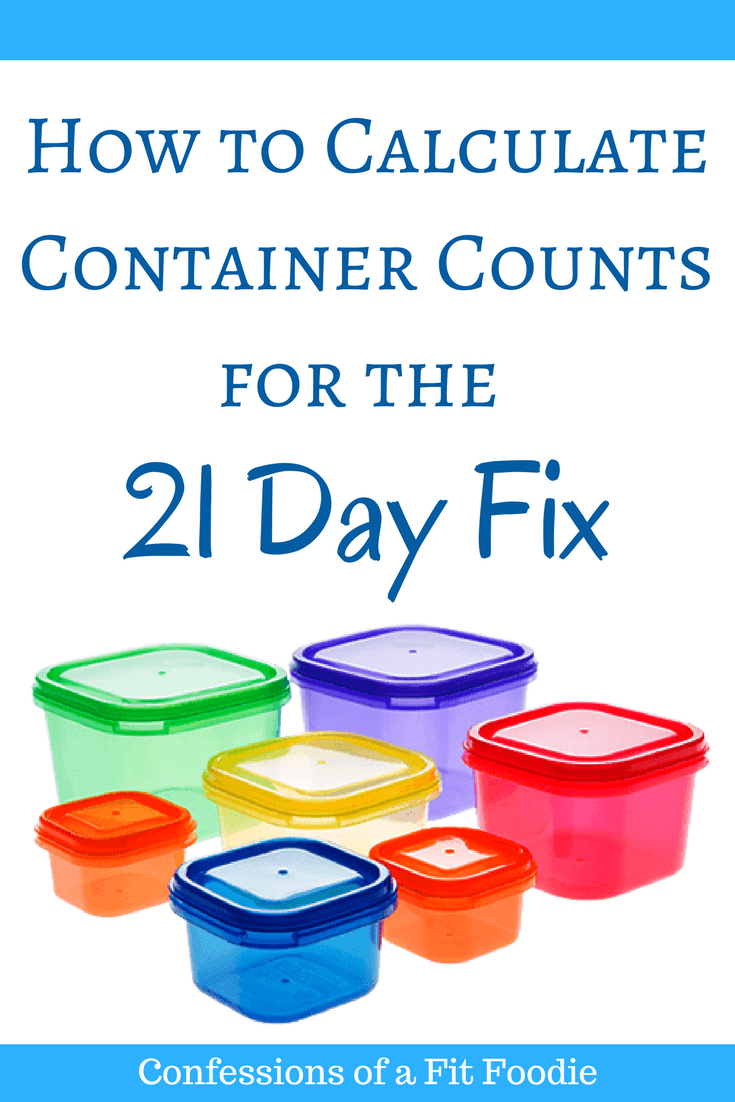 How do I figure out 21 Day Fix containers for a non-Fixed recipe?
Guys, I get this question all the time, so if you ever wondered how to calculate containers for a recipe, especially when cooking a soup, casserole, or a chili where different food groups are mixed together, you are not alone!
In fact, this question gets asked ALL THE TIME in our 21 Day Fix Facebook Community. And while we would love to help you all, calculating containers all day keeps us from doing what we LOVE most – creating our OWN Fix Approved recipes and sharing them with you all.
Now if you follow my blog, you know I have 21 Day Fix Containers in all my recipe cards, and in the little heart icons at the top of my posts!
But if you want to do this work yourself, how do you go about it?
The good news, it's really a simple process – it just takes two steps!
For example – let's take this 21 Day Fix Recipe – one of the most popular on my site – and I will show you how I figured out the containers:
21 Day Fix Mexican Lasagna – This recipe is one of our favorite casseroles with tortillas, veggies, cheese, and meat all mixed together.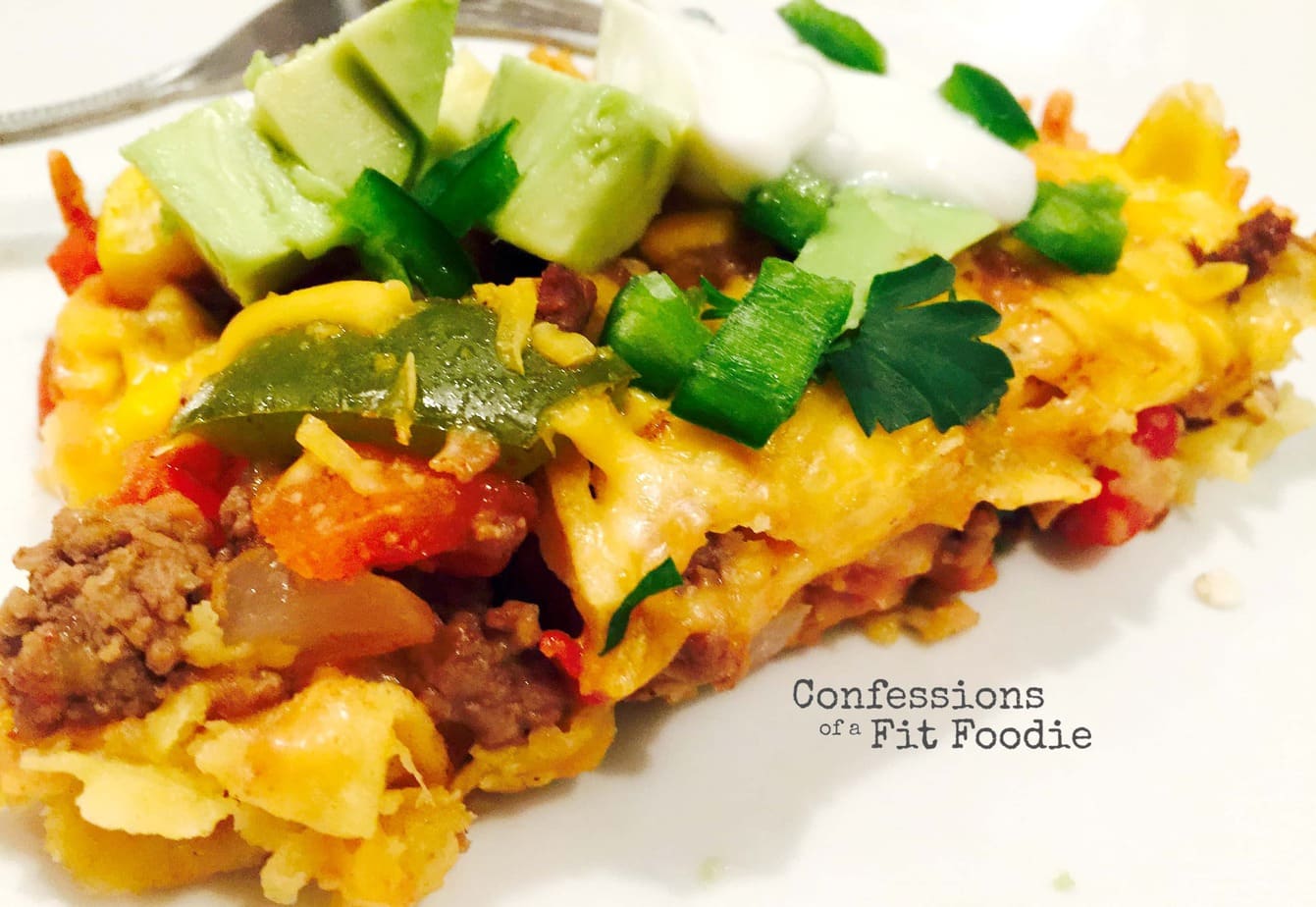 Step 1
I count up the total amount of each container in the recipe. Tip – It helps to have this 21 Day Fix Container sizes document with you if you are new to the FIX!
Ingredients:
2 bell peppers – 2 GREEN (after measuring a bunch of times, I realized that one bell pepper usually equals 1 green!)
1 medium onion – 2 GREEN (onions are deceivingly big! Always measure – I bet your onion gives you more green than you ever realized)
1 lb lean ground sirloin or other protein – 4 RED (I typically count 1 pound of meat for 4 reds)
2 T salt free taco seasoning – FREE (salt free seasonings are free!)
1 1/3 cups shredded cheddar cheese – 4 BLUE
3/4 cup of refried beans – 1.5 YELLOW
1/4 cup of corn – .5 YELLOW
1 (15 oz) can of Rotel – 2 green (here's a whole post on FIX approved tomato products)
olive oil cooking spray – free
8 gluten free corn tortillas, cut in half – 4 YELLOW (you can have 2, 6 inch corn tortillas for one yellow on the fix!)
toppings:
cilantro – free
2/3 cup of diced avocado – 2

BLUE
So the total amount of each container for the entire recipe is:
Teaspoons: 0
Greens: 6
Reds: 4
Yellows: 6
Blues: 6 (with the avocado topping)
Purples: 0
Oranges: 0
Now we are ready to move on to step two!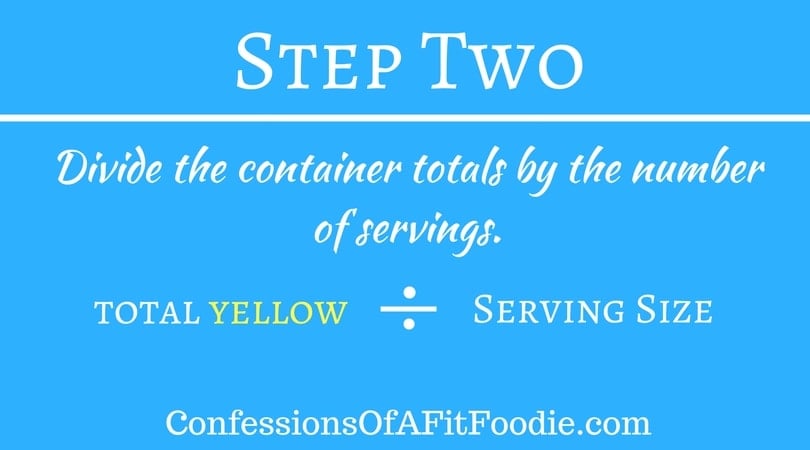 Step 2
After you know the totals for each color, you can figure out the container counts by dividing the container totals by the number of servings in the recipe.
Mexican Lasagna serves 6, so the container totals are figured out in the following way:
Greens: 6÷6 = 1 green per serving
Reds: 4÷6 = 2/3 red per serving
Yellows: 6÷6 = 1 yellow per serving
Blues: 6÷6= 1 blue per serving
That means, for this recipe, each 1 ¼ cup serving would be 1 green, 2/3 red, 1 yellow, and 1 blue!
It's as simple as that!
How do I figure out the number of servings in a recipe?
This is a great question! If you are cooking a recipe you found online or in a cookbook, chances are the number of servings and serving size is listed in the recipe. If not, you need to determine what a good, FIX approved portion size would be!
I usually start by dividing a recipe by 4 serving and I see how the containers shake out. If I am using too many containers for one meal, I try dividing the recipe by 6 to see if that's better.
How do I know if the ingredients in my recipe are FIX approved?
Another great question! Always consult your Food list; if you need an updated list, this one is really helpful: 21 Day Fix Updated Food List
If I see a Recipe on Pinterest, how do I know if the 21 Day Fix containers are correct?
Well, you don't…so it is ALWAYS good to double check your container counts. I double and triple check my container counts BEFORE posting any recipes, but mistakes can still happen. And I have seen a TON of recipes on Pinterest and even in Fixate that have incorrect container counts. Knowing where your container counts are coming from and double checking them yourself is always a good idea, especially if you are getting this info from a source you aren't familiar with! Don't compromise your results!
Still confused by Calculating 21 Day Fix Containers?
It gets easier with practice! But remember – all of my recipes have container counts figured out for you already because I am here to make your life easier! Some of my favorite "mixed together recipes" with container counts are:
Healthy Instant Pot Baked Ziti
Healthy Chicken Ramen Noodle Stir Fry
Here are some other 21 Day Fix posts that might help you out!
Updated 21 Day Fix Food List- Free Printable
The Ultimate 21 Day Fix Container Guide | The Foodie and The Fix
21 Day Fix Container Sizes | Carrie Elle
The Ultimate Portion Fix Recipe Guide | 31 Days of Ultimate Portion Fix Recipes