If you're trying to ease up on your carb intake but still eat delicious and hearty meals, then this recipe for healthy baked eggplant parmesan is for you! Made with only six simple ingredients, this low carb and keto eggplant parmesan dish is sure to be one of your new favorite easy dinner ideas. This post contains affiliate links for products I'm obsessed with.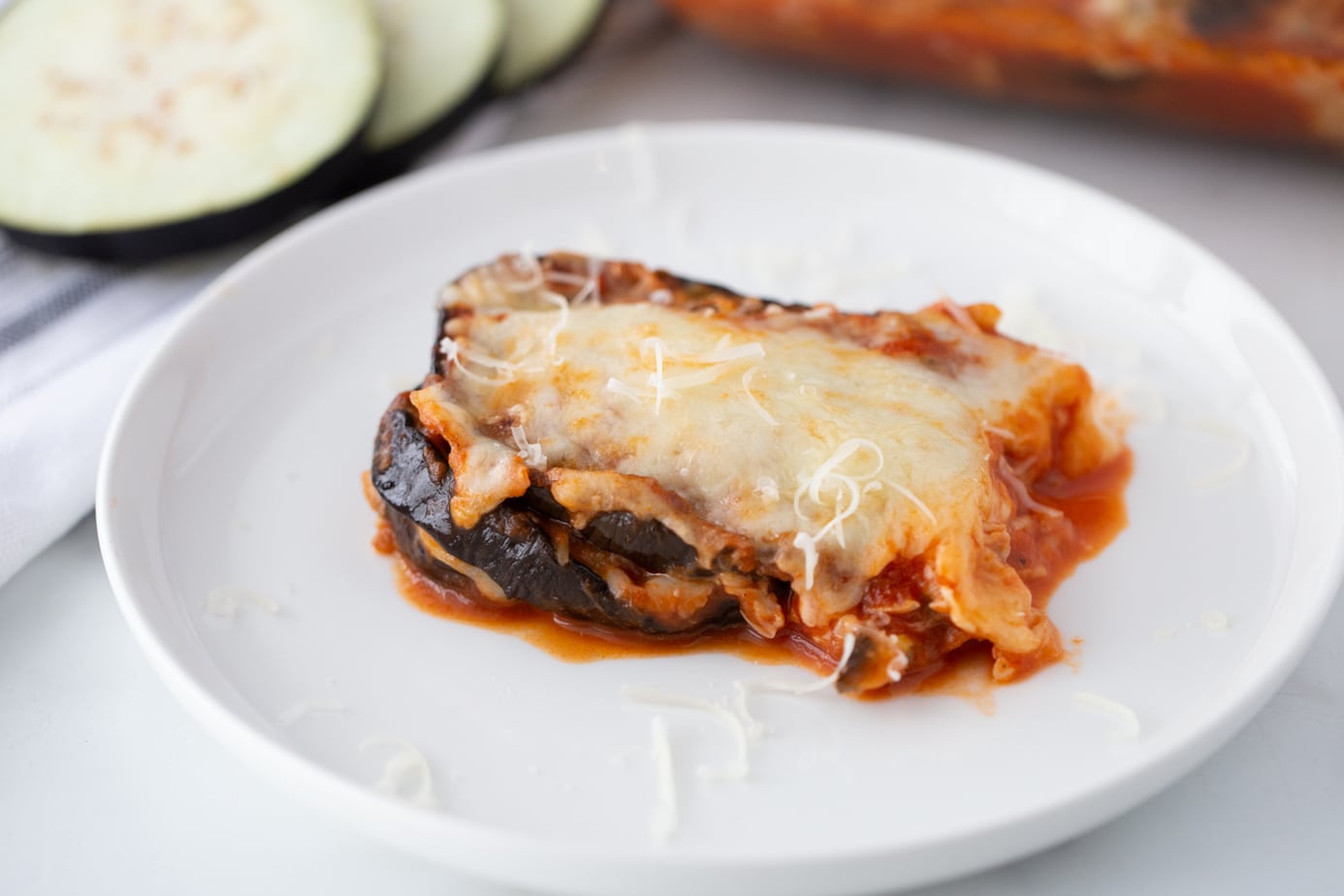 BAKED EGGPLANT PARMESAN
Right now, I'm in that unavoidable post holiday mood. You know when you're not regretting eating all those Christmas cookies, but you're still not happy that your jeans are too tight?
That's where this keto eggplant parmesan recipe comes in! It's a savory, filling, low carb meal that will help you fit into your pre-holiday jeans in no time. Skip the pasta tonight and instead treat yourself to this healthy and satisfying Italian dish!
After all, there's nothing more satisfying than taking a big bite of warm tomato sauce and gooey cheese. With eggplant in the mix, there's nothing to feel guilty about, either!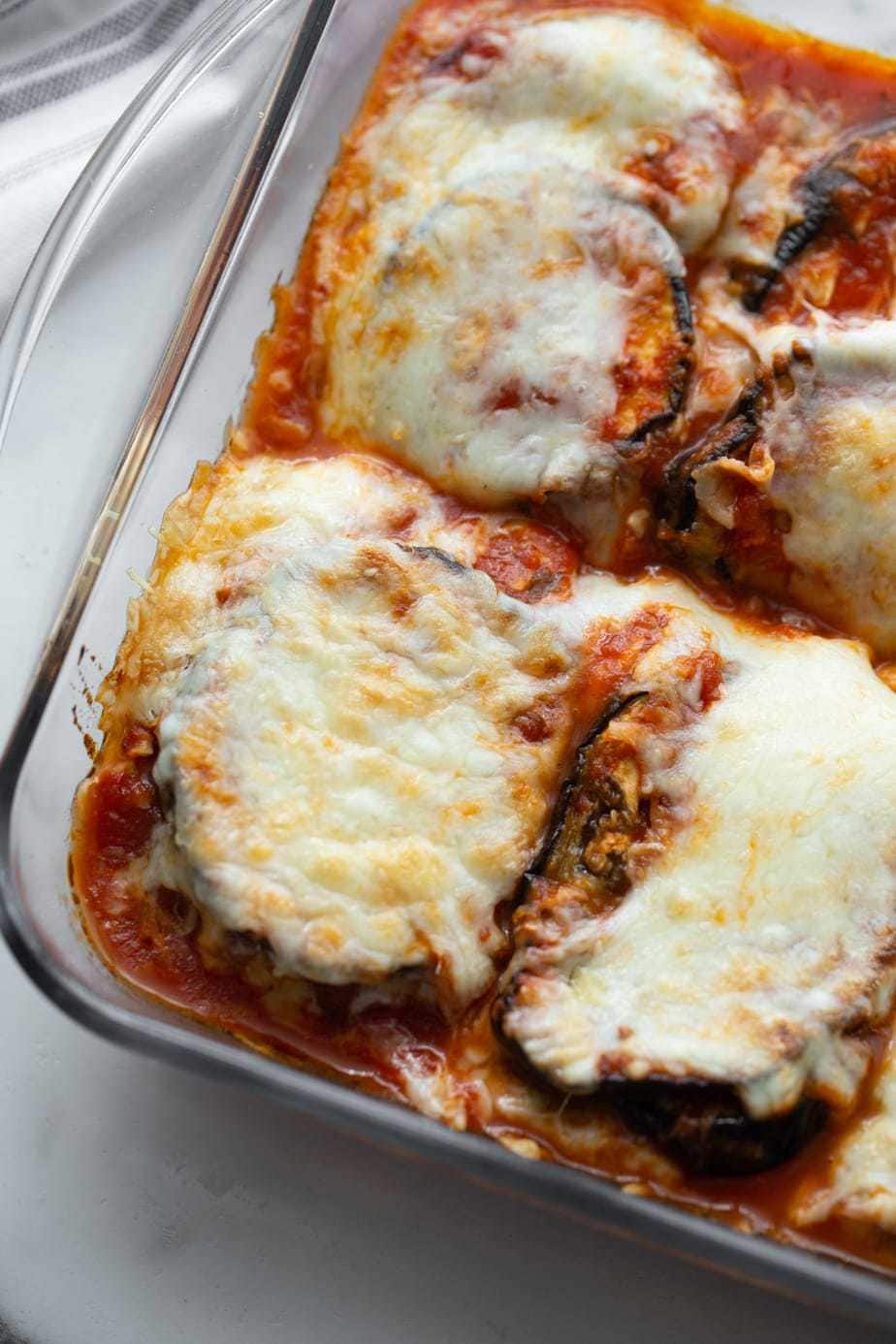 WHAT MAKES THIS BAKED EGGPLANT PARM LOW CARB?
We are gonna go all in and this eggplant with no breading, friends. I know that sounds crazy – and believe me, my mom makes the BEST eggplant parm, so I know how delicious it's supposed to taste. But hear me out:
You will not. I repeat, you will NOT miss the breading. In fact, the first time I tested this, I made one batch with the breading on and baked it…and then made it without. My husband liked it better without the breading, hands down.
This is how they eat Eggplant Parm in Italy, so I mean…if you don't trust me, can you trust the people who first made the dish?
No breading makes this dish gluten free without having to buy an expensive gluten free breading crumb, too, so yay.
INGREDIENTS FOR KETO EGGPLANT PARMESAN
eggplant – At the grocery store, reach for smaller eggplants as they tend to have fewer seeds. Did you also know that eggplants are a wonderful source of vitamins C and K?
tomato sauce – Make your own homemade tomato sauce, or choose your favorite jarred tomato sauce! Any brand will do, but I love Rao's and also Aldi's Organic Sauce. You can also personalize the sauce by adding seasonings like garlic powder or freshly chopped basil! Important -Be sure there is no added sugar in your tomato sauce!
olive oil cooking spray – When it comes to Italian dishes, nothing compliments the meal more than olive oil! It's a flavorful, healthy fat that adds a delicious richness to the parm.
mozzarella cheese – There's no substitute for gooey mozzarella cheese when making eggplant parm! Plus, you can feel great about eating it – it's not only tasty, it's also lower in sodium and calories than most other cheeses.
Parmesan cheese – You only need a small amount of this savory cheese to elevate the dish from good to great!
salt – This ingredient is to taste. I recommend not adding too much! You should add enough salt to enhance the other flavors, but not to overpower them. A little goes a very long way!
How to make healthy eggplant parmesan with no breading
For this baked eggplant parmesan you will will first slice up your eggplant! You want your pieces to be about 1/6 – ¼ inch thick. Then, lay the slices on paper towels with a pinch of salt and let sit for about a half hour. With another paper towel, blot the excess moisture that's produced.
2. Transfer the slices to a prepared baking sheet. Brush evenly with olive oil, season with salt and pepper, and bake for 20 minutes. Flip them halfway through to make sure the slices are cooked to golden perfection!
3. On the bottom of an 8×8 baking dish, add about ⅔ cup of the tomato sauce. Then, add ⅓ of the eggplant to cover the bottom of the dish. Add ½ cup of sauce on top of the slices, then sprinkle with 1/3 cup mozzarella cheese and 2 T parmesan.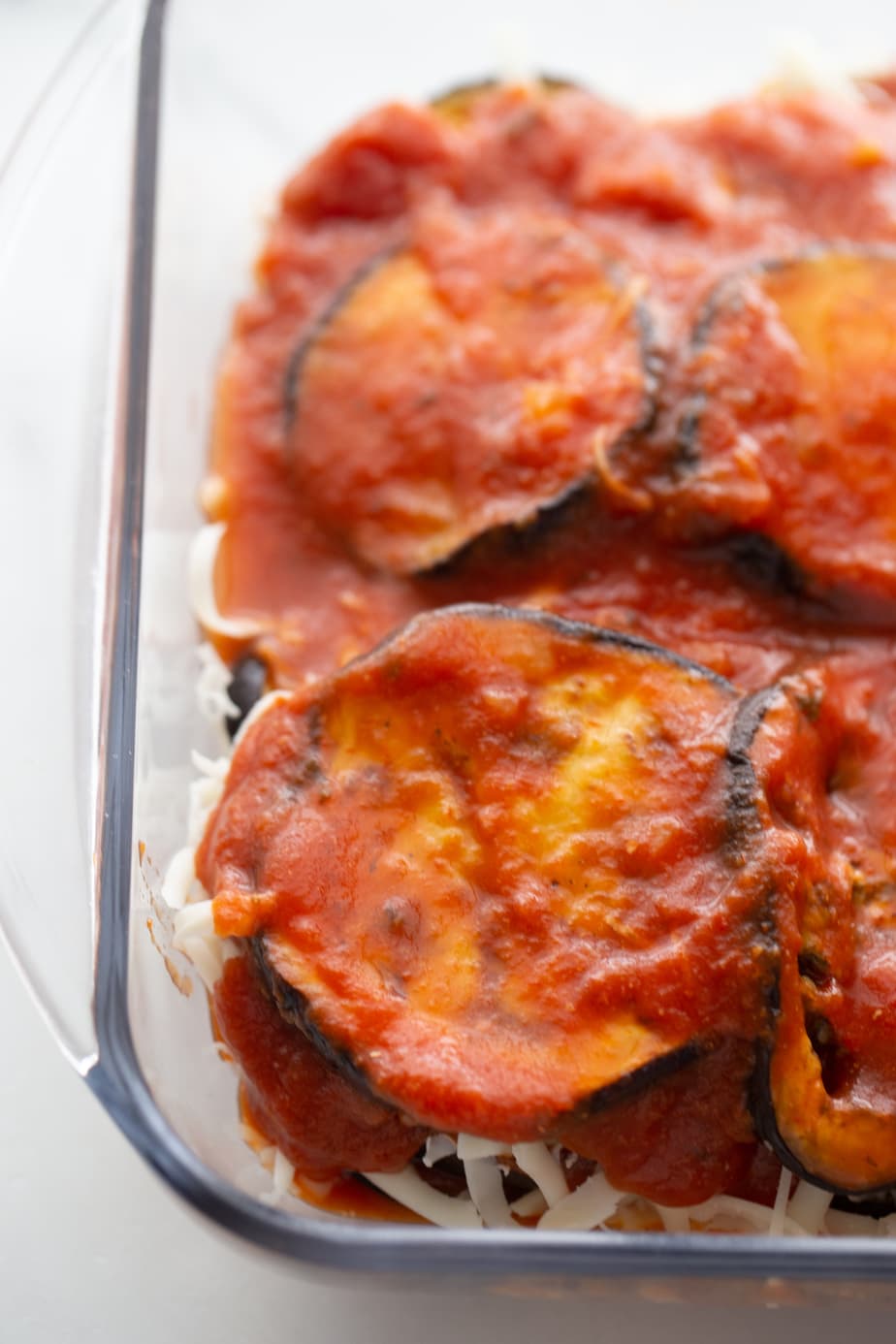 4. Add another layer of eggplant slices and repeat the process. Do this until you have three lovely layers of saucey, cheesy eggplant slices! The top layer should have the most cheese, allowing it to bubble and brown nicely when baked.
5. Bake the meal for about 25 minutes, or until the top is bubbling and delicious. If you really want to brown the cheese, try broiling it for a few minutes at the end of the cooking time!
6. Allow the eggplant parm to cool for at least 10 minutes before serving! As amazing as it will smell, a burned mouth is never fun plus it will set a little better after some time to rest. Garnish with freshly cut basil and extra parmesan, if desired. Enjoy!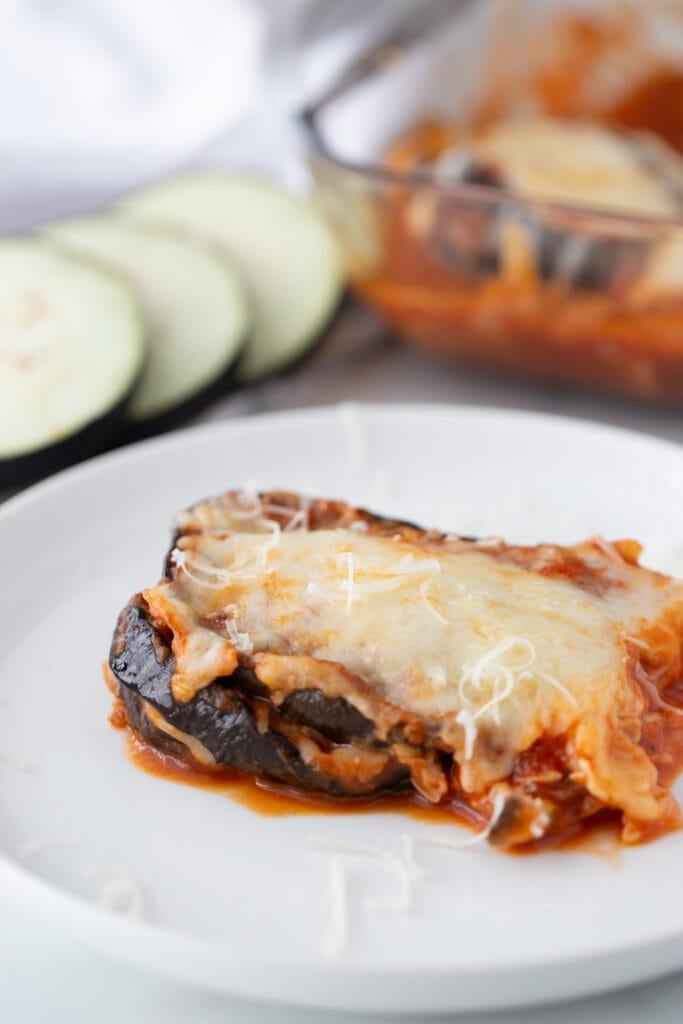 CAN I MAKE THIS RECIPE AHEAD OF TIME?
Absolutely! Just wrap it up in foil and let it sit in the fridge until you're ready to bake it.
HOW LONG WILL IT STAY FRESH? CAN I FREEZE THIS KETO EGGPLANT PARMESAN RECIPE?
Once cooked, this meal will stay fresh for 3-5 days. Just make sure it's in an airtight container in the fridge, and enjoy your leftovers!
And yes! My grandmother would make and freeze eggplant parmesan all the time! This is an awesome meal prep recipe to make a double batch of!
What can I serve with this Keto Eggplant Parmesan recipe?
I find this healthy eggplant parmesan to be filling enough on it's own, but if you could serve it with:
a side salad
ricotta cheese
baked chicken or Italian chicken sausage
Pasta or whole grain/gluten free bread (obviously this would not be keto friendly)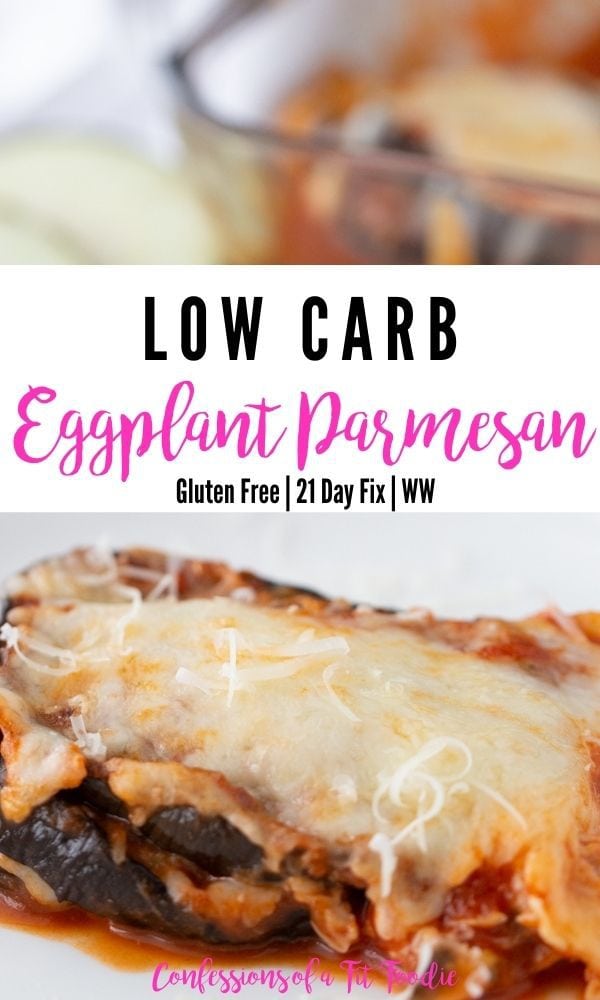 Looking for more Low Carb Recipes? Check these out:
Buffalo Chicken Zucchini Boats
One Skillet Lazy Zucchini Lasagna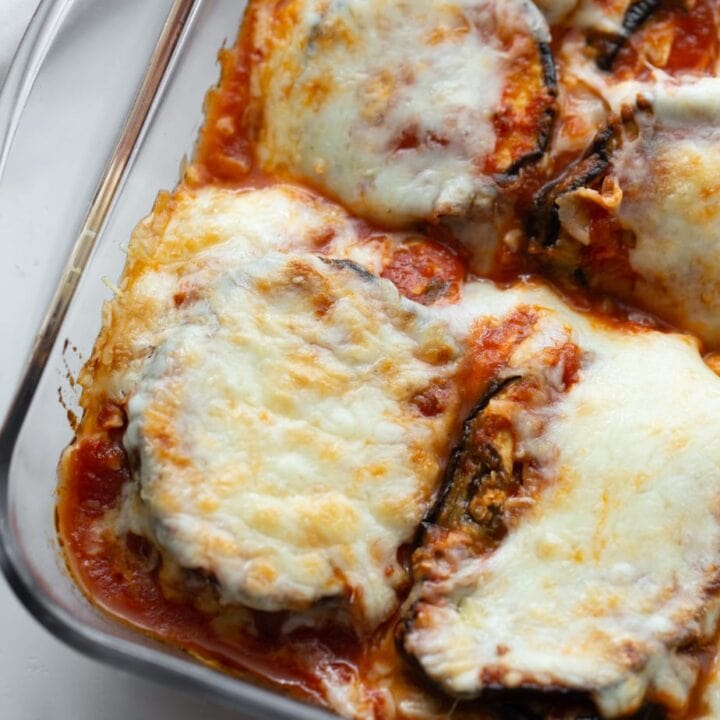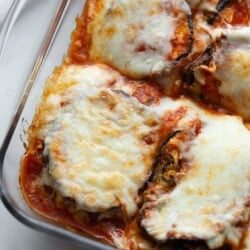 Healthy Baked Eggplant Parmesan
If you're trying to ease up on your carb intake but still eat delicious and hearty meals, then this recipe for low carb eggplant parm is for you! Made with only six simple ingredients, this dish is sure to be one of your new favorite easy dinner ideas.
Ingredients
3

pounds

eggplant

I like smaller ones because the big ones tend to have a lot of seeds

2 ⅓

cups

tomato sauce or homemade tomato sauce

Olive oil cooking spray

or 2 tsp olive oil

1 2/3

cups

mozzarella cheese

1/3

cup

Parmesan cheese

Salt
Instructions
Slice the eggplant into ¼  inch thick rounds and lay them on paper towels.  Sprinkle slices with a few pinches of salt and let the eggplant slices sit for 30-40 minutes.  

Preheat oven to 425. 

Using a paper towel, blot the eggplant and absorb the moisture they released and wipe off excess salt.  

Transfer eggplant to sheet pans covered in parchment paper. It's ok if they overlap slightly.  Brush both sides with olive oil, season with pepper and a pinch of salt, then bake for 20 minutes, turning halfway through until eggplant is golden.

Put ⅔ cup sauce on the bottom of an 8x8 baking dish, add 1/3 of eggplant to cover the bottom of the dish. Spoon 1/2 cup of the sauce on the eggplant, then sprinkle with 1/3 cup of mozzarella cheese and 1 T parmesan. Add another layer of eggplant and repeat ½ cup of sauce, ⅓ cup mozzarella cheese and 1 T parmesan.  Put the final layer of eggplant on top and cover with 2/3 cup of sauce, 1 cup of mozzarella, and 2 tablespoons parmesan cheese. 

Bake until cheese is melted and everything is bubbling, about 25 minutes.  Switch to broil for an additional 2-3 minutes of cook time to brown the cheese, if desired.  

Allow to sit for 10-15  minutes before cutting into six servings.  Garnish with fresh basil and extra parmesan cheese. 
Notes
21 Day Fix:  2 GREEN, 1 BLUE (per serving) WW: 6 points (per serving) [Calculated using part skim mozzarella cheese]
Nutrition
Calories:
196
kcal
Carbohydrates:
20
g
Protein:
12
g
Fat:
9
g
Saturated Fat:
5
g
Polyunsaturated Fat:
1
g
Monounsaturated Fat:
2
g
Cholesterol:
29
mg
Sodium:
748
mg
Potassium:
836
mg
Fiber:
8
g
Sugar:
12
g
Vitamin A:
723
IU
Vitamin C:
12
mg
Calcium:
240
mg
Iron:
2
mg