One of my favorite new dinners, these low carb Buffalo Chicken Zucchini Boats have all the flavor of wings without the unhealthy fat. Perfect for meal prep! This post contains affiliate links to products I'm obsessed with.
Confession: Apparently there is a major debate surrounding blue cheese. And, guys, I love it.
Some of you are loudly disagreeing with me right now. It's ok…we can still be friends.
I had no idea that blue cheese was so polarizing until I became a food blogger. I always just assumed that everyone loved blue cheese on all the things like me.
As an undergrad at SUNY Geneseo, we used to dip our pizza in blue cheese dressing and when my freshman year suitemate showed me this for the first time, I about died of happiness.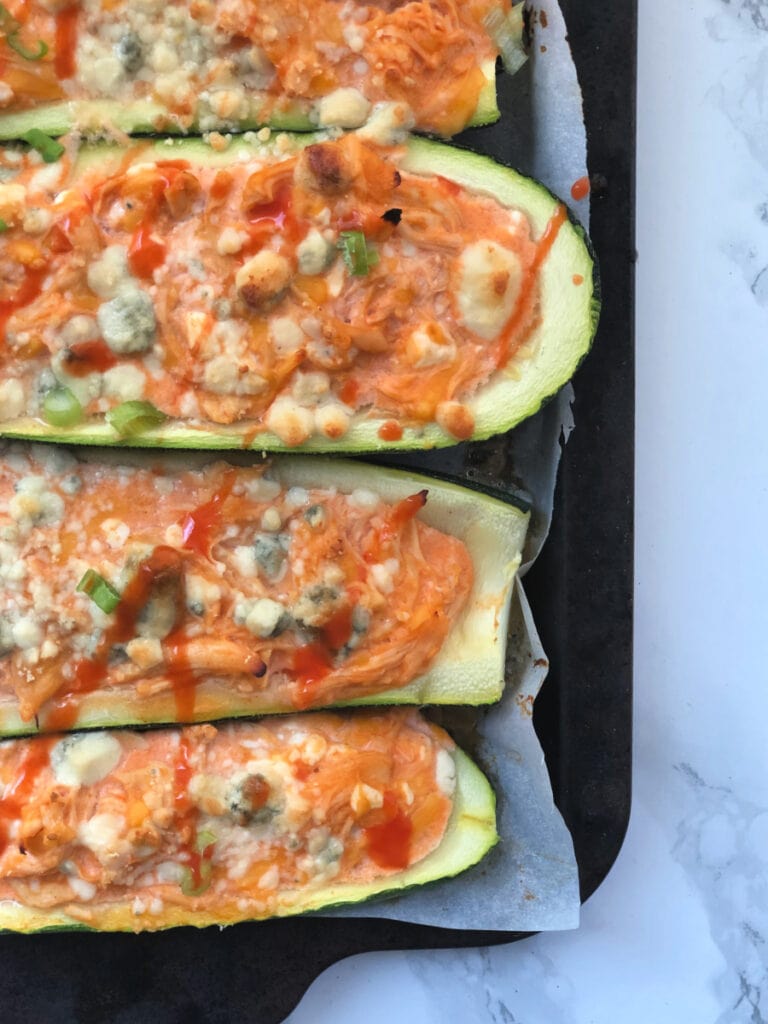 I'm also a lover of all things Buffalo…Buffalo Chicken Nuggets, Buffalo Chicken Dip, Buffalo Chicken Pizza, Buffalo Chicken Chili, Buffalo Chicken Pasta…you name it, I am IN. And I'll have my side of blue cheese ready, thankyouverymuch.
And now that above list includes Buffalo Chicken Stuffed Zucchini Boats.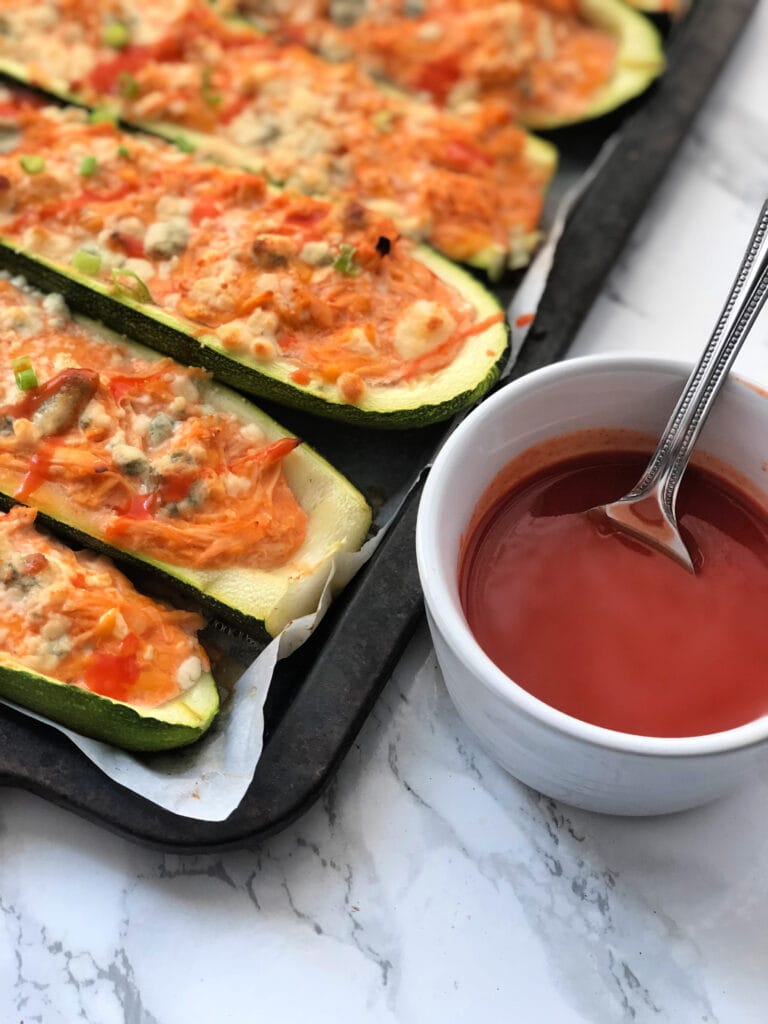 I mean…how freaking delicious does this look?
And for those of you who are on the other side of the blue cheese debate, no worries, you can 100% leave the blue cheese off or swap it for more cheddar, mozzarella, or even goat cheese and these zucchini boats will still be amazing.
And while we are busy talking about all of my loves, I also gotta say I have a huge thing for zucchini. If you are a long time follower of my blog you know this, but if you are new…Hi, I'm Nancylynn and I love me some zucchini and I like to use it in everything: Pad Thai, Lasagna, Taco Skillets, Enchiladas…and so much more.
It's also really, really good stuffed..like just put your fav meal inside a zucchini and you are good to go kind of deal.
I plan on redoing my 21 Day Fix Zucchini Lasagna Boats photos this week, but I also have a long list of stuffed zucchini recipe ideas to try out. This Buffalo Chicken Stuffed Zucchini recipe needed to come out asap, though!
How to Make Buffalo Chicken Stuffed Zucchini Boats
This meal is super easy to make and I love prepping these Zucchini Boats ahead of time and baking them throughout the week.
First, I prepped some shredded chicken in my Instant Pot. If you don't have an instant pot, you can also use a crock pot, or just poach some chicken on your stovetop. This also works great with leftover grilled chicken or roasted chicken.
While the chicken is cooking, you can prep your zucchini. Just slice each zucchini down the middle, lengthwise so you have two long pieces.
Then using a spoon, just scoop out the zucchini flesh to make a boat! And don't throw out the zucchini, either. While you won't use it for this recipe, you can freeze it and add it to smoothies for extra veggie power!
You can also begin to roast your zucchini on 400 for 10 minutes while waiting for your chicken to finish. This helps reduce the overall cooktime of your boats.
For the Buffalo Chicken Stuffing, I just mix cottage cheese, yogurt, cheddar and hot sauce together. And when the chicken is cooked, I just add it to my mixture.
Can we stop here and talk about this deliciousness for a second? Guys, this comes together SO quick and easy. Just a quick stir of 5 ingredients and BOOM. It would also make a great dip, just saying…
Just load that goodness into your zucchini boats and you are almost done!
Before popping these suckers back into the oven, top with some extra cheesy deliciousness. This is where I am going for the blue cheese, but if that ain't your thing, just top with some extra cheddar. Then roast these bad boys until your zucchini is tender and your cheese is nice and bubbly.
Oh, hello.
And there you have it – a Buffalo Chicken Stuffed Zucchini that will squash (omg – I swear I didn't see that pun) all your buffalo cravings but also get you to eat those veggies!
Are these Buffalo Chicken Zucchini Boats Low Carb?
Yes! They are perfect for anyone following a low carb diet – even Keto! If you want a cream cheese Keto option, check out this Buffalo Chicken Zucchini Boat Recipe. For my 21 Day Fixers, this is a perfect no-yellow meal. This also makes a great 2B Mindset Dinner!
Is there a sub for cottage cheese? I am not a fan.
Guys, I promise you will NOT taste the cottage cheese – it just makes the Buffalo Chicken mixture nice and creamy without the cream cheese. This is a little trick I learned from my friend Stephanie from the Foodie and the Fix back when she posted this makeover Spinach and Artichoke Dip!
I buy a small curd cottage cheese and it basically melts into the boats and it undetectable! You can also blend the mixture before, but I honestly find that step totally unnecessary and then I've gotta wash my blender.
What can I sub for the blue cheese?
Just use more cheddar, goat cheese, or even mozzarella in it's place and you are all good!
What other stuffed Zucchini Boats can I make?
I'm working on a bunch, but here are my fav ideas:
Caprese Stuffed Zucchini Boats
BBQ Stuffed Zucchini Boats
Taco Stuffed Zucchini Boats
Kung Pao Stuffed Zucchini Boats
And don't forget my Lasagna Stuffed Zucchini Boats
Buffalo Chicken Zucchini Boats
One of my favorite new dinners, these low carb Buffalo Chicken Zucchini Boats have all the flavor of wings without the unhealthy fat. Perfect for meal prep!
Ingredients
Salt, pepper, garlic powder for seasoning

3

large to medium zucchini

1

lb

boneless chicken breast raw or cooked and shredded or diced

**see recipe for prep tips

1

cup

2% greek yogurt

1/2

cup

small curd cottage cheese

2/3

cup

shredded cheddar

I use sharp

1/2

cup

hot sauce

I use Franks, plus more for drizzling

1/3

cup

blue cheese

or sub more cheddar, goat cheese, or mozzarella

Green onion

optional for garnish
Instructions
If your chicken is raw, prep first
Sprinkle chicken with salt, pepper, and garlic powder.

In your Instant Pot - add 1 cup of broth or water and your raw chicken breast.  Cook for 15 minutes and do a full natural release. Drain well and shred.

In your oven- cook chicken breast on 350 for 30 minutes.  Let cool and dice.

On your stovetop - cover chicken with broth or water and bring to a boil.  Reduce heat to a simmer and cook for 5 minutes.  Then remove from heat and cover for 20 minutes before dicing or shedding and drain well.
Zucchini boats
While chicken is cooking, prep your zucchini.  Preheat your oven to 400 degrees. Slice each zucchini in half, lengthwise. Using a spoon, scoop out the zucchini flesh to create a boat.  Save the flesh and freeze - sneak them into your kids smoothies!

 Line your zucchini onto a baking sheet or in a casserole dish - I like to line mine with parchment paper.  Sprinkle zucchini boats with a little salt.   Place in the oven for 10-15 minutes or until the zucchini starts to get tender.  If you find that any moisture is collecting at the bottom of the boats, just blot carefully with a paper towel or clean kitchen towel.
Filling
Next, work on the filling.  Mix the yogurt, cottage cheese, hot sauce, cheddar cheese, and chicken together.

Place chicken mixture in zucchini boats, then top with blue cheese or cheese of choice.

Bake for an additional 15-20 minutes or until the filling gets bubbly, the cheese starts to brown and the zucchini is fork tender. I like to broil for the last minute or so to get the cheese topping extra crispy!  Garnish with a drizzle of hot sauce and and some sliced green onion.
Notes
21 Day Fix: 1 RED, 1 GREEN, 1/2 BLUE (per zucchini half) WW: 3 points (per zucchini half)  [Calculated using fat free Greek yogurt, low fat cottage cheese, reduced fat cheddar cheese, and reduced fat blue cheese]
Nutrition
Serving:
1
zucchini boat
Calories:
195
kcal
Carbohydrates:
6
g
Protein:
28
g
Fat:
6
g
Saturated Fat:
3
g
Polyunsaturated Fat:
1
g
Monounsaturated Fat:
1
g
Trans Fat:
0.01
g
Cholesterol:
60
mg
Sodium:
879
mg
Potassium:
608
mg
Fiber:
1
g
Sugar:
5
g
Vitamin A:
364
IU
Vitamin C:
33
mg
Calcium:
168
mg
Iron:
1
mg