This Instant Pot Jambalaya uses chicken andouille sausage, chicken thighs, shrimp, and a homemade Cajun seasoning to give the traditional New Orleans favorite a healthy twist! It's a family favorite dinner that will have everyone at the table begging for seconds. This post contains affiliate links for products I am obsessed with.
This post was originally Published on March 28, 2018, but is being updated with new pretty photos and a step by step video!
Instant Pot Jambalaya
Confession: I never thought this recipe was going see the light of day…at least on this blog. After making and loving my Instant Pot Brown Rice and Sausage Stuffing, I've wanted to do an Instant Pot Jambalaya that's healthy and FIX approved.
Needless to say, I've created a recipe that is both! This jambalaya recipe is a delicious, guilt free way to enjoy the Mardi Gras season. It'll transport you to the French Quarter without a crazy amount of calories!
I ran into some tricky issues, however, when developing this dish. First, I had the hardest time finding a clean, low sodium andouille chicken sausage that still tasted like the real thing. The andouille flavor is NOT something you can afford to miss out on when making jambalaya!
I finally found this one by Brat Hans at Whole Foods, as well as one by Johnsonville. Apparently, there is another one by Al Fresco, but I couldn't find it. Honestly, I wasn't a huge fan of the Trader Joe's version, but they do have one there.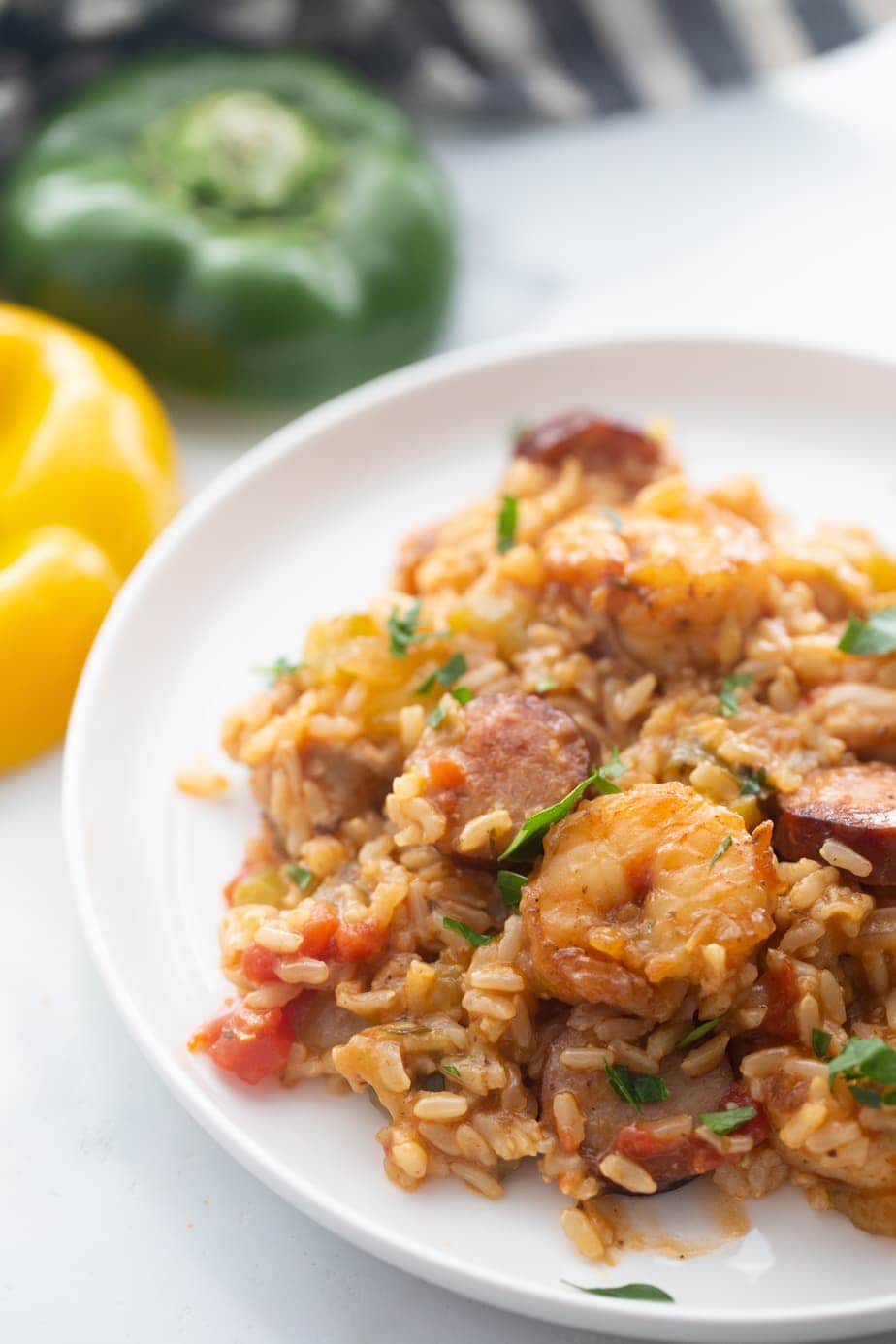 Tips for the Perfect Andouille Sausage
Here's what I learned when it comes to making precooked sausage in an Instant Pot – it can be a challenge! When it's in the Instant Pot for more than just a few minutes, the texture becomes less than desirable.
I got around this by simply sautéing the sausage first, then removing it from the pot and cooking the shrimp. It's an easy way to make sure the meat cooks the way I want it too!
Now, if you want to get around this issue entirely by just substituting the andouille chicken sausage for a raw spicy Italian sausage with the casing removed, I won't judge! It might not be a classic New Orleans jambalaya, but it'll still be delish.
INGREDIENTS FOR THE BEST HOMEMADE CAJUN SEASONING
First things first – I HIGHLY recommend making your own Cajun seasoning! It's such an easy way to elevate your New Orleans inspired dinner. Once you try it, you'll never go back to store bought again!
Here's what you'll need for this flavor packed homemade Cajun seasoning:
salt – Sea or Kosher salt will both work fabulously!
garlic powder – I mean really… what homemade seasoning powder is complete without it?
paprika – This seasoning is important not just for the flavor, but for that beautiful red color, too!
black pepper – Freshly cracked is always the way to go for the best flavor!
onion powder – Onion powder is the most subtle and delicious way to really add flavor to any seasoning.
dried oregano – I'm the kind of person who tosses oregano on just about everything. If you love it like I do, sprinkle a little extra in the mix!
dried thyme – Just a pinch of thyme is all you need to take this seasoning from good to great!
red pepper flakes – If you don't like spicy food at all, skip this ingredient. However, if you're like me… bring on the heat, baby!
INGREDIENTS FOR HEALTHY INSTANT POT JAMBALAYA
This diet friendly jambalaya is all you'll be craving once you make it. I mean, just look at how good these ingredients are!
olive oil – The flavor that olive oil gives this dish is simply the best. However, if you're looking for a substitute, avocado oil also works just fine.
chicken sausage – So, why chicken sausage? It has lower calories and is heart healthier than traditional pork sausage. I use fully cooked Andouille sausage for this recipe, and I LOVE it, but you can sub spicy Italian Chicken Sausage, too!
shrimp – Shrimp is one of my favorite proteins! They're a delicious way to get your protein for the day and help you stay full longer.
chicken thighs – Make you sure buy them boneless and skinless for the best results!
brown rice – When it comes to carbs, brown rice is one of my favorite ways to get them. It's a whole grain that I just can't get enough of.
chicken stock – You can substitute this for chicken broth, but just remember that stock is richer with flavor.
diced tomatoes – Just toss it all in the Instant Pot – no need to strain!
onion – Any kind of onion will do! If you want a stronger flavor, reach for a red onion in the grocery store. They pack the biggest punch!
garlic – Garlic isn't just mouthwatering, it's also good for you! Did you know that it has manganese and vitamin b6?!
celery – Make sure you buy the freshest celery. You can tell it's fresh when it has tight, firm, green stalks.
bell peppers – Any colors work! I like using red and green ones for this recipe.
HOW TO MAKE THIS HOMEMADE JAMBALAYA RECIPE
1. First, mix up your homemade Cajun seasoning and set it aside.
2. Next, turn the Instant Pot to sauté and add in 2 tsp of olive oil. Brown the sausage slices, then remove from the pot.
3. Season the raw shrimp with 1/2 tsp of the cajun seasoning. If you want them to be extra flavorful, feel free to add more!
4. Add the shrimp to the Instant Pot and sauté until cooked through. This should only take a few minutes. When they're done, remove them from the pot and set them aside with the cooked chicken sausage.
5. Add the remaining 2 tsp of olive oil to the Instant Pot. Then, add in onions, celery, bell peppers, garlic and 3 tsp of cajun seasoning. Stir until fragrant, then add in rice, chicken, diced tomatoes, and broth. Place the lid on the Instant Pot and set to manual for 22 minutes.
6. When the cook time is finished, do a natural release for 10 minutes. Then, do a quick release for any remaining steam.
7. After the lid is unlocked, open it and stir in the cooked sausage and shrimp. Taste and adjust the salt/seasoning as desired, and enjoy!
If your family is anything like mine, they're going to gobble this dinner up faster than you can say "Happy Mardi Gras!" Let me know if you're just as obsessed with this healthy jambalaya recipe as I am!
Can you freeze Instant Pot Jambalaya?
YES! It freezes really well. Then, for best results, thaw in the fridge overnight and heat in a saucepan. Delish!
Looking for more Healthy Instant Pot Recipes? Here are some of my favorites-
Instant Pot Enchilada Pasta [21 Day Fix | WW | Gluten Free]
Instant Pot Mashed Potatoes [Dairy Free]
Instant Pot Cheeseburger Soup [Slow Cooker Option]
Instant Pot Chicken Carnitas with Avocado Peach Salsa [21 Day Fix | Weight Watchers]
Instant Pot Cauliflower Cheeseburger "Mac" | Instant Pot Low Carb Hamburger Helper [21DF | WW]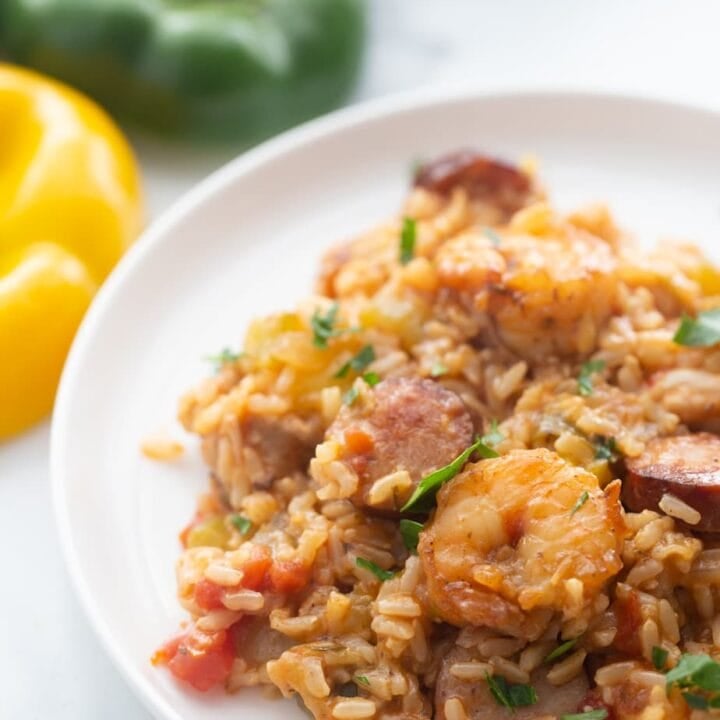 Instant Pot Jambalaya
This Instant Pot Jambalaya uses chicken andouille sausage and a homemade Cajun seasoning to give the traditional New Orleans favorite a healthy twist!
Ingredients
For the Cajun Seasoning
1/2

teaspoon

sea or kosher salt

1

teaspoon

garlic powder

1

teaspoon

paprika

1/4

teaspoon

black pepper

1/2

teaspoon

onion powder

1/2

teaspoon

dried oregano

1/2

teaspoon

dried thyme

1/8

teaspoon

cayenne pepper

1/8

teaspoon

red pepper flakes

optional
For the Jambalaya
6

teaspoon

olive oil

divided

1/2

lb

chicken sausage

sliced - I used fully cooked Andouille Sausage

1/2

lb

medium sized raw shrimp

cleaned and peeled

1/2

lb

boneless skinless chicken thighs

diced

1 1/2

cups

brown rice

1 1/2

cups

organic chicken stock or broth

1

can

diced tomatoes

14.5oz

1

onion

diced

3

cloves

garlic

minced

3

stalks

celery

diced

2

bell peppers

diced
Instructions
Mix up the Cajun Seasoning and set aside.

Turn IP to sauté and add in 2 tsp of olive oil. Brown sausage slices, then remove from pot. Add in an additional 2 tsp of oil. Season shrimp with 1/2 tsp of the cajun seasoning. Add shrimp to the Instant Pot and sauté until cooked through, usually just a few minutes. Remove from Pot and set aside with the chicken sausage.

Add remaining 2 tsp of olive oil to the IP, and add in onions, celery, bell peppers, garlic and 3 tsp cajun seasoning. Stir until fragrant, then add in rice, chicken, diced tomatoes, and broth. Place lid on the IP and set to manual for 22 minutes.

When cook time is finished, do a natural release for 10 minutes, then a quick release for any remaining steam.

After the lid unlocked, open and stir in sausage and shrimp. Taste and adjust salt/seasoning as desired (there should be extra seasoning left over to add if you want to!)
Notes
21 Day Fix: 1 Red, 1 Yellow, 1 Green, 1 tsp (per serving)
WW link for personal points:
Instant Pot Jambalaya
Nutrition
Serving:
1
cup
Calories:
417
kcal
Carbohydrates:
48
g
Protein:
27
g
Fat:
13
g
Saturated Fat:
3
g
Polyunsaturated Fat:
2
g
Monounsaturated Fat:
4
g
Trans Fat:
0.01
g
Cholesterol:
125
mg
Sodium:
952
mg
Potassium:
649
mg
Fiber:
4
g
Sugar:
6
g
Vitamin A:
1667
IU
Vitamin C:
60
mg
Calcium:
83
mg
Iron:
3
mg