This healthy instant pot brown rice pudding recipe has all the flavors of the creamy rice pudding recipe you grew up loving, but it's dairy-free, gluten-free, refined-sugar-free, and 21 Day Fix approved, of course! This post contains affiliate links for products I am obsessed with.
Confession: I spent weeks testing this recipe, and yet I came close to not posting it.
Really, really close.
I have a perfectionist side that sometimes gets the better of me..and in this case, I wasn't going to post this rice pudding unless it actually was perfect.
And not only did I have the challenge of using brown rice, my Instant Pot, and a very low sugar content to keep this rice pudding FIX approved and healthy, I also grew up eating the most amazing rice pudding ever that my Aunt Margie used to make every year at Christmas and other family holidays and gatherings.
And my grandma Helen also made a slightly different, yet also incredibly delicious rice pudding, too…so if I was going to put my name on a rice pudding, I had to live up to some pretty high standards.
And so for the past few weeks, we've basically been eating rice pudding day in and day out. It's a tough job, I have, isn't it?
Anyway, I finally realized that I had to triple the liquid I used to cook the rice in order to get the creamy texture that I was looking for…and the rest was fairly simple.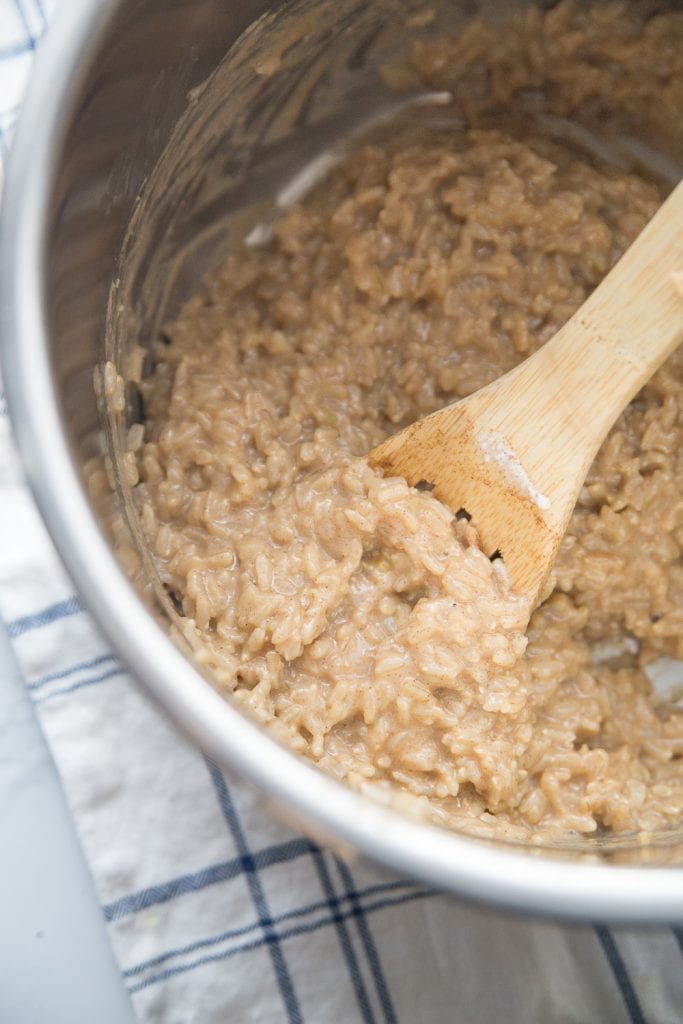 To sweeten this recipe, I used maple syrup, but I also love it with raw sugar or coconut sugar.
If you are a regular around here you know I love using coconut cream in place of heavy cream or heavy dairy in recipes, both to keep it FIX approved and also because my son can't have dairy. And so I used a little in this and I will once again promise this doesn't taste like coconut. At all. Not even a little bit.
And I do use an egg in this Brown Rice Pudding, but if you are vegan or can't tolerate eggs, you can definitely leave it out. I love the way it adds to the creaminess, but I mainly added it for the sake of tradition.
Here's a quick video to show you how easy this recipe is!
And now for some Questions about this Healthy Instant Pot Brown Rice Pudding:
Can Rice Pudding Be Made in the Instant Pot?
Yes! When I make rice, I usually do a 1:1 ratio of rice to water. For this recipe, I tripled the amount of liquid, and also cooked the rice for a longer amount of time. You can cook this using the porridge button or on manual.
Is this Rice Pudding recipe healthy?
This rice pudding recipe is super healthy! First of all, it's made with brown rice instead of white rice. Next, the amount of sugar is drastically reduced, and finally the heavy cream is replaced with coconut cream. And the best part is this recipe isn't even a treat swap on the fix! If you are looking for a more traditional rice pudding, this one get great reviews.
Is Brown Rice Pudding good?
It really is…and like I said, I grew up eating some really delicious rice pudding!
Can I make this healthy rice pudding without eggs?
Yes! Whether you are vegan or have an egg allergy or just don't have eggs at the moment, you can absolutely leave the egg out of this recipe and it will still be super delicious!
I see you use coconut milk in this Instant Pot Rice Pudding, does the pudding taste like coconut?
No! I promise you it doesn't take like coconut at all! I am a HUGE fan of coconut cream in both sweet and savory dishes as a dairy free and cleaner sub for heavy cream.
Looking for more 21 Day Fix Holiday Dessert recipes that aren't treat swaps? Check out these delicious recipes:
21 Day Fix Easy Chocolate Macaroons (Allergy Friendly)
21 Day Fix Instant Pot Apple Crisp
Healthy Lemon Bars | My Crazy Good Life
Pumpkin Pudding | The Foodie and The Fix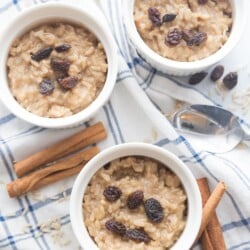 Healthy Instant Pot Brown Rice Pudding
This healthy instant pot brown rice pudding recipe has all the flavors of the creamy rice pudding recipe you grew up loving, but it's dairy-free, gluten-free, refined-sugar-free, and 21 Day Fix approved, of course!
Ingredients
1

cup

brown rice

Salt

1 1/2

cups

water

1 1/2

cups

unsweetened vanilla almond milk

1/4

cup

canned coconut milk

use the thick, creamy part of the milk

½

teaspoon

cinnamon

plus more for topping

1

tablespoon

vegan butter

or regular if not DF

1

teaspoon

vanilla

1

egg

beaten well

4

tablespoons

maple syrup

coconut sugar, raw sugar, or any combination of these (can add more to taste. I love it most with raw sugar.)

Optional topping ideas - Dried fruit, berries, nuts, nut butter
Instructions
Place 1 cup of brown rice in your Instant pot, along with water and almond milk, vanilla extract, and a sprinkle of Himalayan or sea salt.  Lock lid and set to manual or porridge for 25 minutes. After cook time, do a natural release.

Once it's safe to unlock your IP, remove lid and stir rice.  Set pot to saute and stir in canned coconut milk, sweetener, butter, and cinnamon.

Slowly whisk in the beaten egg, stirring continuously until all of the egg is added and pudding further thickens.  Remove inner pot from heat immediately and allow pudding to cool a bit before serving.

Serve warm or cold with a sprinkle of cinnamon and your favorite toppings.  So yummy for breakfast with a drizzle of peanut butter (just sayin).
Nutrition
Serving:
0.5
cup
Calories:
212
kcal
Carbohydrates:
34
g
Protein:
4
g
Fat:
7
g
Saturated Fat:
3
g
Polyunsaturated Fat:
1
g
Monounsaturated Fat:
2
g
Trans Fat:
0.4
g
Cholesterol:
27
mg
Sodium:
114
mg
Potassium:
153
mg
Fiber:
2
g
Sugar:
9
g
Vitamin A:
40
IU
Vitamin C:
0.3
mg
Calcium:
109
mg
Iron:
1
mg