Hibachi Chicken is a flavorful, easy to make dinner that my whole family loves.  Inspired by my daughter's favorite Japanese steakhouse dinner, this homemade Hibachi Chicken recipe is much healthier and works perfectly for the 21 Day Fix and WW.  There's even a homemade Yum Yum sauce recipe included for dipping!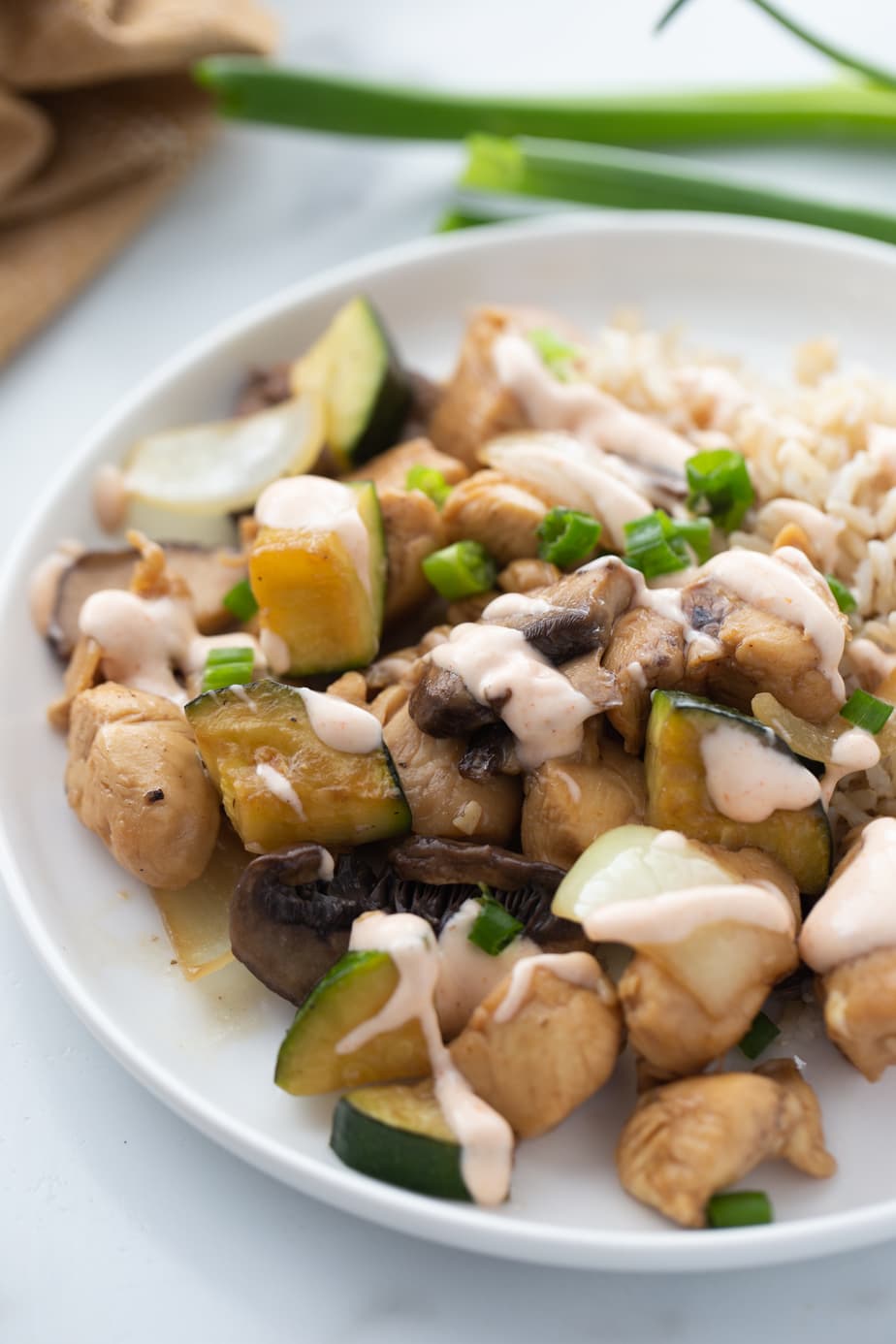 This Homemade Hibachi recipe is inspired by daughter's upcoming birthday. Hibachi chicken is one of her favorite meals, and actually the meal that led her to love zucchini (finally, lol!).
For anyone else with a March baby…I still get anxiety when I think about last year and how basically on her birthday, life as we know it, changed overnight.
For her birthday dinner, we were supposed to go to her favorite hibachi restaurant, and she also had a birthday party planned with ten of her closest friends. Obviously all of this was canceled.
I know these are not big problems, and we are lucky to have our health…but my momma heart still hurts when I think about it all and how her face fell when I broke the news to her.
But like the amazing girl she is, she took it in stride and here we are, one year later, and about to celebrate her 11th birthday (how? just how?) Still no party, but we will definitely celebrate in all the ways that matter. Oh – and there will definitely be this copycat Benihana Hibachi Chicken recipe on the menu!
We're taking the typical hibachi meal and making it healthier, and more budget friendly, but still soooo delicious- especially that homemade yum yum sauce.
New! If you love this recipe, you must try this Hibachi Steak!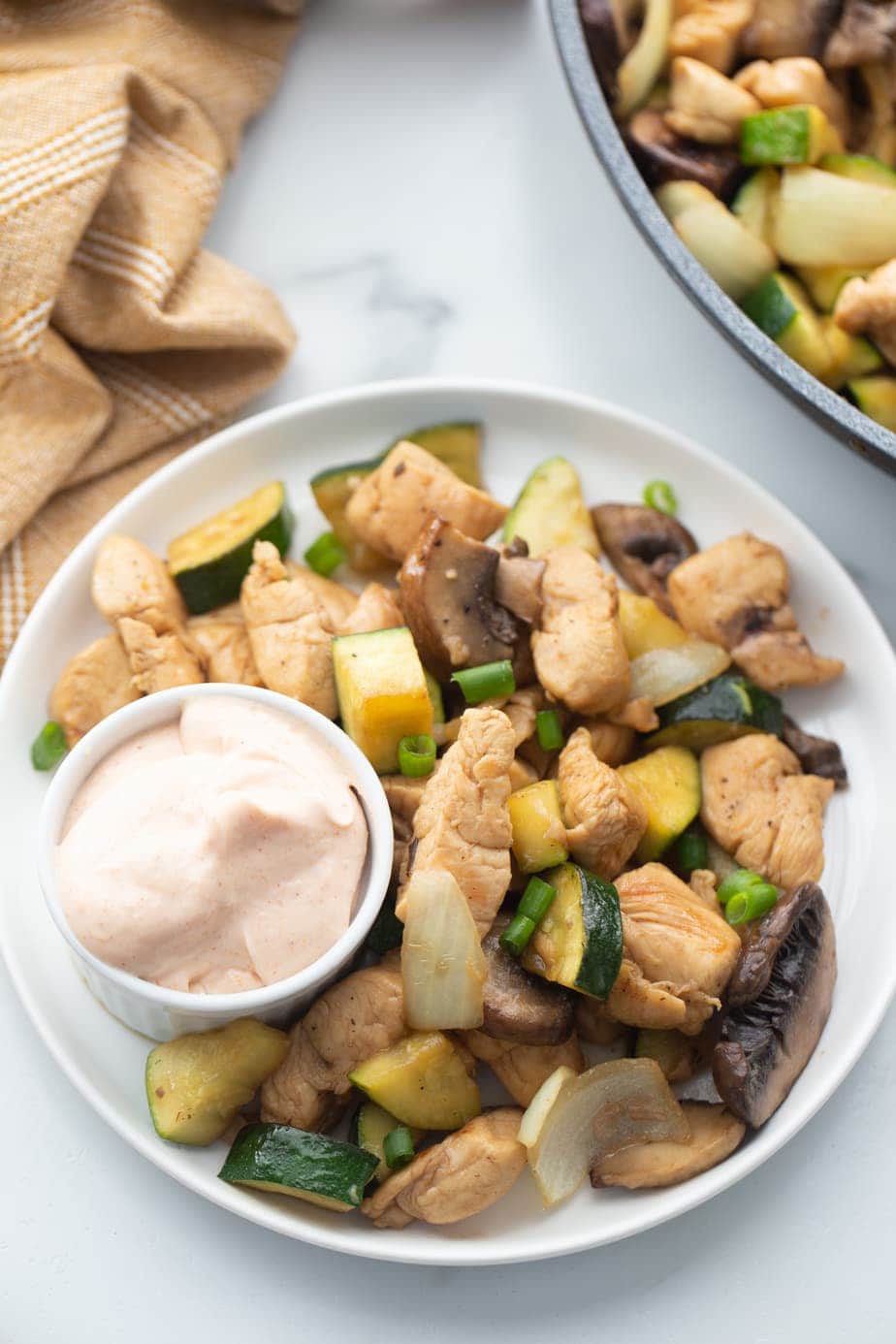 Why this hibachi dinner rocks
This recipe has become a family favorite over the past year and I am so excited to finally bring it to you.
With this easy weeknight dinner, you'll bring the delicious flavors of the restaurant right into your own kitchen, no special equipment needed.
While it tastes like traditional hibachi, my version is certainly healthier! Made with simple ingredients like tender chicken breast and fresh hibachi vegetables like mushrooms and zucchini, this entree is packed with nutrients and protein.
My husband's favorite part? The homemade Yum Yum sauce! It's made with all natural ingredients, so you'll love drizzling (or dipping) your hibachi chicken and veggies with that seriously addictive sauce.
All that's missing, honestly, are the hibachi chefs cooking in front of the guest from the Japanese restaurant(although nobody is stopping you from becoming a hibachi chef!).
Ingredients + Substitutions
chicken breasts – Tenderloins also work! I love the organic, free range chicken from Butcher Box. As long as your choice of chicken is boneless and skinless, it'll be perfect for this recipe. Want to switch it up? This recipe is awesome with steak, shrimp, or even a combo of proteins!
olive oil

– I used olive oil, but avocado oil is also delish in this recipe.

sesame oil

– This ingredient isn't just a good addition to this recipe for taste, it's also a healthy fat!

butter

– Use an unsalted butter to avoid excess sodium or dairy free butter if you avoid milk products.

onion

– White onion or yellow onion are the best in this hibachi recipe, but use what you have

baby bella mushrooms

– Mushrooms are rich in vitamin B! But if you aren't a fan, you can sub a different veggie like sugar snap peas, broccoli, or red peppers.

zucchini

– Zucchini has a TON of vitamins! It's especially rich in vitamin A. Again, you can sub this for your favorite veggie

garlic

– Garlic is extremely flavorful and delicious, all while being incredibly low in calories. Toss some extra garlic in there if you love the flavor it provides or garlic powder.

coconut aminos

– This is the BEST healthy alternative for soy sauce out there.

lemon juice

– This is optional, but highly recommended for more natural flavor.

salt and pepper

– Just a sprinkle of Himalayan salt and a crack of fresh black pepper is all you need to season this fresh dinner.

garnish – feel free to garnish with some green onions and sesame seeds if that's your thing (my kids are a no-go for this!)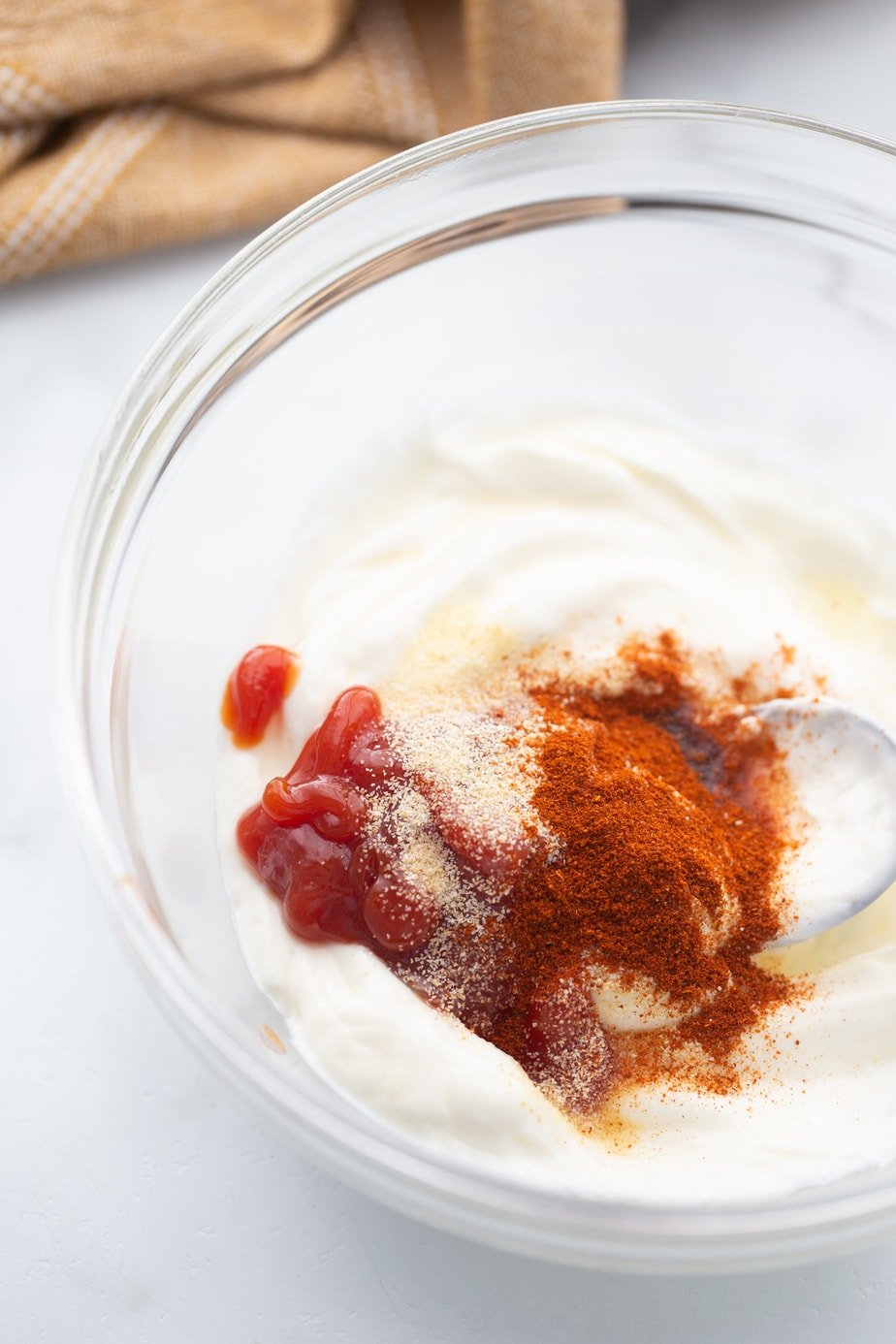 What is Yum Yum Sauce?
If you've never had yum yum sauce, or shrimp sauce as it's sometimes called, you are missing out! It's a yummy white sauce that is served with shrimp, steak, and chicken at Hibachi restaurants. I also love ginger sauce and plan to get that recipe on the blog soon, but when I asked on instagram, you guys seem to LOVE your Yum Yum Sauce. So, a healthier homemade yum yum sauce is here!
It's the perfect thing to use for any hibachi-style meals! It's a form of sweet sauce that goes perfect with just about everything in traditional hibachi-cooked meals.
Ingredients for Homemade Yum Yum Sauce
mayonnaise

– Regular or olive oil mayo both work perfectly for this sauce

ketchup

– Use a naturally sweetened ketchup to avoid a lot of sugar and keep this dish FIX approved. If you are following a Paleo or Whole 30 diet, use a compatible ketchup.

butter – Sub dairy free butter or ghee if you need to
rice or apple cider vinegar – Use whichever vinegar you have in your pantry. Rice is more traditional, but ACV will be just as yummy.
paprika

– This seasoning provides the pretty orange color of the sauce, and a perfect amount of flavor.

garlic powder

– Just a little bit of this seasoning perfectly compliments the paprika.

salt

– A pinch is all you need to emphasize the other flavors in this sauce.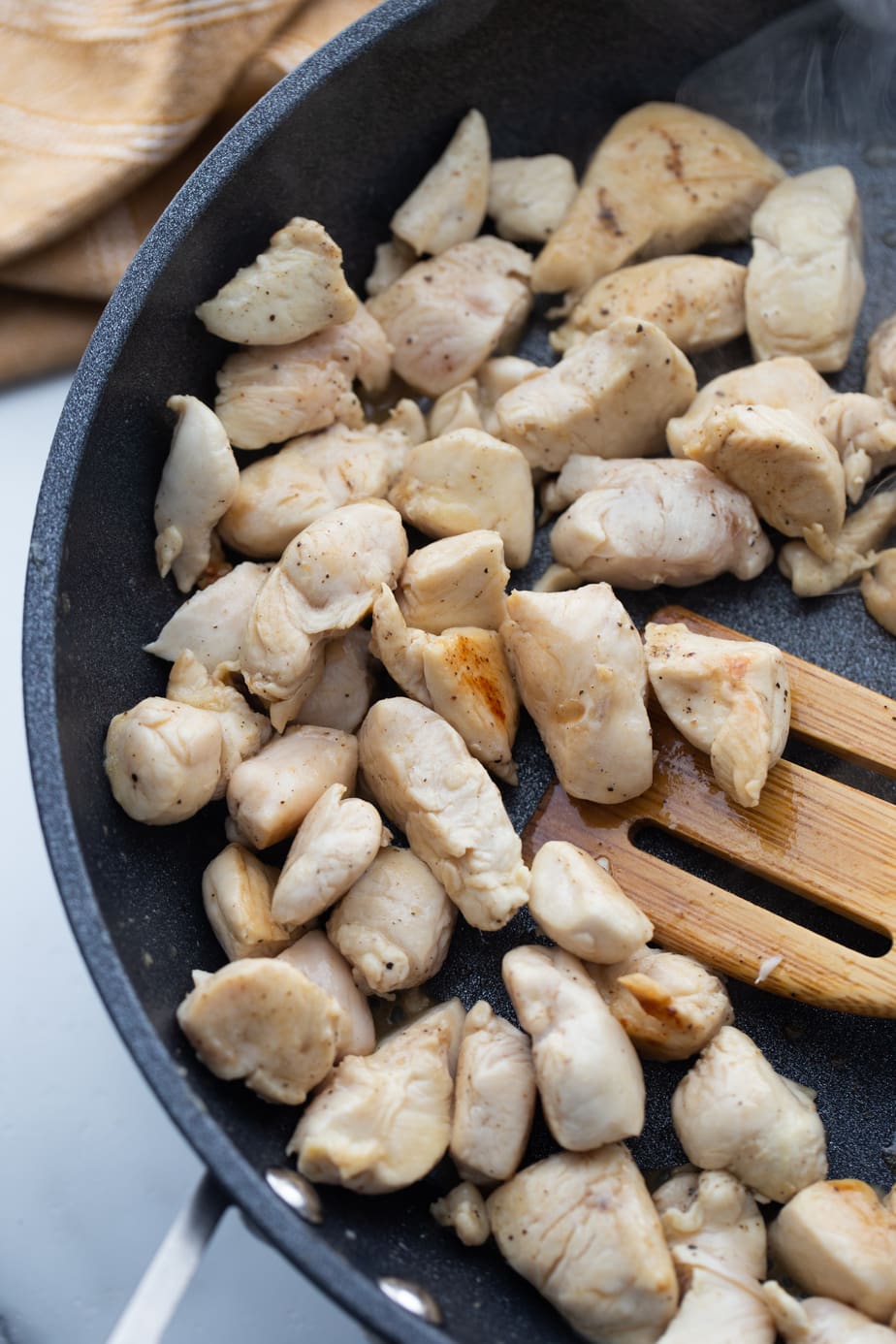 Instructions
1. Heat a heavy-duty skillet or wok over medium-high heat and add the olive oil and sesame oil.
2. Add the diced chicken pieces and lemon juice to the hot skillet, and cook until no longer pink and the internal chicken temperature reaches 165 degrees,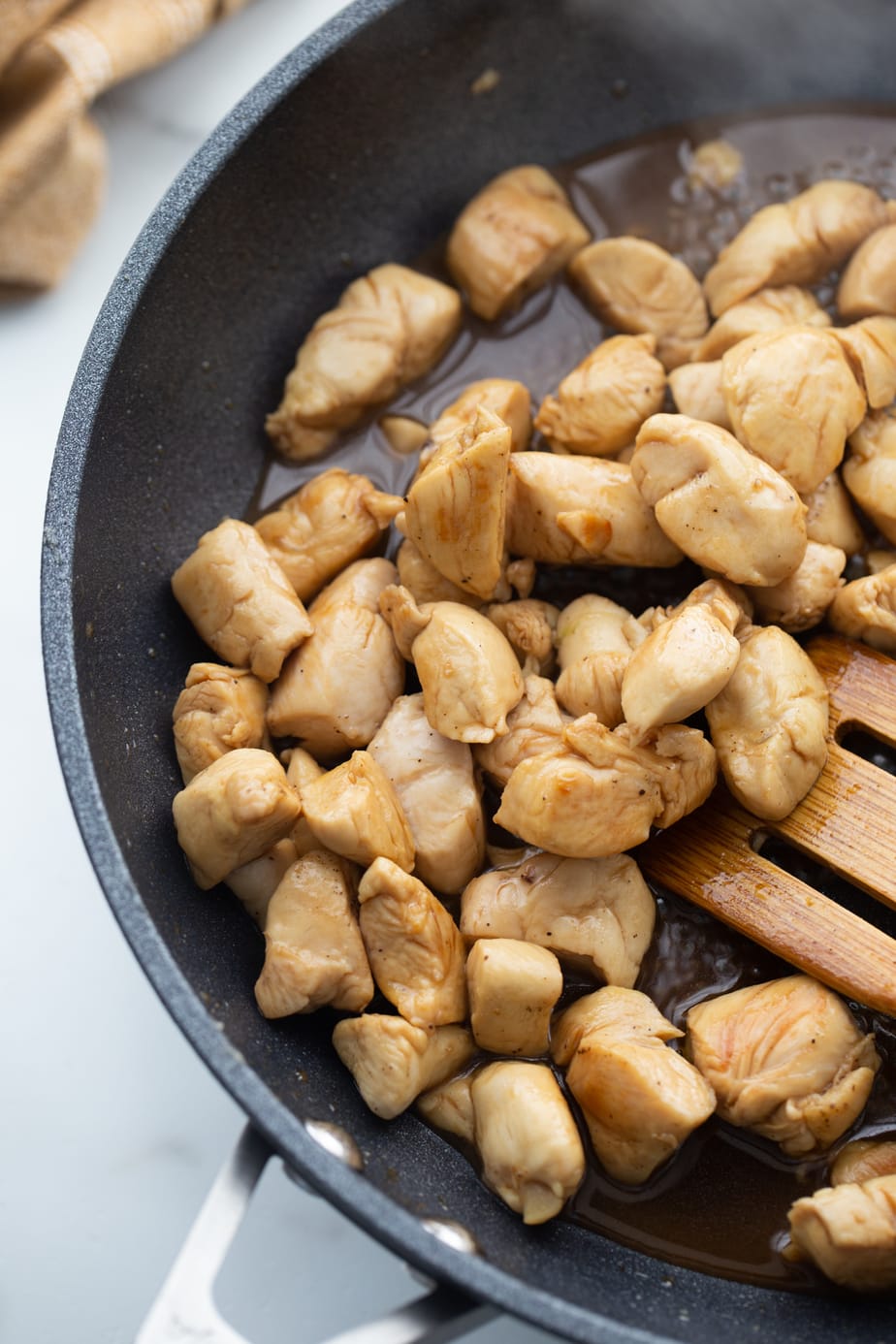 3. In the last minute of cook time, add the tablespoon of butter and coconut aminos to the chicken.
4. Allow the sauce to thicken, then remove the chicken and sauce from the pan. Set the chicken and sauce aside.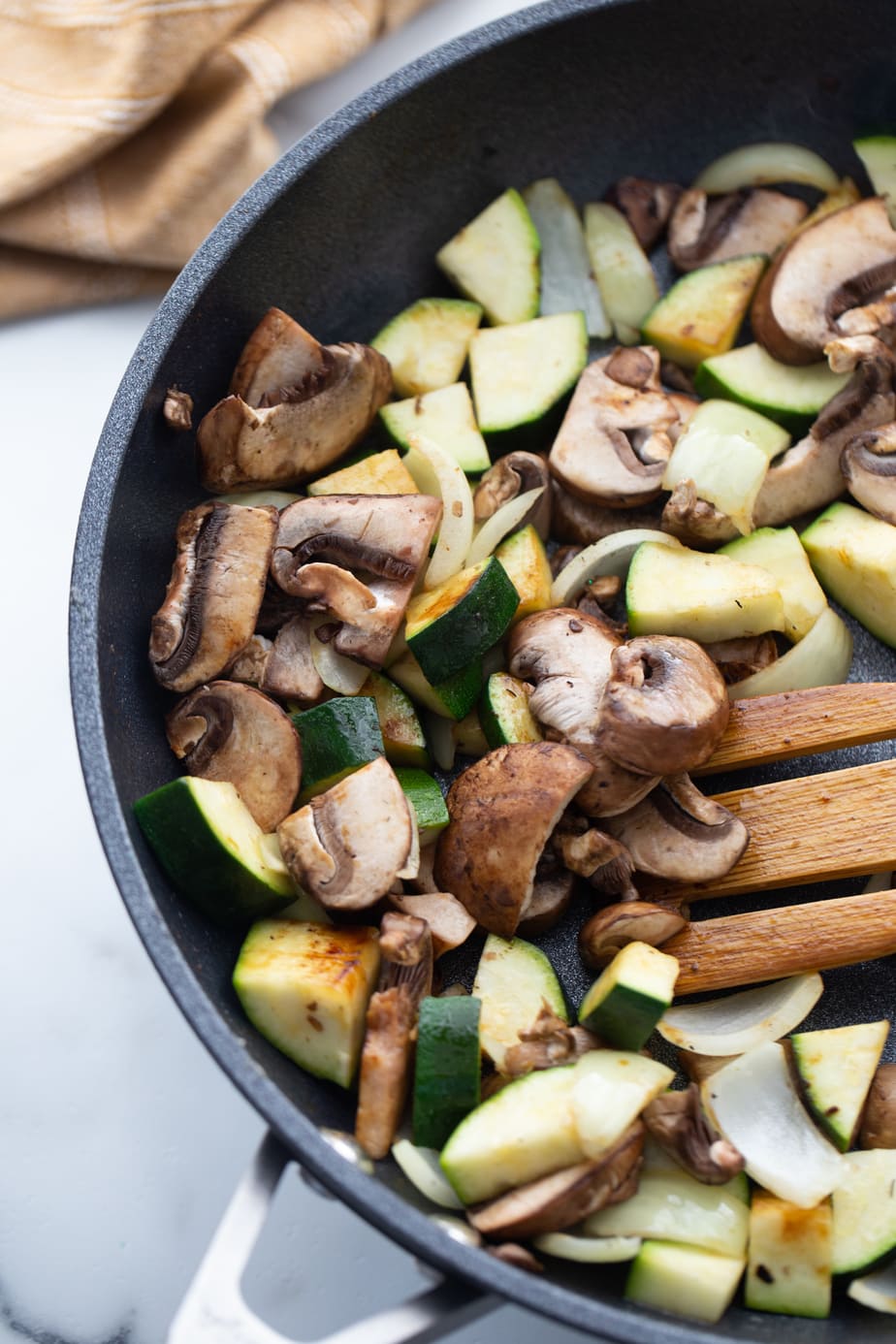 5. Add the remaining olive oil and sesame oil to the skillet over medium high heat.
6. Sprinkle the vegetables with salt and pepper.
7. Cook the veggies until they're caramelized and tender.
8. Add the coconut aminos and garlic in the last minute or so of cook time.
9. Add the cooked chicken chicken back into the skillet with the vegetables and give it a good stir.
10. Serve with the yum yum sauce, and enjoy!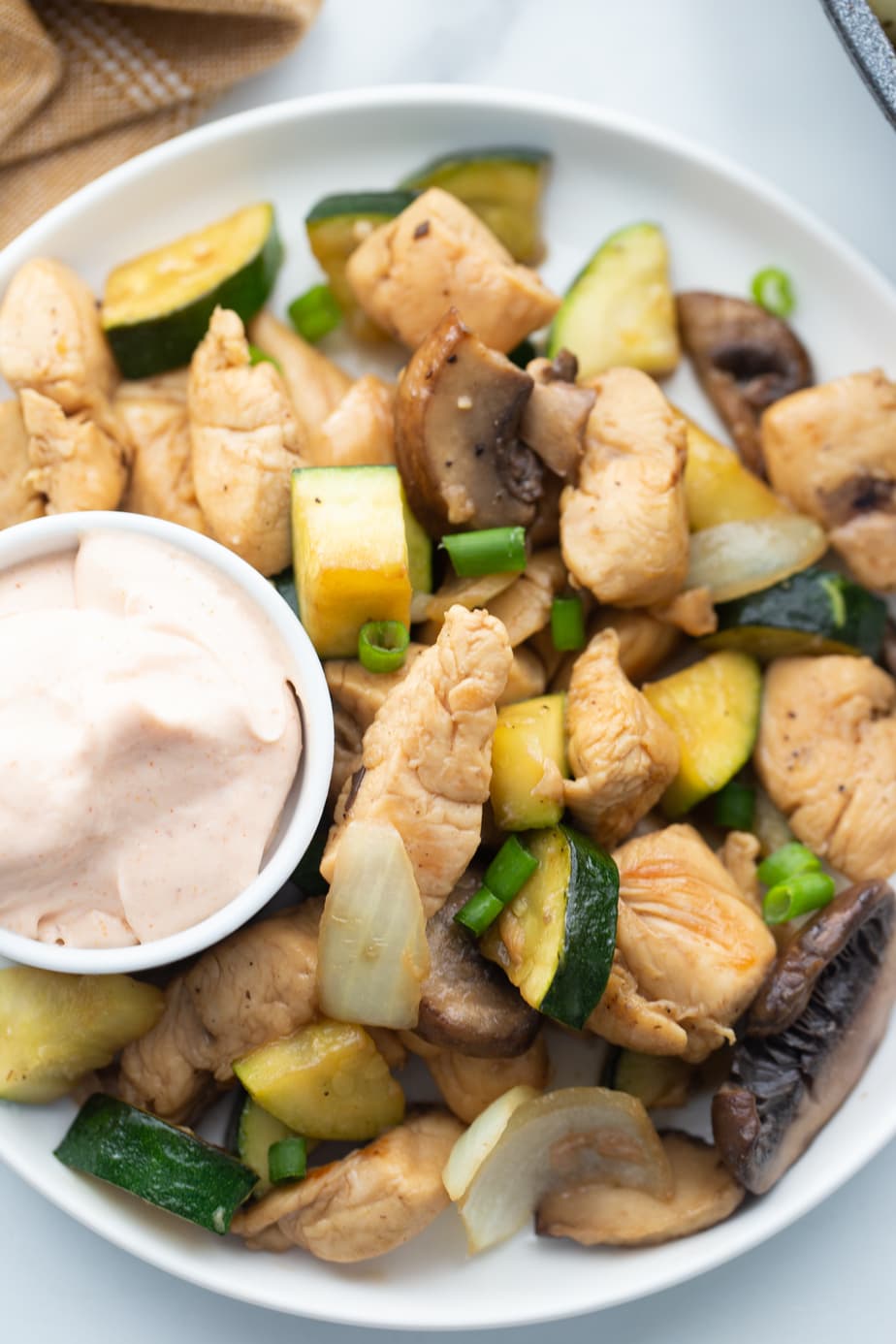 Hibachi Chicken Dinner Tips
Since most of us don't have a big hibachi grill at our house, we opted to make this on the stovetop in a non-stick skillet. But, if you have a Blackstone or a big hot griddle, you can make this dish on that and see how easy it is to make.You can also use a large skillet or a cast iron skillet.
If you like teriyaki chicken, you'll love this Japanese style hibachi chicken. We like to eat the veggies with the chicken but some prefer to eat in courses, similar to how you do at your favorite hibachi restaurant.
You can also make some delicious hibachi steak with some coconut aminos, which is a healthy way to make this popular dish, instead of the sodium packed soy sauce.
When cutting up your chicken, make sure to cut them into bite-sized pieces.
If you're looking for a way to enjoy some hibachi without breaking the bank or breaking your meal plan allowances, then you must make this easy hibachi chicken recipe!
Recipe FAQs
How long will hibachi chicken and veggie stay fresh?
In an airtight container in the refrigerator, this delicious meal will stay fresh for up to 4 days. When you're ready to enjoy your leftovers, I recommend reheating the food on the skillet for just a few minutes.  I love this for  lunches but honestly, we rarely have leftovers.   But it would be perfect for meal prep if you hide it from your family, lol!
Can I make this meal spicy?
If you want to kick things up a notch by adding some extra heat, try adding sriracha or crushed red pepper to the sauce mixture! You could also drizzle a hot sauce like Sriracha on top of your meal with the yum yum sauce.
I don't have coconut aminos. Can I swap soy sauce?
Yes! Keep in mind, soy sauce isn't gluten free, so a better swap would be tamari or gluten free soy sauce if you are GF. Also, look for low sodium sauces whenever possible.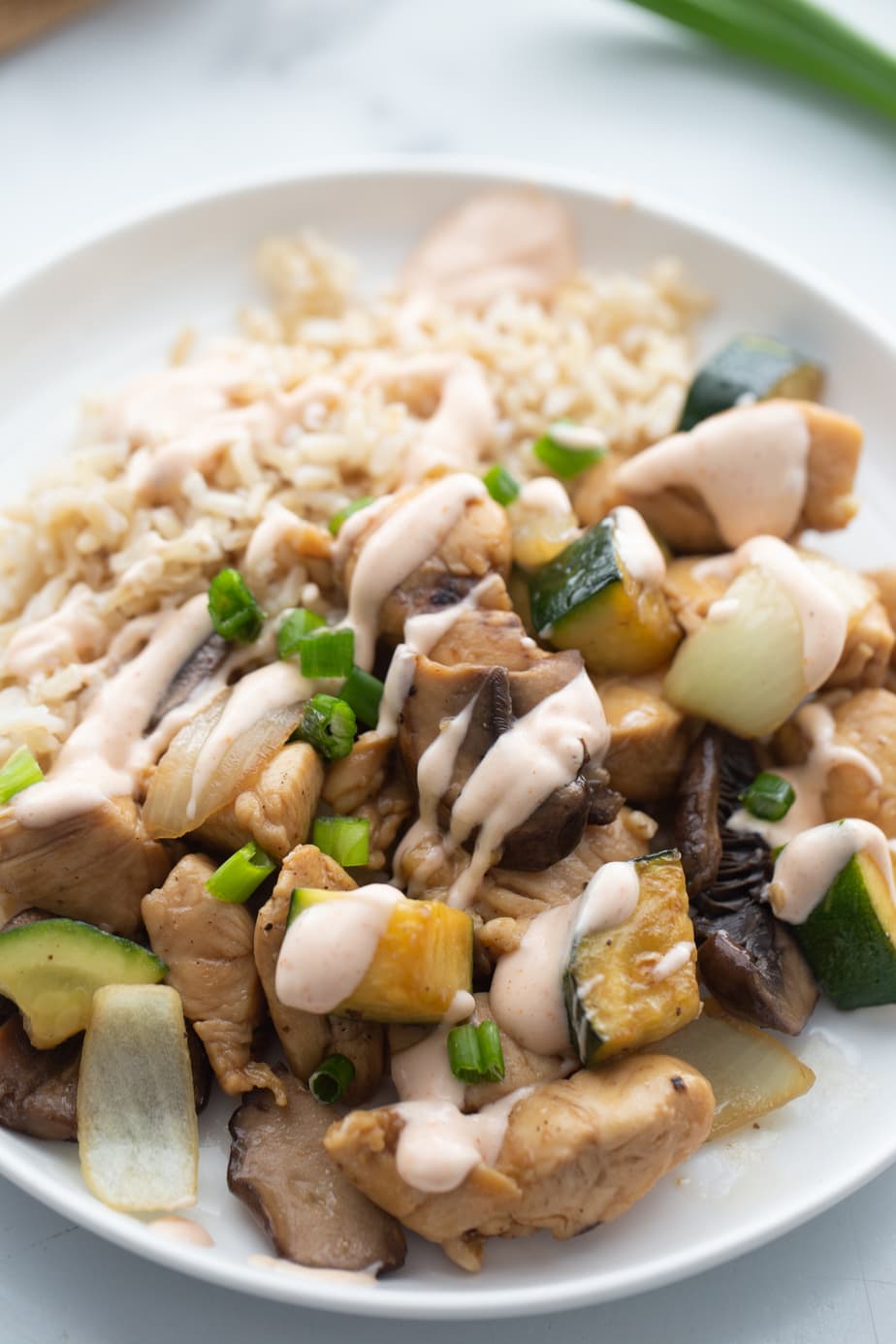 What to serve with hibachi
I love making Brown Rice or Quinoa with this recipe, but it would also be delish with some homemade fried rice.
For a low carb version, serve with some Cauliflower Rice.
If you don't need a low carb version, you can serve this chicken with white rice, hibachi rice, or even gluten free or whole wheat noodles.
Storage and Freezing Tips
This recipe works great for meal prep. Simply store your hibachi chicken and veggies in your refrigerator for 3-5 days.
You can also place it in a ziplock bag and freeze for up to three months. To thaw, place chicken and veggies in the refrigerator overnight, then heat in a well oiled pan over low-medium heat.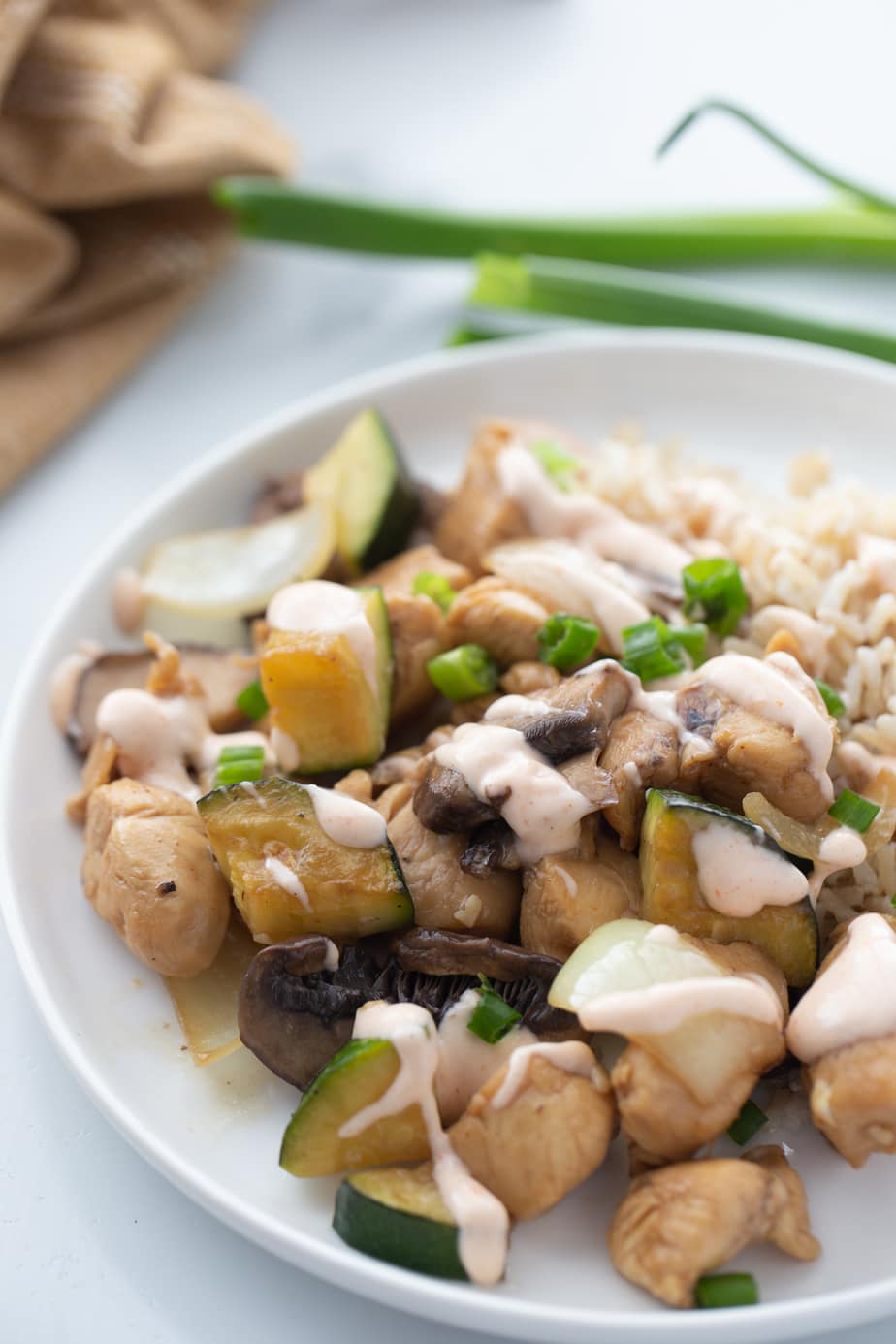 Looking for more healthy copycat recipes? Check these out:
Healthy Chicken Lettuce Wraps | PF Changs Copy Cat Lettuce Wraps
Healthy Chicken Ramen Noodle Stir Fry
Instant Pot Ramen Noodles | Gluten Free Ramen Noodles
Instant Pot Chicken and Broccoli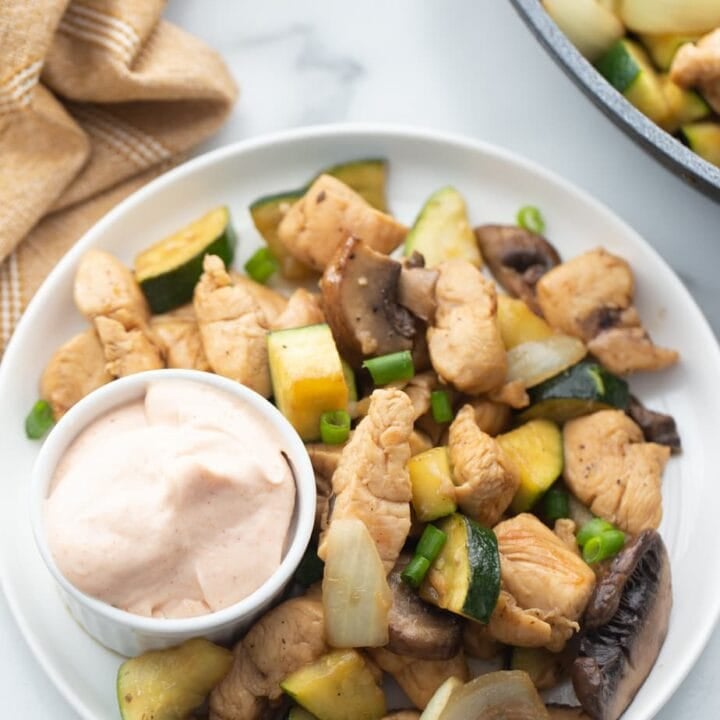 Hibachi Chicken
Hibachi Chicken is a flavorful, easy to make dinner that my whole family loves.  Inspired by my daughter's favorite restaurant dinner, this homemade Hibachi Chicken recipe is much healthier and works perfectly for the 21 Day Fix and WW.  There's even a homemade Yum Yum sauce recipe included for dipping!
Ingredients
For the Chicken and Veggies
1 1/2

lb

pound Chicken tenderloins or breasts

(I love Butcher Box Chicken) diced and seasoned with salt and pepper

2

tsp

olive oil

divided use

1

tsp

sesame oil

divided use

2

tablespoon

butter

divided use

1/4

large onion or ½ small

cut into thick slices

2

cups

(8oz) baby bella mushrooms

sliced

2

cups

(about 1 large or 2 small) zucchini

chopped

2

cloves

garlic

minced

3 ½

tablespoon

coconut aminos

divided use

1

tsp

lemon juice

optional

salt

pepper
Yum Yum Sauce
1/2

cup

Mayo

4

tsp

naturally sweetened ketchup

1

tsp

rice or apple cider vinegar

1

tsp

butter

melted

1/2 – 1

tsp

paprika

1/2- 1

tsp

garlic powder

sprinkle of salt
Instructions
 Prep your yum yum sauce by mixing all the ingredients together, then placing your sauce in the fridge to chill and allow the flavors to meld together.  

Be sure you have your chicken and veggies diced before starting as this meal cooks quickly! 

Heat a pan or wok over medium high heat and add 1 tsp of olive oil, and ½ tsp of sesame oil. Add in diced chicken and lemon juice (if you have it) and cook until no longer pink. 

In the last minute or so of cook time, add in 1 Tbsp of butter and 3 Tbsp of coconut aminos.  Allow sauce to thicken a bit, then remove chicken and sauce from the pan and set aside to keep warm.  

In the same pan, add in the remaining 1 tsp of olive oil and ½ teaspoon of sesame oil and set to medium high heat. Sprinkle veggies with salt and pepper.  Cook until they are caramelized and tender, adding in garlic, 1 Tbsp butter and ½ tsp coconut aminos for the last minute of cooktime.  

You can add the chicken into your veggies at this point, or if you have picky eaters, then serve the chicken and veggies separate.  

Serve with Yum Yum sauce or your favorite dipping sauce. 
Notes
Recipe makes 4 servings
21 Day Fix: 1 RED, 1 GREEN, 2 TSP, 1 ORANGE (per serving) [Orange is the yum yum sauce. If you don't use it, don't count the orange container]
WW: Chicken – 5 points (per serving); Yum yum sauce – 7 points (per serving) [Calculated using butter]
Nutrition
Serving:
0.25
of pan + 2 T yum yum sauce
Calories:
515
kcal
Carbohydrates:
9
g
Protein:
39
g
Fat:
35
g
Saturated Fat:
9
g
Polyunsaturated Fat:
14
g
Monounsaturated Fat:
10
g
Cholesterol:
138
mg
Sodium:
734
mg
Potassium:
1009
mg
Fiber:
1
g
Sugar:
3
g
Vitamin A:
769
IU
Vitamin C:
15
mg
Calcium:
36
mg
Iron:
1
mg