Have you been thinking about an Air Fryer, but you don't want to give up more storage space in your kitchen?  Do you already have a Pressure Cooker?  The Mealthy Crisp Lid might be the perfect solution to turn your current Pressure Cooker into an Air Fryer!  Read this Mealthy CrispLid review to see if this new product is right for you!   This post contains affiliate links for products I'm obsessed with. 
You guys…I'm pretty freaking excited about this Mealthy CrispLid that I'm reviewing today.  I mean…it's kinda genius.
What is the Mealthy CrispLid
If you follow my blog, you know that I am obsessed with my Instant Pots and pressure cookers in general.  You also know that lately I have also been loving my AirFryer.
I know that many of you have been on the fence about purchasing an Air Fryer because of space and cost…I get it.  Especially since so many of you are already storing a pressure cooker/ Instant Pot in your kitchen.
That's why this Mealthy CrispLid is so super amazing…it's this special lid that turns your 6 or 8 quart pressure cooker into an Air Fryer.  Like magic.  Total Game Changer!
I heard about this CrispLid from another blogger, and I was so pumped when Mealthy sent me one to review.  I've spent the past few weeks testing different recipes and how they perform in both my stand alone air fryer and using the Mealthy CrispLid, and sharing results on social.
I tested:
plain chicken
bacon
salmon
frozen veggies
And guys…it really works!  Everything I tested came out similarly in the Mealthy CrispLid and my Air Fryer!  So good!!!
Looking for more Mealthy CrispLid recipes?  Check out this post: Easy Mealthy CrispLid Recipes and Ninja Foodi Recipes
Order your Mealthy Crisp lid here! 
Does the Mealthy Crisp Lid work with my Instant Pot or Pressure Cooker?
Yes!  That's what's so great about this concept. Mealthy actually makes their own Pressure Cooker, but the Mealthy CrispLid will work with any brand 6 or 8 quart pressure cooker, as long as you have a stainless steel inner liner.  The manual states to NEVER use an aluminum or ceramic coasted pot with your CrispLid. 
Watch me unbox my Mealthy Crisplid!
What Comes with the Mealthy CrispLid?
I was really impressed with all you get with your CrispLid!  It comes with:
A Crisp Lid (duh)
A tall, 3 inch trivet (to get your food close to the heating element on the lid)
Air frying/broiling basket
Stainless steel tongs (for removing the basket and/or flipping food)
A silicone trivet (for placing the CrispLid on when it's hot)
User Manual and Recipe Booklet
How do I get a Mealthy CrispLid?
CrispLids are currently available exclusively through affiliates (that's me!) until late July when it will be on Amazon.
Order your Mealthy Crisp lid here! 
Mealthy CrispLids will be available at the end of the summer in Canada!
What I like about the Mealthy CrispLid
I was shocked at how much I loved using the Mealthy CrispLid, especially since I use my regular Air Fryer all the time and have gotten pretty used to it!  Here are some of the highlights of the Lid for me:
Size:  The CrispLid is a significant space saver over a traditional air fryer, which tend to be very large.  Even though my Air Fryer is one of the smaller models, it sits on my counter because it doesn't fit in any of my cabinets.  The CrispLid is smaller in diameter than my Instant Pot 6 quart lid and only just a bit taller, making it very easy to store and pull out when you need it.
Temperature: Most Air Fryers only go up to 400 degrees (mine goes to 390) but the Crisp Lid goes to 500 which allows you to broil meals without turning on your oven!
Cost:  At only $49.95, the CrispLid is quite a bit cheaper than most stand alone Air Fryers which are usually closer to $75 and up.
Versatility:  Just by switching up your lid, you can go from pressure cooking to air frying or broiling, which is pretty awesome– think crispy cheesy instant pot baked ziti or crispy pork carnitas.  Less dishes and way quicker than using your oven! Or, you can use your pressure cooker and Crisp Lid to simply air fry a meal without ever turning on your Instant Pot.  This versatility is similar to the Ninja Foodi
, but why buy another pot when you can just add a lid?
Efficiency:  Anything that keeps me from turning on the oven is amazing in my book…but I also love how this lid works with something I already have…makes the minimalist in me very happy.
Glass lid: I LOVE that you can see your food cooking through the glass lid – this is not common at all with traditional AirFryers and one of my favorite features of the Mealthy!
Easy to Clean:  The mesh basket on the CrispLid is actually easier to clean than the one on my Phillips AirFryer. It's also dishwasher safe, so yay!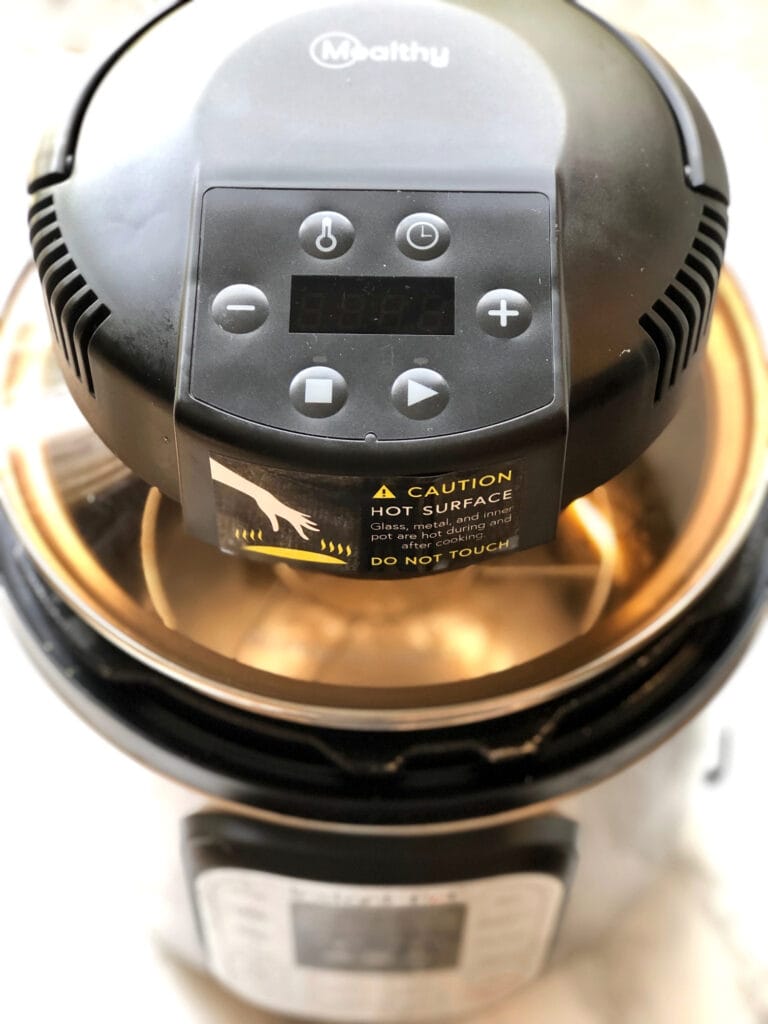 What I wish was better about the Mealthy CrispLid
Size (cook basket): This isn't really a CrispLid problem, it's an Air Fryer problem.  The basket of the CrispLid is slightly larger than my 2.5 quart Phillips Air Fryer basket, but it is still on the smaller side. If you are cooking for a large family, you will have to batch cook certain recipes.  This is very common for AirFryers, but you might do better with a larger capacity AirFryer.  Just know it will also take up a lot of space in your kitchen, unlike the CrispLid.  Need an AirFryer recommendation?  Check out this article: Which Air Fryer is right for you?
That being said, you can still crisp up the skin on a whole chicken and crisp up a pork tenderloin or carnitas which I definitely can't do with my AirFryer.
Flip vs Shake: I have learned with the CrispLid, you usually need to flip your food during cooking for maximum crispness. I sometimes have to do that with my AirFryer, as well, but not always.  With an AirFyer, you can shake up the food in the basket.  I wouldn't recommend that with the CrispLid, as you can end up burning yourself on the heating element.  Not a big deal, but worth mentioning.
Not recommended for use by kids:  My daughter is 9 and taking an interest in cooking (yay!), and while she can operate my AirFryer with ease, I wouldn't allow her to use the CrispLid.  The CrispLid is very safe, but it's also really important to pay attention while cooking and it's also important to place the lid on the silicone trivet that's included after cook time so you don't burn your counter or island.  I feel 100% comfortable using it and using it around my kids, but my daughter will not be operating this lid by herself.
Temperature setting: I know I also included temperature in the like section of the review, but one part of the temperature function that I wish was different- only being able to adjust the temp in 25 degree increments.  With my AirFryer I can set the temperature every ten degrees.  Again, not a huge problem, but worth mentioning the difference!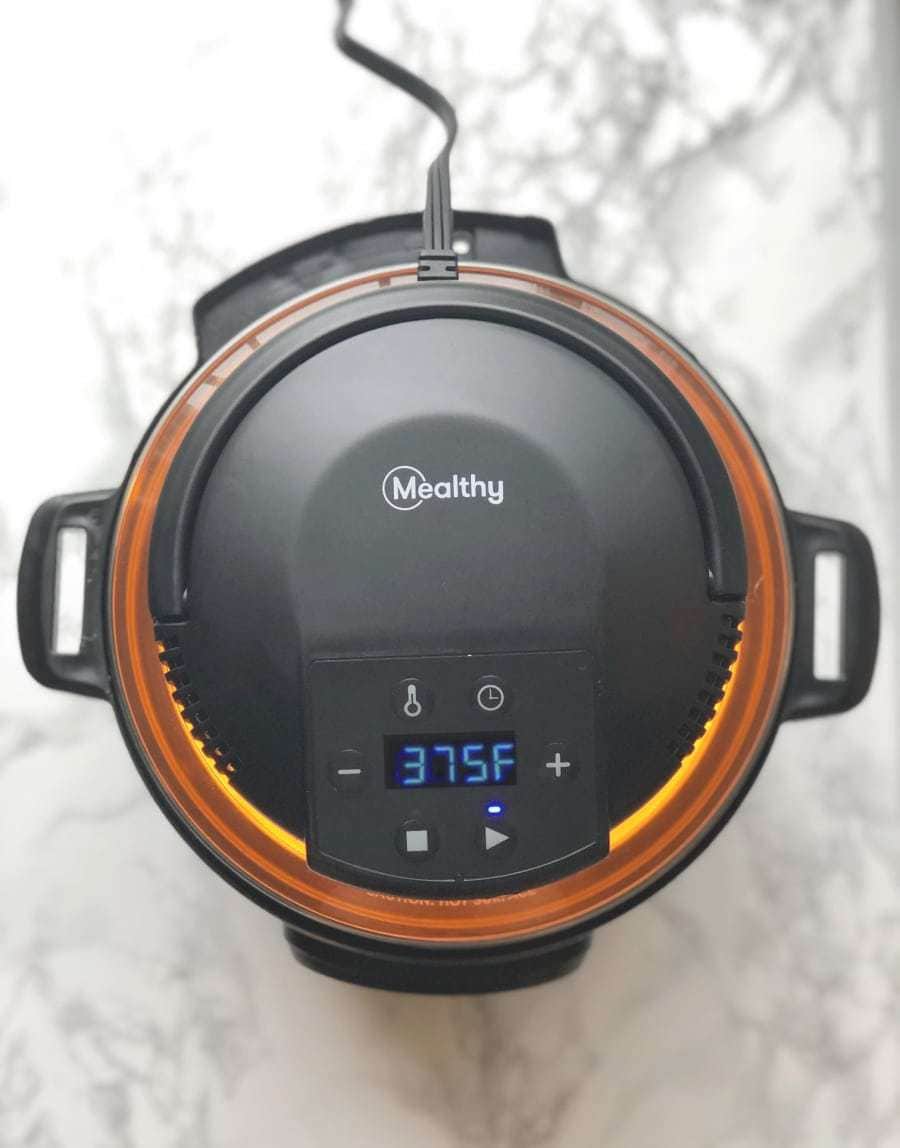 Is the Mealthy CrispLid right for you?
I 100% recommend the Mealthy CrispLid to my readers, but especially if:
you already have a 6 or 8 quart pressure cooker | Instant Pot
space is an issue in your kitchen
you are looking to spend less money and still get a good AirFryer
you want to broil or air fry your favorite pressure cooker| Instant Pot recipes with ease and without dirtying another dish/turning on your oven
I would not recommend the Mealthy CrispLid if:
you don't have a 6 or 8 quart pressure cooker
you want to cook large batches of food at one time
If this is you, I would recommend looking at the Ninja Foodi which comes in 6.5 quart or 8 quart or purchasing a Mealthy Multi Pot AND a Crisp Lid.  Or you can check out my post, Which Air Fryer Should You Buy?, for more recommended AirFryer models!
I hope this helped!  If you have any questions, just comment below or ask me on social!!!
Disclosure: I was gifted a Mealthy CrispLid in exchange for my honest review, which is what you have read here.  These opinions are 100% my own and I wouldn't recommend a product to my readers that I wouldn't use myself! 
Video Review/Cooking Demo with my Mealthy CrispLid!