Are you thinking about purchasing an Air fryer, but overwhelmed by all the choices out there?  Read on to find out which Air Fryer is right for you and your family!  This post contains affiliate links for products I'm obsessed with.

I recently bought an air fryer.  Finally.
I was on the fence about getting one for so long, but I bought one on a whim during an amazon sale and I really freaking love it.  I do wish I would have researched models a little more before I committed to one, so that's why I am here to help you chose the right air fryer for you!  But first, some Air Fryer Basics!
Air Fryer Basics
Do I really need an Air Fryer?
I told myself over and over that I didn't need another kitchen appliance…especially an Air Fryer because, well, I have an oven.  So maybe you are in the same boat.
But since actually pulling the trigger and buying one, I am absolutely hooked and I feel that every home cook can benefit from an Air Fryer in their kitchen.  My favorite thing about the air fryer isn't even how crispy it makes everything, or how little oil you use, it's how FAST it cooks!  It preheats in just minutes and cooks most things about half the time!
What kind of food can I make in an Air Fryer?
Seriously, anything from meat to veggies to desserts.  I'm testing all sorts of recipes, but we have made eggs, bacon, french toast sticks, steak, chicken, shrimp, potatoes, salmon, taquitos, veggies, even FROZEN veggies in the Airfryer
.  And everything has come out perfect!
Which Air Fryer Should I Buy?  What Air Fryer Model is right for me?
When thinking about which air fryer to buy, you want to think about:
 Quart Size – the actually size of the cooking basket
How much space you have to store it
Your budget
First, all air fryers are large appliances, but the actual cooking basket size varies from model to model.  If you are cooking for yourself or just one other person, a 3 quart is just fine.  But note – this is still a large machine (I call mine the space ship) and so you will need enough space to store it!
If you are cooking for more than a couple people, you will need to cook things in batches or get a bigger quart size fryer – I suggest a 5 quart or higher.
My rule of thumb is this: get the biggest quart size in your budget with the best reviews.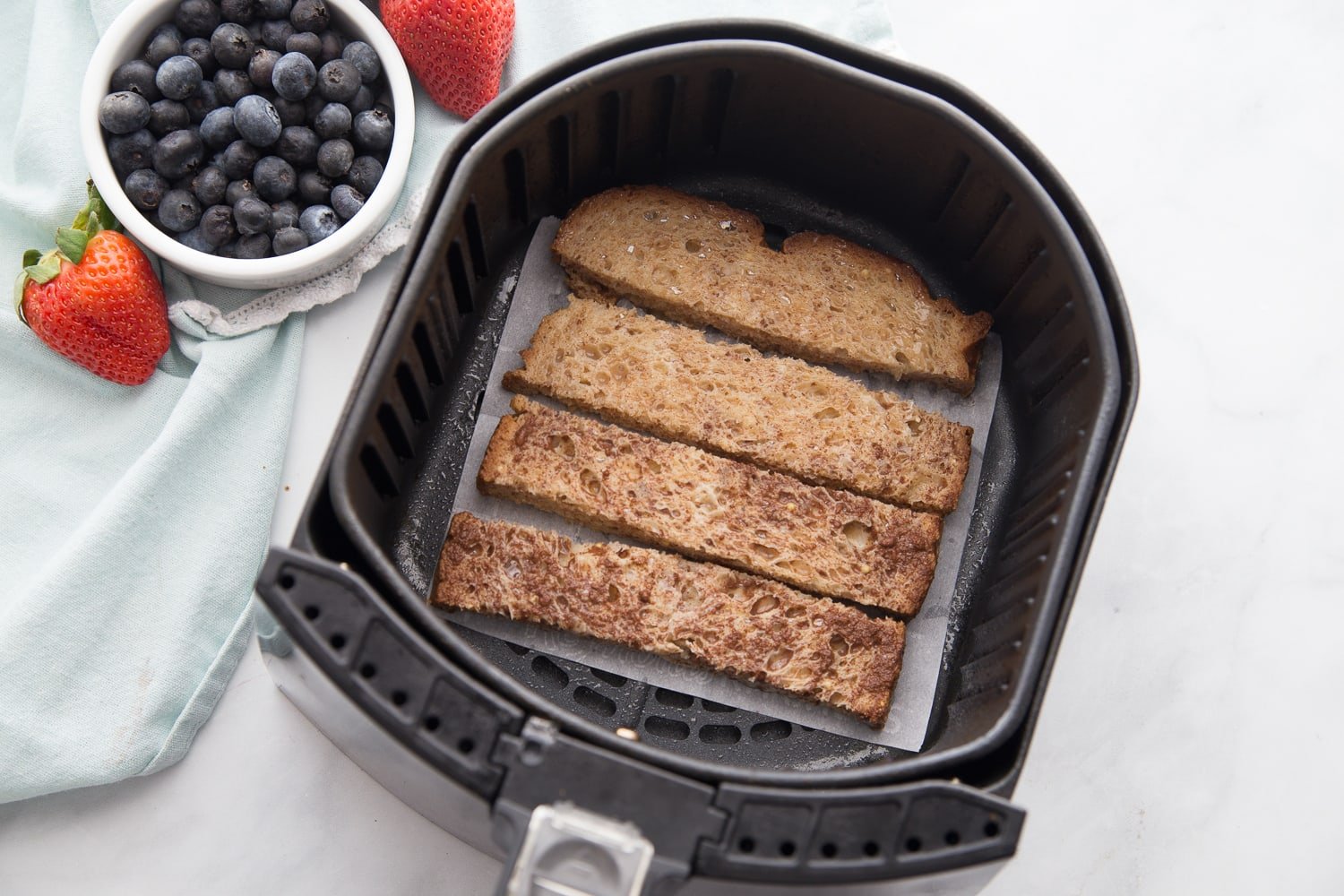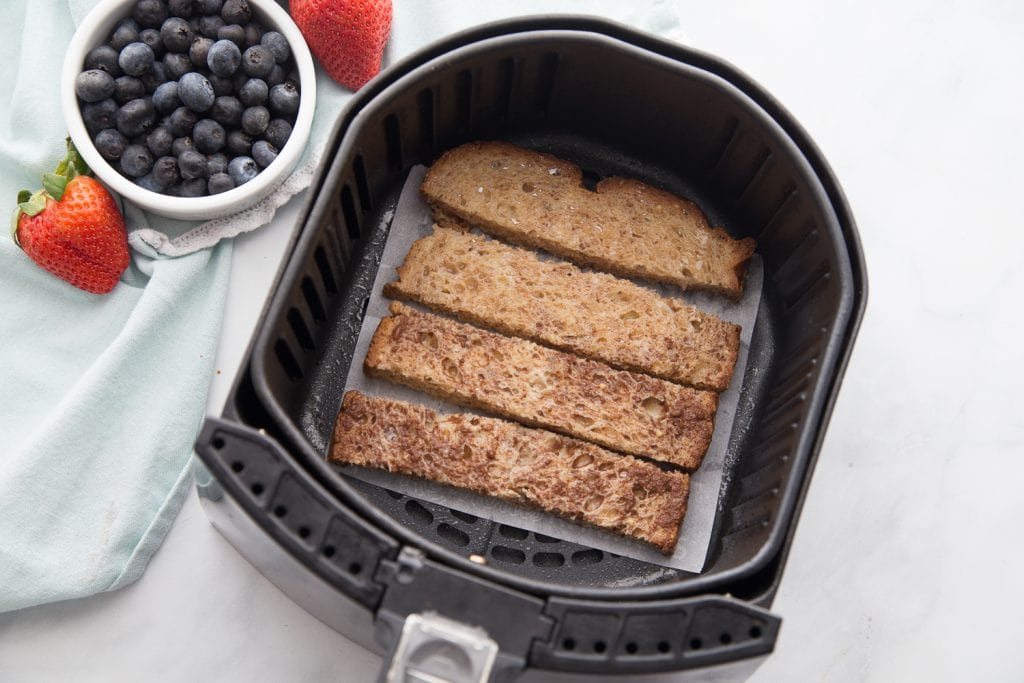 The Best Air Fryers
Phillips Brand 
I have this 3 quart Phillips Airfryer
 and I do love the way it cooks, but now that I own one, I wish it was bigger for my family of four. This model isn't ideal if you are cooking for a larger family, but perfect if you are cooking for one or two!
If I could do it again, I would purchase a larger model.  This Philips Avance XXL AirFryer is like mine, but with a bigger quart size.  The price tag is a bit steep, so I have asked my readers and researched other brands to share with you!
More Budget Friendly Air Fryers
Power Air Fryer XL  – This popular air fryer is larger at over 5 quarts, but this brand actually has a six quart version, as well!  Lots of my readers swear by this brand.
NuWave Brio 6 Quart Digital Air Fryer
 – I love the accessories this one comes with.  And this brand has a 10 quart option!
Secura Electric Hot Air Fryers Extra Large Capacity 5.2 Liter / 5.5 Quart – my blogging bestie Stephanie, from The Foodie and The Fix, has this one and loves it for her family of four.
GoWISE USA 5.8-QT– This is an awesome price point for a nice sized air fryer.
Skinnytaste by Vremi Air Fryer – 5.8 QT
 -Gina from the blog Skinnytaste is my hero and she has her own Air Fryer available for preorder.  I trust her brand completely, so if you can wait it out, this might be a good option!
Toaster Oven Air Fryer
Cuisinart TOA-60 Air Fryer Toaster Oven
 – if you need both a toaster oven and an Air Fryer, this is the perfect solution for you! It will take up a little more counter space, but it will also do double the work for you!
Instant Pot | Air Fryer Combo
Ninja Foodi TenderCrisp Multi-Cooker and Fryer All-in-One (OP305)
 – This is the kitchen appliance of my dreams!  It's BOTH a pressure cooker and also an air fryer (amongst other things!).  If I didn't have three instant pots already, I would totally get one.
Mealthy CrispLid – Click the link to pre-order this product that converts a 6 or 8 quart pressure cooker (Instant Pot) into an air fryer.  Broil, crisp, and air fry directly in the steel inner liner of the pot.  Stay tuned for my personal review of the product!
So if you get an Air Fryer, reach out and let me know what you decided on!  And check back here for more Healthy Air Fryer Recipes!