Looking for the BEST Healthy Air Fryer Recipes for the 21 Day Fix and WW? Enjoy this list of Breakfasts, Snacks/Sides, and Mains with everything from French Toast Sticks to Squash Fries to Mini Crab Cakes, all made in your favorite Air Fryer. This post contains affiliate links for products I'm obsessed with.
If you've been anywhere lately you've probably heard someone raving about their newest kitchen appliance obsession: The Air Fryer.
Or maybe you saw a commercial for one. Or you saw a great deal at your favorite wholesale club or Walmart.
I'm here to tell you- it's worth it!
So what is an Air Fryer?
It's an appliance you, too, will be obsessed with in no time. My top 3 reasons for loving it are:
It makes everything super crispy
You use very little oil
It cooks SO FAST! It preheats in just minutes and cooks most things about half the time!
Which Air Fryer should I buy?
There are so many choices of Air Fryers out there, it can be confusing. If you are on the fence about getting an Air Fryer, read Which Air Fryer Should You Buy? | Which Air Fryer is Right for You? for some pointers.
Not only are there a ton of makes and models of Air Fryers, but now there are also combination appliances with tons of functions- the Ninja Foodi, the Mealthy Crisp Lid, or the very new IP air fryer lid which also turns your Instant Pot into an Air Fryer.
What can I make in an Air Fryer?
Seriously, anything from breakfast to meat to veggies. I have new Air Fryer recipes coming out all the time, but we have made eggs, bacon, french toast sticks, steak, crabcakes, chicken, shrimp, potatoes, salmon, taquitos, veggies, even FROZEN veggies in the Airfryer
. And everything has come out perfect!
So, I've rounded up my favorite Air Fryer recipes from Confessions, as well as some other amazing bloggers, all in one place to share with you. There are Breakfasts, Sides/Snacks, and Main Courses to try. Let me know which ones end up being your favorites!
Air Fryer Breakfast Recipes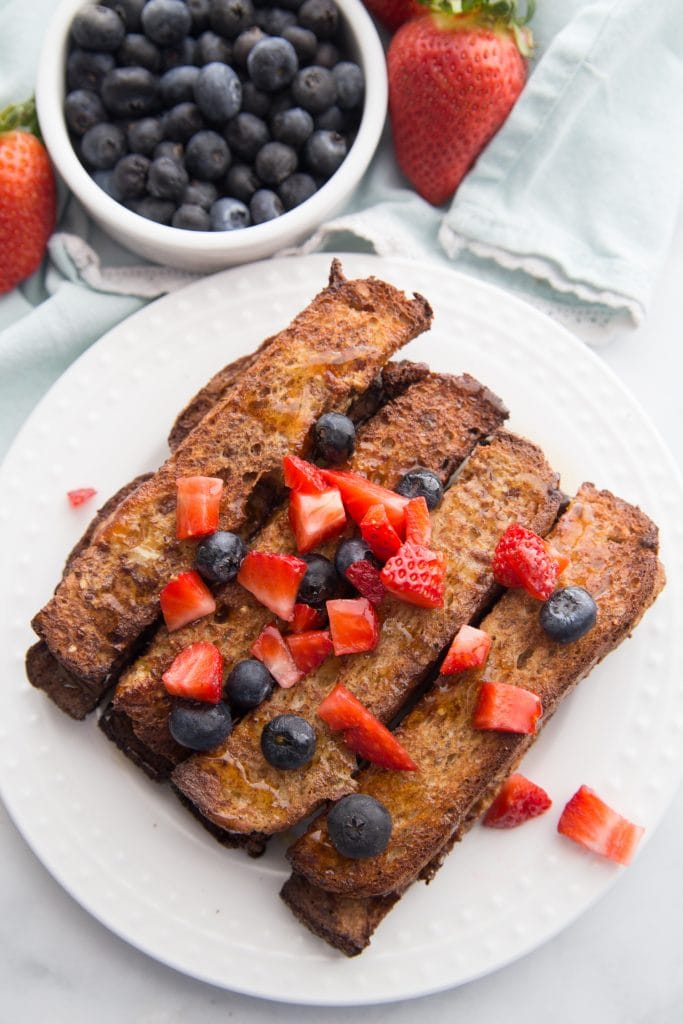 Healthy Air Fryer French Toast Sticks [21 Day Fix | Weight Watchers | Gluten-free | Dairy-free] – These Healthy Air Fryer French Toast Sticks are so quick and easy to make even on your busy mornings. Make a bunch, freeze, and just reheat to make mornings even easier! [21 Day Fix: 1 YELLOW, 1 sweetener tsp per serving | WW: 3 blue plan points per serving]
Air Fryer Hard Boiled Eggs – I love the Air Fryer for making hard boiled eggs! Throw them in, get the kids ready for school , and they are ready in no time! Perfect breakfast or snack. [21 Day Fix: 1 RED per 2 eggs | WW: Green – 2 points, Blue & Purple – ZERO points (per egg)]
Peanut Butter Banana Stuffed Sweet Potatoes [+ How to Bake Sweet Potatoes 5 Ways] – Air fryer sweet potatoes are so deliciously crispy on the outside and this combination is sooo yummy for breakfast (or anytime!) [21 Day Fix: 1 1/2 YELLOW, 1/2 PURPLE, 1 ORANGE, 2 TSP, 1 sweetener tsp per half | WW: 10 blue plan points per half potato]
Air Fryer Breakfast Frittata | Recipes From A Pantry – Air Fryer Breakfast Frittata is a quick, easy and protein-packed dish that comes together in just minutes. [21 Day Fix: (sub almond milk) 1/2 RED, 1/2 GREEN, trace blue per serving | WW: 3 blue plan points per serving]
Air Fryer Hard Boiled Eggs | Recipes From A Pantry – Air Fryer Hard Boiled Eggs are sooooo easy and convenient, you'll wonder why you never tried it before! Perfect for meal prep, healthy snacks, and as a protein-packed breakfast on the go. [21 Day Fix: 1 RED per 2 eggs | WW: Zero blue plan points]
Air Fryer Snacks/Side Recipes
Delicata Squash Fries [Oven | AirFryer ] – My new favorite side dish! These Delicata Squash Fries are highly addicting and a great way to get your veggies in! Perfect for the 21 Day Fix, 2B Mindset, and ZERO Weight Watchers Freestyle points! [21 Day Fix: 1 GREEN per serving | WW: ZERO blue plan points per serving]
Heathy Buffalo Chicken Dip Stuffed Peppers [Instant Pot | Air Fryer | Oven] – Perfectly Portion Controlled, these Healthy Buffalo Chicken Dip Stuffed Peppers are stuffed with your favorite dip…just made healthier! [21 Day Fix: 1/2 RED, 1/2 GREEN, 1/4 blue per serving | WW: One blue plan point per serving]
Mexican Air Fryer Corn on the Cob | Recipes from a Pantry – This Mexican Air Fryer Corn On the Cob is juicy and cooked to tender, charred perfection in just 10 mins. [21 Day Fix:1 YELLOW per serving | WW: Zero blue plan points per serving]
Air Fryer Carrots | Recipe This – Airfryer carrots are perfect for a side for dinner, to go with lunch or just for a snack for your kids.[21 Day Fix: 1/2 GREEN, 1 1/2 TSP per serving | WW: 2 blue plan points per serving]
Shawarma Chickpeas | Pointed Kitchen – These Shawarma Chickpeas are coated with a Shawarma spice blend, full of middle eastern flavors. They are a great zero point snack! [21 Day Fix: 1 YELLOW per 1/2 cup of chickpeas | WW: Zero blue plan points per serving]
Air Fryer Cauliflower – This is an awesome snack, side, or app to make! With three different seasoning options and a yummy cheese sauce, you can quickly make this tasty cauliflower side in minutes. [21 Day Fix: 1 GREEN, 1 BLUE, 1 TSP for 1 cup cauliflower with 1/3 cup cheese sauce | WW: Green, Blue, Purple – ZERO points for cauliflower, 7 points per 1/3 cup cheese sauce]
Air Fryer Zucchini Fries | Recipes from a Pantry- Air Fryer Zucchini Fries are the perfect starter, side dish or snack. Totally crave-worthy, these Parmesan zucchini fries are crisp and golden on the outside, yet moist and tender on the inside. [21 Day Fix: 1 GREEN, 3/4 BLUE per serving | WW: 4 blue plan points per serving]
Air Fryer Mushrooms with Balsamic Vinegar | Courtney's Sweets – Air Fryer Mushrooms with Balsamic Vinegar and Parsley make for a delicious and healthy side dish severed with your favorite main course. [21 Day Fix: 1/2 GREEN, 1/3 TSP per serving | WW: 1 blue plan point per serving]
Garlic Parmesan Air Fryer Carrot Fries | Kinda Healthy Recipes by Mason Woodruff – With half the calories of sweet potatoes, carrots are perfect for low calorie fries. This recipe makes extra crispy air fried carrot fries coated in garlic infused olive oil and a blend of parmesan and (optional) crushed peppers. [21 Day Fix: 1 GREEN, 1/4 BLUE, 1 1/2 TSP per serving | WW: 3 blue plan points]
Air Fryer Cauliflower | A Cedar Spoon – This Air Fryer Cauliflower is easy to make, healthy and involves almost no clean-up. The air fryer helps create crisp cauliflower, taking your favorite cauliflower recipe to the next level. All you need is cauliflower, a small amount of olive oil and your favorite spices! [21 Day Fix: 1 GREEN, 3/4 TSP per serving | WW: 1 blue plan point per serving]
Homemade French Fries {Air Fryer | Oven} – Skip the frozen fries and make healthy AND crispy homemade french fries in your air fryer with just 3 ingredients! [21 Day Fix: 1 YELLOW per serving]
Air Fryer Tortilla Chips | The Foodie and the Fix – Make easy, healthy baked or air fryer tortilla chips in under 10 minutes! Perfect for game day! [21 Day Fix: 1 YELLOW per serving | WW: 3 blue plan points per serving]
Easy Air Fryer Garbanzo Beans | Olive & Artichoke – This incredibly easy air fryer garbanzo beans recipe is the perfect anytime snack. Simply made in about 15 minutes and it's packed full of flavor. These are a healthy snack that is both vegan & gluten free. [21 Day Fix: 1 YELLOW, 1/2 TSP per 1/2 cup of chickpeas | WW: 1 blue plan point per 1/4 of recipe]
Healthy Copycat Philly Crab Fries with Cheese Sauce {Air Fryer | Oven} – These are inspired by one of my favorite Philly area stadium snacks. So perfectly crispy and flavored just right with Old Bay seasoning, these homemade fries and easy to freeze cheese sauce means you can make them in the AF whenever the mood strikes! [21 Day Fix: 1 YELLOW, 1/2 BLUE, 1/2 TSP per serving]
Roasted Butternut Squash in the Air Fryer | Cooking with Carlee – Make delicious roasted butternut squash quickly and easily in your air fryer. It is a great way to get a flavorful veggie side on your dinner plate! [21 Day Fix: 1 GREEN, 1TSP, 1 sweetener TSP per serving | WW: 2 blue plan points per serving | Note: both calculated using olive oil as a sub for vegetable oil, and using optional butter and maple syrup]
Air Fryer Roasted Brussels Sprouts | Courtney's Sweets – These Air Fryer Roasted Brussels Sprouts are tender and crispy. Top with your favorite sauce, or enjoy them with your favorite spices! [21 Day Fix: 1 GREEN, 1/4 TSP per serving | WW: Zero blue plan points per serving]
Air Fryer Main Dish Recipes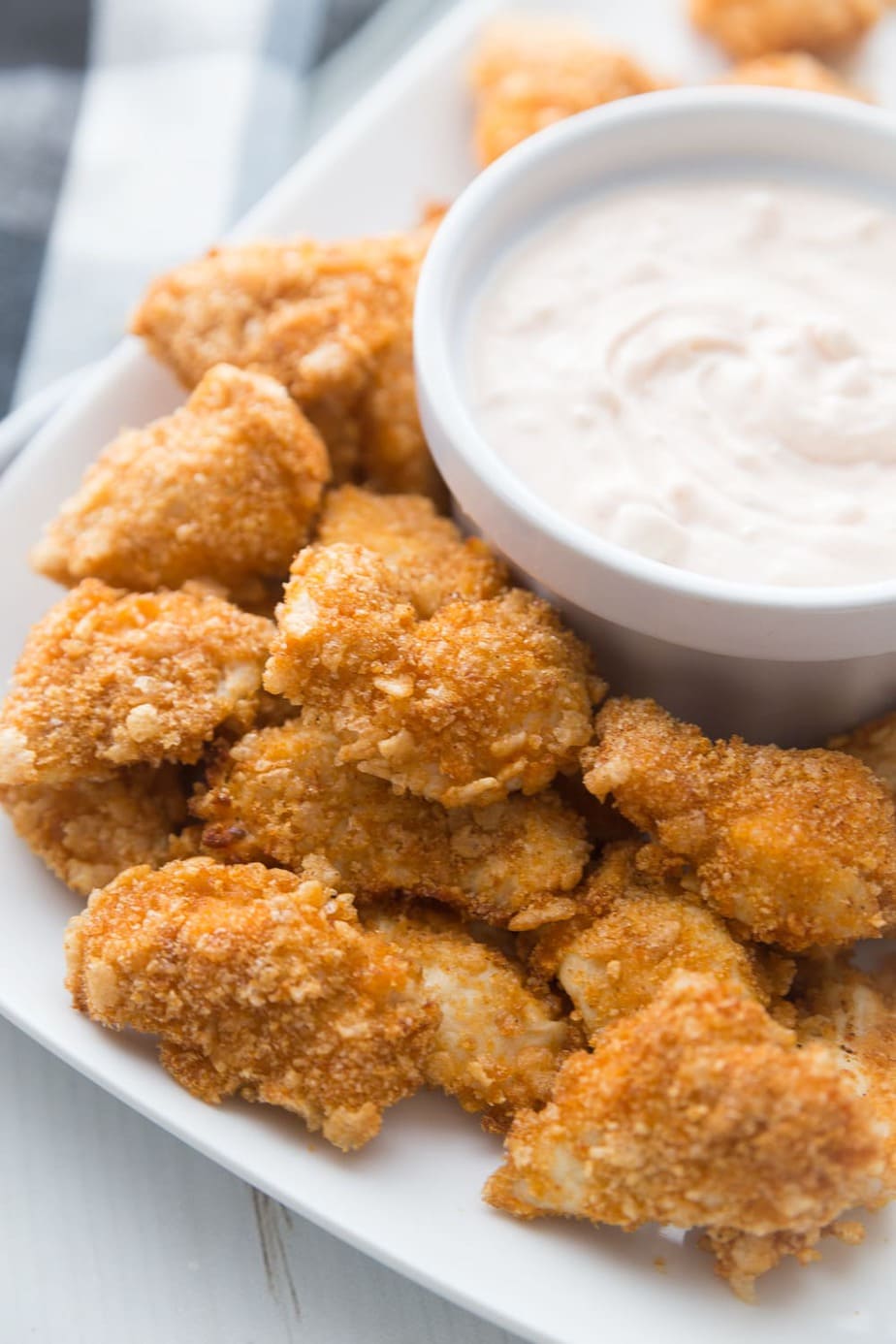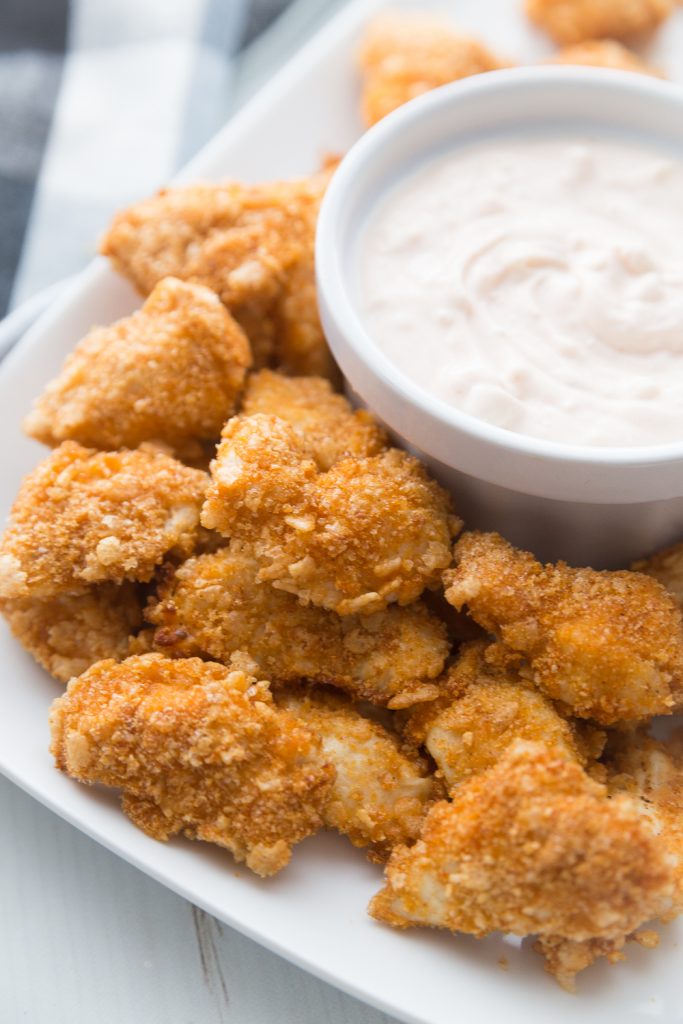 Krispie Airfryer Buffalo Chicken Nuggets | 21 Day Fix Buffalo Chicken Nuggets (Oven Friendly) – These Krispie Airfryer
Buffalo Chicken Nuggets are a new family favorite – enjoy them mildly spiced or kick it up a notch with extra seasoning! [21 Day Fix: 1 YELLOW, 1 RED per serving plus 1/4 RED and 1/4 BLUE for dipping sauce | WW: 3 1/2 blue plan points per serving with dipping sauce]
Asian Chicken Meatballs [21 Day Fix | Gluten-free | Dairy-free] – These Asian Chicken Meatballs are so quick and easy to make. Filled with gingery goodness and topped with a sweet and savory sauce, they are perfect for lunch, dinner, or an app for gameday! [21 Day Fix: 1 RED, 1/2 TSP, 2 sweetener tsp per 4 meatballs | WW: 6 blue plan points per serving]
Healthy Buffalo Chicken Taquitos [Instant Pot | Air Fryer] – These quick and easy Healthy Buffalo Chicken Taquitos are the perfect gluten free, 21 Day Fix/WW lunch, dinner, or gameday app! Make them in your oven or in your AirFryer, but definitely make them! [21 Day Fix: Corn tortillas: 1/2 RED, 1 YELLOW, 1/3 BLUE, 1 ORANGE; Flour tortillas: 1 RED, 2 YELLOW, 1/3 BLUE, 1 ORANGE per 2 taquitos | WW: 5 blue plan points per 2 taquitos]
Healthy Chicken Parmesan | The Foodie and The Fix – This Healthy Chicken Parmesan is so flavorful – crispy on the outside and perfectly juicy and tender on the inside! It's a crazy-delicious, kid-friendly dinner too! [21 Day Fix: 1 Red, 1/3 Yellow, 1/2 Blue per serving | WW: 4 Blue Plan Points per serving]
Honey Glazed Salmon – Only 5 ingredients and packed with amazing flavor! Great for a weeknight and goes with just about anything. [21 Day Fix: 1 RED, 1 TSP per serving | WW: Green- 8 points, Blue – 5 points, Purple – 5 points per serving]
Healthy Instant Pot Airfryer Chicken Taquitos (Slow Cooker | Oven Friendly | Gluten-free) – These Healthy Instant Pot Airfryer Chicken Taquitos are such a quick and easy dinner for the whole family. Just prep some Salsa Lime Chicken in your Crock Pot or your Instant Pot and easily make taquitos either in your oven or in your Airfryer! [21 Day Fix: 1 YELLOW, 3/4 RED, 1/2 GREEN, 1/2 BLUE (toppings are additional) per serving | WW: 5 blue plan points per serving]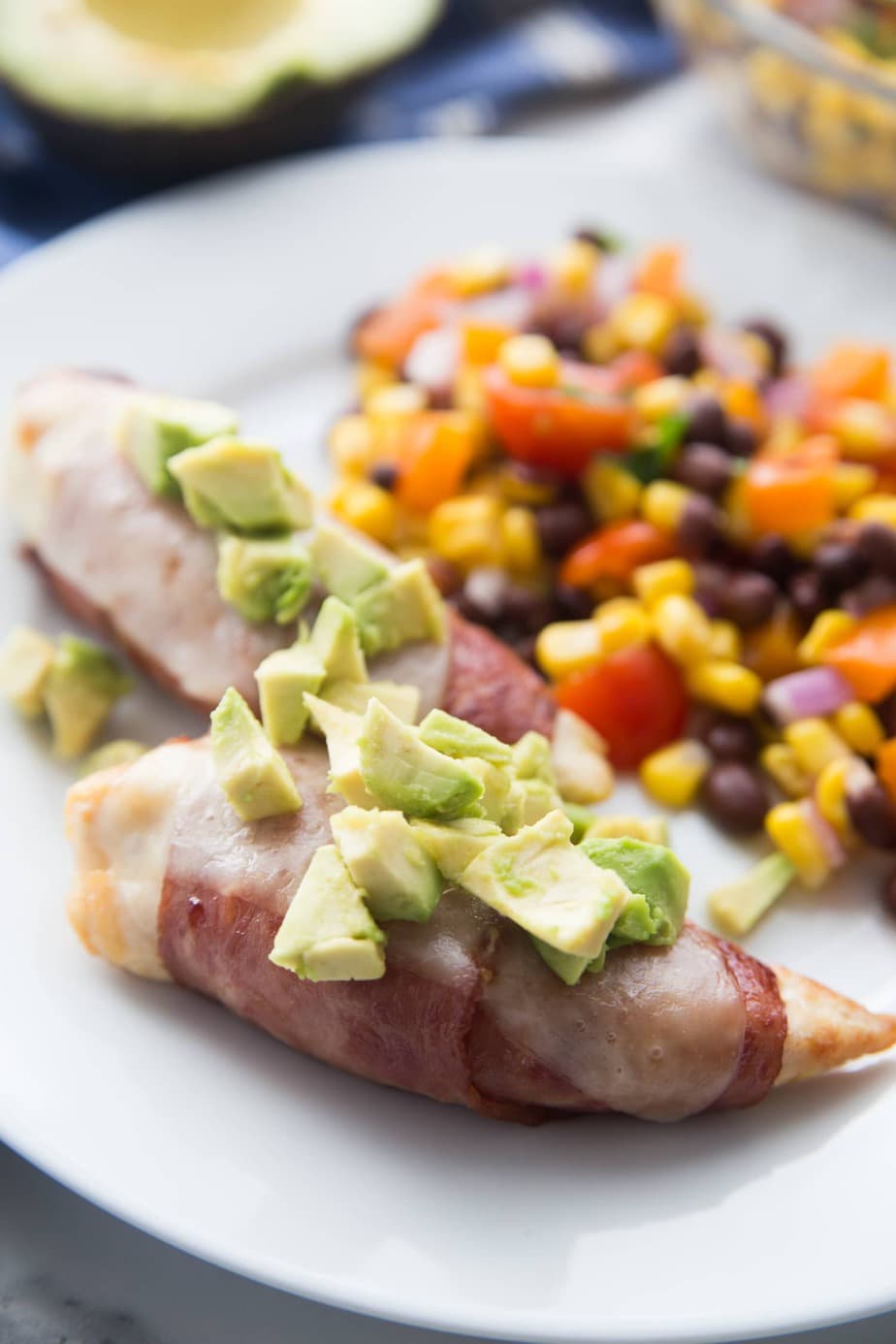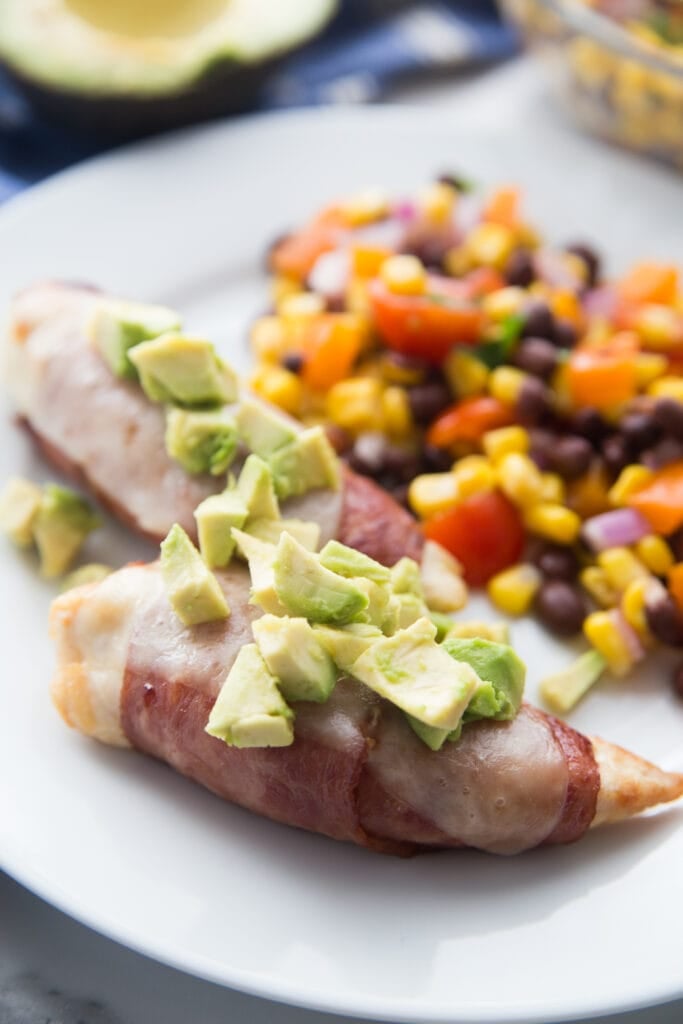 Bacon Wrapped Chicken Tenders – Made with lean chicken breast tenders, turkey bacon, melted pepper jack cheese, and topped with avocado, these Bacon Wrapped Chicken Tenders are a flavor explosion. Plus the Air Fryer makes them extra crispy! [21 Day Fix: 1 1/2 RED, 3/4 BLUE per 2 chicken tenders | WW: 5 blue plan points per serving]
Easy Falafel Bites [Air Fryer | Oven] – Crispy, easy, delicious Falafel bites made in your Air Fryer or baked in your oven, and drizzled with a homemade Tzatziki dressing. The perfect meatless dinner or lunch option. [21 Day Fix: Regular Plan – 1 YELLOW,1/3 RED plus any "bowl" containers. Vegan Plan – 1 RED or 1 YELLOW for Falafel. Sub 1 orange of Tahini in place of Tzatziki, if desired. | WW: 0 Blue Plan points (Feta Cheese and Olives would be extra)]
Air Fryer Chicken Tikka | Hungry Healthy Happy – An Indian takeaway classic – this Airfried Chicken Tikka is perfectly cooked chunks of chicken, seasoned in tikka spice, and served with dips and naan bread for an easy dinner that is ready in just 20 minutes. [21 Day Fix: 1 1/2 GREEN, 1 RED, 1 1/2 TSP per serving | WW: 2 blue plan points per serving]
Fish Tacos with Mango Salsa [Gluten Free | 21 Day Fix | WW] – YES! You can make fish in the air fryer! I love how crispy it comes out without needing breading. [21 Day Fix: 1 RED, 1 YELLOW, 1/4 PURPLE 1/3 BLUE, and a tiny bit of green per serving | WW Blue: 7 points per serving]
Air Fryer Chicken Thighs – Air Fryer chicken thighs are juicy like deep fried chicken, but they're easy to make and healthy, too. Make this recipe for dinner tonight using only pantry spices and a little oil- such a crowd pleaser! [21 Day Fix: 1 RED, 1/2 sweetener tsp for 4-5oz of chicken | WW: Green, Blue, and Purple – 3 points per serving]
Air Fryer Garlic Lime Shrimp Kabobs | Berry & Maple – Flavorful easy Air Fryer shrimp skewer kebabs with lime and garlic. They are great for all diets- low carb, paleo, Whole30, and keto friendly! [21 Day Fix: 1 RED per 3/4 cup shrimp | WW: Zero points per serving]
Air Fryer Chicken Breast | A Pinch of Healthy – Tender, juicy, delicious and perfect to eat over salads, with rice and veggies or on sandwiches. [21 Day Fix: 1 RED per 3/4 cup chicken | WW: Zero blue plan points per serving]
The Best Gluten Free Mini Crab Cakes [Air Fryer | Stove top] – I make a double batch of the BEST gluten free mini crab cakes every holiday season and they really couldn't be easier! Loved by gluten and non gluten eating people alike and super easy to prep ahead. A simple recipe with a quick lemon aioli dipping sauce, too! [21 Day Fix: 1/2 YELLOW, 1 RED, 1 ORANGE, 2 TSP per serving | WW: 7 blue plan points per serving]
Healthy Coconut Shrimp with Sweet Chili Sauce; Gluten-free | Air Fryer | Oven – This Healthy Coconut Shrimp Recipe can easily be made in the Air Fryer or in the Oven and it's DELISH with some homemade Sweet Chili Sauce. It's easily gluten free and perfect for the 21 Day Fix and Weight Watchers! [21 Day Fix: 1 YELLOW, 1 RED per serving | WW: 2 blue plan points per serving]
21 Day Fix Krispie Baked Chicken (Air Fryer option) – Krispie Baked Chicken is a healthy, gluten-free, dairy-free substitute for Fried Chicken! And it's totally kid friendly! [21 day Fix: 1 YELLOW, 1 RED | WW: 2 blue plan points per serving]
Air Fryer Chicken Fajitas | Recipes from a Pantry – Your whole family will love these easy Air Fryer Chicken Fajitas. Homemade seasoned juicy chicken breast with smoky veggies makes a healthy and tasty weeknight dinner that comes together in less than 20 mins! [21 Day Fix: 3/4 GREEN, 1 RED, 1/2 TSP per serving | WW: 1 blue plan point per serving]
Air Fryer Salmon with Dill Sauce | Bake Me Some Sugar – Air Fryer Salmon with a homemade dill sauce is a great meal for any day of the week. Tender salmon, and a light and creamy sauce. [21 Day Fix: 1+ RED, 1 1/2 TSP per serving | WW: 2 points per serving | Note: these calculations based on subbing Greek yogurt for sour cream and mayo]
Taquitos and Easy Cheese Sauce – This easy Taquitos recipe uses my favorite hidden veggie taco meat and my favorite homemade cheese sauce as a queso dipping sauce- they are super freezer friendly! [21 Day Fix: 1/2 RED, 1/2 GREEN, 1 YELLOW, 1 BLUE, 1 TSP per serving | WW: Green, Blue, Purple- 3 points per taquito plus 3 points per serving of cheese]