Break open that New Air Fryer and getting cooking with this list of the BEST healthy air fryer recipes for beginners! From breakfasts to air fryer dinners, to veggies and snacks, this list has all the yummiest Air Fryer recipes, perfect any air fryer newbie!
Are you excited to get cooking all the healthy things with your brand new Air Fryer, but not sure what to make? You are in the right place!
Air fryers are super easy to use, and as long as you follow a tried and true recipe, the learning curve is not steep at all! I've rounded a list of my favorite healthy Air Fryer recipes from Confessions, as well as some other amazing food blogs from around the web, so you can get started cooking right away. I can't wait to hear about your favorites!
How does an air fryer work?
An Air Fryer is basically a smaller convection oven. Instead of lots of oil, it uses convection heat to cook your food and get that signature crispy outside we all want. It's also FAST – it takes way less time to Air Fry than deep fry or even oven roast your food. And it's also way less messy.
Is using an air fryer healthy?
Air frying uses less oil or sometimes no oil as compared to a traditional deep fryer methods. And food still comes out super crispy and cooks way faster than using a conventional oven. Of course, you need to still think about your food choices if your ultimate goal is weight loss, but there are so many healthy meals and veggie forward dishes that you can make using this awesome appliance.
Which air fryer should I buy?
There are so many choices of Air Fryers out there, it can be confusing as there are different models and sizes. My advice is to skip the smaller air fryers for something that is at least 5 quarts or more, unless you are only cooking for 1-2 people.
If you need help deciding which model works best for your family, check out my post of the Best Air Fryers for updated information on all my favorite Air Fryer models!
Healthy Air Fryer Recipes for Beginners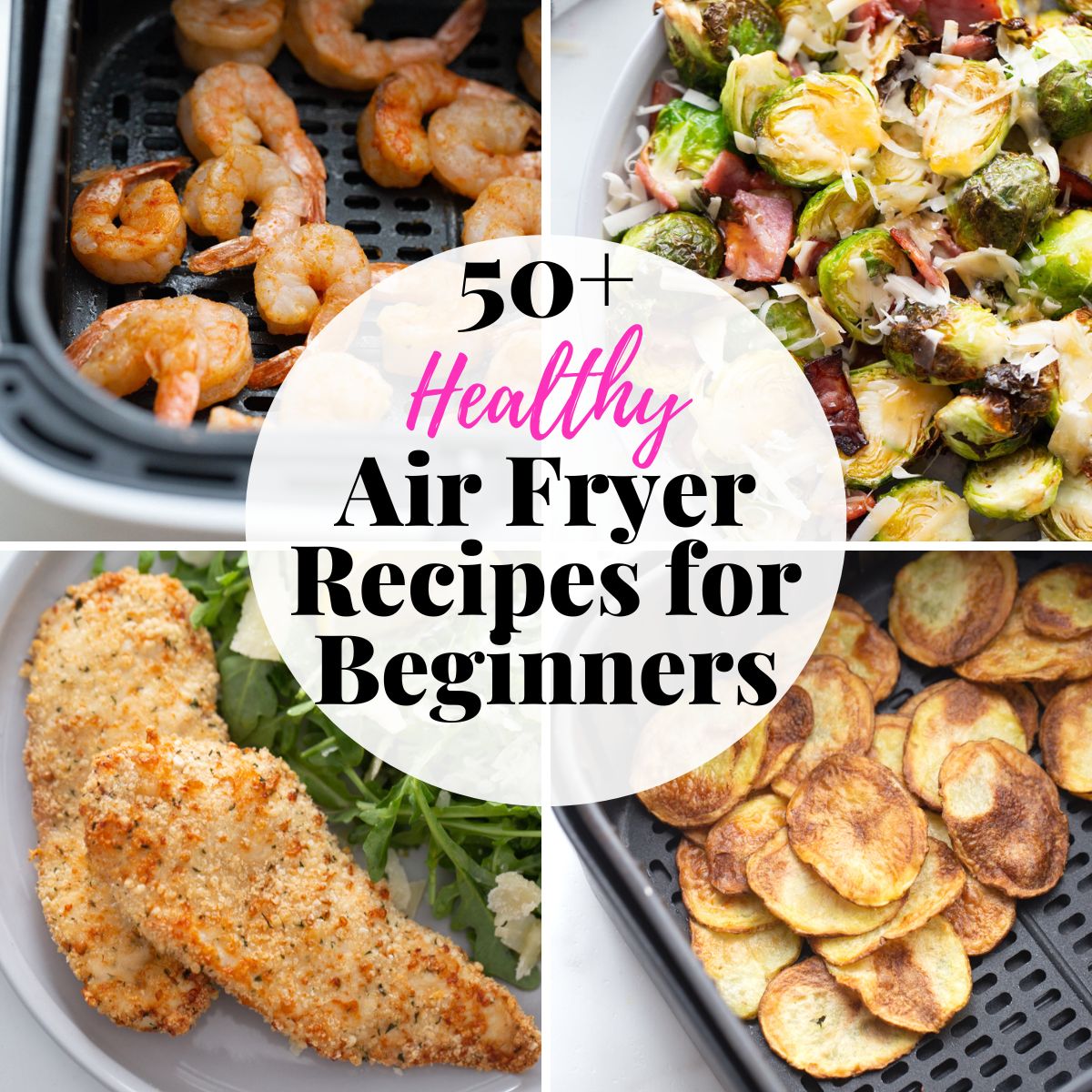 Air Fryer Chicken Recipes
Both chicken breasts (I love using tenderloins!) and chicken thighs come out amazing in the Air Fryer. Perfect for quick and easy weeknight dinners and healthy meal prep. These healthy air fryer chicken recipes are tried and true and would be perfect for air fryer newbies or veterans!
More Air Fryer Dinner Recipes (that aren't chicken)
I love using my air fryer for quick and easy weeknight dinners beyond just chicken! Juicy pork, perfectly cooked salmon, shrimp, and even pizza come out amazing every time! Here's a list of my favorite, healthy air-fryer recipes for dinner.
Air Fryer Vegetables + Air Fryer Side Dishes
Need a quick veggie or side dish for dinner? Look no further than your Air Fryer! These are some of my most favorite healthy Air Fryer recipes because who doesn't love a veggie with a little extra crunch? Enjoy!
Air Fryer Breakfast Recipes
In a hurry? Make breakfast in your Air Fryer while you are doing all the morning things! Bonus – many of these healthy air fryer breakfast recipes can double as a healthy snack, too!
So many recipes to try, so go ahead and get cooking. I am so excited to see which recipes you love best! As always, tag me on social – I love hearing from you!