These quick and easy Healthy Buffalo Chicken Taquitos are the perfect gluten free, 21 Day Fix/WW lunch, dinner, or gameday app! Make them in your oven or in your AirFryer, but definitely make them! This post contains affiliate links for products I'm obsessed with.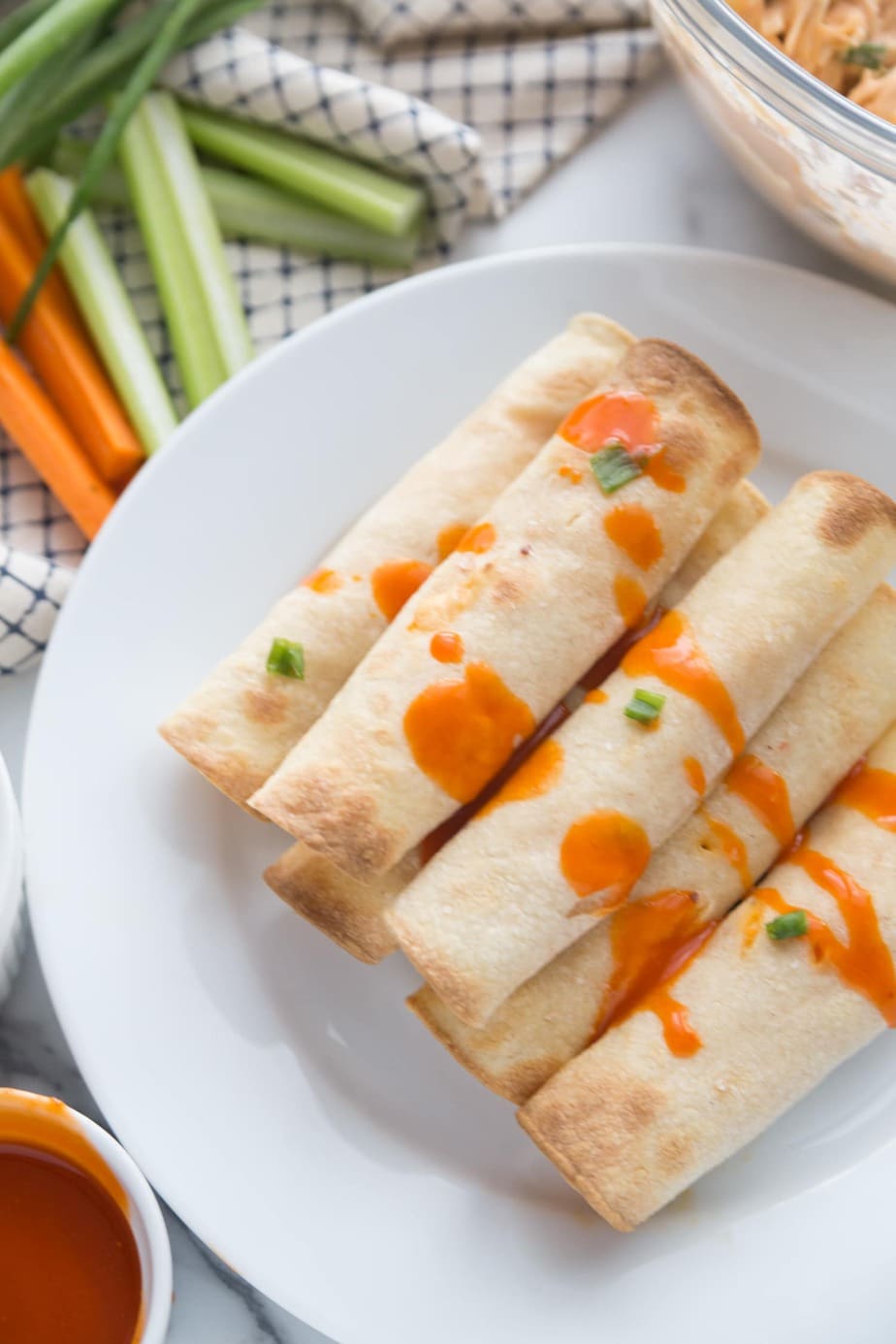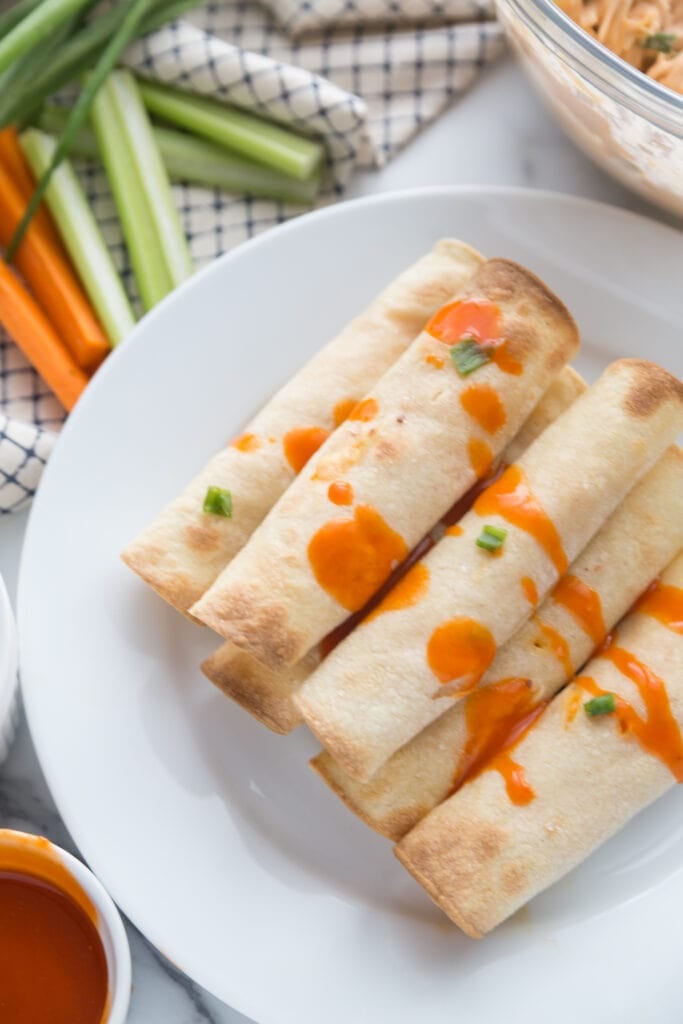 Guys…I could eat these Buffalo Chicken Taquitos all day long.
In fact, I ate them for breakfast last week. They. Are. So. Good.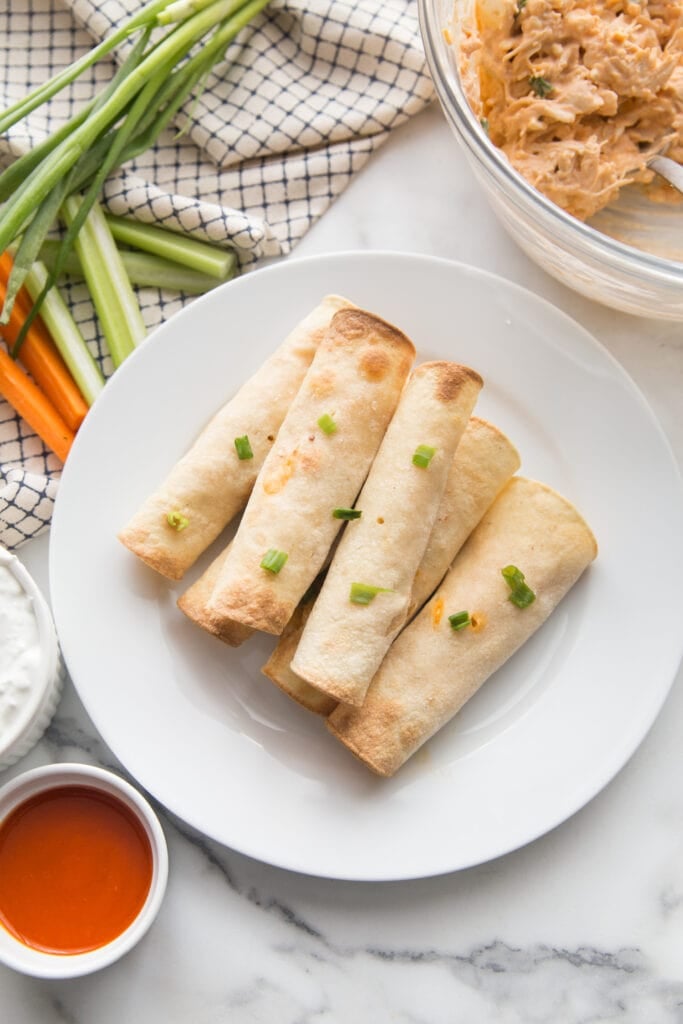 And they are stupid easy, too. Who doesn't love Stupid Easy Recipes? I love them so much, I actually considered rebranding my site to stupideasyrecipes.com but apparently that domain is taken.
Annnnnnnnnnyway.
How to Make Healthy Buffalo Chicken Taquitos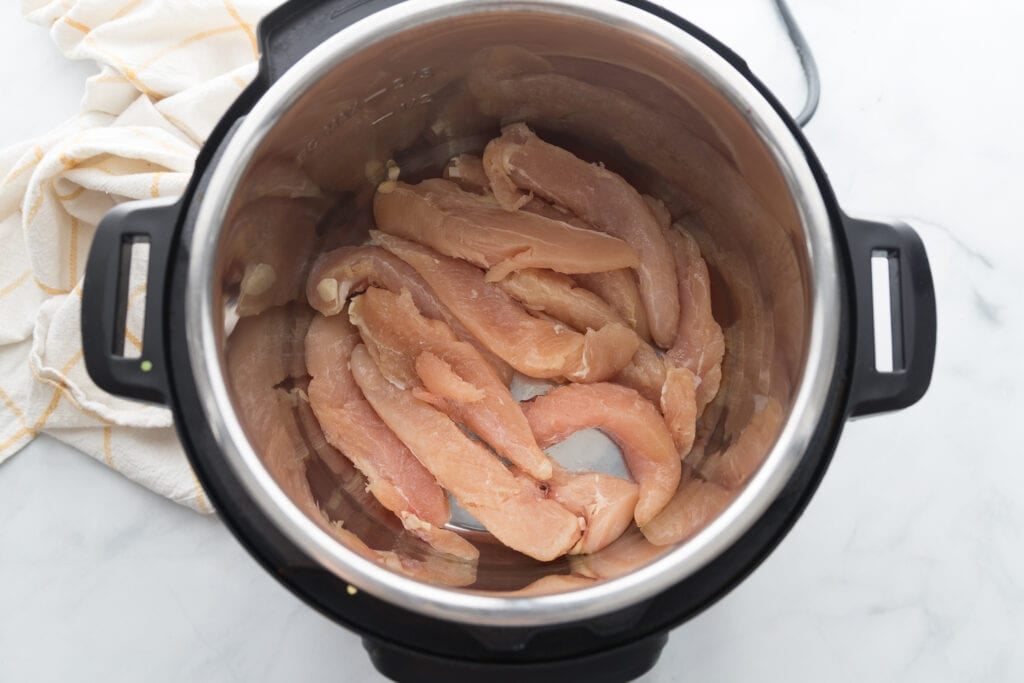 First, cook some chicken breast. One of the reasons these taquitos are so easy is because, just like in my Salsa Lime Chicken Taquitos rercipe, I use my Instant Pot to cook and shred my chicken. I love doing this in advance, too, because then this recipe comes together even quicker!
If you don't have an Instant Pot, you can prep your chicken in the oven, on the grill, in the slow cooker, or even use rotisserie chicken. Your call.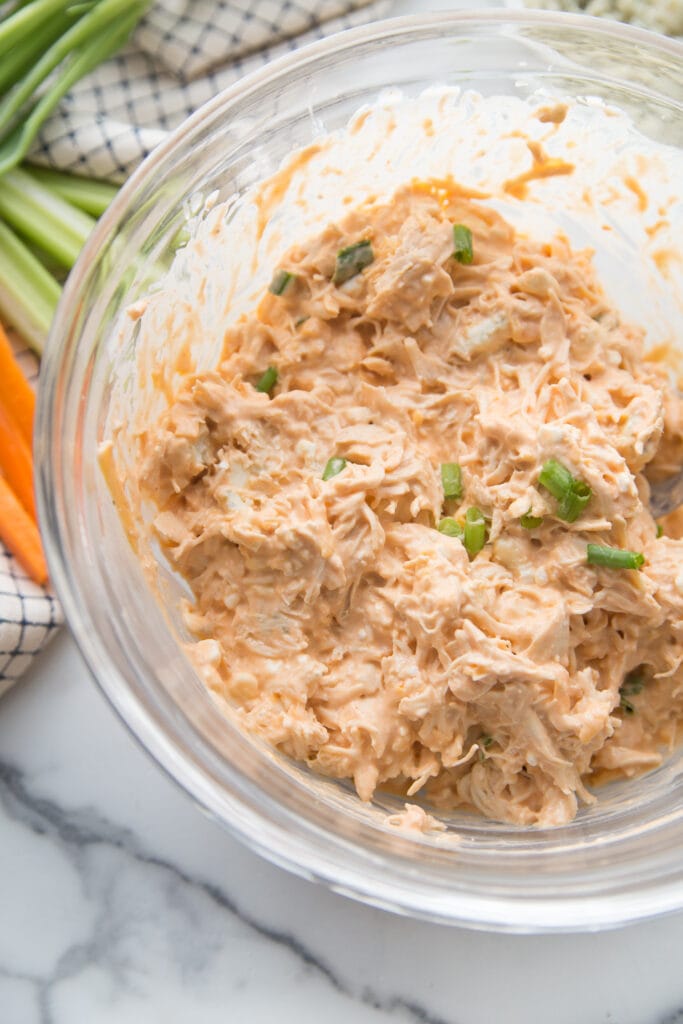 Next, you just mix the chicken with some creamy cottage cheese, Greek yogurt, hot sauce, cheddar cheese, green onions, and some blue cheese. These are the same ingredients that I use for my Buffalo Chicken Zucchini Boats!
I don't love Blue Cheese…what can I sub for this?
Lol- I talked at length about the great Blue Cheese debate in that same Zucchini Boat post, so I won't get into here. Just use more cheddar, goat cheese, or even mozzarella in it's place and you are all good!
Is there a sub for Cottage Cheese?
Guys, I promise you will NOT taste the cottage cheese – it just makes the Buffalo Chicken mixture nice and creamy without the cream cheese. This is a little trick I learned from my friend Stephanie from the Foodie and the Fix back when she posted this makeover Spinach and Artichoke Dip!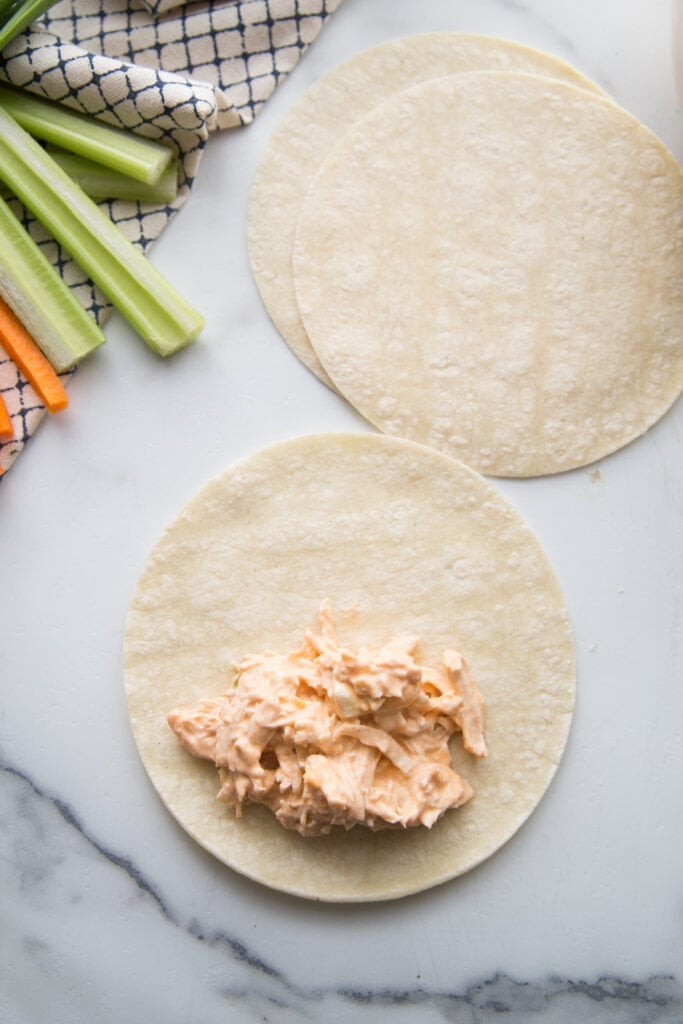 Then you just add some of this deliciously creamy Buffalo Chicken mixture to your warmed tortillas and roll them up! I use toothpicks to keep them together and I highly recommend this!
Should I use flour or corn tortillas for Buffalo Chicken Taquitos?
I use gluten-free corn tortillas because, well, we are gluten free…AND you can have TWO corn tortillas for one yellow on the 21 Day Fix. And the kind I buy (Mission Extra Thin Corn Tortillas) you can actually have three! However, if you want to sub flour tortillas, you totally can.
How to Warm Corn Tortillas Before Wrapping Taquitos
Corn tortillas can be a pain to work with if you are not used to them…but this is literally the hardest part about this recipe! As long as you get them hot, they will roll! Too much work? Use flour tortillas instead!
Wrap 4 corn tortillas in a wet paper towel and microwave for 60 seconds. They should be soft and pliable. **Note – if your tortillas are crumbing, wrap again and heat them longer and try wetting your paper towel more, too.
Another way to heat these tortillas is spray them with olive oil spray and heat them on a baking sheet in a 400 degree oven for a few minutes they are soft and pliable. This is perfect, especially if you are baking these in the oven anyway!
Another tip: try to use your tortillas while they are warm! As they cool, they will crumble again!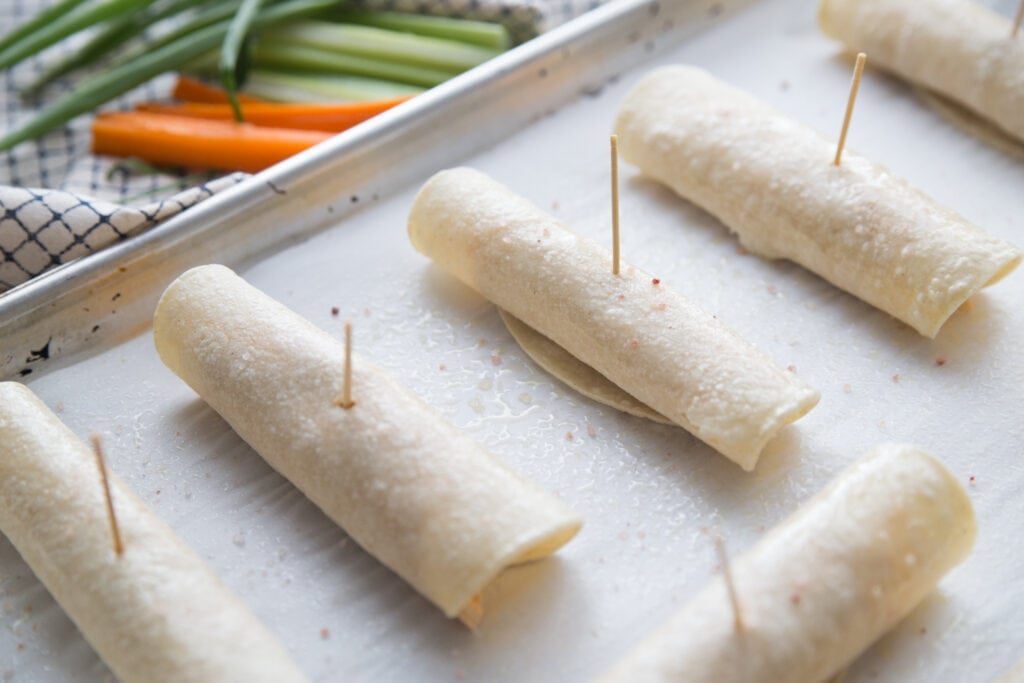 Can I make these Buffalo Chicken Taquitos in my Air Fryer? Can they be made in an oven?
Yes! These are Healthy Buffalo Chicken Taquitos, so we won't be frying them today. But, I have included both Air Fryer and Oven directions for you in the recipe card below. You can even make them in your Mealthy CrispLid!
Can I freeze these Healthy Buffalo Chicken Taquitos?
Yes! You can freeze the Buffalo Chicken mixture alone or make your taquitos and freeze them for a quick meal or snack! Just be sure to lay them flat on a baking pan first and until frozen and then place in a freezer bag. You can easily thaw and crisp up again in the Airfryer or oven. YUM!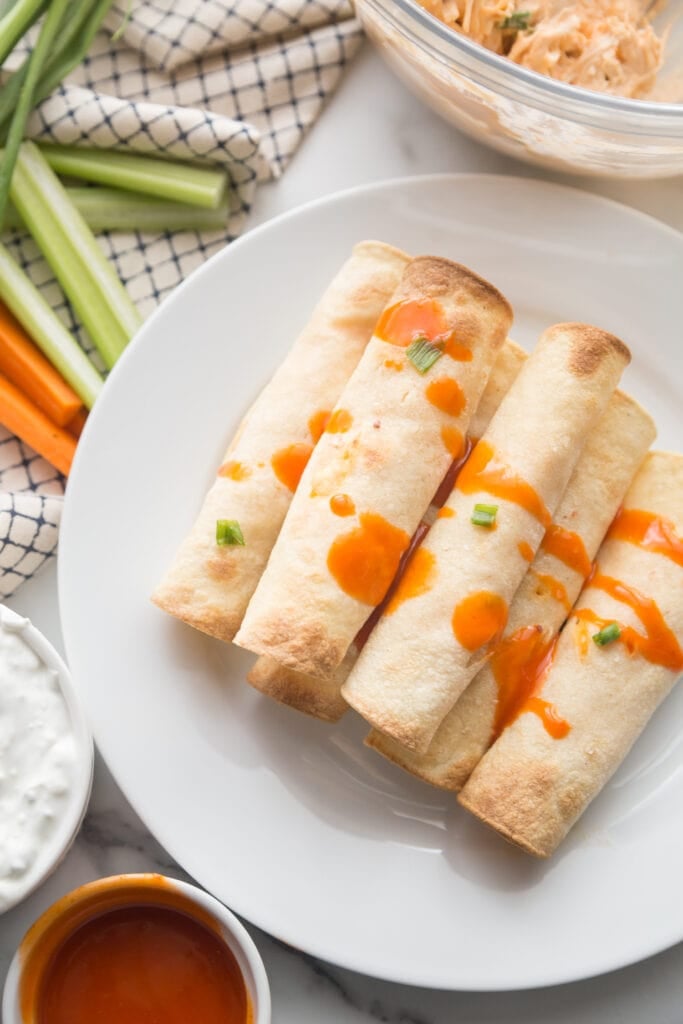 What should I serve with these Air Fryer Buffalo Chicken Taquitos?
I love making a quick, homemade blue cheese dip for my chicken taquitos, and it also makes for a great dip for carrots, celery or even a salad dressing!
Have leftover filling? This makes an amazing salad topper!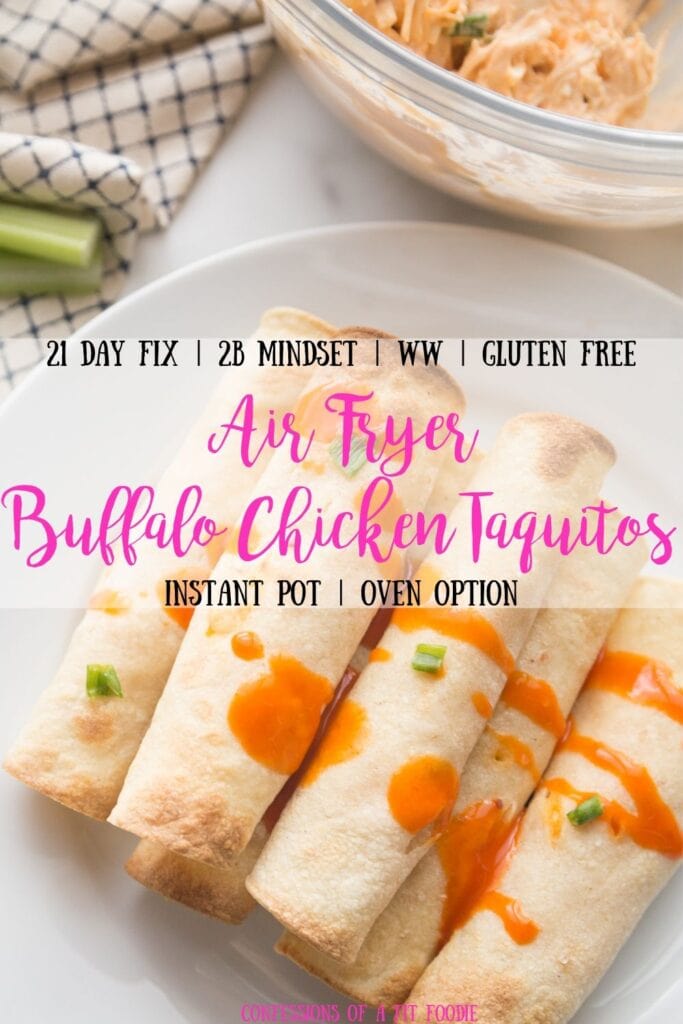 Looking for More Buffalo Chicken Recipes? Check out these favorites:
Instant Pot Buffalo Chicken Chili
Buffalo Chicken Pasta | The Foodie and The Fix
Buffalo Chicken Lettuce Wraps | Carrie Elle
And click here for more Air Fryer or Mealthy Crisp Lid Recipes!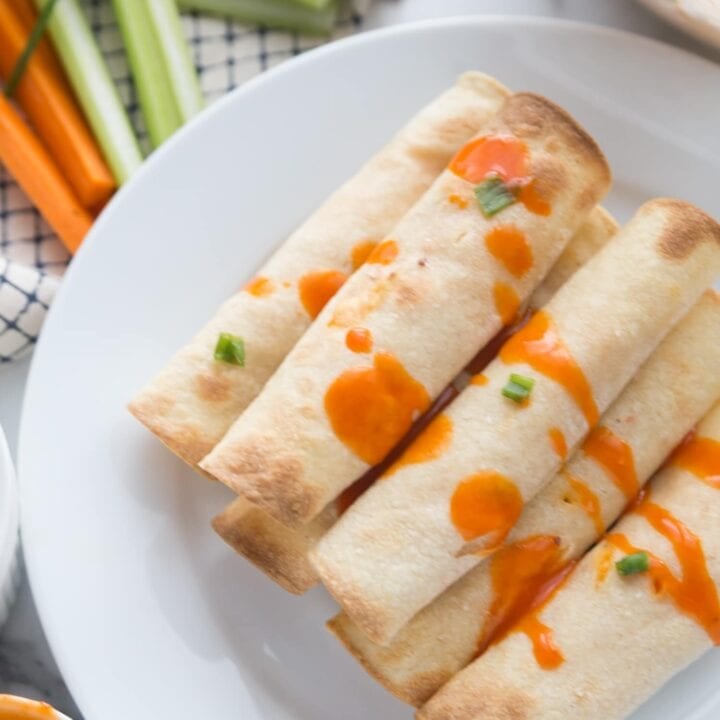 Healthy Buffalo Chicken Taquitos
These  quick and easy Healthy Buffalo Chicken Taquitos are the perfect gluten free, 21 Day Fix/WW lunch, dinner, or gameday app.  Make them in your oven or in your AirFryer, but definitely make them!
Ingredients
Salt, pepper, garlic powder for seasoning

1

lb

boneless chicken breast tenders

2/3

cup

2% greek yogurt

1/2

cup

small curd cottage cheese

1/3

cup

shredded cheddar

1/3

cup

blue cheese

⅓-1/2

cup

hot sauce

I use Franks, plus more for drizzling

1/2

tablespoon

chopped green onion

optional

12

corn tortillas

or sub flour for easier rolling

Carrots and celery sticks
Dressing:
⅓

cup

crumbled blue cheese

2/3

cup

2% Greek yogurt

1

tablespoon

mayonnaise

1

tablespoon

lemon juice

1

tablespoon

white wine vinegar

1/8

teaspoon

garlic powder
Instructions
Prep chicken first, if raw
Sprinkle chicken with salt, pepper, and garlic powder.

In your Instant Pot - add 1 cup of broth or water and your raw chicken breast.  Cook for 15 minutes and do a full natural release. Drain well and shred.

In your oven- cook chicken breast on 350 for 30 minutes.  Let cool and dice.

On your stovetop – cover chicken with broth or water and bring to a boil.  Reduce heat to a simmer and cook for 5 minutes.  Then remove from heat and cover for 20 minutes before dicing or shedding and drain well.
For the Taquitos
In a medium sized bowl, measure out cottage cheese using a slotted spoon to drain some of the liquid out.  I usually just tap the spoon slightly on the side of the container to remove what I can. Add Greek yogurt, cheddar, blue cheese, green onion, and hot sauce.  Stir. Next add in cooked chicken. Taste and adjust hot sauce as needed and sprinkle with salt, pepper, or garlic powder if desired. 

Heat tortillas in a 400 degree oven for a few minutes.  Spray them with olive oil spray and heat on a baking sheet until soft and pliable.  Alternately, you can wrap 2-4 at a time in wet paper towels and warm in the microwave for 60 seconds. 

Working one by one, place 2-3 tablespoons of  chicken on the top edge of the tortilla. Gently roll tortilla into a taquito shape, using a toothpick to hold them together. TIP:  do this while your tortillas are still very warm!  As the tortillas cool, they will break apart again!

Spray basket of your airfryer or mealthy crisp lid so shells don't stick or cover with parchment.  

Spray shells with olive oil spray and sprinkle with salt.  Air fry in batches of 2-4 at a time on 390 (400 for Mealthy Crisp Lid) for a few minutes or until your taquito is crisp.

Repeat steps with remaining corn tortillas.

To make the Taquitos in the oven, just follow the instructions above, but instead of Air Frying, line a baking sheet with parchment paper and bake your Taquitos for 12-14 minutes at 400 degrees.

Mix dressing ingredients, if desired, and serve 1/8 cup with taquitos!  Or drizzle with extra hot sauce before serving.  Enjoy with carrots and celery or a side salad!
Notes
21 Day Fix: Corn tortillas - 1/2 RED, 1 YELLOW, 1/3 BLUE, plus 1 ORANGE for dressing, if using (per 2 taquitos) [Tip: If you use Mission Extra Thin Corn Tortillas, you can have three count as a yellow, and get closer to a full red since you can fit more in]  Flour tortillas:  1 RED, 2 YELLOW, 1/3 BLUE, plus 1 ORANGE for dressing, if using (per 2 taquitos) WW: 5 points (per 2 taquitos) [Calculated using reduced fat cottage cheese, blue cheese, and cheddar cheeses]; Dressing - 1 point (per serving)
Nutrition
Serving:
2
taquitos
Calories:
167
kcal
Carbohydrates:
13
g
Protein:
16
g
Fat:
6
g
Saturated Fat:
2
g
Polyunsaturated Fat:
1
g
Monounsaturated Fat:
1
g
Trans Fat:
0.01
g
Cholesterol:
33
mg
Sodium:
393
mg
Potassium:
230
mg
Fiber:
2
g
Sugar:
2
g
Vitamin A:
108
IU
Vitamin C:
6
mg
Calcium:
112
mg
Iron:
1
mg