These Healthy Instant Pot Airfryer Chicken Taquitos are such a quick and easy dinner for the whole family.  Just prep some Salsa Lime Chicken in your Crock Pot or your Instant Pot and easily make taquitos either in your oven or in your Airfryer!  This post contains affiliate links for products I'm obsessed with. 
I'm having a moment here with my Airfryer and really, really loving it and loving experimenting with it.   Like…hmm…what can I throw in there to make all crispy delicious?  I'm trying Brussels Sprouts later and I cannot freaking wait.
But that's a post for another time.
Today we are talking Chicken Taquitos because corn tortillas are so darn delicious when they have been air fried!
They go in slightly warmed and come out with the perfect crunch!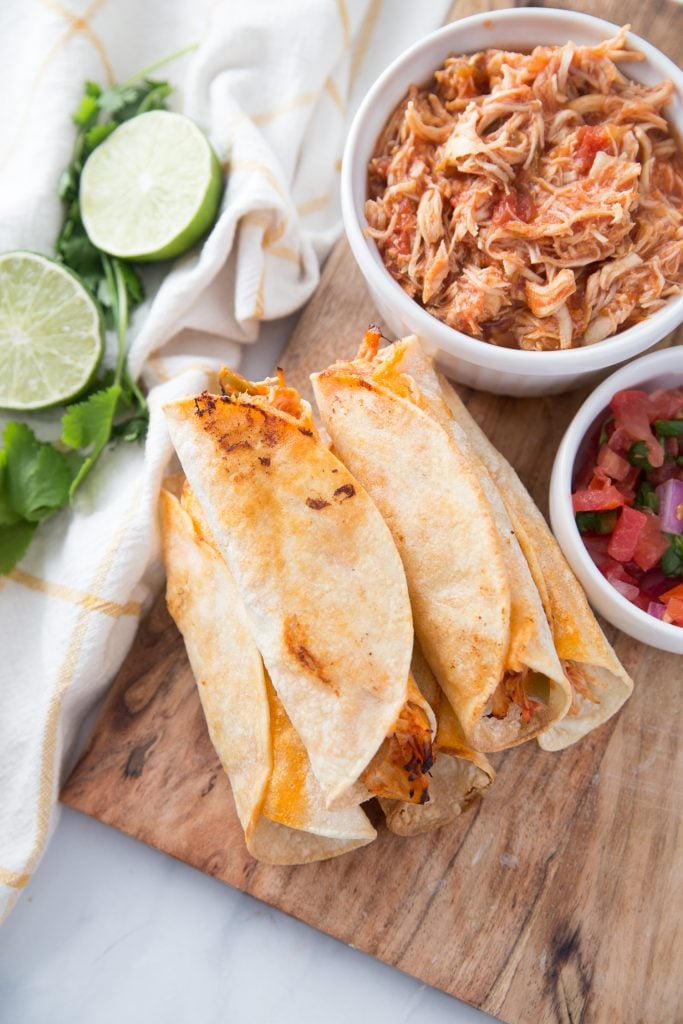 I absolutely love this recipe because it uses my Instant Pot | Crock Pot Salsa Lime Chicken which is stupid easy to prep and I often make it on Sundays and Mondays just because it's so simple and it always saves me during the week from ordering a pizza or having cookies for lunch.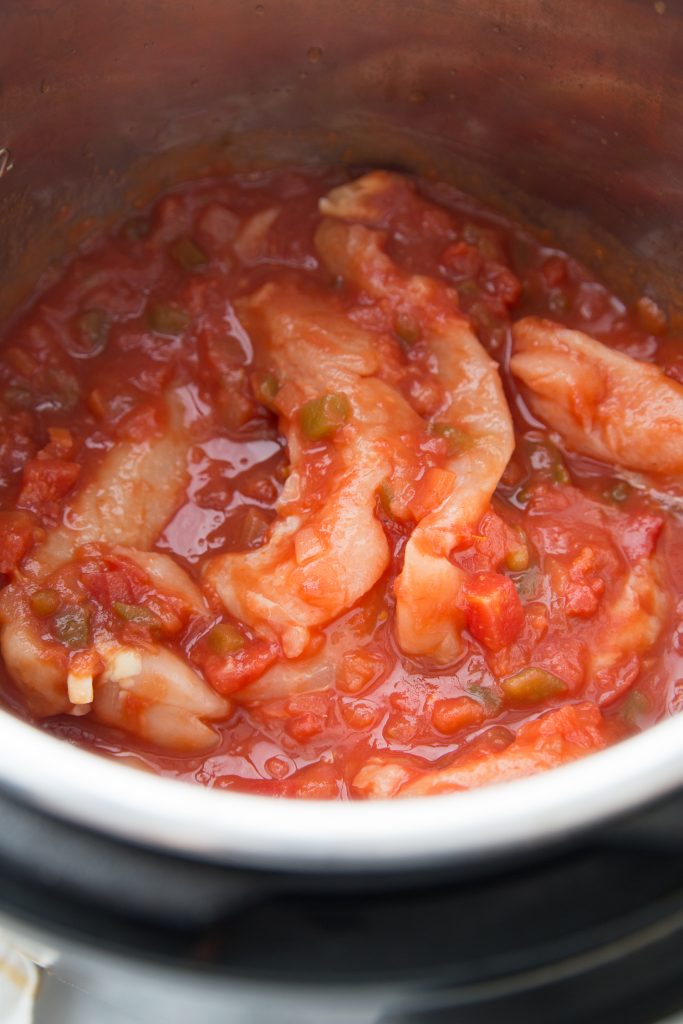 It's literally three ingredients: chicken, a jar of all natural salsa, and some lime.  And you throw everything in the Instant Pot or Slow Cooker.
No chopping.  No sautéing.  Just dump and go.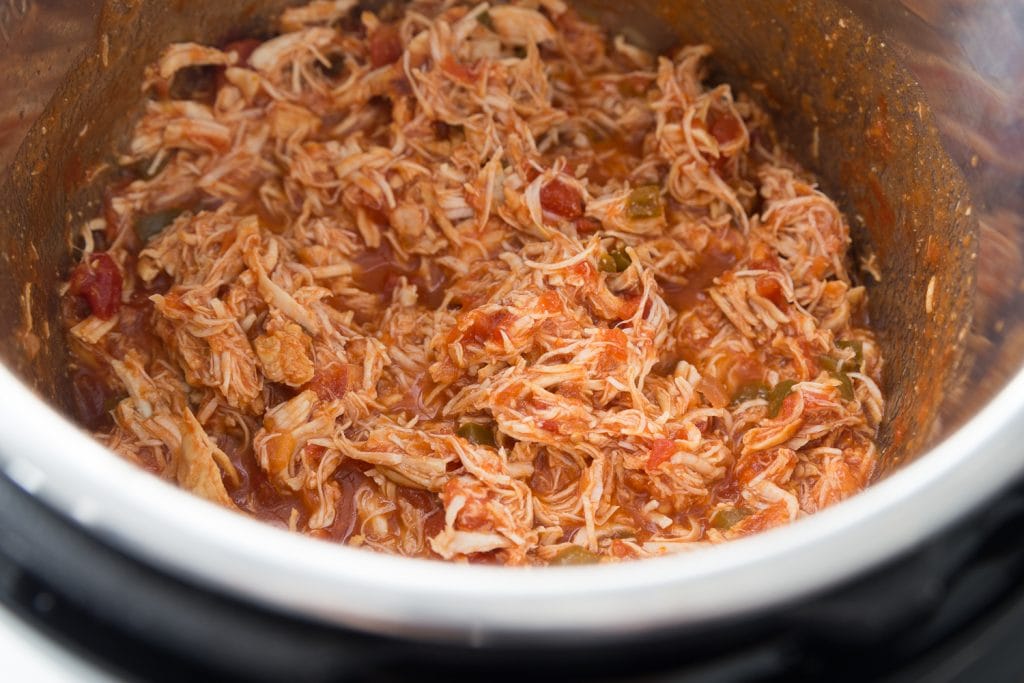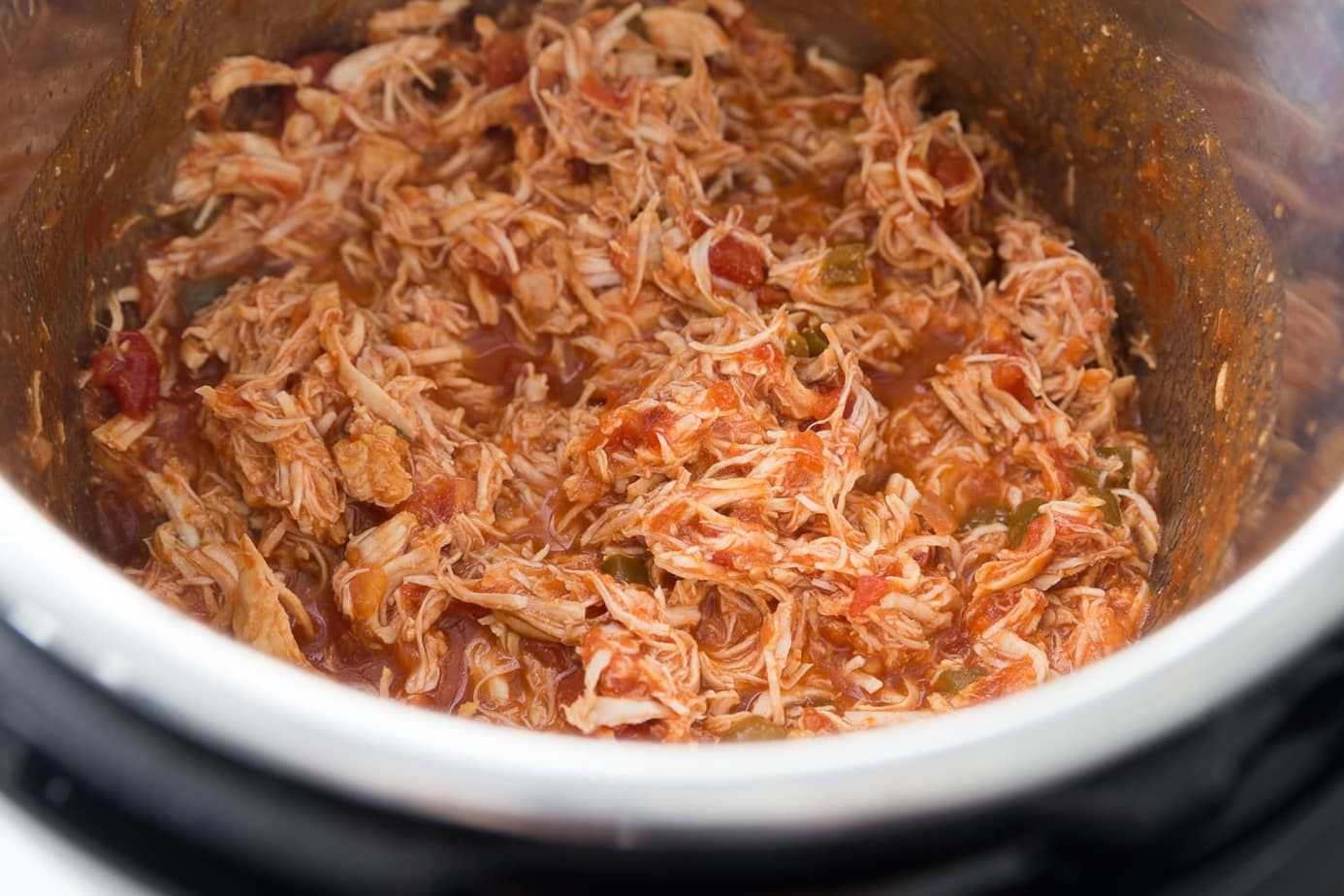 And then you have this shredded, delicious chicken that works so well in tacos, bowls, salads, and…of course…taquitos.
Of course if you want to you can add some seasonings or whatever.  But really, you don't have to, so why???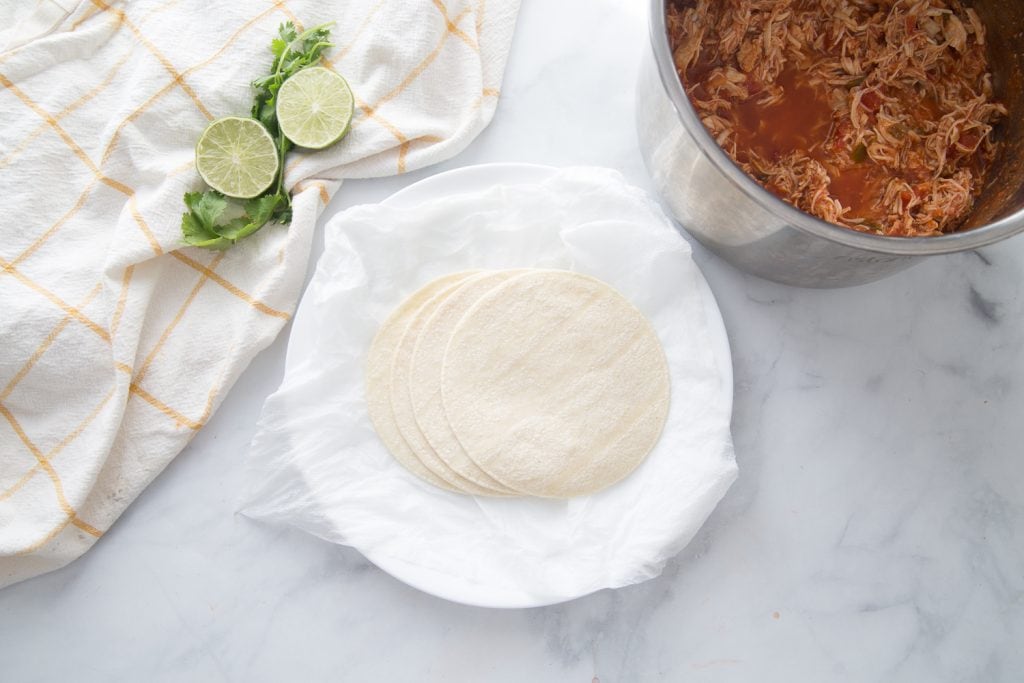 Check out the super simple process with this video:
Easy right?  And kid/family friendly, too!  You can also make Taquitos with my leftover 21 Day Fix Pork Carnitas, Hidden Cauliflower Taco Meat, or even extra Turkey Taco Skillet.  So many options!
And if you need a side dish, my 21 Day Fix Cauliflower Rice with Lime and Cilantro  would be perfect!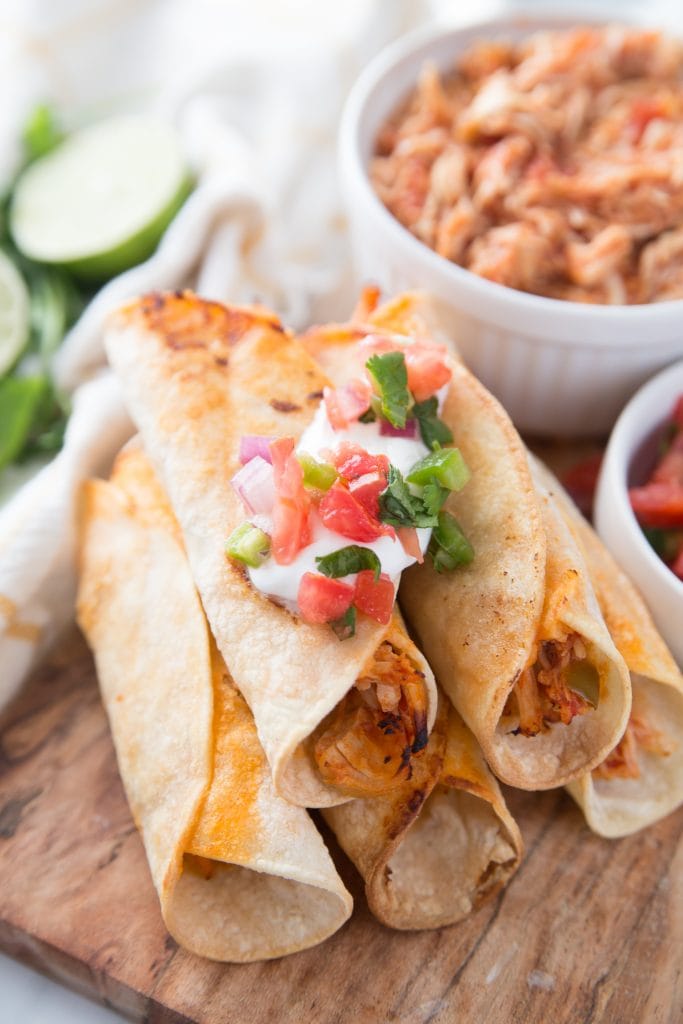 What kind of tortillas do you use for these Airfryer Chicken Taquitos?
I use gluten-free corn tortillas because, well, we are gluten free…AND you can have TWO corn tortillas for one yellow on the 21 Day Fix. You can, however, sub flour tortillas if you want!  Corn tortillas can be little tricker to work with, but you get such a nice crisp at the end, it's worth it!   Just follow the recipe directions and you will be good to go!
What toppings do you add to these 21 Day Fix Chicken Taquitos?
I love adding some fresh pico to add some extra green, as well as some plain Greek yogurt to round out the red.  You can actually add Greek yogurt into the chicken mixture if you want!  We don't because I like to keep the chicken dairy free for my son.  I also love to top mine with avocado or extra cheese if I still have some blue left.
Can you freeze these Healthy Airfyer Chicken Taquitos?
Yes!  You can freeze the Salsa Lime Chicken alone or make your taquitos and freeze them for a quick meal or snack!  Just be sure to lay them flat on a baking pan first and until frozen and then place in a freezer bag.  You can easily thaw and crisp up again in the Airfryer or oven.
I don't have an Airfryer. Can I make these Chicken Taquitos in the oven?
Of course!  I included oven directions in the recipe card!
Which Airfryer should I buy?
I have this Phillips Airfryer
and I do love the way it cooks, but now that I own one, I my advice is to look at both the quart size of the actual cooking basket and the reviews on all the air fryers in your budget and see which one has the largest cooking capacity.  A small cooking basket (like I have) would be difficult if you are cooking for a larger family.
Here are some of my Readers' favorite Airfryers:
Power Air Fryer XL AF-530-5.3 5.3 QT Deluxe – This popular air fryer is larger at over 5 quarts, but this brand actually has a six quart version, as well!
Philips HD9630/98 Avance XXL Twin Turbostar Airfryer (3lb/4qt) – Like mine, but larger.
NuWave Brio 6 Quart Digital Air Fryer – Black with NuWave Brio Air Fryer 3 Piece Gourmet Accessory Kit – 6 Quart
 – I love the accessories this one comes with.  And this brand has a 10 quart!!!
GoWISE USA GW22731 1700-Watt 8-in-1 Digital 50 Recipes for Your Air Fryer Book, 5.8-QT– This is an awesome price point for a nice sized air fryer!
Ninja Foodi TenderCrisp Multi-Cooker and Fryer All-in-One (OP305)
 – This is the kitchen appliance of my dreams!  It's BOTH a pressure cooker and also an air fryer (among other things!).  If I didn't have three instant pots and two air fryers, I would totally get one.
What other food can you cook in an Airfryer?
I'm testing all sorts of recipes, but we have made eggs, french toast sticks, chicken breast, potatoes, veggies, even FROZEN veggies in the Airfryer
.  Like I said, it's really growing on me!  My favorite thing about the air fryer isn't even how crispy it makes everything, or how little oil you use, it's how FAST it cooks!   You know me – I LOVE fast and easy :).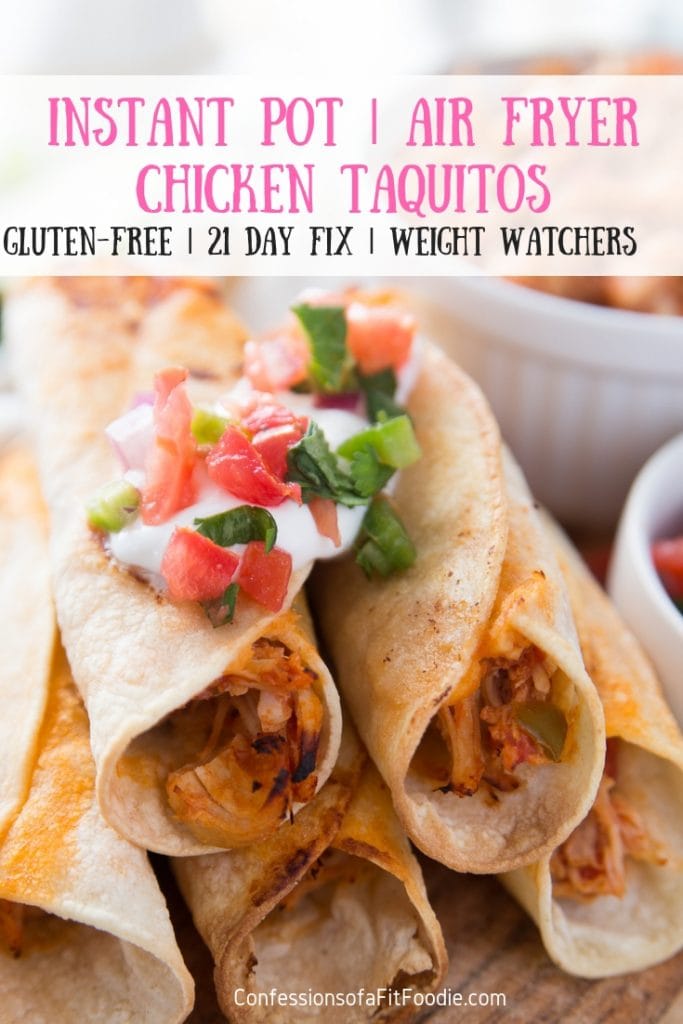 Print
Healthy Instant Pot Airfryer Chicken Taquitos (Slow Cooker | Oven Friendly | Gluten-free)
Author:

Prep Time:

5 minutes

Cook Time:

30 minutes

Total Time:

35 minutes

Category:

Easy

Method:

Air Fryer | Instant Pot

Cuisine:

Mexican
---
Description
These Healthy Instant Pot Airfryer Chicken Taquitos are such a quick and easy dinner for the whole family.  Just prep some Salsa Lime Chicken in your Crock Pot or your Instant Pot and easily make Taquitos either in your oven or in your Airfryer!
---
Scale
Ingredients
1 lb chicken tenderloins
1 jar of organic salsa
1 lime
1 cup of shredded sharp cheddar cheese or Mexican blend cheese of your choice
12 Corn tortillas 
olive oil or avocado oil cooking spray
salt
optional add in: 1 T salt free taco seasoning 
Optional toppings:
small container of greek yogurt
fresh pico de gallo
avocado or guacamole 
cilantro
---
Instructions
Chicken:
Place chicken in your Instant Pot.
Top with Salsa.  Lock lid and hit the poultry button or use the manual/pressure cook button and set for 15 minutes.
After cook time, natural release.
Shred chicken and squeeze on some fresh lime juice.   Taste and a pinch of salt and/or 1 T of salt free taco seasoning if desired. 
Or follow the Crock Pot directions in this post!
Taquitos:
Wrap 4 corn tortillas in a damp paper towel and microwave for 20 seconds. **Note – if your tortillas are crumbing, wrap again and heat them longer!  Try wetting your paper towel more, too. 
Working one by one, place 2 tablespoons of  chicken on the top edge of the tortilla and add 1.5 tablespoons of cheese.  Gently roll tortilla into a taquito shape, using a toothpick to hold them together.  **Optional add in – stir in some greek yogurt to your chicken mixture before rolling.  
Spray basket of airfryer so shells don't stick or cover with parchment.  
Spray shells with olive oil spray and sprinkle with salt.  Air fry in batches of 2-4 at a time on 390 for a few minutes or until your taquito is crisp.
Repeat steps with remaining corn tortillas.
Garnish with avocado/guacalome (or more cheese), fresh pico, cilantro, and a drizzle of greek yogurt if desired.  
**To make the Taquitos in the oven, just follow the instructions above, but instead of Air Frying, line a baking sheet with parchment paper and bake your Taquitos for 12-14 minutes at 400 degrees.
---
Notes
21 Day Fix Containers (for 2 Taquitos): 1 yellow, 3/4 Red, 1/2 green, 1/2 blue (toppings are additional)
Weight Watchers FS Points (for 2 Taquitos):  5 FS Points (extra toppings are additional)
---