This Hot Honey Pizza with Ricotta and a homemade, gluten free pizza crust is my new favorite Friday night dinner! Perfect in the oven or in your Air Fryer! This post contains affiliate links for products I'm obsessed with.
I am so pumped to finally have a brand new pizza recipe on the blog…and guys, it's a good one. I have recently become obsessed with Mike's Hot Honey and ever since drizzling it on a pizza, I can't eat pizza without it! The spicy honey paired with the sweet tomato sauce, ricotta and mozzarella cheese, make perfection with every single bite.
I used to post pizza recipes on the reg, but ever since going gluten free, I have struggled to find a good gluten free pizza crust recipe or product that fits into the parameters of a yellow container for the 21 Day Fix. But after some experimenting, I finally came up with a version of the WW two ingredient pizza dough that is gluten free, delicious, and counts as one yellow per personal pizza! It's the perfect crust for this Hot Honey Pizza!
What is 2 Ingredient Dough?
Two ingredient dough is pretty famous in the WW community, but in case you haven't heard of it, it's a pizza crust made by mixing fat free Greek yogurt with self-rising flour for a low calorie, yeast free pizza dough. My version of Greek yogurt pizza dough has a few more ingredients, five to be exact – and yes – it's gluten free.
Pizza Ingredients
All you need to make this pizza is my Greek yogurt pizza dough, or crust of your choice, and these toppings:
Tomato or Pizza Sauce – We always have a jar of Rao's Tomato Sauce on hand, but my Homemade Tomato Sauce recipe would also work great for this.
Mozzarella cheese – I use even less than what the recipe calls for so I can keep my healthy fat options open throughout the day.
Ricotta Cheese – You want to look for a part skim or lower fat ricotta cheese for the FIX or WW.
Pizza Seasonings: Oregano, Garlic Powder, and Crushed Red Pepper are my go-to seasonings for pizza.
Hot Honey: My favorite brand is Mike's Hot Honey, but I have heard good things about Trader Joe's Spicy Honey Sauce and Bees Knees Spicy Honey. You can grab a bottle here from Amazon, but also check your local market!
Instructions
The following steps are also listed on the recipe card below.
Step One: Make the crust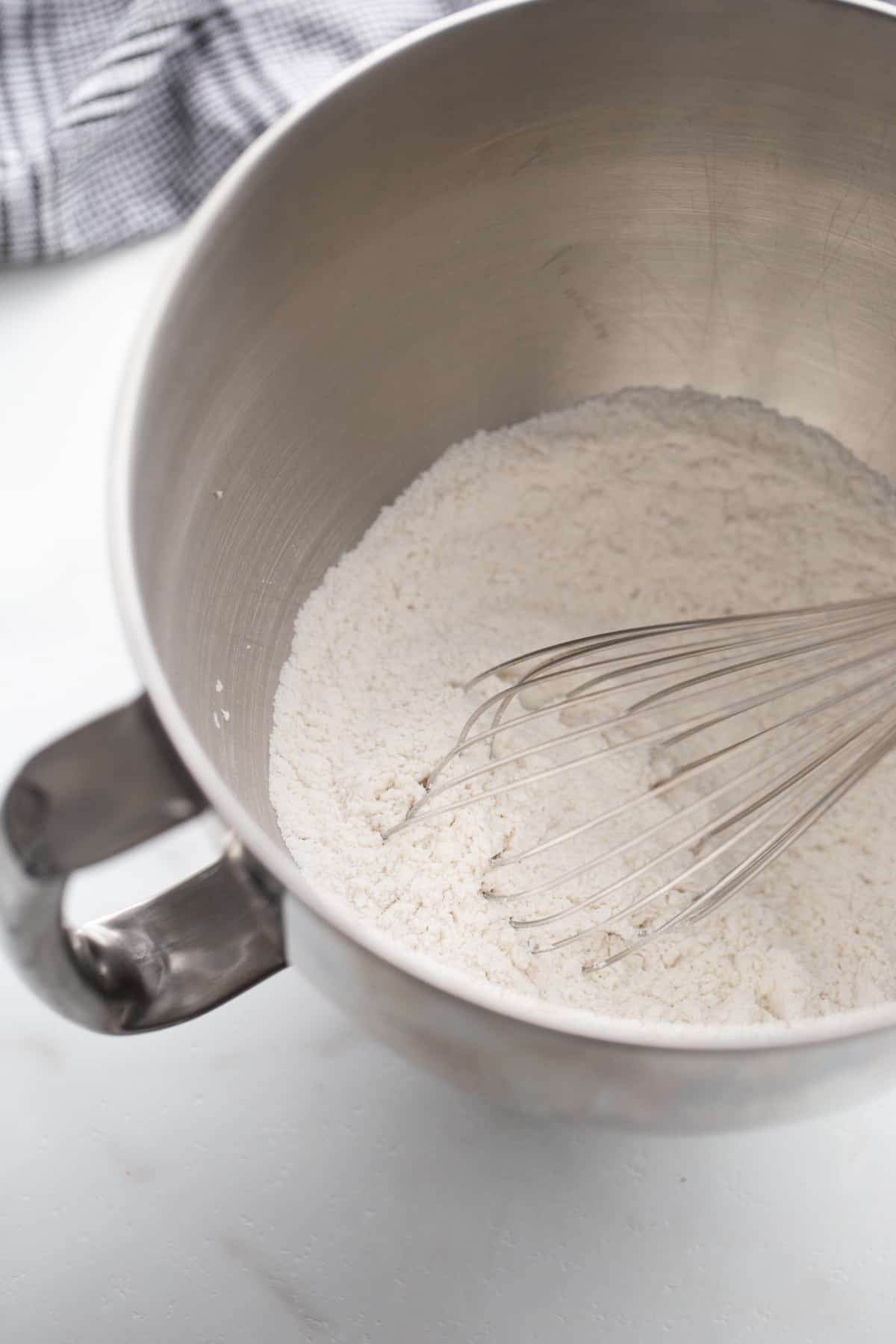 1. In a stand mixer or a large bowl, combine dry ingredients, then mix in Greek yogurt. If I am using my stand mixer, I use the dough hook to mix. Otherwise, use a rubber spatula and your hands! If dough is too sticky, add a little more flour. If it feels too dry, add in yogurt, 1 tsp at a time.
2. On a well floured surface, knead dough by hand until smooth, then make one big ball. Then, using a knife or dough cutter, divide into 4 equal sections.
3. Working with one section at a time, gently roll out the dough on a well floured surface and using a well floured rolling pin. Be gentle so you don't break the dough or get it stuck on the rolling pin. Dough should be 4 to 5-ish inches in diameter, or the size of a small tortilla.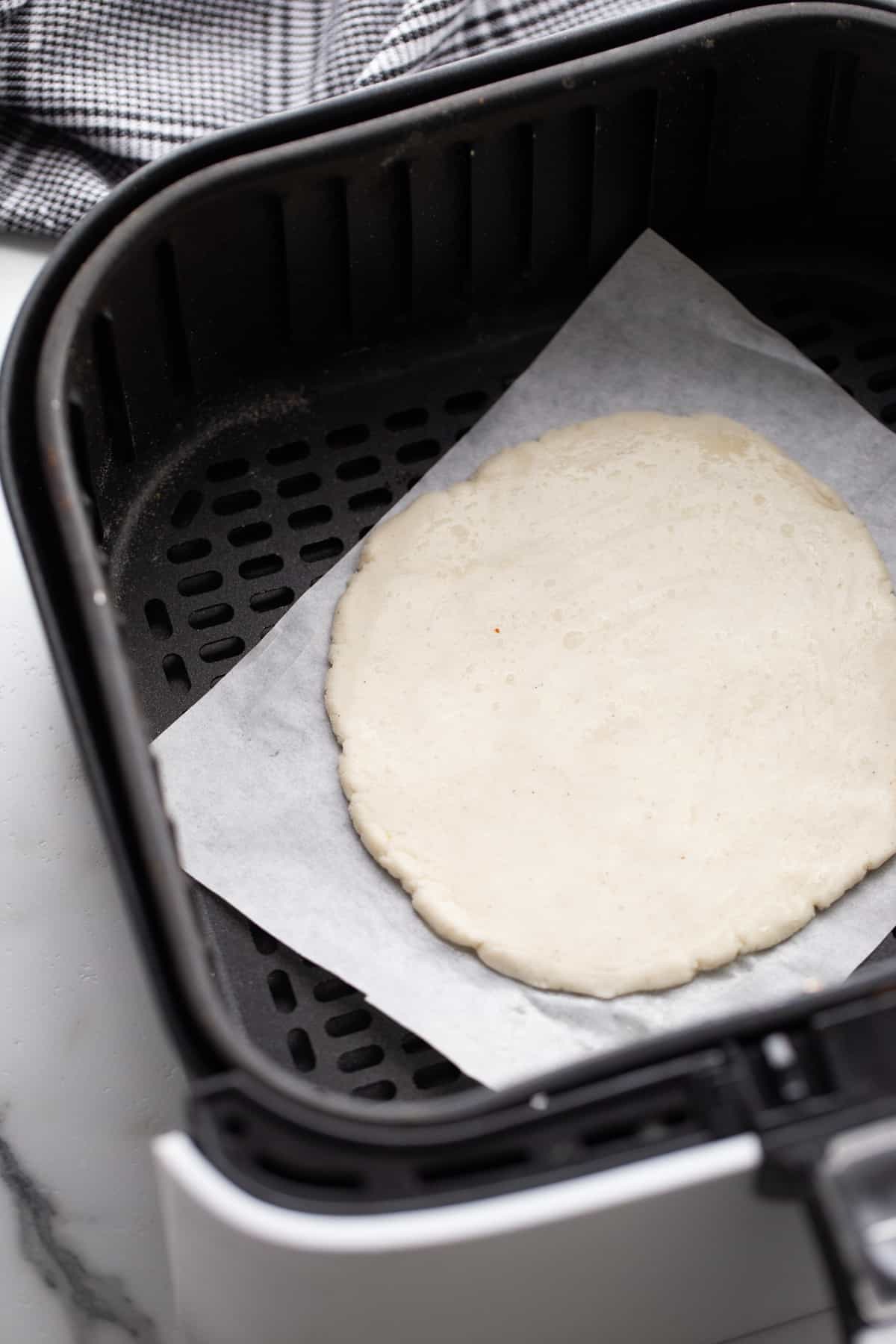 4. Carefully flip the dough onto a small piece of parchment paper. Brush dough with egg wash. Preheat Air fryer to 400 degrees and cook for 5-8 minutes or until crust starts to get golden.
5. Remove crust from air fryer and layer with toppings – sauce, dollops of ricotta cheese, then mozzarella cheese. Place pizza back in the air fryer without the parchment paper for an additional 5-8 minutes or until cheese is bubbly. Sprinkle garlic powder, oregano, and crushed red pepper, then drizzle with Mike's Hot Honey.
Substitutions or Additions
Parmesan Cheese: Love the idea of Parmesan with these flavors
Red Onions + Bell Peppers: Any veggies really would be delish with this flavor combo
Italian Sausage or turkey bacon: I love that this recipe is meatless, but you can certainly add meat for extra protein
Fresh basil and oregano: You can't go wrong when you add fresh herbs
FAQs
Can you bake this pizza on a pizza stone in the oven?
You can. If you have a pizza stone that you love to use, use it! You can also use a baking sheet or anything else that you have in the house. Just be sure to use the parchment paper, too!
Can I make one big pizza instead of four personal pizzas?
Yep! I just like having my own little pizza crust to top how I want to, but this works for a larger pizza, as well! Just divide it into 4 servings for the FIX containers to be accurate.
How do you store leftover pizza?
Leftover pizza is the best! You just need to store leftovers in an airtight container and keep it in the fridge. I usually wrap mine in foil and then place in a large ziplock.
I love to reheat pizza in the Air Fryer, too! So quick and easy!
Can you freeze pizza?
Yes! You can make a bunch of these pizzas to freeze or even freeze just the crust! Just skip the final baking step, then place your pizzas or crust in the freezer on a baking sheet. Once frozen, you can place them in a Stasher bag or ziplock bag to grab and bake whenever those pizza cravings strike!
What else can I put Mike's Hot Honey on?
Ahhh – all the things! I love it with cheese and crackers, on fruit, on Ricotta Bruschetta, drizzled on my Air Fryer Chicken Cutlets, on Honey Glazed Salmon… honestly, once you taste it, it's hard NOT to add it to all the things!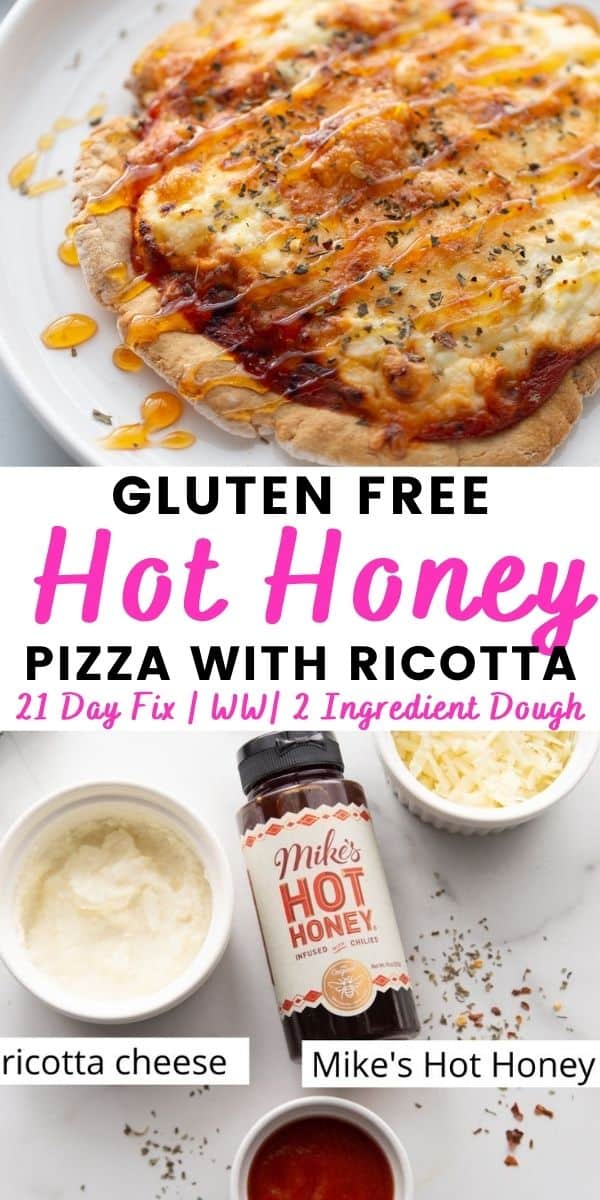 More Easy Pizza Recipes
Print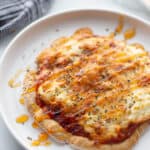 Hot Honey Pizza with Ricotta (Gluten Free)
Author:

Prep Time:

10 minutes

Cook Time:

16 minutes

Total Time:

26 minutes

Yield:

4

servings

1

x

Category:

Dinner

Method:

Air Fryer | Oven

Cuisine:

Italian

Diet:

Gluten Free