This easy Taquitos recipe uses my favorite hidden veggie taco meat and my favorite homemade cheese sauce as a queso dipping sauce. These gluten-free taquitos, or rolled tacos, are a healthier option than traditional taquitos because they are baked or air fried. Freeze taquitos for an easy lunch, dinner, or snack! This post contains affiliate links for products I'm obsessed with.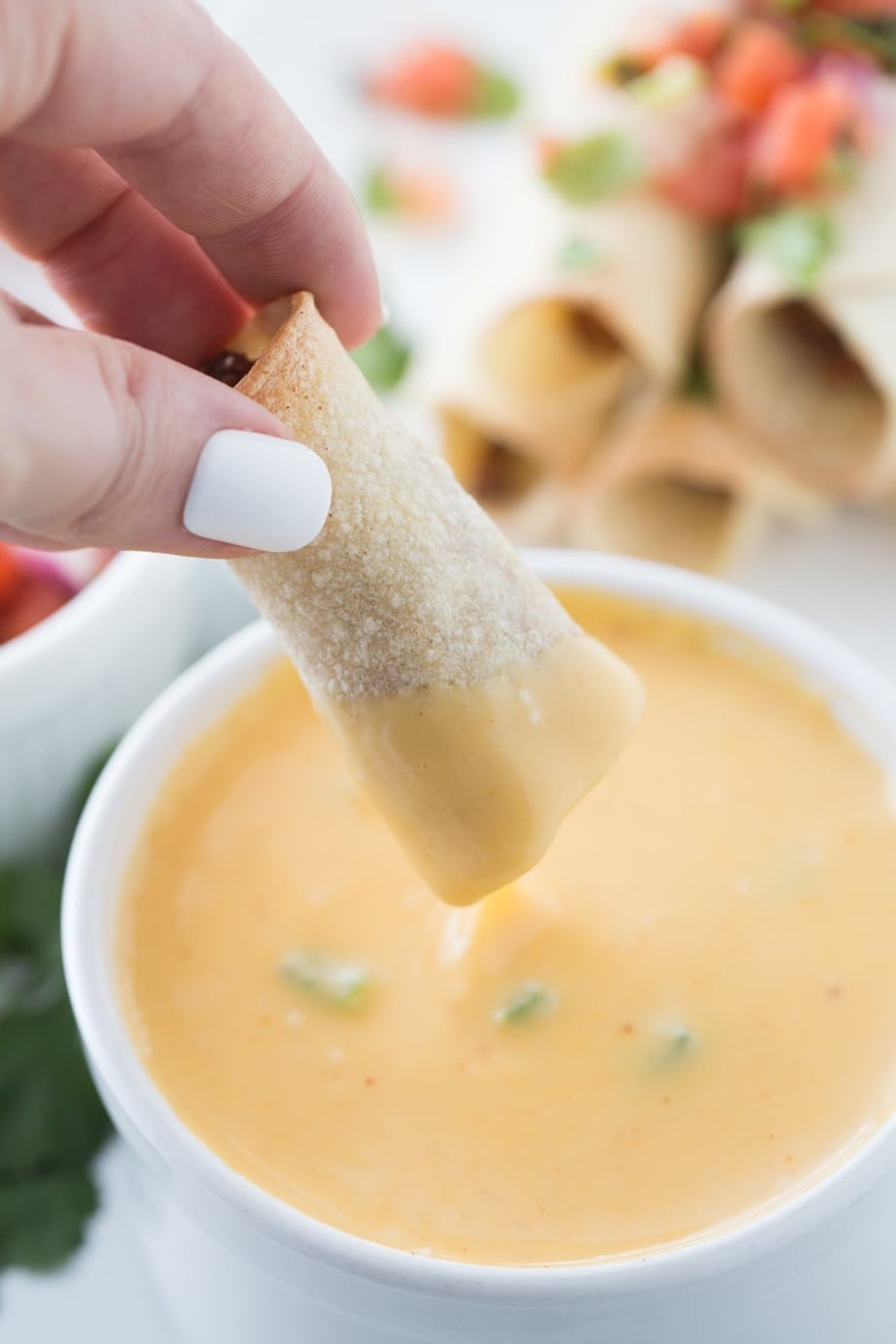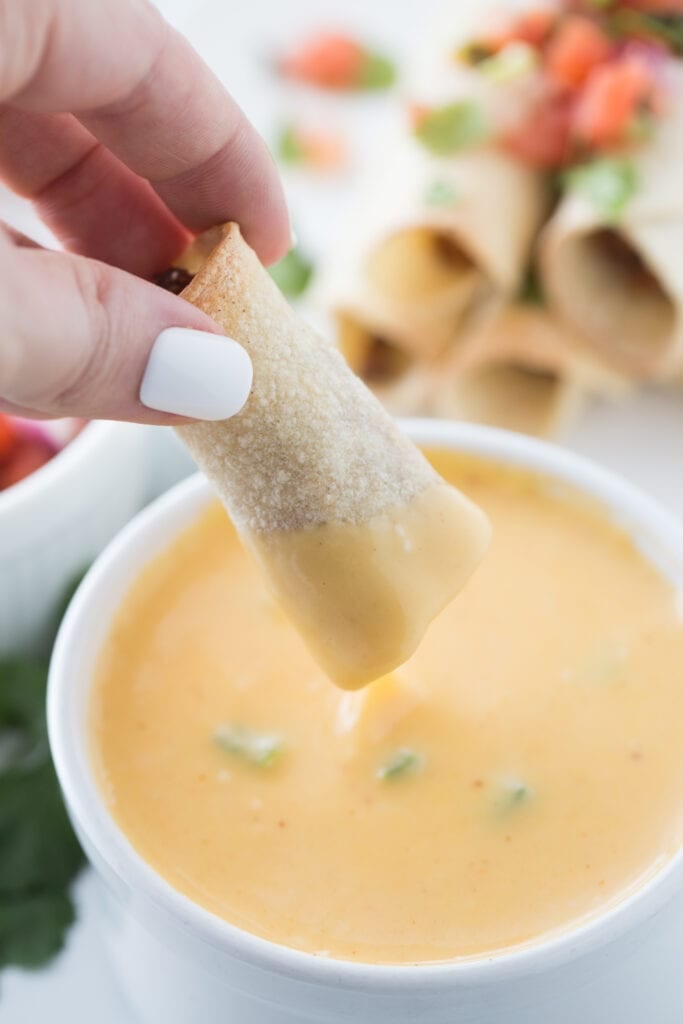 Confession: I've become mildly obsessed with taquitos.
You might have noticed this…this is my THIRD taquitos recipe this year, and I have another one in the works, coming out really soon.
Here's why Taquitos rock
The corn tortilla gets extra crispy – like a hard taco
You can make a huge batch to freeze and make whenever you get a craving!
Maybe you have tried my Healthy Instant Pot Airfryer Chicken Taquitos (Slow Cooker | Oven Friendly | Gluten-free), or my Healthy Buffalo Chicken Taquitos [Instant Pot | Air Fryer].
These new Taquitos are basically my favorite tacos, just rolled up!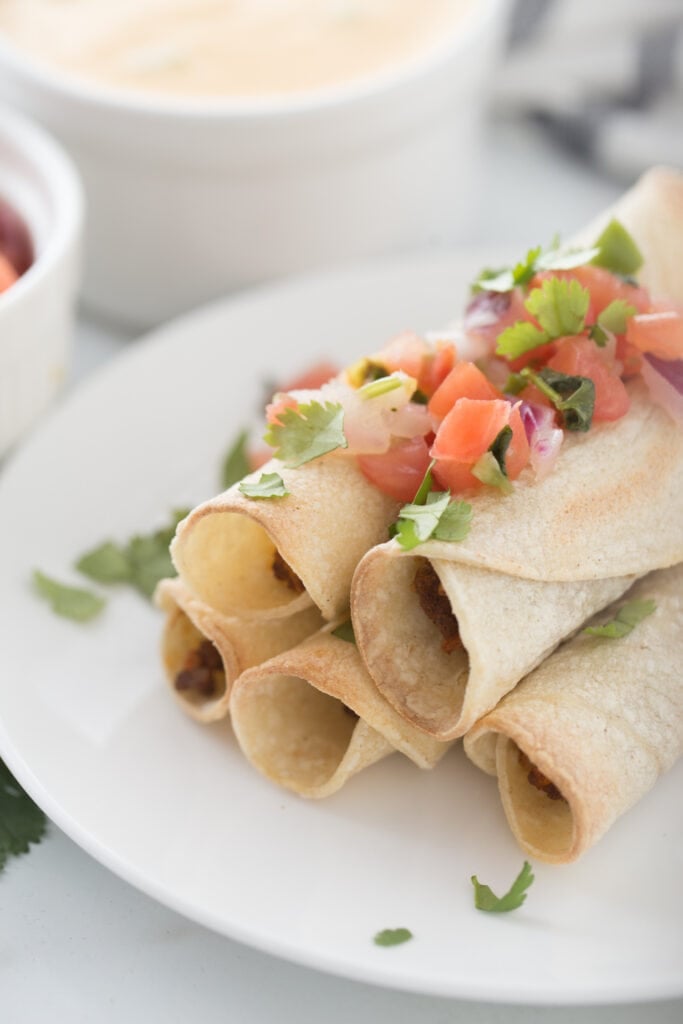 What is a Taquito?
A Taquito is a small tortilla that is rolled around a filling, usually a meat, beans and or cheese, and then often deep-fried. There are lots of frozen, ready made options in grocery stores, too. And while they are convenient, they aren't always made with the healthiest ingredients.
My taquitos, however, are so easy to make and are so delicious, too!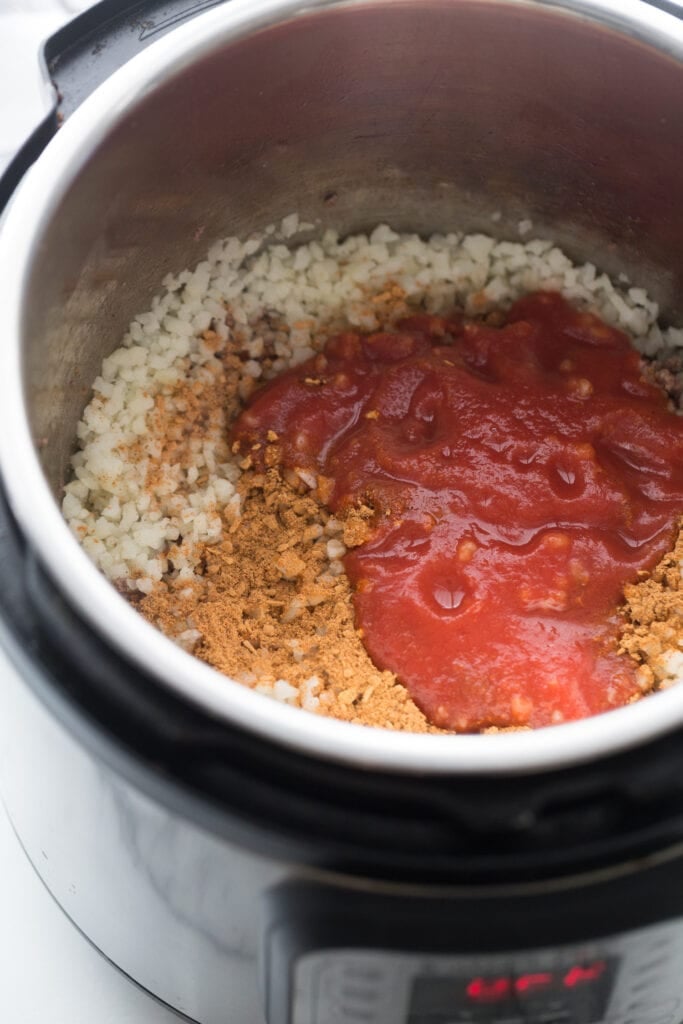 Are Taquitos Gluten Free?
This taquitos recipe is gluten-free! Yay! But most taquitos you find at restaurants are not safe to eat if you are avoiding gluten. First, taquitos are sometimes made with flour tortillas that aren't gluten free. And, even if they are made with corn tortillas at restaurants, they are usually fried with other non-gluten free foods and can be a cross contamination risk.
But it's really easy to make your own gluten-free tacos at home!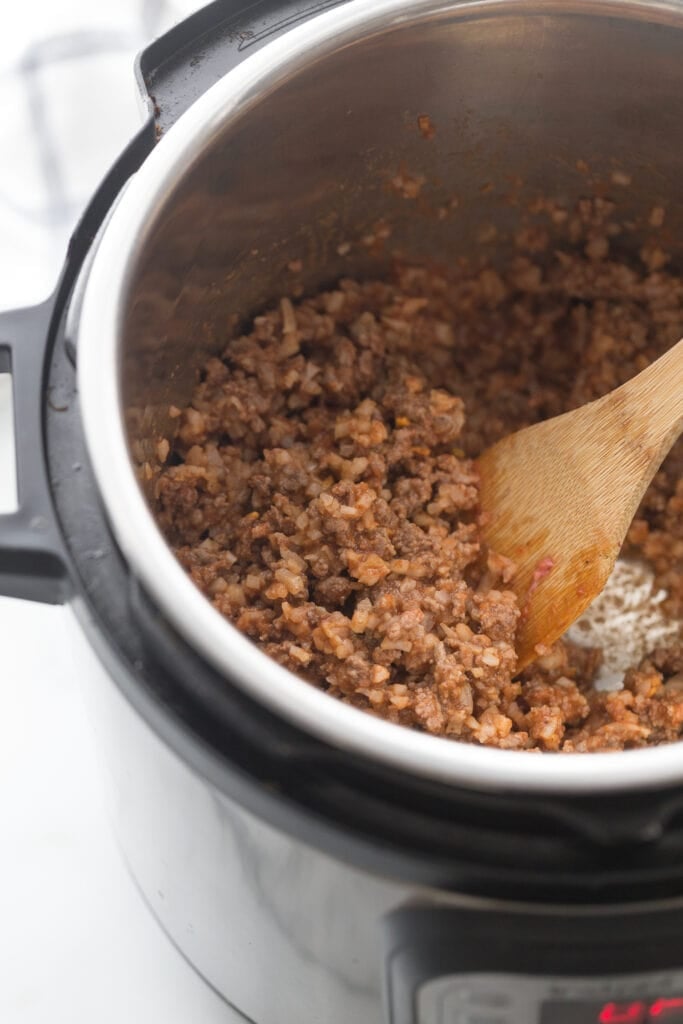 Are these Gluten free Taquitos healthy?
Yep! First, the filling of these taquitos is made with lean ground beef (you can sub ground turkey or chicken) and they also include hidden veggies – cauliflower rice! I make this Hidden Cauliflower Taco Meat all the time and my super veggie picky son eats it without having a clue every single week! It's seasoned with a little tomato sauce and some Salt Free Taco Seasoning and it tastes like the yummiest tacos ever!
Second, unlike traditional taquitos, these are baked or air fried! I honestly love both methods, which are detailed more in depth below, but here is my short pro/con list.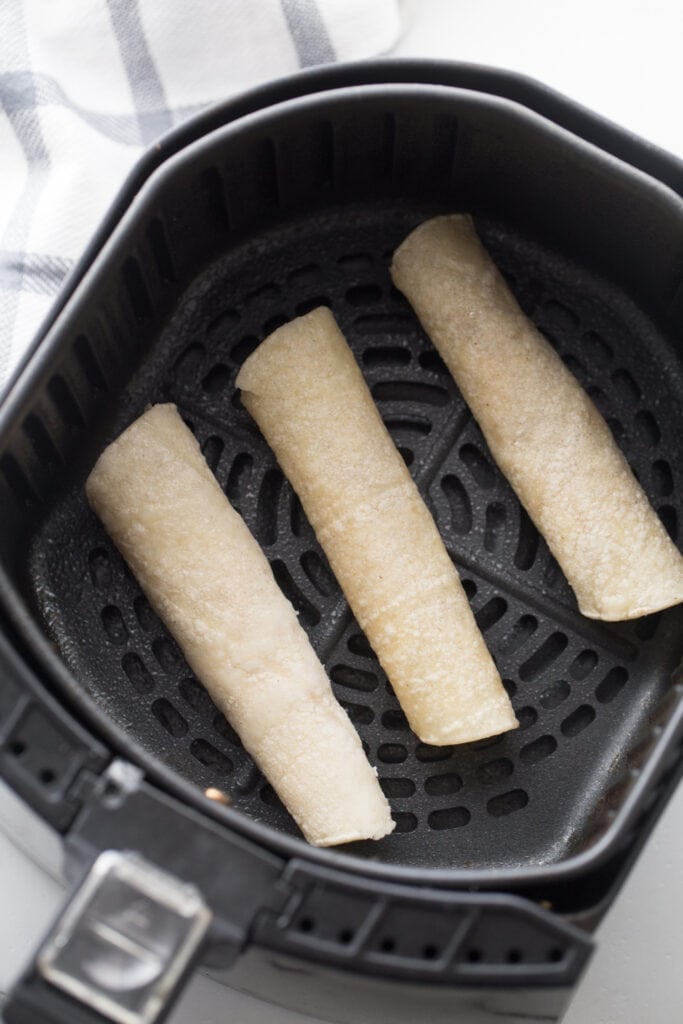 Airfryer Taquitos
Pros:
Extra crispy and faster to cook
No need to turn on an oven or heat up your house
Great for reheating
Cons:
You have to batch cook them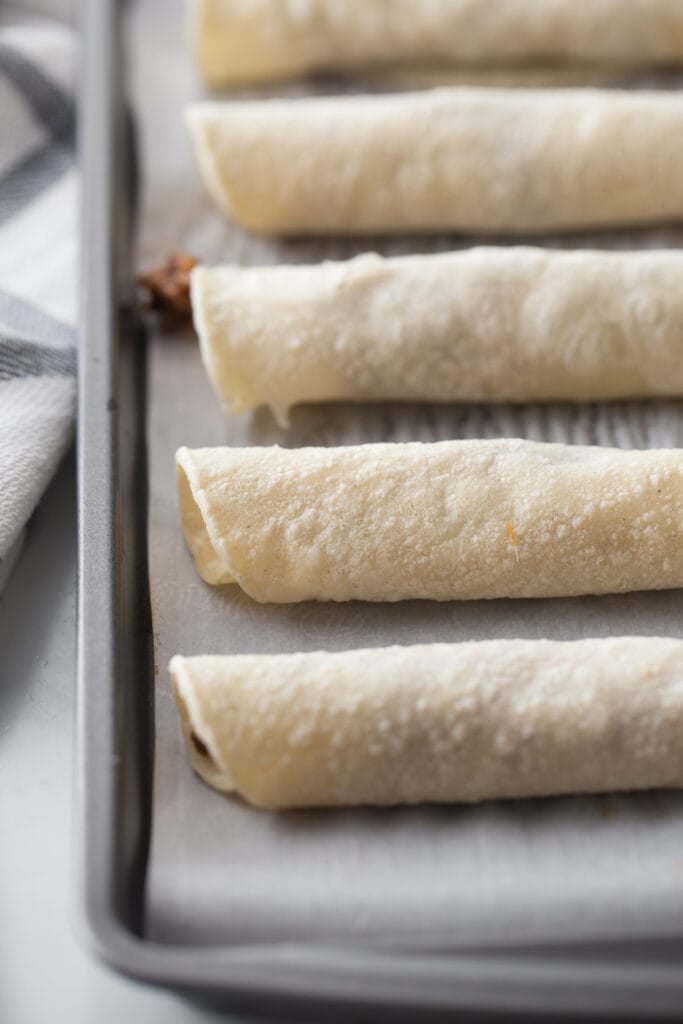 Baked Taquitos in the Oven
Pros:
No need to batch cook – you can make as many as you can fit on your sheet pan
Still pretty darn crispy
Cons:
Cook time is longer
You have to heat up your house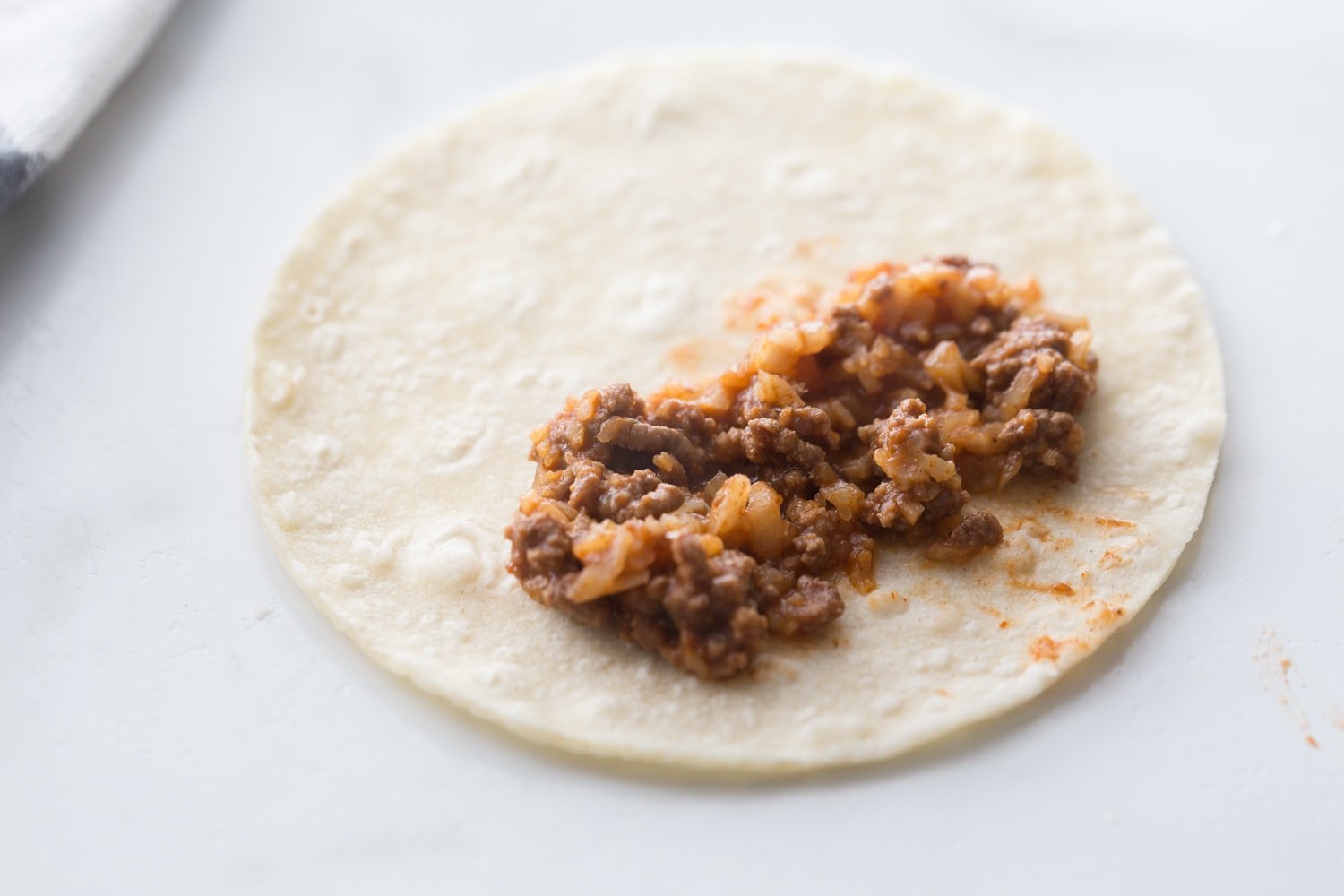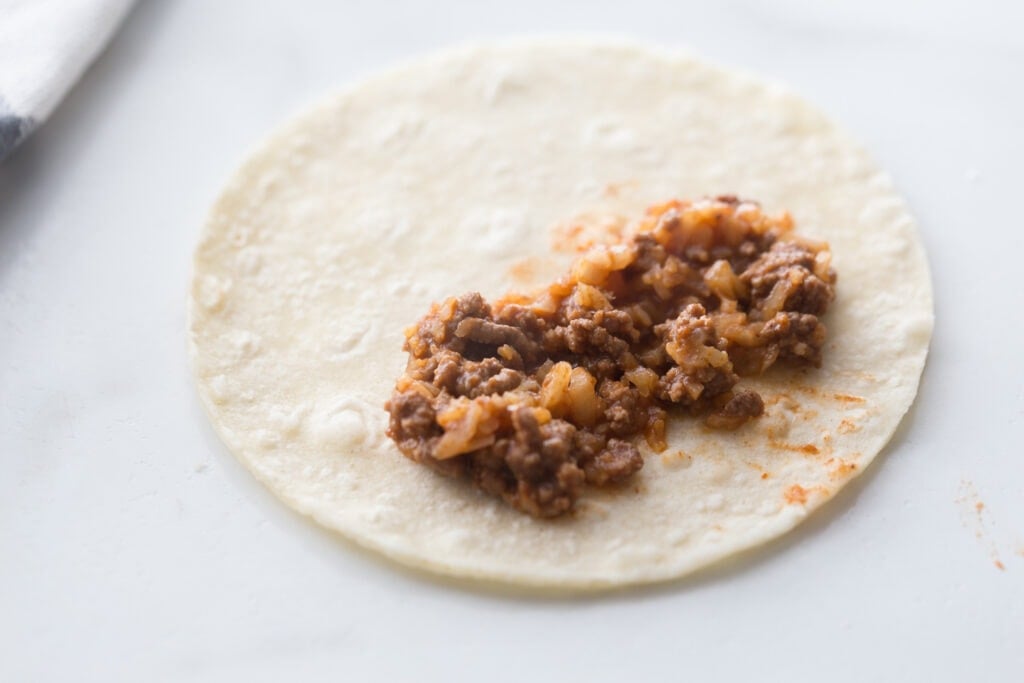 Should I use flour or corn tortillas for Taquitos?
I use gluten-free corn tortillas because, well, we are gluten free…AND you can have TWO corn tortillas for one yellow on the 21 Day Fix. And the kind I buy (Mission Extra Thin Corn Tortillas) you can actually have three! However, if you want to sub flour tortillas, you totally can.
Pro Tips for Rolling
Corn tortillas can be a pain to work with if you are not used to them…but this is literally the hardest part about this recipe! As long as you get them hot, they will roll!
Option one: warm them in a microwave
Wrap 4 corn tortillas in a wet paper towel and microwave for 60 seconds. They should be soft and pliable. **Note – if your tortillas are crumbing, wrap again and heat them longer and try wetting your paper towel more, too.
Option two: warm them in an oven (my preferred way)
Another way to heat these tortillas is spray them with olive oil spray and heat them on a baking sheet in a 400 degree oven for a few minutes they are soft and pliable. This is perfect, especially if you are baking these in the oven anyway!
Another tip: try to roll your tortillas while they are warm! As they cool, they will crumble again!
Too much work? Use flour tortillas instead!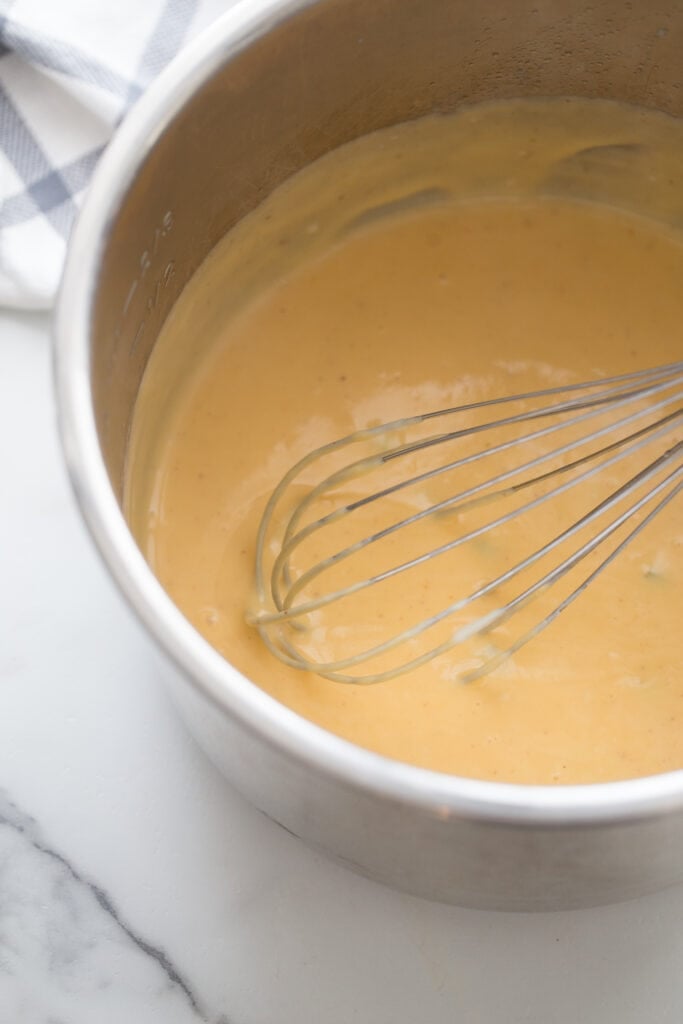 What to serve with Healthy Taquitos
You definitely need to make my Easy Homemade Cheese Sauce to dip your Taquitos in! The recipe is included below!
You can also serve these with:
Because there is a protein and veggie in each Taquito, I feel like this is a complete meal!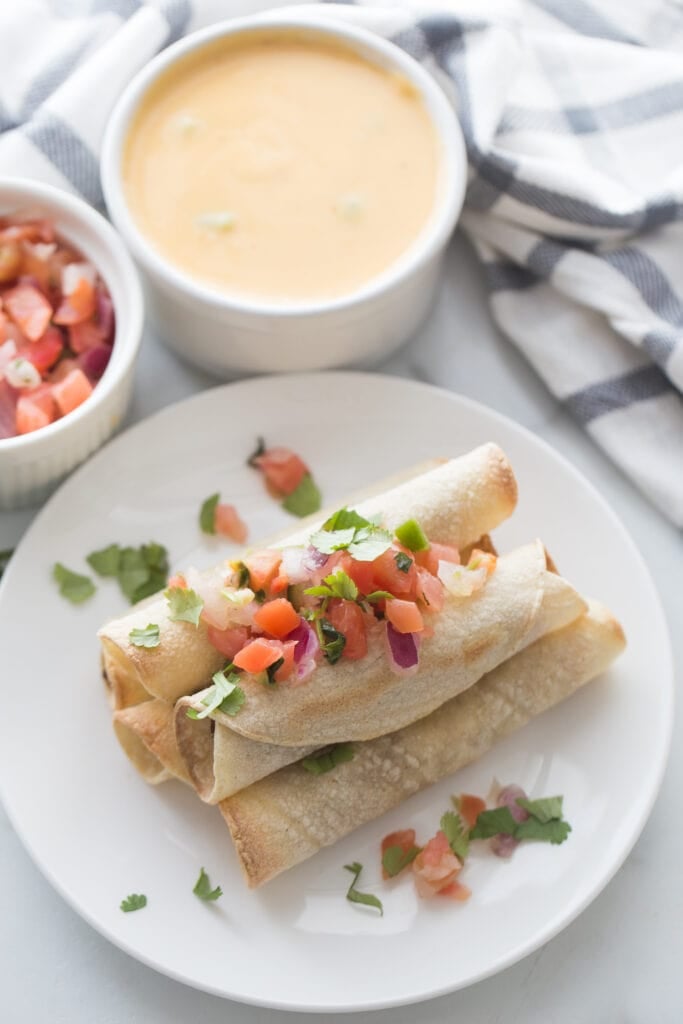 Can I freeze Taquitos?
Yes! You can freeze taquitos for a quick meal or snack! Just be sure to lay them flat on a baking pan first and until frozen and then place in a freezer bag. The cheese sauce can also be frozen – check out this Freezable Cheese Sauce recipe for more info!
How to reheat them:
To reheat, either microwave for about 2-4 minutes (time varies based on how many are being re-heated), air fry at or bake at 450 degrees F for around 10 minutes, checking regularly to make sure they do not burn.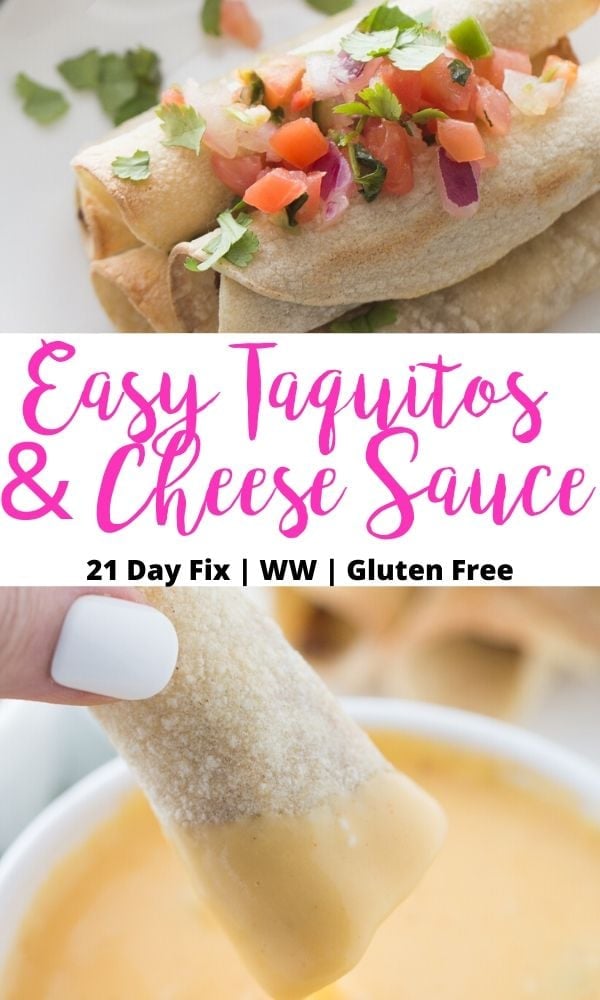 Other Healthy Taquito Filling ideas:
Pulled Pork Tenderloin | The Foodie and The Fix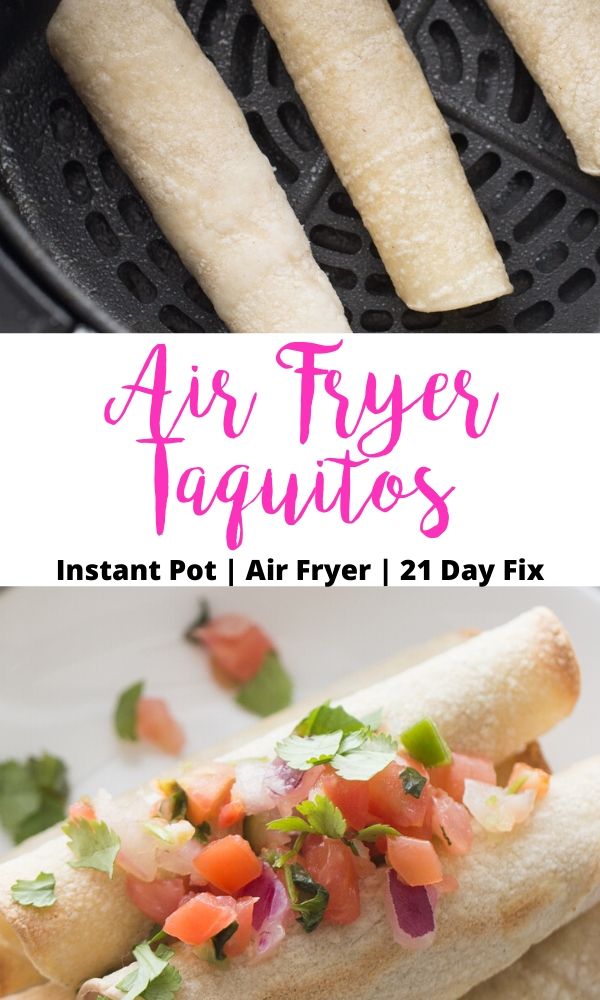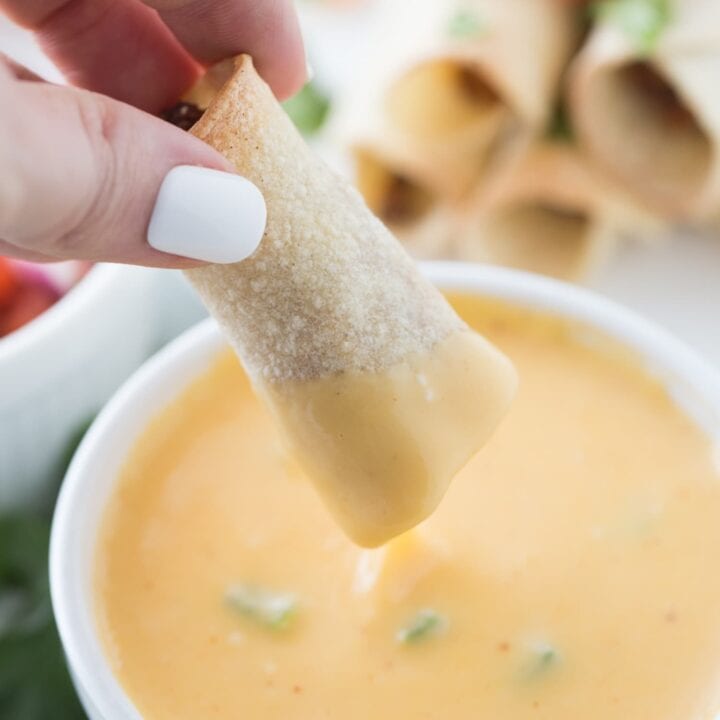 Taquitos and Easy Cheese Sauce
This easy Taquitos recipe uses my favorite hidden veggie taco meat and my favorite homemade cheese sauce as a queso dipping sauce. These gluten-free taquitos, or rolled tacos, are a healthier option than traditional taquitos because they are baked or air fried. Freeze taquitos for an easy lunch, dinner, or snack!
Ingredients
For the Taquitos
1

lb

ground meat of your choice

we using love lean ground beef

3

cups

cauliflower rice

can be frozen

1

cup

low sodium tomato sauce

1-2

tablespoons

salt free taco seasoning

½

teaspoon

salt

1-2

tablespoons

water

if needed

12

corn tortillas
For the Cheese Sauce
2 1/2

tablespoons

gluten free flour blend

2 1/2

tablespoons

vegan butter, butter, or ghee

1 1/2-2

cups

unsweetened original almond milk

2

cups

shredded cheddar cheese

Jalapeno

Chili powder
Instructions
Instant Pot Taco Meat: 
In your Instant Pot, Brown meat until almost cooked through, then stir in cauliflower rice, sauce, and taco seasonings.

Add 1/4 cup of water and lock lid, setting for 1 minute manual pressure. After cook time, quick release. If taco meat needs thickening, then cook on sauté for a few minutes until the water evaporates. 
Stovetop Taco Meat:
Brown meat until just about cooked through, then add in cauliflower rice. Saute for a few minutes until cauliflower is tender.

Stir in tomato sauce and taco seasonings and simmer for 5 minutes, adding in water if mixture is too thick.
Taquitos:
Heat tortillas in a 400 degree oven for a few minutes.  Spray them with olive oil spray and heat on a baking sheet until soft and pliable.  Alternately, you can wrap 2-4 at a time in wet paper towels and warm in the microwave for 60 seconds. 

Working one by one, place 2-3 tablespoons of taco mixture on the top edge of the tortilla. Gently roll tortilla into a taquito shape, using a toothpick to hold them together. TIP:  do this while your tortillas are still very warm!  As the tortillas cool, they will break apart again!

Spray basket of your airfryer or mealthy crisp lid so shells don't stick or cover with parchment.  

Spray shells with olive oil spray and sprinkle with salt.  Air fry in batches of 2-4 at a time on 390 (400 for Mealthy Crisp Lid) for a few minutes or until your taquito is crisp.

Repeat steps with remaining corn tortillas.

To make the Taquitos in the oven, just follow the instructions above, but instead of Air Frying, line a baking sheet with parchment paper and bake your Taquitos for 12-14 minutes at 400 degrees.
Cheese Sauce: 
In your instant pot or in your skillet, melt butter over medium heat. Sprinkle in the flour and whisk together.

Slowly whisk in 1 1/2 cups of almond milk, and continue to whisk until the mixture comes to a boil and begins to thicken. Once thickened, remove sauce from heat and stir in cheddar cheese until fully melted, adding salt to taste. If you need to thin it out, add in some additional milk in 1/4 cup increments.

Add chopped jalapeños and chili powder to the cheese sauce to taste. 

Dip taquitos in cheese sauce and enjoy!
Notes
For 2 Corn tortillas + 1/3 cup of cheese sauce (2.5 Tbsp): 1/2 RED, 1/2 GREEN, 1 YELLOW, 1 BLUE, 1 TSP (per serving) Note: if you use Mission Extra Thin Tortillas, you can have three and get closer to a full red, too! For 2 Flour tortillas + 1/3 cup of cheese sauce (2.5 Tbsp):  1 RED, 1/2 GREEN, 2 YELLOW, 1 BLUE, 1 TSP (per serving) WW: 13 points (per 2 taquitos) [Calculated using 95% lean ground beef, butter, and reduced fat cheese]
Nutrition
Serving:
2
taquitos
Calories:
381
kcal
Carbohydrates:
31
g
Protein:
31
g
Fat:
16
g
Saturated Fat:
5
g
Polyunsaturated Fat:
3
g
Monounsaturated Fat:
6
g
Trans Fat:
1
g
Cholesterol:
55
mg
Sodium:
882
mg
Potassium:
738
mg
Fiber:
6
g
Sugar:
4
g
Vitamin A:
295
IU
Vitamin C:
42
mg
Calcium:
303
mg
Iron:
3
mg