Sausage and cauliflower casserole is a 21 Day Fix healthy dinner recipe. It's rich and creamy, and filled with sausage, cauliflower, ricotta cheese, and some healthy greens.
Confession #24- My recipe obsession can be a little costly, at times. And so I am making a conscious effort to utilize all my leftover groceries/ingredients into new, healthy meals.
Last week, I had some leftover turkey sausage, a head of cauliflower, half a container of ricotta cheese, and some greens to use. So I put them to work.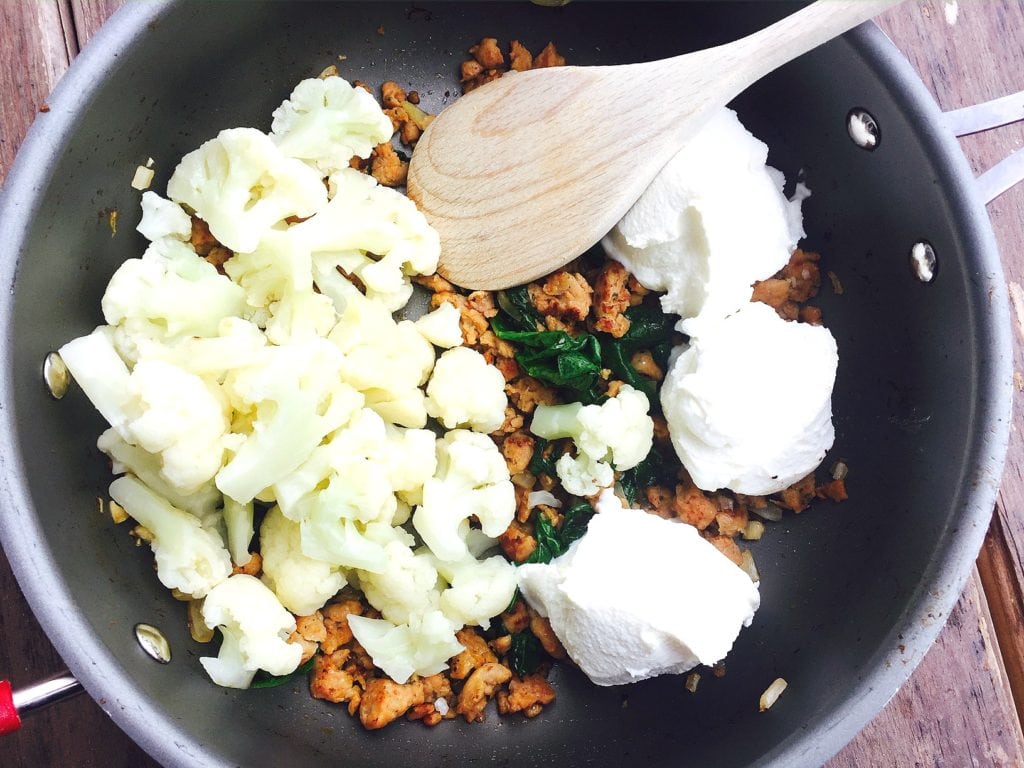 I was worried this would be a total fail, but I actually LOVED every delicious bite of this totally skinny, but sinful tasting sausage and cauliflower casserole!
My husband, who was super skeptical, actually scraped the dish clean. And my one year old was all over it. He ate his own and kept sticking his little fingers in my plate, too.
I can't wait to make this easy casserole again!
Ingredients
1 head of cauliflower, chopped into florets
Spicy turkey sausage (I used 3 REDS worth/about 3 links)
1/4 diced onion
1 minced clove of garlic
1/3 cup of low sodium chicken broth
1 cup of ricotta cheese
1-2 cups Spinach and/or kale
Cooking spray [I use my EVO]
1/3 cup Parmesan cheese blend - I love the shaved kind
Instructions
Bring water to a boil and cook cauliflower florets until they are soft.
While that is cooking, coat a pan with cooking spray and brown turkey sausage. Add onions, garlic and green. Toss together and cook until greens start to wilt. Add chicken broth.
Drain cauliflower and place back in the pot. Add turkey veggie mixture and the ricotta cheese. Mix together.
Spray a casserole dish with cooking spray and add cauliflower turkey mixture. Top with Parmesan cheese.
Cook at 425 for 10-15 minutes.
21 Day Fix Container Count:
Serves 4. 1 serving = 1 GREEN, 1 RED, 1/4 BLUE
7.6.9.2
22
https://confessionsofafitfoodie.com/2015/04/178/
Confessions of a FIt Foodie
Want to make dinner planning a breeze?  Check out my eBooks on Etsy with delicious and easy FIX approved recipes, full grocery lists, and prep tips to keep your time in the kitchen to a minimum! 
Are you doing a round of the 21 Day Fix?  Don't do it alone – let me coach you! Contact me at trueconfessionsofafitfoodie AT gmail DOT com to join my current challenge group. The group offers daily motivation, recipe ideas, and the support of over 200 women. Check out my Etsy Shop for 21 Day Fix eBooks with full grocery lists, prep tips, and easy to follow recipes!
Join the newsletter
Subscribe to get our latest content by email.