Taco pizza may sound unhealthy, but this 21 Day Fix version is anything but! For your next pizza night, try this easy, delicious healthy comfort food.
I have several MVPs in my kitchen right now.  They are my go-to ingredients for making yummy, fix approved meals and snacks.
On my short list:  Chobani Greek yogurt, spicy turkey sausage, fresh salsa, zucchini.
And if I had to add a fifth, the Flatout Wrap
 would be it.
Have you bought Flatouts yet?
No?
Go.
Now!
And while they do make yummy wraps, the PIZZA potential is what I'm WAY more interested in.
Flatouts make delicious, thin crust pizza.  All you need are your favorite toppings and some creativity.
For Taco Tuesday or Flatout Friday (is it normal to name your days by food?), this pizza recipe is easy, tasty, and much healthier than take out.
Serve this Fixed taco pizza with a side salad and you will have a perfect lunch or dinner!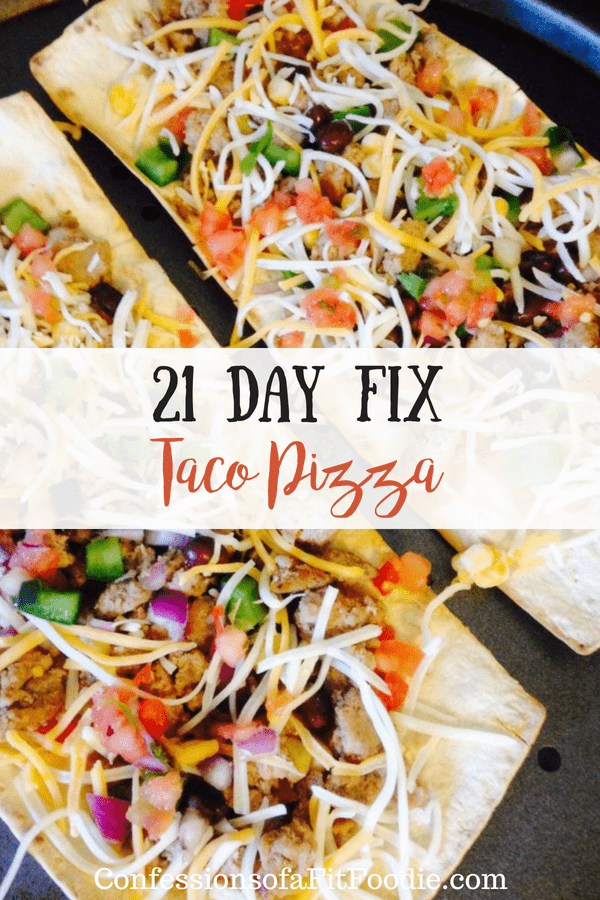 If you would rather have something besides ground turkey, try topping these taco pizzas with my slow cooker pork carnitas!
Ingredients
2/3 cup of ground turkey
2 tsp of salt-free taco seasoning
1/3 cup of shredded cheese, (Mexican blend is what I used)
1/2 cup fresh salsa, or tomatoes, peppers, red onion and cilantro, diced and mixed
1/4 cup of black beans and corn
lime
cilantro
2 Flatout wraps
olive oil spray
Instructions
Preheat oven to 350 and spray wraps lightly with olive oil spray.
Season ground turkey with salt-free taco seasoning and brown over medium heat.
Cook plain wraps directly on oven grate for a few minutes or until wrap is beginning to crisp.
Assemble pizza - top with equal amounts of ground turkey, salsa, beans, corn, fresh lime juice and cheese.
Put pizzas back in the oven and cook until cheese is melted and bubbly.
21 Day Fix Container Count:
Serves 2: 1 serving = 1 1/4 YELLOW, 1/2 RED, 1/4 GREEN, 1/3 BLUE
7.6.9.2
113
https://confessionsofafitfoodie.com/2015/04/21-day-fix-taco-pizza/
Confessions of a FIt Foodie
1 serving is one Flatout!
1 1/4 YELLOW, 1/2 RED 1/4 GREEN 1/3 BLUE
Are you doing a round of the 21 Day Fix?  Don't do it alone – let me coach you! Contact me at trueconfessionsofafitfoodie AT gmail DOT com to join my current challenge group. The group offers daily motivation, recipe ideas, and the support of over 200 women. Check out my Etsy Shop for 21 Day Fix eBooks with full grocery lists, prep tips, and easy to follow recipes!
Join the newsletter
Subscribe to get our latest content by email.