Cheesy bacon breakfast bites are the perfect healthy start to your day. Eggs, bacon, and cheese are baked up into muffin sized bites. Fluffy and flavorful, they're 21 Day Fix approved, too!
Confession # 45 – I'm struggling this week.
After a weekend away with the girls, I am finding it difficult to get back into my routine.
Apparently I'm getting old.
As much as I loved our late night dance parties, I think we forgot the most important part of getting away without the kids.
Sleep.
We forgot to include an extra 24 hours of sleeping, ordering take-out, and watching mindless TV in lounge clothes.  Next time, ladies, this must be included.
Since I've been back, it has taken all of my energy just keeping up with my kids.  I haven't worked out and my nutrition has just been off.
But tonight I am pushing play no matter what.  I just need to "break the seal" or something.  You get me, right?  Actually, I have no idea if I am making any sense, but I am looking forward to a good sweat session tonight.
Anyway, I want to share these cheesy bacon breakfast bites with you, that I made on Saturday.
They were so yummy and the perfect breakfast for a crowd. Someone asked if they were Fix approved, and honestly, that's what I love about the FIX.  Almost everything is FIX approved.
Well, maybe not the Jello shots we may have had.
And we did use pancetta, which isn't on any FIX approved list I have seen. Because of it's higher fat content, turkey bacon is a better choice for everyday meals. But if you are having company, go with the pancetta.  Delish!

I hope you enjoy this cheesy bacon breakfast bites recipe.
Ingredients
6 free range organic eggs
1/4 cup of almond milk
1/2 onion, diced
6 slices of turkey bacon
1 cup of fresh spinach
1 cup of diced mushrooms
2/3 cup of shredded cheddar, feta, or other cheese of your choice
Sea or Himalayan salt, to taste
Fresh cracked black pepper, to taste
Coconut oil spray
Instructions
Preheat oven to 350 degrees F.
Heat a skillet over medium-high heat.
Cook the bacon in the skillet until crispy. Once cooked, place on paper towel lined plate to drain the excess fat.
Add veggies to pan and sautee for a few minutes until cooked through. Season with salt.
Whisk the eggs together in a large bowl and add the almond milk.
Grease the muffin tins with the coconut oil.
Place the bacon crumbles at the bottom of each muffin tin. Next add the veggies. Then, pour the whisked eggs evenly into the muffin tins, ¾ of the way to the top. Finally, top with cheese and a sprinkle of salt and pepper.
Bake in the oven for approximately 15- 20 minutes until cooked through.
Use a knife to loosen the egg cups from the tin. Remove from muffin tin and serve warm.
21 Day Fix Container Count:
Serving size - 2 muffins -
1 RED - 1/3 GREEN - 1/3 BLUE
- These make great leftovers!
7.6.9.2
86
https://confessionsofafitfoodie.com/2015/08/21-day-fix-egg-bacon-and-cheese-cups/
Confessions of a FIt Foodie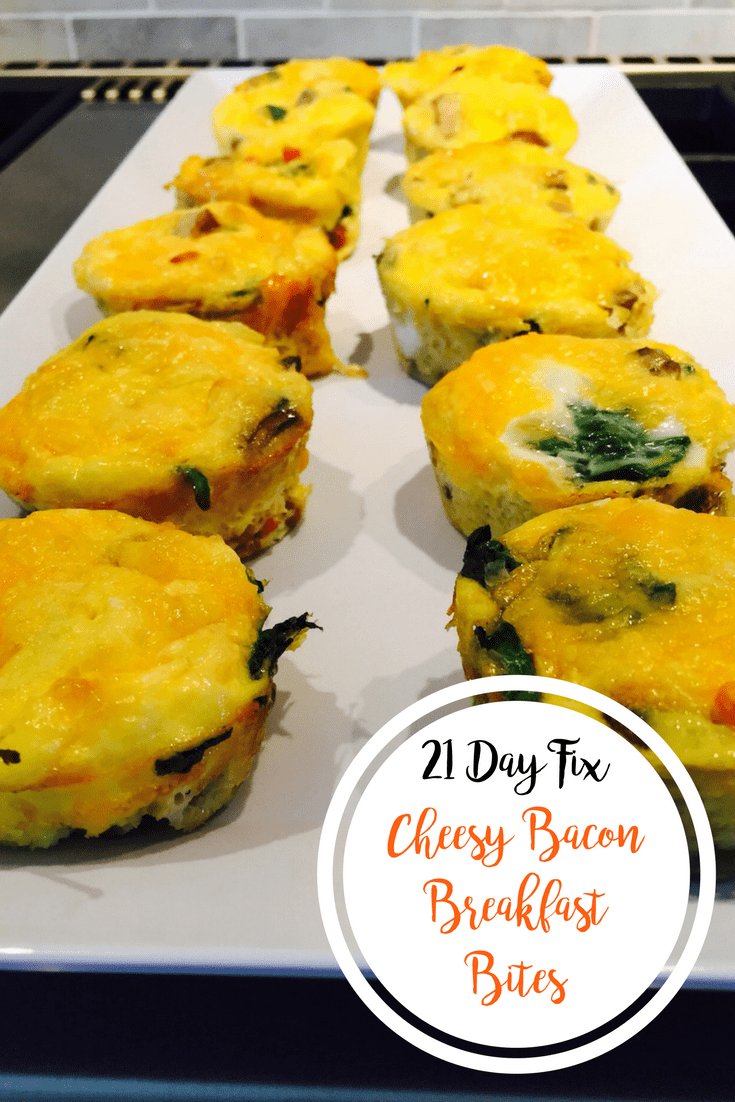 Join the newsletter
Subscribe to get our latest content by email.