French toast is a favorite breakfast treat for many people, but it's not usually a very healthy option… until now! These mini French toast casserole cups are 21 Day Fix approved and super kid friendly! This post contains affiliate links for products I'm obsessed with.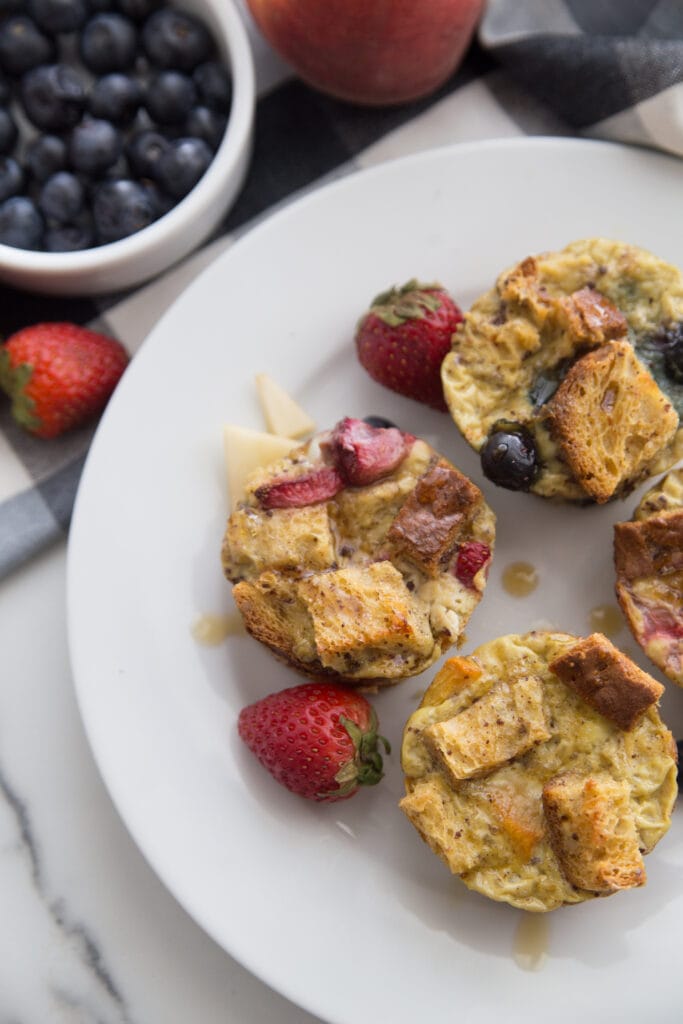 **These Mini French Toast Casserole Cups were originally published on 4/4/15, and I've updated it recently with new pictures, a video, and some FAQ's to help you enjoy the recipe even more**!
Confession: When testing this recipe, I had no more "yellows" left by 10 AM.
I hate that.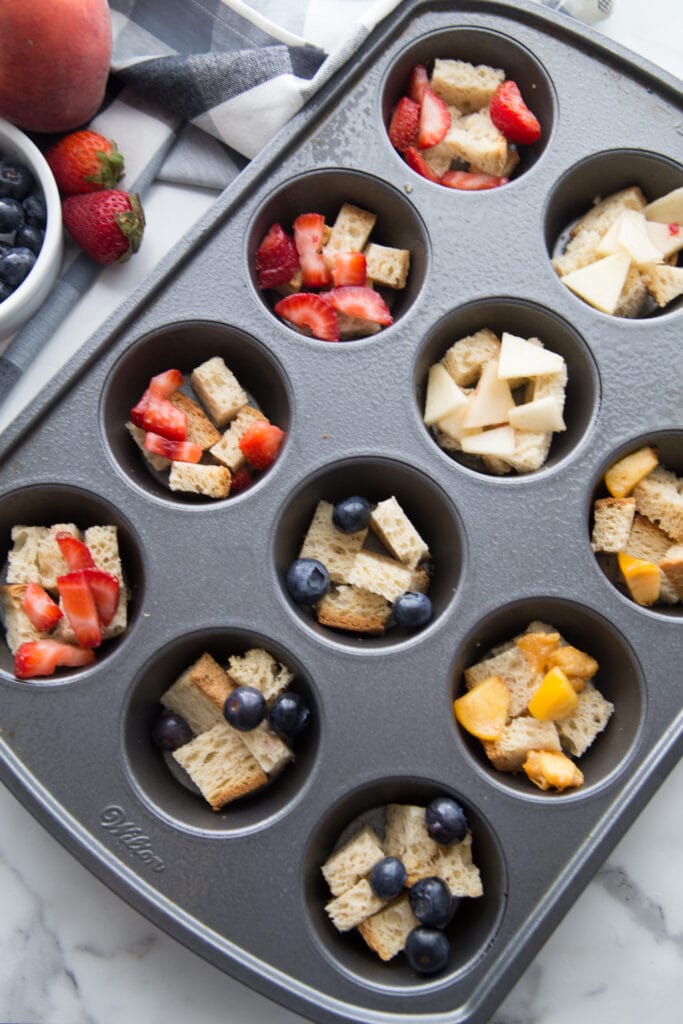 But it was all for a good reason. I wanted this recipe to be PERFECT before I posted it.
This Mini French Toast cup recipe was inspired by one of my fellow coaches who requested a "fixed" up casserole that she could enjoy, along with her guests, on Easter. Egg casseroles are pretty easy for fixers, but I kept thinking how great a 21DF French Toast Casserole would be.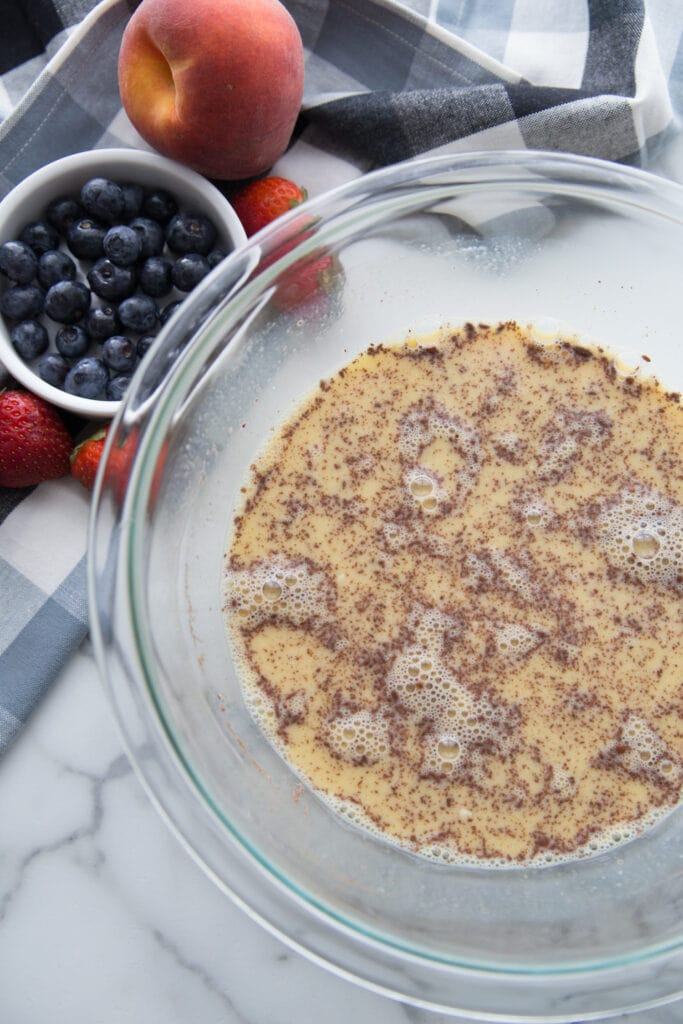 And I was soooo right.
This dish cleans up the traditional French Toast casserole by using Ezekiel bread (or your favorite GF bread), which adds protein and whole grains, and also happens to be the perfect texture for French toast!
I also skipped the brown sugar topping and used liquid stevia, fresh fruit, pure maple syrup and cinnamon to give it natural sweetness.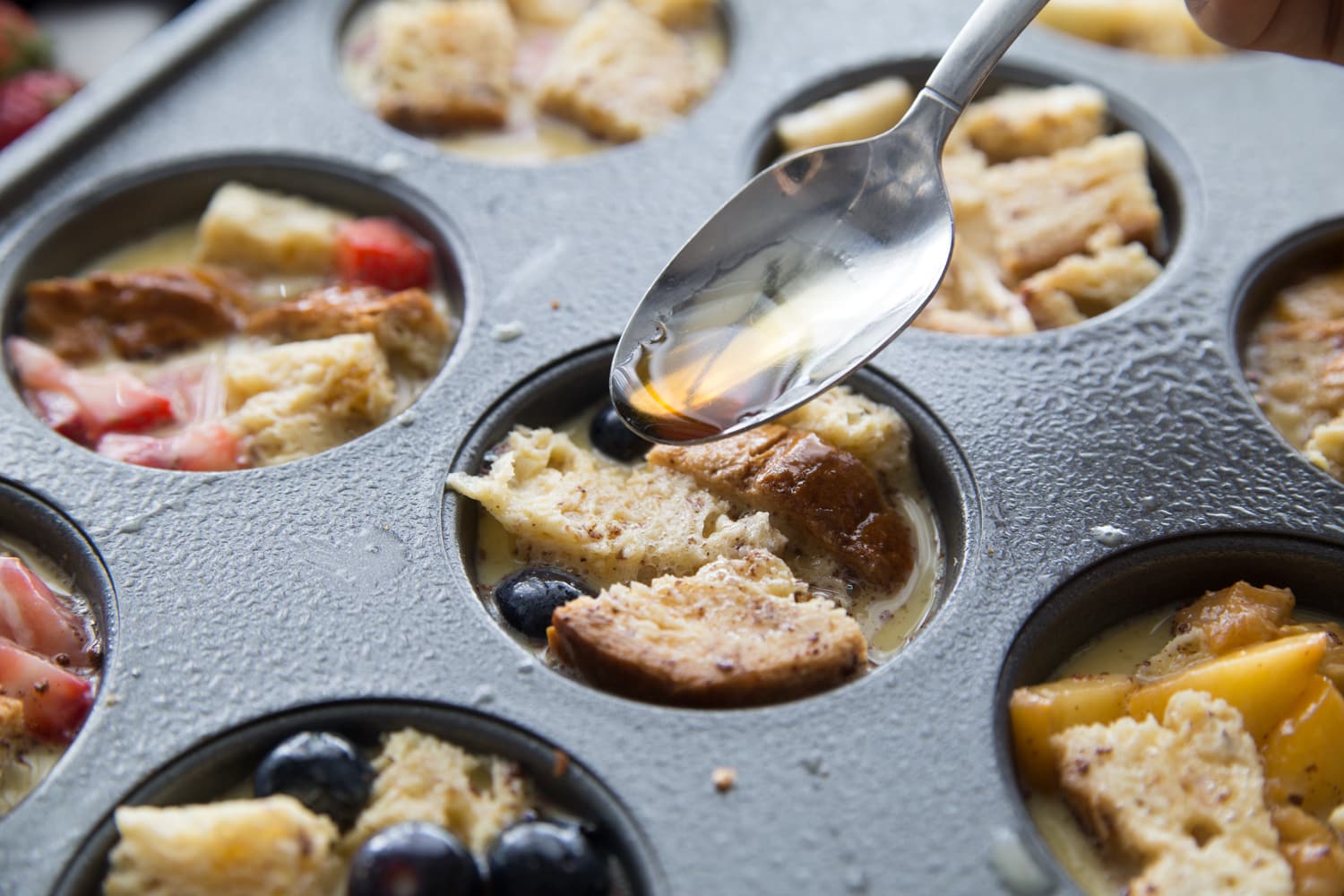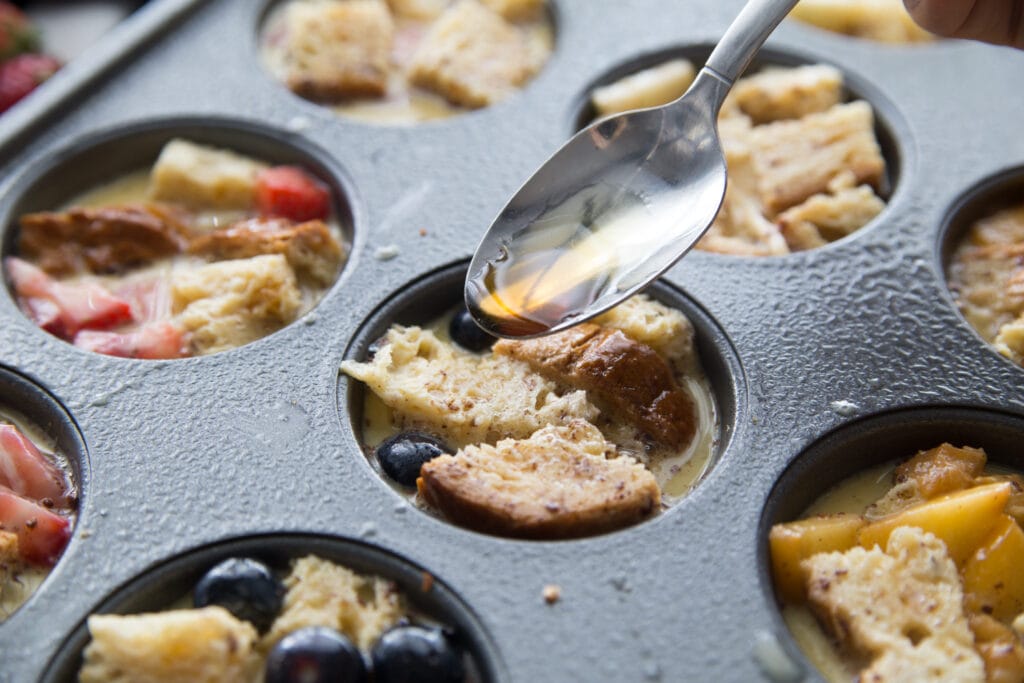 And the best part?
Each cup is only 1/2 YELLOW.
Yup.
Oh – and you can put it together the night before and bake it right before your guests arrive. That's one of my favorite parts! I follow the recipe and then stop right before baking. Then, cover the pan tightly and put in the fridge. In the morning, I just take it out of the fridge while I make my coffee and preheat my oven.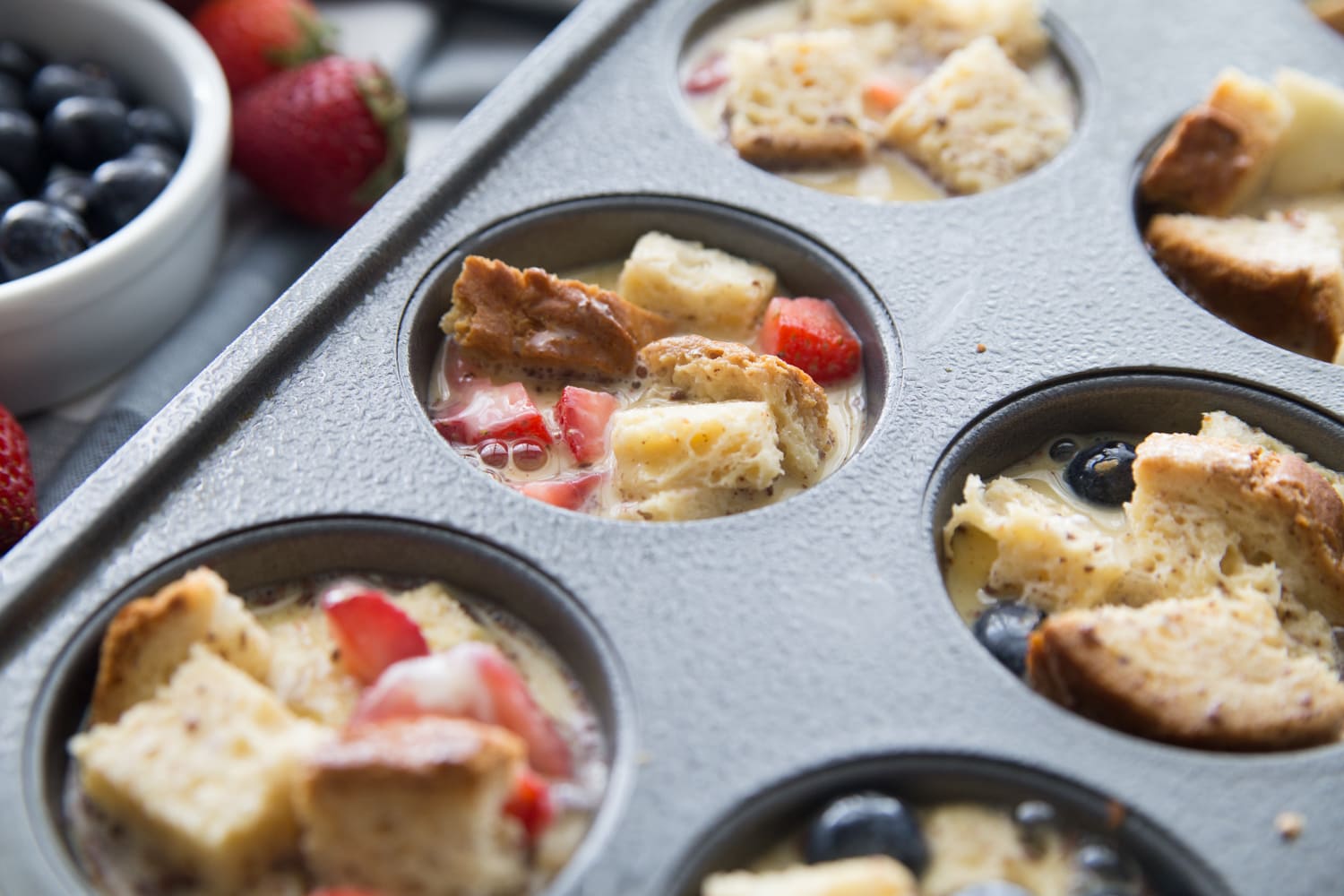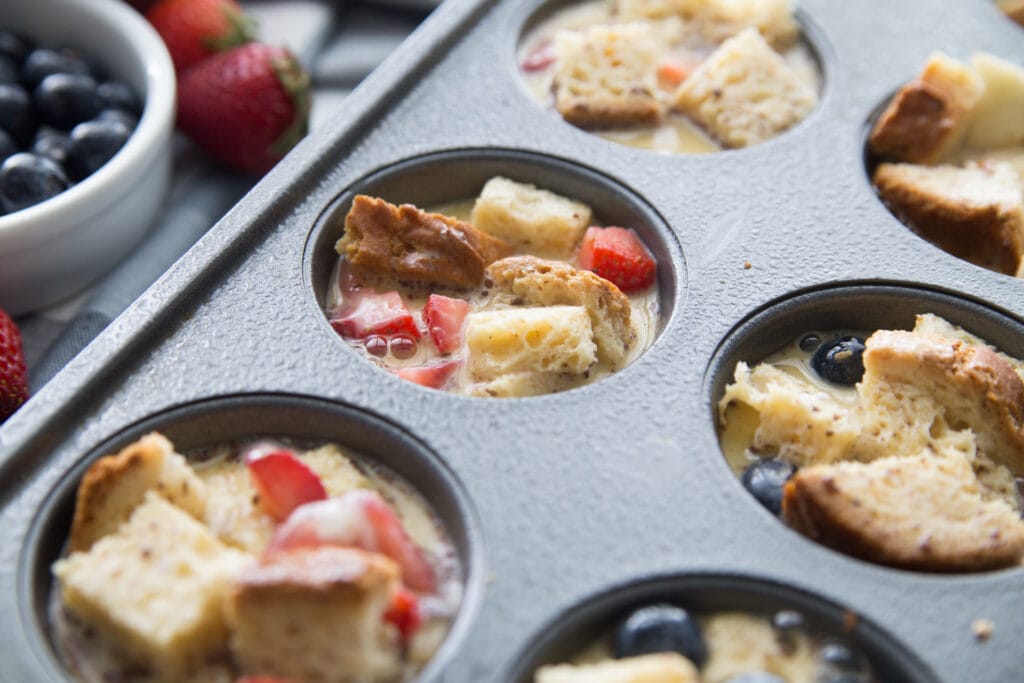 It just keeps getting better, right?
You know what? These don't just have to be for company either! I like to make a batch for grab and go breakfasts all week- the kids love them! Prepping a double batch is perfect too because they freeze amazingly well!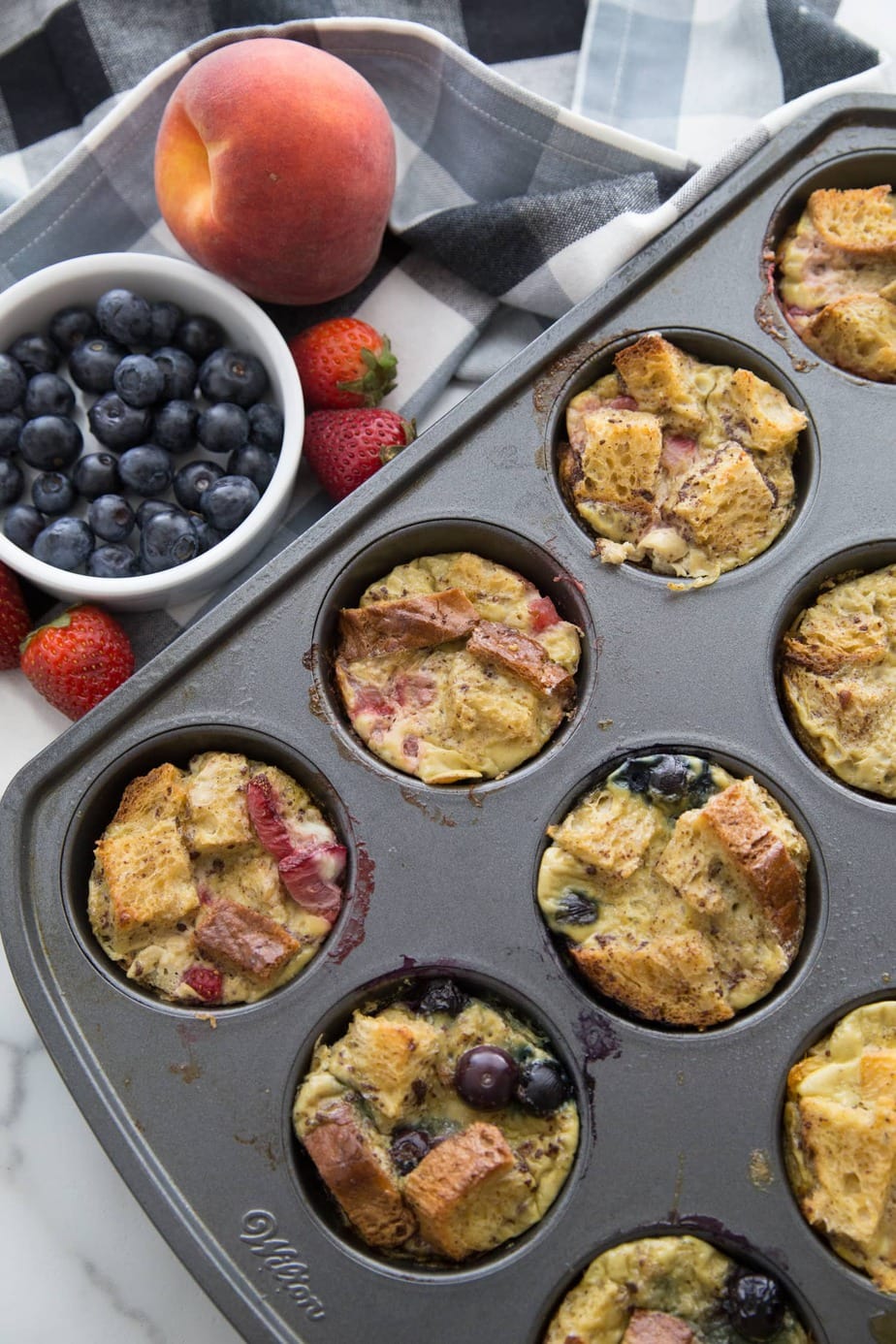 So what are the 21 Day Fix container counts for these French Toast Casserole cups?
½ YELLOW, ¼ RED, ¼ PURPLE per cup
How many WW Freestyle points are these cups?
Only 1 point per cup! Woohoo!
What kinds of toppings can I use?
Use your favorite kind of fruit and nut! My favorite combination is berries and almonds but feel free to use whatever you have! Sub out the almonds for walnuts or pecans- so many options!
You listed almonds in the recipe, but I don't see them in the container counts. Why not?
Yes- you are correct! The almonds are just for a little texture and crunch. I only used a small handful over the whole batch, so I didn't count them. Feel free to count some of your blue though!
What kinds of bread can I use?
Ezekiel bread (found in the freezer section at the grocery store) works really well for French toast. If you are gluten free, my favorite brand for these cups is Canyon Bakehouse. Make sure to look for a bread that has protein, and, of course, has whole grains!
If I don't have/like stevia what can I sub?
Maple syrup or honey are great alternatives. I would add 2 Tablespoons to the egg mixture, in place of the stevia, and then count an additional 1/2 sweetener tsp per French toast cup (for a total of 1 sweetener tsp). PS – if you are looking for a great brand of stevia with little aftertaste, I love SweetLeaf Stevia!
How should I store these Mini French Toast Casserole Cups? Are they freezable?
You should keep these muffins in your refrigerator and eat within 3-5 days. If you want to keep them longer, they freeze very well! I like to thaw overnight in the fridge and warm in the microwave for a few seconds before eating.
What is a sweetener teaspoon that you have in the recipe card?
While on the 21 Day Fix/Ultimate Portion Fix Autumn gives us clear rules about what we can use our teaspoons on- oils, nut butters, mayo, and butter. BUT in the "tea and coffee bar" section of the program materials, Autumn says you can have 1-2 tsp of things like maple syrup or honey in 1-2 cups of coffee per day.
She does not, however, count these sweeteners in her recipes. I have begun to note it in my newer recipes because I think it's important to keep in mind. While there's a little bit of gray area here, I am hoping this provides some clarification. So, since I only use the tiniest bit of sweetener in my coffee each morning, I'm comfortable using some of the "leftover" sweetener teaspoons throughout my day.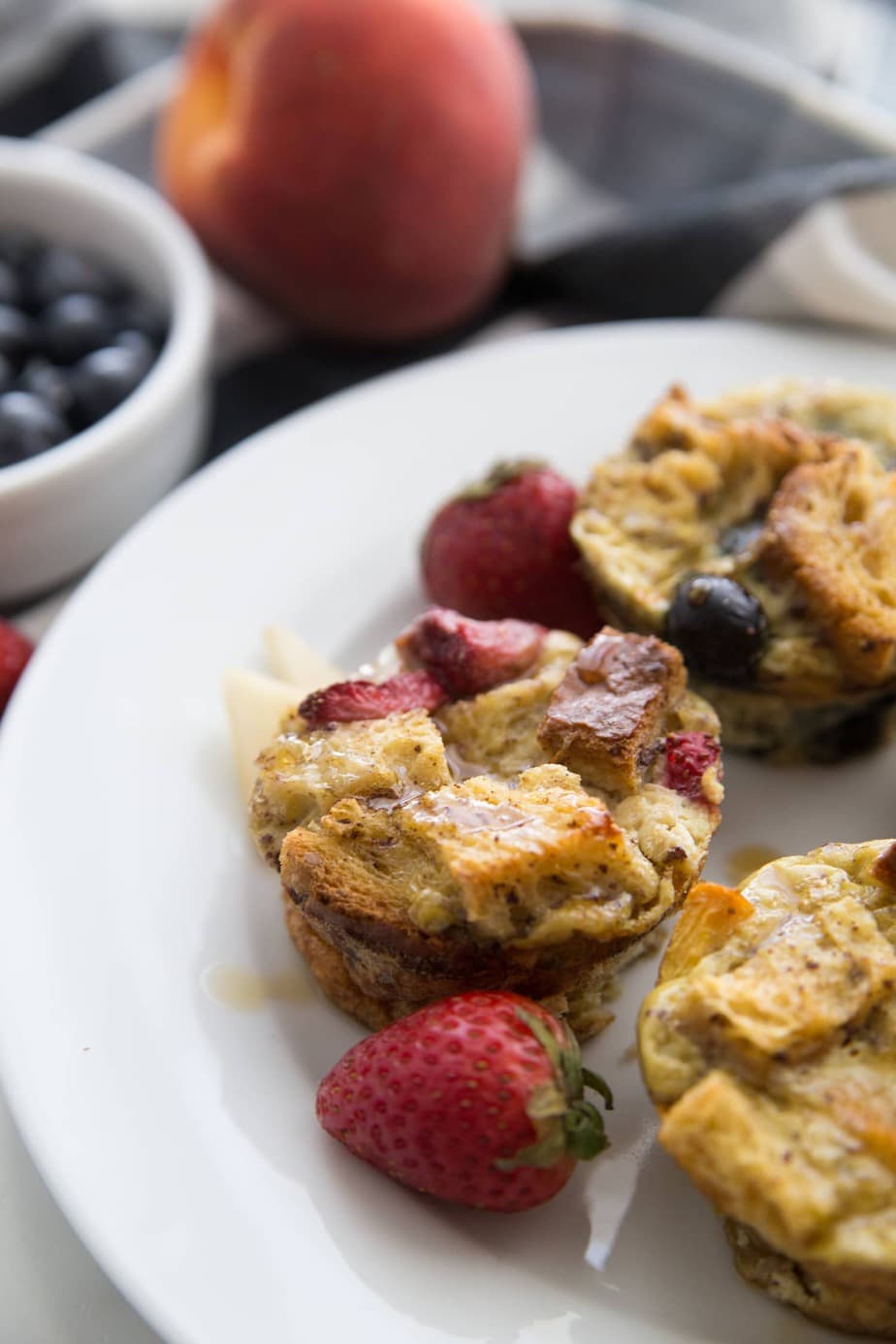 If you like this Mini French Toast Casserole Cups recipe, you'll love these too-
Healthy Air Fryer French Toast Sticks [21 Day Fix | Weight Watchers | Gluten-free | Dairy-free]
"Cinnamon Bun" 21 Day Fix French Toast Cups (Dairy-free/Gluten-free)
Healthy Banana Oatmeal Blender Muffins [Gluten-free | Dairy-free ] | 21 Day Fix Blender Muffins [Weight Watchers]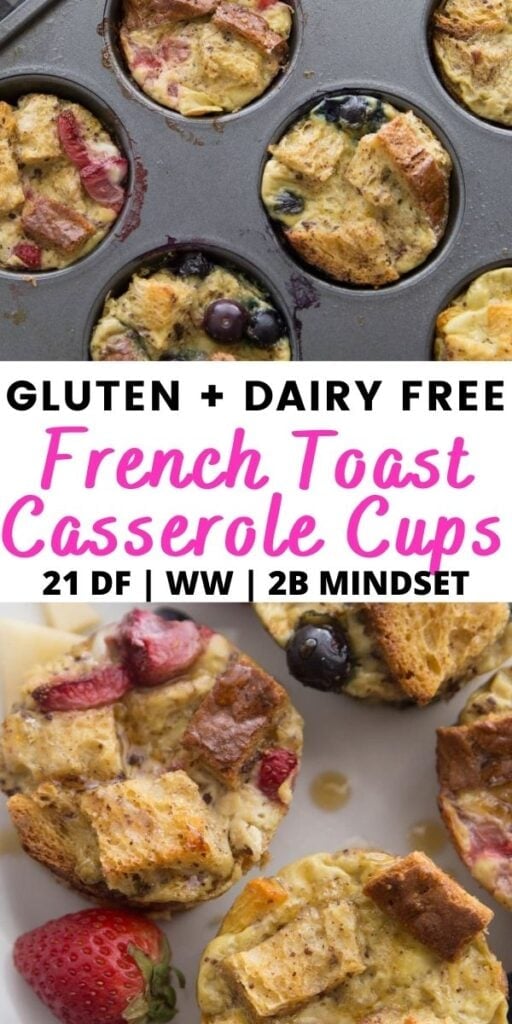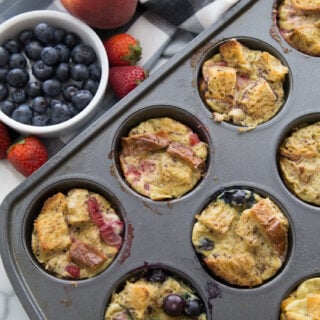 Mini French Toast Casserole Cups
French toast is a favorite breakfast treat for many people, but it's not usually a very healthy option... until now! These mini French toast casserole cups are 21 Day Fix approved and only 2 WW points points per cup!
Ingredients
6

eggs

6

slices

gluten free or whole grain bread

cubed

1

cup

unsweetened vanilla almond milk

1

tablespoon

vanilla

1/2

teaspoon

cinnamon

10

drops

liquid stevia

or sub additional 2 Tbsp maple syrup or honey

2

Tablespoons

pure maple syrup

for drizzling on top

3

cup

fresh fruit

anything goes, but berries are a personal favorite!

Sliced almonds

optional

Cooking spray or coconut oil
Instructions
Preheat your oven to 350, or skip this step if you are assembling this the night before.

Beat eggs and add almond milk, vanilla, cinnamon and stevia. Mix well.

Spray a cupcake tin well with cooking spray, or grease with coconut oil.

Evenly distribute cubes of bread into tins, then add in your fruit between layers of bread.

Pour egg mixture evenly into each of the "muffins" making sure all of the bread gets covered. Squish it around if necessary (don't you love my fancy cooking terms?).

Before baking, I added a small amount of sliced almonds (crushed up) to the top of the mini FTs, as well as some more cinnamon. Then I drizzled 1/2 tsp pure maple syrup evenly over each one. You could also add a small pat of coconut oil.

This would be fine sitting overnight in the fridge. Go to bed!

Cook muffins on 350 for 25-30 mins and enjoy warm! If you add more maple syrup after baking, be sure to count it!
Notes
Makes 6 servings, 2 muffins each 
21 Day Fix: 1 YELLOW, 1/2 RED, 1/2 PURPLE, 2 sweetener tsp (per 2 muffins)
WW: 4 points (per 2 muffins) [Calculated using gluten free bread, liquid stevia, and optional almonds]
Nutrition
Serving:
2
muffins
Calories:
164
kcal
Carbohydrates:
23
g
Protein:
6
g
Fat:
5
g
Saturated Fat:
1
g
Polyunsaturated Fat:
1
g
Monounsaturated Fat:
2
g
Trans Fat:
0.02
g
Cholesterol:
164
mg
Sodium:
123
mg
Potassium:
185
mg
Fiber:
2
g
Sugar:
18
g
Vitamin A:
596
IU
Vitamin C:
3
mg
Calcium:
90
mg
Iron:
1
mg